What Is an Operating Agreement
 and How To Write It?

An operating agreement is a document that frequently gets overlooked even though it's of significant importance to all limited liability companies (LLC). If you're thinking about forming an LLC, consider writing an operating agreement.
If drawing up legal documents isn't your strong suit and you don't know how to write a contract, DoNotPay has got your back. You don't have to hire pricey lawyers or waste hours searching for the required contract template. We will take care of your operating agreement in no time!
What Is an Operating Agreement for an LLC?
An operating agreement is a legal document that LLCs use to:
Customize the LLC terms according to the owners' needs

Define functional and financial decisions

Provide rules and guidelines according to which the LLC will operate
All members of the LLC are obligated to follow the rules defined by an operating agreement. Even if you decide to run a single-member LLC, your business can benefit from having an operating agreement.
The following states require LLC operating agreements:
California

Missouri

Delaware

New York

Main
Why You Should Write an
LLC Operating Agreement
While LLC operating agreements aren't mandatory in most U.S. states, you should still write one. The agreement will give freedom, control, and protection to your business. Writing an LLC operating agreement enables you to:
Protect the limited liability status of your business

—the operating agreement gives all members protection from personal liability

Clarify and write down verbal agreements

—verbal agreements might cause misunderstanding. The operating agreement can help in case of a conflict

Protect your business in the eyes of the state your company is operating in

—if you don't draw up the agreement, you'll have to follow the general rules of the state, which might not be right for your business
The Easiest Way To Draw Up an Operating Agreement Is With DoNotPay!
Since hiring a lawyer to draw up contracts is expensive, not every company can afford it. Operating agreements contain different information for every business, which means that there isn't one universal template for everyone. The agreement has to be adjusted to your LLC's needs to be effective.
DoNotPay developed a user-friendly feature that will help you create an operating agreement for your LLC in a snap. Based on the answers you give us, we will draw up a professional contract to fit your LLC needs. Here's how you can create an agreement with us:
Sign in to

DoNotPay

Type in

Operating Agreement LLC

in the

Search

field

Respond to all of our questions 

Sign or notarize the personalized document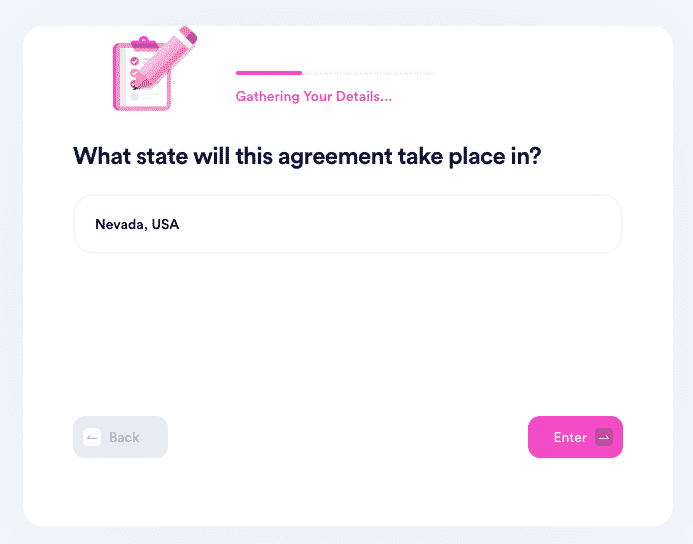 Bear in mind that your operating agreement won't be official until you and other LLC members sign it. We will help you draw up an LLC operating agreement in any state, including Maine, Missouri, and California.
How To Write an Operating Agreement for LLC Yourself
Writing an operating agreement on your own is far from easy. The agreement needs to cover a lot of issues and clauses that are crucial for your business. That's why DoNotPay's feature is the safest solution. If you still want to draw up an LLC operating agreement by yourself, these are some general sections and details you should include:
What To Include in an Operating Agreement  
Description

Introduction Information

The introductory section of the agreement should include:

Name of the LLC (visit your state's website to check the naming convention)

Duration of the LLC

Address of the LLC's principal office

Name and address of the individual who receives legal notices

Purpose of the business 

About Members, Interest, and Contributions

This is one of the most important sections. It should include the following info:

Initial members' names

The contribution and ownership of each member

The process of admission

Allocation and distribution of taxes

LLC Management

You can choose between two options:

Member-managed

Hired manager 

Ending or Leaving the LLC

In this section, you should describe:

What happens when one of the members leaves the LLC

What happens when the LLC automatically ends

The process for ending the LLC

Liability Clause

You need to state that all LLC members have limited liability for their actions

Miscellaneous

This section is reserved for special agreements such as:

Non-compete agreement

Conflict of interest policy

Non-disclosure agreement

Recordkeeping

You can describe recordkeeping requirements according to the state's rules
Make an Unlimited Number of Various Legal Documents in a Few Clicks 
DoNotPay is an easy and affordable option for anyone who wants to create operating agreements and other types of legal documents. These are some of the contracts and agreements you can draw up in a matter of minutes if you rely on DoNotPay:
Business Contracts
Real Estate
Other

General Business Contract

Intent to Purchase Real Estate

Quitclaim Deed

Estoppel Certificate

Promissory Note

General Affidavit
What Else Can Our Award-Winning App Do for You?
If you think that's impressive, wait until you've heard about other features we boast!
Our powerful app can draft paperwork for you, locate unclaimed funds under your name, cancel subscriptions, sue robocallers, and protect you from stalkers and harassers—all in one nifty browser app!
Our legal services have been recognized by the esteemed ABA Brown award, serving as a testament to our abilities to assist you with your small claims issues, free trial auto-renewals, college fee waivers, public records, copyright protection, and much more!
More Benefits of DoNotPay
DoNotPay is a useful tool for handling many otherwise annoying life's trifles, including: