Compose an Operating Agreement for an LLC in NJ Hassle-Free!
Are you thinking about starting a multi- or single-member limited liability company (LLC) in New Jersey? You should consider writing an LLC operating agreement to spell out the operating guidelines and governing structure of the company. If you're wondering what the best way to create an operating agreement for an LLC in NJ is, you will find this article helpful.
Avoid wasting hours trying to find the perfect contract template for your LLC. Rely on DoNotPay to find out how to create an LLC operating agreement or any other legal documents in under five minutes!
What Is an LLC Operating Agreement?
An operating agreement is a document signed by all the members of an LLC. The purpose of the agreement is to define:
The terms of LLC ownership and management
Functional and financial decisions of the LLC
The rights and responsibilities of each member
Rules and guidelines regarding business conduct within the LLC
Is an LLC Operating Agreement Legally Required in New Jersey?
New Jersey is one of the states that don't require the LLC owners to have an operating agreement. You should still consider drafting one as this contract can be beneficial to your business for various reasons, including:
You will avoid any future conflicts with the members since all of you will outline the roles, expectations, and responsibilities in writing
The lack of an LLC agreement means that your company will have to follow the state rules. These regulations are generic, which means that they probably won't be advantageous to the members of your LLC
Prospective partners and investors will ask for the operating agreement when evaluating your business
If you or any other member apply for financing, banks, credit unions, and other institutions will want to review your operating agreement
Having an LLC operating agreement will help you protect your company's limited liability status
An operating agreement will give you full control over your business conduct
Learn Which Elements Your LLC Operating Agreement in NJ Should Include
If you'd like to try to write an operating agreement in NJ by yourself, these are the sections you should include:
Introductory info—records the name, purpose, and address of your LLC and the names of the members. This section should also include the effective date of the operating agreement
LLC ownership—spells out the division of ownership in multi-member LLCs. If you want to run a single-member LLC, you don't need this section
LLC management—determines whether your LLC will be managed by the members or whether you'll hire an appointed manager
LLC members voting rights—describes the rules of voting. In most LLCs, every member has one vote, but some companies give the members who own a bigger percentage of the LLC more voting power
Capital contributions—clarifies how much money every member has contributed to the LLC
Distribution of profits—outlines how LLC profits or losses will be distributed to all members
Membership structure changes—explains how ownership will be transferred if a member passes away or decides to leave the company
LLC termination—describes the process of dissolving your LLC if you and the other members decide that you don't want to continue conducting business
LLC operating agreements need to cover a lot of important information, which is why it's important to write them correctly. If you don't feel like you're up to this challenge, you should subscribe to DoNotPay and let us handle everything for you.
Rely on DoNotPay and Create an Operating Agreement for Your LLC in NJ in a Snap!
Writing an operating agreement or any other document on your own is no easy task, and hiring a lawyer can cost you a fortune. That's why you should rely on DoNotPay's Legal Documents product and write your contracts in a matter of minutes.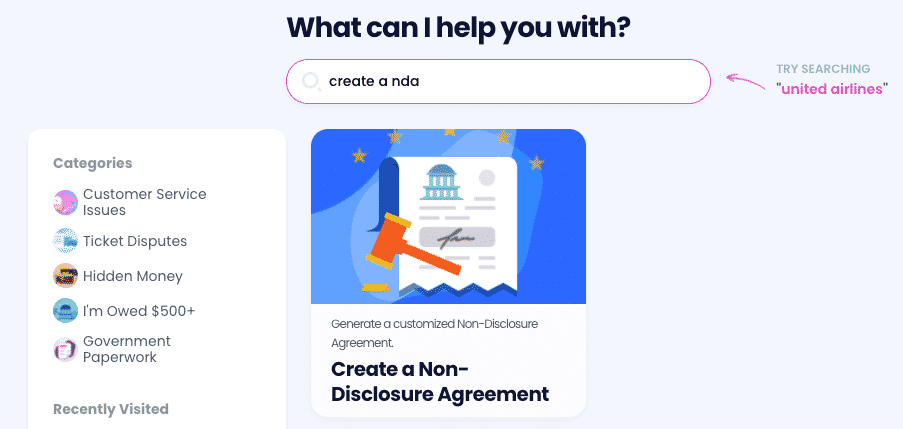 Your only task is to provide the necessary answers, and we will create a customized NJ operating agreement on your behalf. To use our Legal Documents feature and take care of document creation stress-free, do the following:
Enter the name of the document you need
Answer our questions
Print and sign the document
Do you have LLCs in other states in the U.S.? You can use DoNotPay to compose an LLC operating agreement in any state, including:
We Can Help You Draft Many Other Contracts!
DoNotPay can assist you in drafting not only an operating agreement but also many other legal documents, including:
Business Contracts

General Business Contract

Other Documents

Intent To Purchase Real Estate
Quitclaim Deed
General Affidavit
Child Care Authorization Form
Need Help Getting Your Documents Notarized? We Have Got Your Back!
If you'd like to get your contracts notarized but wish to avoid the standard notarization procedure because it's too complicated, you should rely on DoNotPay! With us, you can create your documents and handle notarization with the help of the same AI assistant.
DoNotPay will assist you in scheduling an appointment with an available online notary in a matter of minutes. The notary will witness the signing of your document virtually—via a video call—and provide a digital notarial certificate right away.
DoNotPay Can Help You Solve Pesky Issues Stress-Free
Dealing with everyday issues can become overwhelming, especially if they include bureaucracy. DoNotPay can help you handle numerous problems in a few minutes. With us, you can schedule your DMV appointments, get documents notarized remotely, and create various legal documents—including child travel consent statements and demand letters for neighbor complaints—in a snap.
Do you need help paying your bills, disputing parking tickets, or getting cash back for your gift cards? Once you register for DoNotPay, you'll be able to manage all of these and many more issues in no time.
What Else Can You Use Our App For?
Besides helping you handle tedious administrative hurdles, DoNotPay can do much more for you! You can use DoNotPay to:
With us, you can send online faxes or mail letters from the comfort of your home. Do you have friends or family members who are serving time? We can help you connect with inmates in a flash by enabling you to locate them and send them letters.