Opening a Retail Store—Startup Costs and Finance Options Clarified
Opening a retail store can be the fulfillment of your dream—your own space to showcase who you are and what you do better than anyone else.
Whatever your store type, you have the opportunity to become a destination shop and carve a niche for yourself.
Getting it right from the outset demands planning and investment, though—it is far easier to spend time and money creating the right space before you launch than it is to rectify mistakes with customers already in store.
DoNotPay has the info, advice, and budget requirements you need to know about when opening a retail store. Startup costs do not have to be a deal-breaker!
What Is Involved in Opening a Retail Store?
Retail store startup costs are subject to a myriad of variables, such as:
The location you choose
The type of store you are opening
Your product display requirements
Your expectations of foot traffic
When you plan your likely expenses, it is always best to err on the side of caution and overestimate how much your shop startup costs will total. Expecting the unexpected is a rule of thumb.
What Retail Store Startup Costs Can You Expect?
Your retail startup costs will include the following elements:
Retail Startup Cost Elements
Explanation
Lease and utilities
You must secure premises in the right location, with:

Adequate space
Guaranteed foot traffic
The right area for your type of store
Convenience, including parking and an easy-to-find location

Retail space is usually calculated as a dollar amount per square foot, so shopping around pays. You should expect to pay a security deposit, as well as upfront rent and utility connection fees

Shopfitting and fixtures
Customer loyalty depends on creating the right ambiance in your store. You should invest in the feel of your store at the outset
Stock
Depending on your line of business, you have to buy sufficient stock to satisfy initial demand. Negotiation with your suppliers may allow you to extend your payment terms and ease cash flow
Back office
You will need computers, printers, accounting software, and a POS system to set your store up. You may also need to take out various insurance policies, including:

Inventory insurance
Public liability
Building insurance

Marketing
Your business needs to generate cash as quickly as possible, so you should invest heavily in marketing and PR, including planning for a launch event. You will also need a brand and logo, together with signage and POS material
Licenses and permits
Accountants and lawyers may be needed for licenses and permits, including:

Sales tax registration
An Employer Identification Number (EIN)
Any local, state, or federal permits you may need to sell your goods
What Happens in the First Two Months?
After you have opened successfully, the major expenses should be behind you, but you will still have ongoing expenses to cover.
These will include:
Insurance premiums
Accounting and legal fees
Staff salaries
Utilities
Cleaning and maintenance
Most businesses take time to build themselves up to breakeven, so you should budget for the costs expected in your first two months of trading in your startup cost calculations.
What Startup Funding Options Do You Have?
If you are lucky, you will have enough cash savings to be able to finance your startup.
If this is not the case, you may be tempted to use a credit facility you have established to pay initial bills—you should be aware, though, that credit often involves punitive interest rates.
The trap many retail startups fall into is that of running out of cash. This is where your planning comes in, and you may find that your cheapest—and safest—option is to take out:
Small Business Loans
If you have an existing business, you can approach financial institutions for a small business loan.
Qualification for a small business loan will depend on you being able to demonstrate success in the past and positive projections for your new retail outlet.
Small business loan terms of repayment are generally not harsh as many financial institutions are eager to help fund new small business ventures. Among the various types of small business loans on offer, the best deal for your business should be achievable.
Startup Loan
A financial institution will offer a startup loan based on the credibility of your business plan and financial projections.
The more risk the lender sees in your business, the higher the interest rate will be, so it pays to prepare a plan that is:
Comprehensive
Logical
Based on fact
Who Can Offer You Startup Financing?
Your options for securing startup finance for your retail store are:
Any of these should be able to help, but you will need to make a strong business case by providing:
Financial history—either personal or from an existing business
An application letter detailing your plans and projections, as well as the loan amount you need
DoNotPay is here to help with your small business loan application—we can provide you with the perfect application letter, giving you the best chances of securing the financing you need!
DoNotPay Is the Partner You Need To Get Your Retail Startup Costs Financed!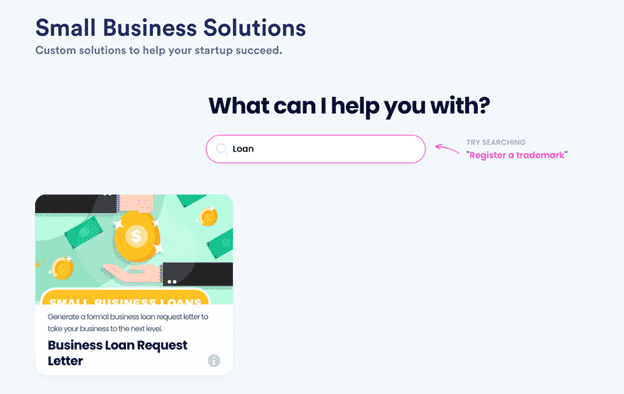 DoNotPay understands what you need to get a small business loan for your retail startup.
Our Business Loan Request Letter product is designed to create a convincing case for your chosen financial institution.
We will incorporate your loan request, business plan, and financial details into a document that ticks all the boxes required by a lender—maximizing your chances of getting the financing you need.
Here's how to get your letter generated:
Click on our Business Loan Request Letter feature
Gather your credit scores and relevant financial documents, and upload your documentation
Tell us about the loan you need, your business plans, and your financial projections
We will take it from there—in no time at all, we will generate an ideal loan request letter for you to send to your financier of choice.
Your retail store could well be on the way from dream to reality.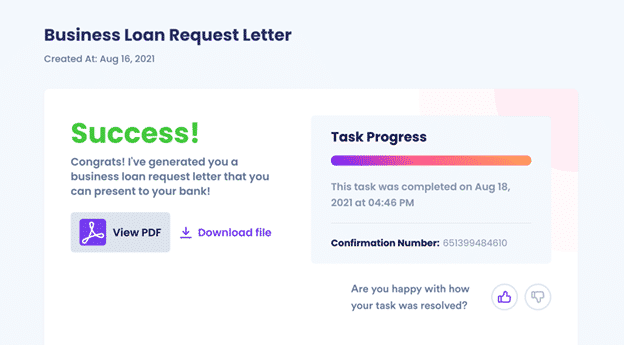 DoNotPay Has Even More To Bring to the Table
There is so much to take care of while running a business. We are here to help you complete different tasks faster so that you can save both time and money.
If you want to join a Privacy Shield Framework, our app can help you with the self-certification process. To save yourself from any future copyright issues, you can designate a DMCA agent and register them with our help.
DoNotPay can also assist you in filing numerous requests and applications, such as:
Small business loan request letter
83(b) election forms
Employer Identification Number (EIN) application
No Issue Is Too Big for Our App
If your clients are causing you a headache, turn to our app for assistance. In case someone has breached a contract and refused to pay, there is something you can do. Use DoNotPay and send a formal demand letter. If worse comes to worst, you can take the issue to small claims court with our help. If you are worried about the incessant back-and-forth, do not worry—use our fax and mail services for smooth communication.
A client or customer may initiate a chargeback for no reason. If you believe a scam is at play, our AI-powered app can help you dispute fraudulent chargebacks.
DoNotPay can even help with removing fake negative reviews.
Before you start solving any problems, you may also want to register and protect your trademark.