Tips for Creating a Rock-Solid Open Listing Agreement 
Putting a property for sale comes with a lot of responsibilities. Finding prospective buyers and choosing the best one is not an easy task. The best chance of making the right sale is hiring professionals, such as real estate brokers, to do the grunt work for you. 
Don't know how to write a contract to protect your rights and ensure a good business relationship? Don't worry— and get all the information you need!
In this article, you can find the ins and outs of an open listing agreement and the instructions for drafting one by yourself.
What Are Listing Agreements?
A listing agreement is a legal document between two parties—the seller of the property and a real estate broker—that permits the broker to represent the seller and their property in the property selling process.
After signing the contract, the broker acquires the rights to list, rent, and sell your property. In most states, listing agreements have to be in written form.
Open Listing Agreement in a Nutshell
An open listing agreement is a non-exclusive listing agreement. An open listing allows the seller to sell their property on their own as For Sale by Owner (FSBO) property or execute open listings with multiple real estate brokers.
Many sellers prefer this listing agreement over other types because there are almost no downsides. The benefits, on the other side, are quite compelling:
The level of commitment is low

More real estate brokers bring more selling opportunities

The seller doesn't have to pay commission to every broker, only the one that makes the sale

The seller can make the sale on their own, avoiding paying the commission altogether
Open Listing Agreement vs. Other Types of Listing Agreements
Besides open listing agreements, real estate sellers can sign exclusive agency listing and exclusive right-to-sell listing agreements. You can find a brief overview of these listing agreement types in the following table:
Type of a Listing Agreement

How Does It Work?

Exclusive Agency Agreement

One real estate broker is authorized to list, rent, or sell the property

The seller can make the sale on their own, without any obligation to pay the commission to the broker

Exclusive Right-To-Sell Agreement

One real estate broker is the sole agent of the seller

The broker has an exclusive right to represent the seller and property in the selling process

The seller is obligated to pay the commission, even if they sell the property on their own
What Should an Open Listing Agreement Include?
Open listing agreements are legally binding documents. A seller can sign an open listing agreement with an unlimited number of real estate brokers. To become enforceable, an open listing agreement must follow precise regulations and include the terms and conditions the parties had agreed upon.
Not every open listing agreement is the same—the seller and broker can decide to add specific clauses.
How To Draw Up an Open Listing Agreement by Yourself
You don't have to pay an attorney to draft an open listing agreement for you. You can find a contract template online or write one yourself. Even though it may seem complicated, writing an open listing agreement is simple. You can create an open listing agreement by following these steps:
Write the signing date of the agreement

Add full names of the seller and real estate broker

Insert the listing terms of the agreement

Provide a description of the property

Insert the percentage and dollar amount of the commission

Include terms regarding the cancellation of the agreement
Take a Look at Numerous Legal Documents DoNotPay Can Draft for You
In many cases, writing contracts requires legal assistance, which can be extremely expensive. While you can opt for an online template, they are not going to serve their purpose every time, especially when your contract requires specific clauses. You don't have to pay the earth for attorneys—the world's first robot lawyer can draw up various legal documents in a jiffy!
DoNotPay created a service that creates contracts in your name, so you don't have to worry about making grammatical errors, using incorrect information, and overlooking other irregularities that can make legal documents void.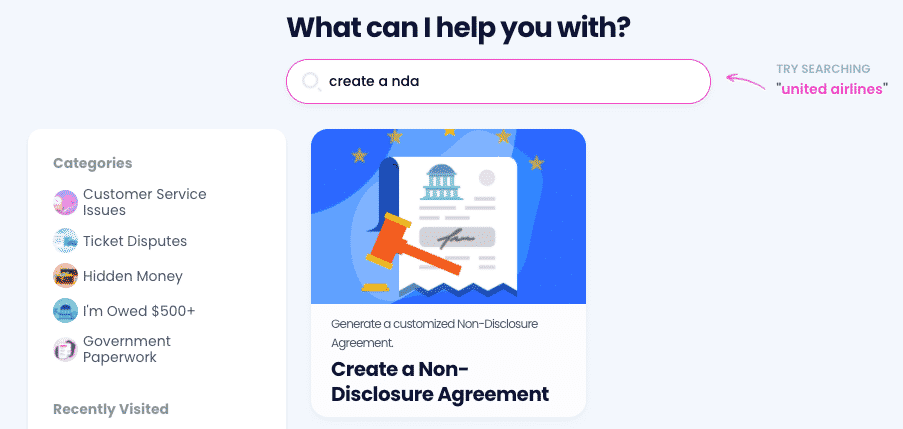 Here's how to put our service in motion:
Insert the name of the legal document you want to draw up

Complete our brief questionnaire
Once you answer all the questions, we will generate the contract. To make the legal document official, you—as well as the other party— need to sign and notarize it.
What Legal Documents Can DoNotPay Create?
The following table contains contracts and other legal documents that the world's best virtual assistant can draw up for you:
Real Estate
Business
Other Legal Documents

Intent To Purchase Real Estate

Estoppel Certificate

Quitclaim Deed

General Business Contract

General Affidavit

Promissory Note
Keep Your Money Safe With DoNotPay
Don't let greedy companies threaten your consumer rights by holding back refunds, refusing to cancel your subscriptions, or charging you after your free trial ends.
DoNotPay helps you try out different services without providing your credit card info or phone number—you will never again have to deal with unexpected post free trial charges!
Our app also helps you avoid paying unnecessary parking tickets, delay challenging bills, or waive your college application fees. 
If any company refuses to issue you a refund or an airline won't compensate for canceled flights, we can help you sue them in small claims court.
DoNotPay Is a Time-Saving App
How many customer service reps do you have to deal with only to file an insurance claim or book your DMV appointment?
DoNotPay helps you sort out these tasks and much more in only a few clicks.
Get your revenge on robocallers, report text scammers, find validated clinical trials, claim your warranties, get in touch with your loved ones in prison, and protect your creative content—all in less than five minutes. 
No more hours-long phone calls, emails, or in-person visits. 
We cover everything from freeing your inbox from spam to providing excellent prep tests for government exams! Save time with your all-in-one app!