Online Homeschool—What Are Your Options?
Are you unable to keep your child in a public school? Homeschooling is legal in all states, and you can start homeschooling for whatever reason, even in the middle of the school year. Signing up your kid for an online homeschool plan may be a smart choice because it has many benefits!
We'll help you better understand the entire process and learn the ins and outs of homeschooling online.
If you plan on being your child's homeschool teacher, sign up for our service to send the notice of intent to homeschool to the school district, which is the main requirement in many states.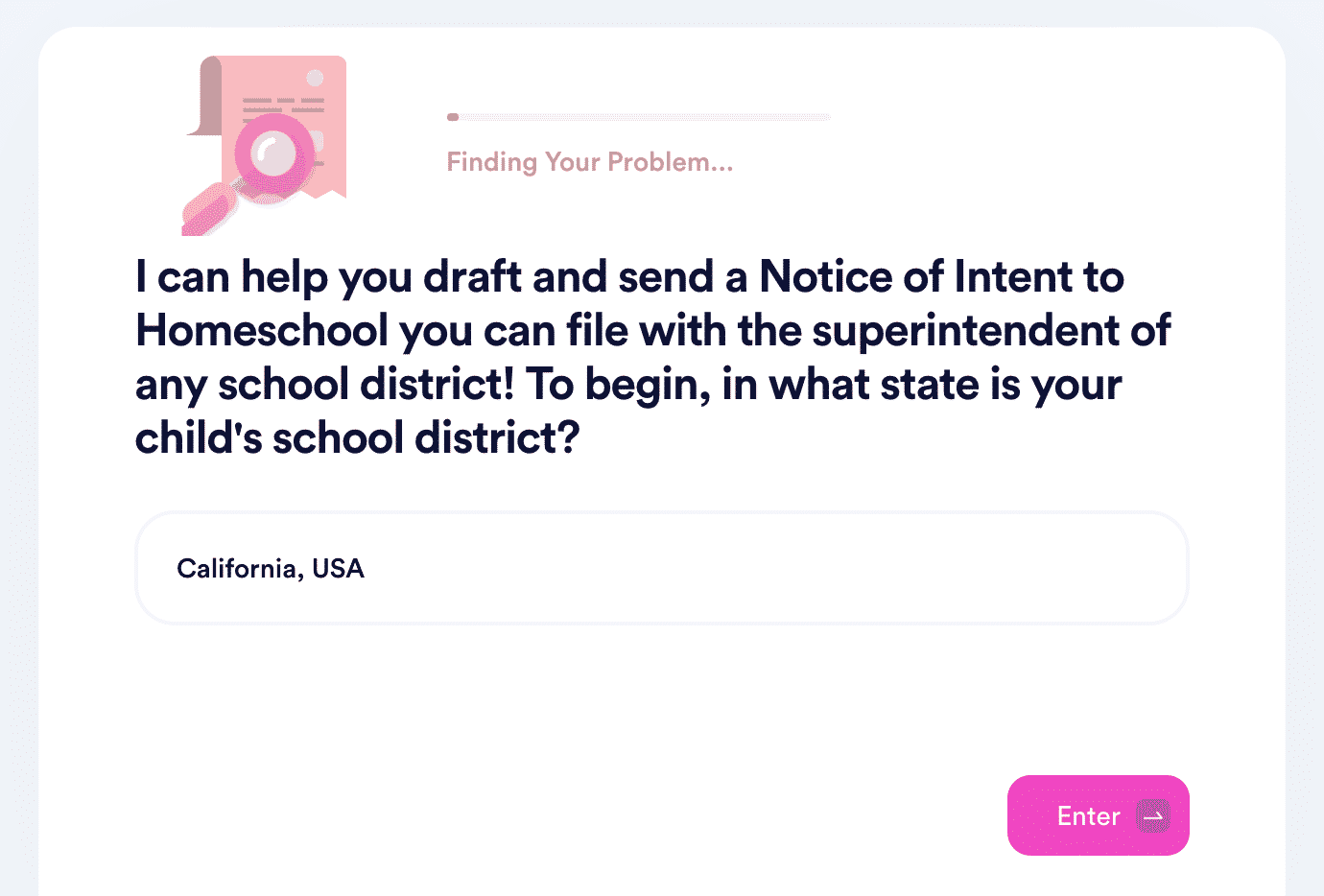 Homeschooling Options for Parents and Guardians
If you want to begin homeschooling your kid, you should research your options. Refer to the table below for the available homeschool methods:
Homeschooling Method
Brief Description
Online
Remote online homeschooling is currently booming due to the COVID-19 pandemic. There are two methods:

The DIY method allows you to be the teacher to your child, which is cheaper because you don't pay teacher rates. You'll still need to acquire an online curriculum and cover other homeschooling expenses
The online method with a hired teacher saves money because multiple children can be taught at once. There are specialized online homeschools, but many of them are regular private schools that switched to this medium because of its effectiveness

Private school
Most modern private schools teach both in person and online due to COVID-19. Their experienced teachers sometimes have the edge over lecturers in newly formed online homeschools. Note that private schools can be expensive regardless of the teaching methods
Private tutor
Homeschool tutoring is a widely spread profession, and it's viable for those who have money to support it. There are one-on-one lessons and homeschool groups that are better for those on a budget
Do it yourself
Most states allow you to homeschool your children, but in some cases, you need to be a certified teacher to be able to do that. If you have the certification, you can save a lot of money by being a homeschooling parent and forge an even better bond with your children by teaching them
How To Do Homeschooling Online
Learning how to homeschool your child is difficult, whether it's done online or in person. These general tips will help you get started, regardless of the teaching model:
How To Choose an Online Homeschool Curriculum
An online homeschool curriculum is a lesson program for every subject, appropriate to the grade your child is attending. Choosing a homeschool curriculum can be challenging, but you have the freedom to adapt it to your child's abilities, interests, strengths, weaknesses, etc.
It's best to have a curriculum that covers multiple grade levels and has flexibility for improving and reviewing the progress at a steady pace.
Picking the subjects isn't easy either, but depending on their age, children should learn about:
Math
Grammar and other language skills
Science
National and world history
Social studies
Computer science
Biology
Chemistry
Civics
Economy
Religion
Note that you don't have to teach all these subjects at once—some of them are for older or more advanced students. It's also beneficial to teach children:
Physical education
Sports
Arts
Music
Dance
These classes will boost the health, creativity, and the fun aspect of homeschooling your child.
The Best Online Homeschool Programs
Picking the right online homeschool program can be stressful. It's best to have options to choose from so that you can narrow down the choice. Our top picks for online homeschooling organizations based on user satisfaction, accreditation, and popularity are:
K12—It is a popular, high-quality, and personalized service with Cognia accreditation. The signup process is simple, and you can choose the programs for any grade level—kindergarten through high school. The annual prices vary based on the grade
Time4Learning—This is an online curriculum provider for every grade of preschool, elementary, middle, and high school. It offers personalized, inclusive (even to those with learning disabilities), and affordable education. The fees are monthly and depend on the grade
HomeschoolAcademy—It has fully accredited homeschool programs. It is flexible, personalized, and covers all grades of preschool through high school. You can pay per course or for the entire year
DoNotPay Can Help You Start Homeschooling!
Are you ready to take your child out of school to homeschool? Many states require formal notification to the school district before you can be the homeschool teacher to your child. We offer you a solution that will get you started in no time! Here's what you need to do:
Open our Notice of Intent To Homeschool product
Enter the details about your child and yourself
We will draft the notice for you and:
Send it to you in a PDF file
Mail it to the school district for you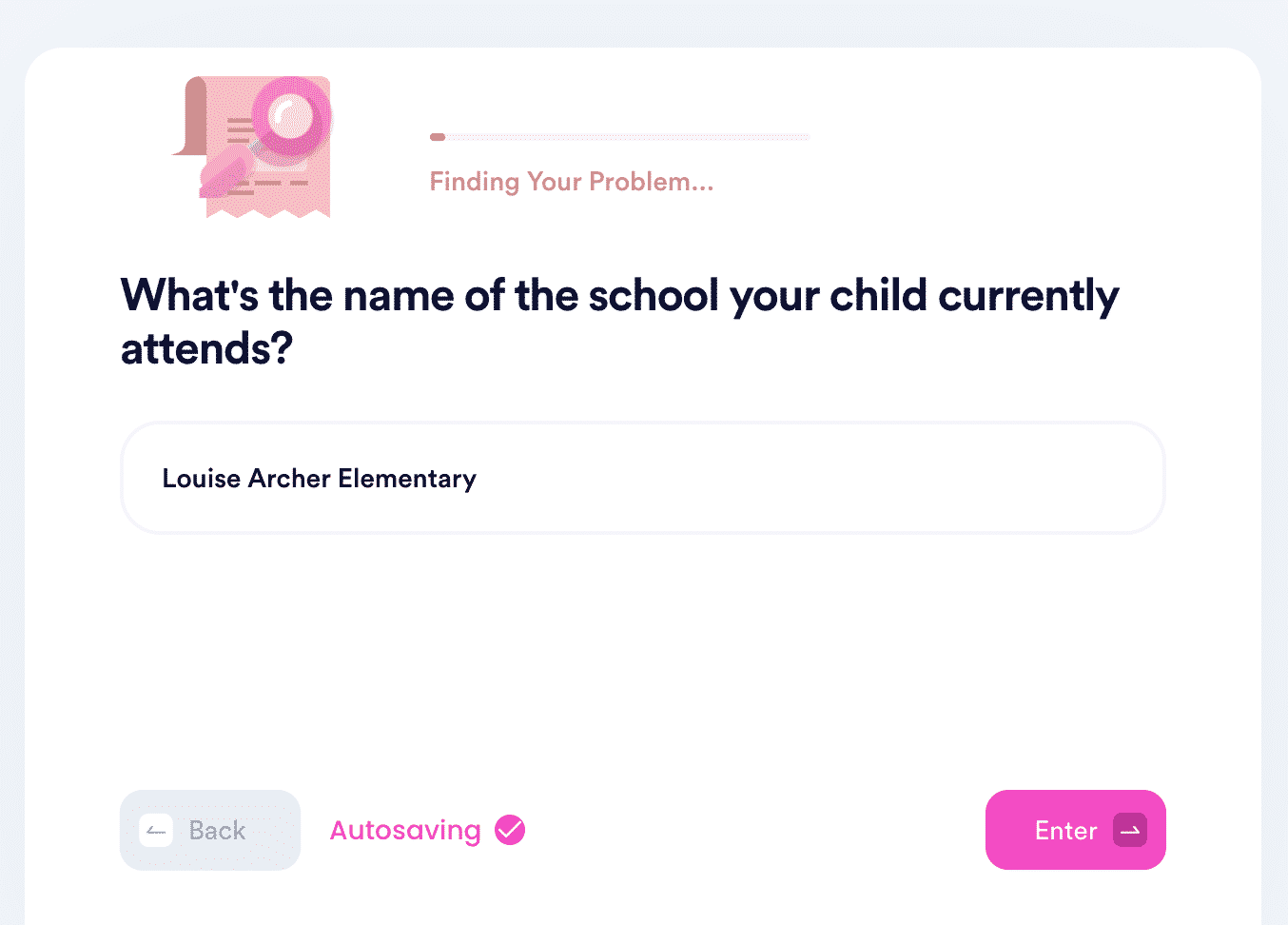 Explore DoNotPay's Vast Database To Handle Administrative Issues Head-On
Dealing with administrative issues is never a fun experience, but you can save yourself from unnecessary hassle with our app! Once you sign up for DoNotPay, there is little you can't do. Aside from helping you deal with everyday tasks, such as reaching customer services, you can also use our app to:
Make Your Legal Troubles Disappear
Is a company giving you a hard time? Don't fret! DoNotPay can walk you through the process of suing it in small claims court and help you get the justice you deserve!
The best part is that assisting you take companies to court isn't all our app can do! We can also help you with: