Is Getting an Online Divorce in Ohio Possible?
Are you thinking of getting an online divorce, but you're not sure how it works or whether it's the right choice for you? DoNotPay is here to help you with the decision!
We'll show you how an online divorce in Ohio works and how to get divorced without spending a fortune.
How Does an Ohio Online Divorce Work?
There are online divorce agencies in Ohio. What they do is help you prepare the required divorce paperwork. Once they provide you with all the necessary forms, you will need to file them yourself at your local courthouse.
Although helpful, online divorce services are not advisable because:
You might get the wrong forms—Not having the latest version of required divorce papers can result in you having to start the procedure from scratch
They are an extra expense—Online divorce services are costly, especially if you consider that they only deliver the forms to you
They lengthen the divorce procedure—Agencies will sometimes take a couple of days before sending you the divorce papers
Instead of using online services, you can file for a quick divorce yourself and end your marriage hassle-free, without spending money on unnecessary expenses.
Ohio Divorce Requirements Explained
Before filing for divorce in Ohio, you must meet certain requirements, such as:
Agreeing on key divorce issues—By reaching a compromise with your spouse, you are eligible for an uncontested divorce, which online agencies can help you with. If you can't meet your spouse halfway, try divorce mediation. The mediator will provide you with helpful advice in a safe environment. Choosing to get divorce mediation in Ohio lowers the cost of your divorce, as it saves you from hiring a lawyer
Filing for divorce without fault—Ohio is a no-fault state, which means that you can file for divorce without putting any blame on your spouse. You can state that your marriage is irretrievably broken
Meeting Ohio residential requirements—You or your spouse must have lived in Ohio for at least six months. You must also file the divorce papers in the county where one of you has lived for three months before the procedure
Quick Divorce in Ohio Explained
An uncontested divorce is the quickest type of divorce. It is for couples who can reach a middle ground on divorce aspects, such as:
By being in agreement on these issues, you won't have to attend multiple court hearings. This means that you diminish the cost of the procedure as there won't be a need for you to hire a lawyer. You might also stay on friendly terms with your spouse, which is an added bonus if you have any children with them.
How To Get a Quick Divorce in Ohio
Getting a quick divorce in Ohio requires you to follow a few steps. See the table below for more details:
| Step | Explanation |
| --- | --- |
| Gather the necessary divorce papers | Visit your county's official government website and download all the required forms |
| Print the paperwork | You're required to print multiple copies, one for the court, the other for your spouse, and the original is for you |
| Sign and get the documents notarized | Ohio divorce laws require you to sign your divorce papers in front of a notary, thus making them legally binding |
| File the papers with the county clerk | You'll need to bring the papers to the clerk of the county and pay the filing fee. Note that you can waive the fee by filing a special form, which the judge will review and decide if you're eligible for a waiver |
| Draw up a divorce settlement agreement | This document outlines the divorce terms you and your spouse have agreed to. It needs to be written carefully as the judge will review it before finalizing the divorce. Either spend a fortune by hiring expensive lawyers to draw one up for you, choose unreliable online services, or use DoNotPay. We can generate the settlement agreement based on the details you give us and send it your way in a snap |
How To Get a Divorce Settlement Agreement Effortlessly With DoNotPay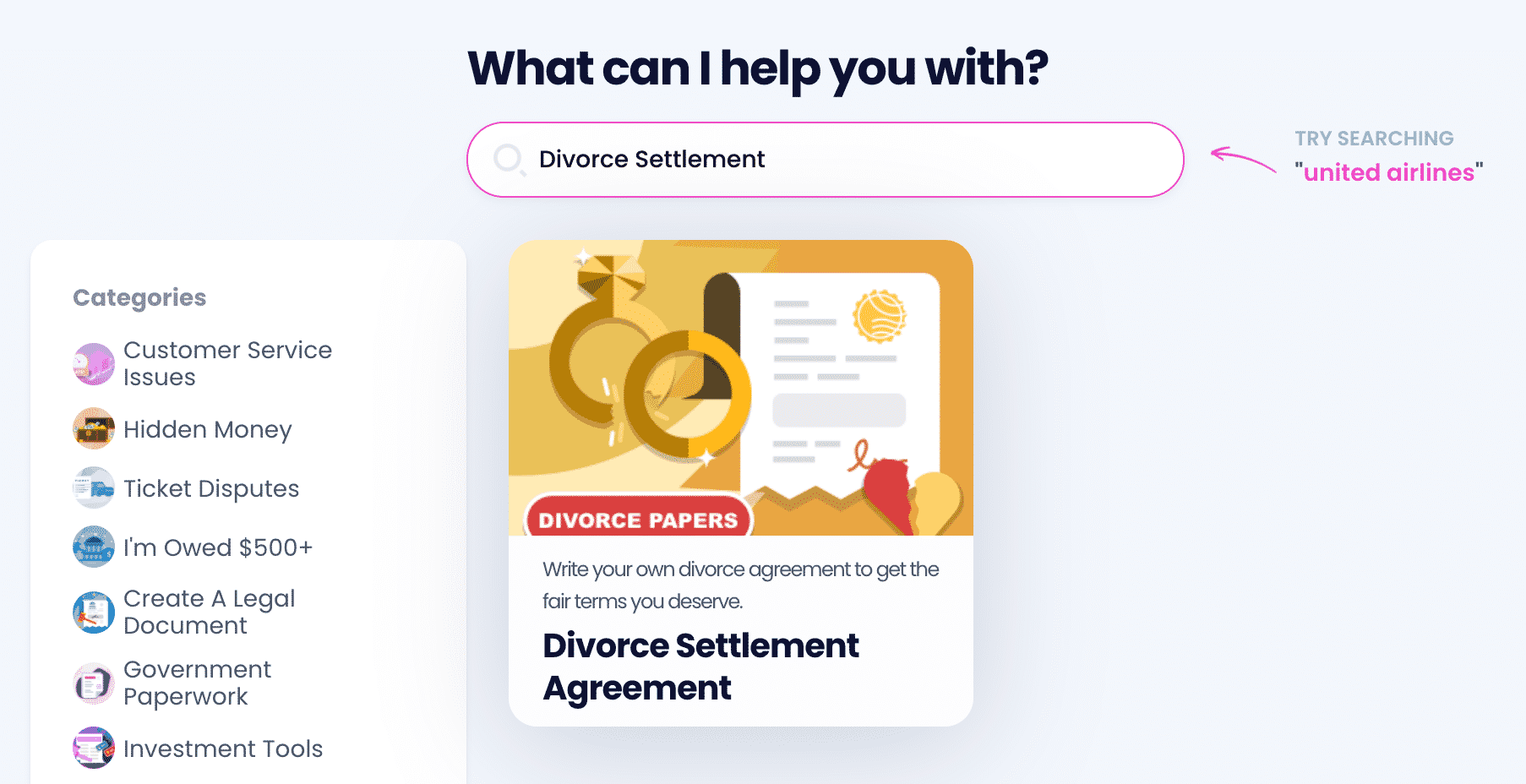 With our AI-powered app, you can get a divorce settlement agreement without hiring lawyers or wasting time writing one yourself. DoNotPay can create this crucial document perfectly suited to your needs in minutes, and all you have to do is:
Find the Divorce Settlement Agreement tool
Answer our chatbot's questions regarding your spouse, assets, children, etc.
Choose if you want to have your document notarized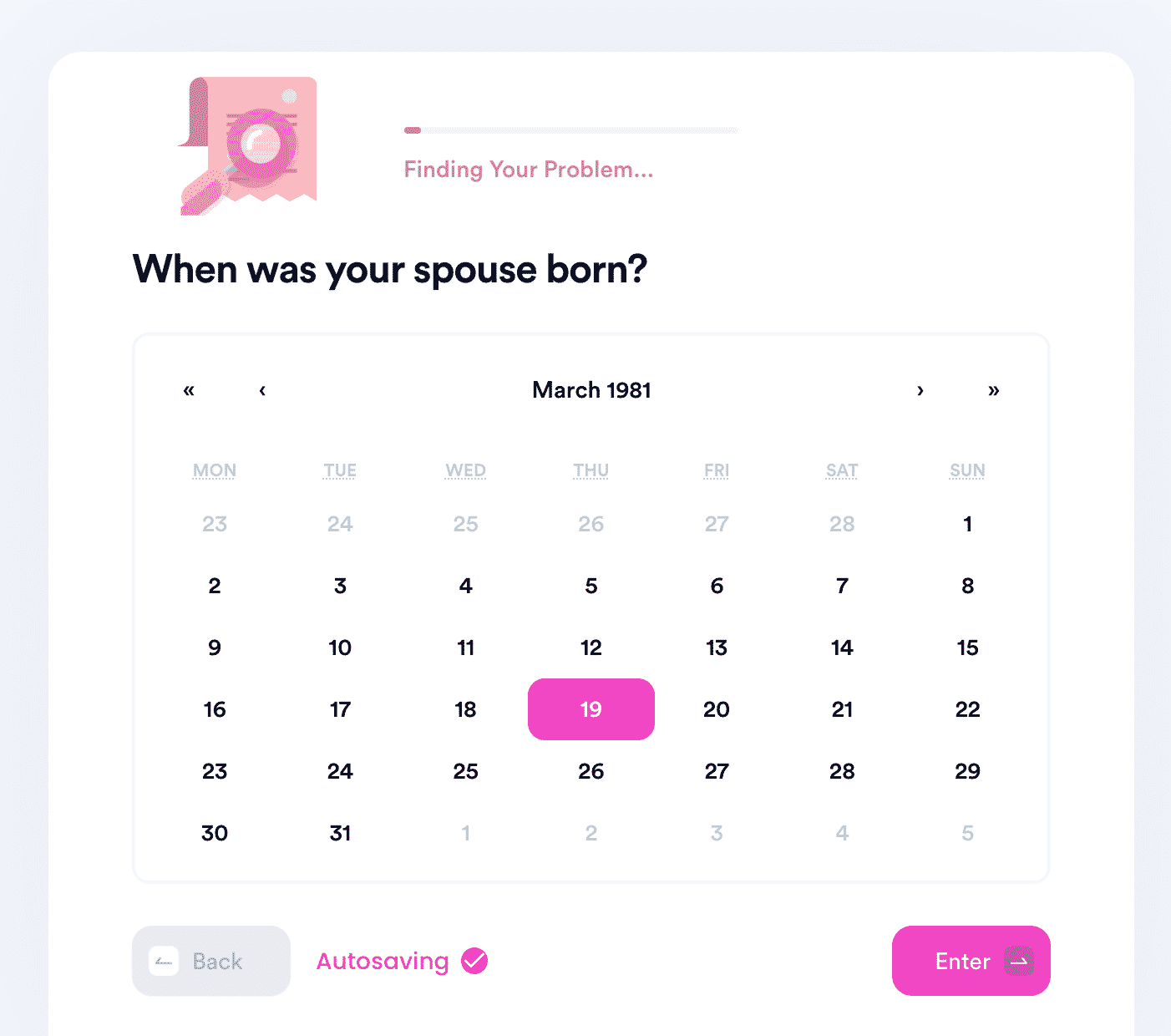 We can connect you with an online notary and help you add legal weight to your document the easy way.
Be sure to check out DoNotPay's learning center and learn how to:
Learn How To Solve Legal Issues in Minutes!
Do you need to draft a legal document? Spending hundreds of dollars on lawyers is not the answer. We came up with a faster and more affordable solution. Not only can our app draft child consent forms, divorce settlement agreements, and powers of attorney for you, it can also provide legal assistance by helping you take anyone to small claims court!
Drafting numerous documents is not all DoNotPay does for you! Aside from drawing up contracts and agreements, we can also assist you in getting them notarized online from the comfort of your home or office!
Explore DoNotPay's Other Nifty Features
There is more assistance on the way! You can use DoNotPay's features to handle various tasks with ease, including:
We can also help you protect your safety. If you don't know how to deal with copyright infringement, stalking and harassment, work discrimination, sex offenses, and disputes with annoying neighbors, DoNotPay has got you covered.