The Ins and Outs of an Online Divorce in Missouri
Courtroom disputes, overlong procedures, and sky-high attorneys' fees are some of the reasons why so many people avoid traditional divorces. With the average cost of divorce in Missouri being $13,500, it's no wonder couples often refrain from hiring lawyers and opt for settling their issues out of court.
If you and your spouse are eligible for an uncontested dissolution, you can simplify the procedure even more by getting a divorce online!
This article will guide you through filing for online divorce in Missouri.
Do You Qualify for an Online Divorce in Missouri?
Online divorce is a quicker, cheaper, and less demanding type of marriage dissolution, but it's not for everyone. The state of Missouri allows you to terminate your marriage this way only if you fulfill the criteria for an uncontested divorce. Check the table for the details:
Criteria
Explanation
Meeting the residency requirements
To file for any type of divorce in Missouri, you or your spouse must:

Be a resident of the state for at least 90 days before petitioning
File the petition in the county where you reside
Wait the mandatory 30 days from filing the papers to attend a hearing

Reaching an agreement regarding all important matters
For this type of divorce, you and your spouse have to agree on every aspect of your case, including:

If you and your soon-to-be ex-spouse have minor children together—adopted or biological—you must draw up a parenting plan to define matters, such as:

Custody
Parental responsibilities
Parenting time
Keep in mind that online divorce services don't provide lawyers, so you'll have to go through the process on your own. If you have any dilemmas or trouble reaching an agreement with your spouse, you might have to hire an attorney or mediator.
Pros and Cons of Filing for Missouri Divorce Online
Before filing for divorce in Missouri online, you should consider all of its benefits and downsides. Here is a brief overview:
Advantages of Online Divorces
Disadvantages of Online Divorces

It's easier to find the necessary paperwork online
Online DIY divorce forms are typically free
You don't need to hire a lawyer, which can save you a lot of money
You can avoid seeing your partner by waiving your right to appear at the hearing

It doesn't work if you have any disputes with your spouse
Not all online sources are reliable
You have to check state laws, rules, and requirements on your own
Online Divorce in Missouri—Required Paperwork
With an online divorce service, you can gather and fill out all the documents in one place. If you and your spouse act as co-petitioners, you can fill out the forms together. If not, you need to serve divorce papers to your spouse.
Forms you need for an uncontested divorce include:
Petition for Dissolution of Marriage (CAFC001)
Statement of Property and Debt and Proposed Separation Agreement (CAFC040)
Respondent's Answer to Petition for Dissolution of Marriage (CAFC010-R)
Judgment and Decree of Dissolution of Marriage (CAFC070)
Certificate of Dissolution of Marriage
Statement of Income and Expenses (CAFC050)
Filing Information Sheet
Notice of Hearing (CAFC721)
Parenting Plan
Another important document you need to finalize your uncontested divorce is a marital settlement agreement. This document should outline all the issues you've agreed upon. It legally binds both of you to respect its clauses, and it protects you from any conflicts down the line. A settlement agreement needs to be written with utmost care and has to follow state-specific rules and guidelines—that's why you should let the world's first robot lawyer write it. All you need to do is sign up for DoNotPay, and the best AI-powered online assistant will do the grunt work for you.
Use DoNotPay To Get a Divorce Settlement Agreement in a Flash
Even if you're staying on friendly terms with your soon-to-be ex-spouse, you need to draw up a divorce settlement agreement. You need to do it well, too—if a judge finds your agreement inadequate, you'll probably have to start the process all over again! Writing such an important document by yourself can be tricky if you're not an attorney. That's why you should rely on DoNotPay.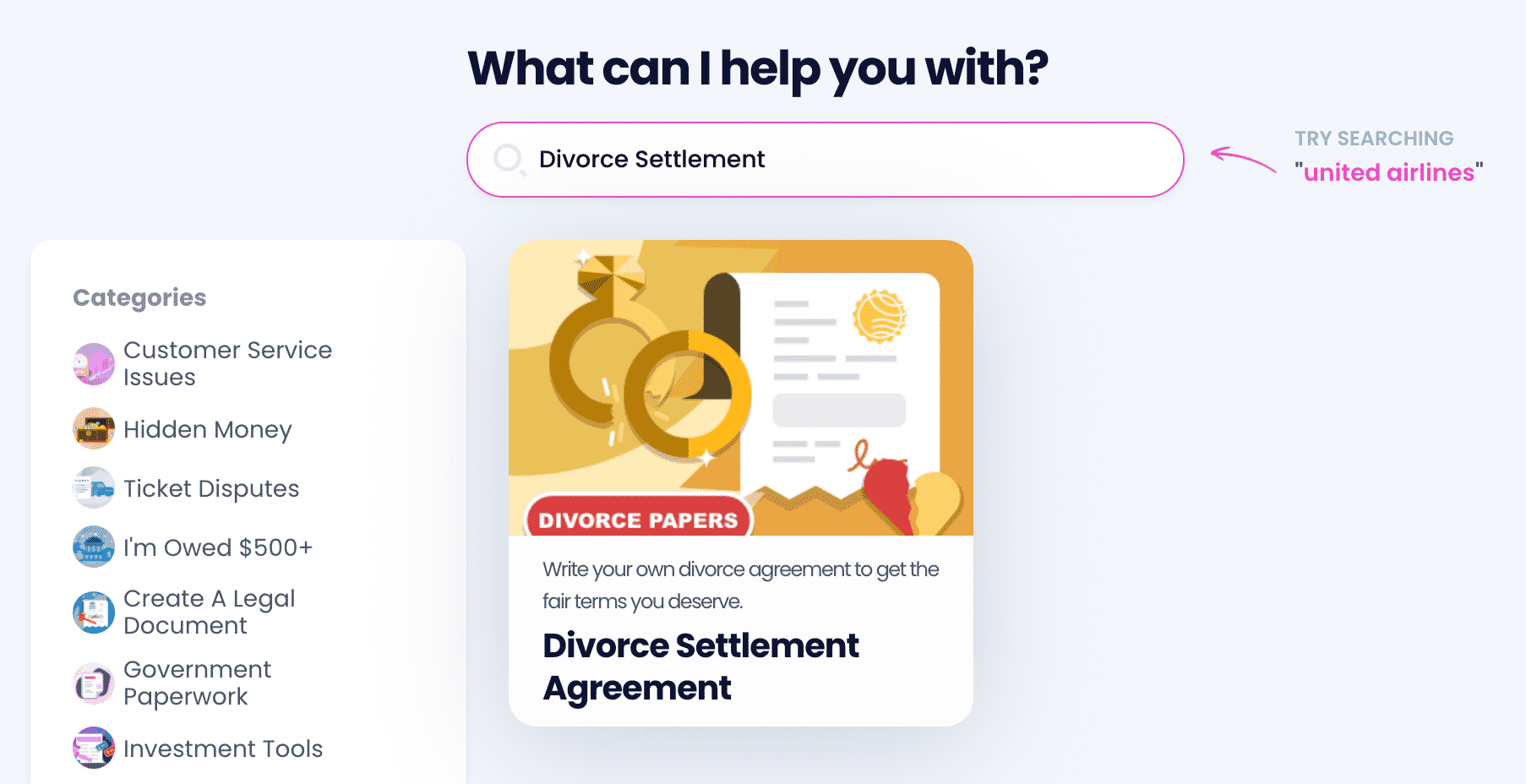 We use a comprehensive database of divorce laws and requirements across the U.S., which allows us to draft valid and enforceable divorce settlement agreements.
Our service is fast, easy to use, and, most importantly, budget-friendly. Here's all you need to do:
Open the Divorce Settlement Agreement feature
Provide information regarding your spouse, property, and children (if any)
Notify us if you need a notary public
We will customize the document and send it to you straight away!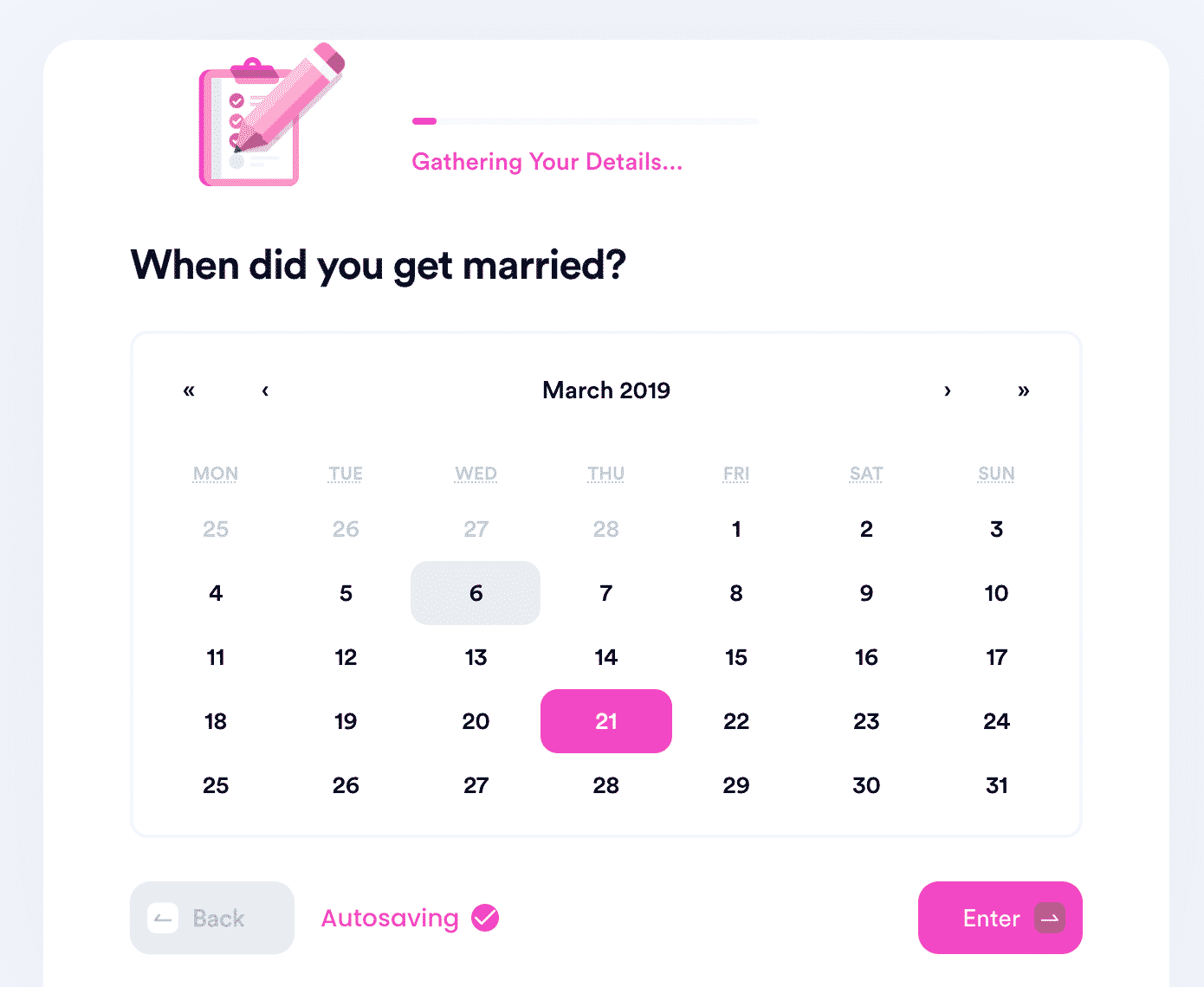 Do you need more information about this matter? Visit our learning center to find answers to divorce-related questions, such as:
DoNotPay Can Help You With Almost Anything
DoNotPay's goal is to have a multitude of features that can be useful to you with handling various issues. Whether you want to apply for clinical trials, prepare for government tests, or even get in touch with your locked-up friends or family—DoNotPay has got you covered!
For a small yearly fee, our AI-based app will help you:
Want To Save and Earn Money at Once? Subscribe to DoNotPay
DoNotPay can help you earn and save a buck or two. We'll assist you in reducing your property taxes, canceling any unused subscriptions, and signing up for free trials with our virtual credit card.
As if that wasn't enough, we'll save you money and spare you from a headache if you receive any faulty deliveries by filing a refund or an item return request in your stead! This is just the tip of the iceberg of features that DoNotPay has in store for you.