Is Getting an Online Divorce in Illinois the Right Option for You?
Many soon-to-be ex-spouses choose to get an online divorce in Illinois. Should you opt for one? Is it costly or lengthy? DoNotPay has the answers!
We'll present the ins and outs of online divorces and show you how to get a quick dissolution of marriage without a lawyer.
Illinois Online Divorce Explained
Contrary to popular belief, you cannot get a divorce online. You can only get the necessary papers and learn about the process. Online agencies can't file for divorce in your stead. They can only fill out and send the mandatory forms for a certain fee.
You must choose an agency with care because getting the right paperwork and an adequate settlement agreement is essential. Opting for the wrong agent has a lot of downsides, including:
| Downside | Explanation |
| --- | --- |
| Chance of getting the wrong forms | Some online agencies have outdated databases and forms. You can end up with the wrong divorce papers, causing the restart of the entire process |
| The extra money you'll have to spend | Considering that you can get divorce forms in Illinois online for free, paying agencies to get them for you is only an extra cost |
| Extended divorce process | Some agencies take up to several days to send you the divorce papers |
You don't need an online agency to complete the forms for you. The only tricky part is getting a settlement agreement. To obtain this key document hassle-free, you can use DoNotPay.
What Are the Requirements for a Quick Divorce in Illinois?
To get quick marriage termination, you should opt for an uncontested, friendly divorce because it allows you to stay in an amicable relationship after separation. You can also avoid:
Filing excessive paperwork
To be eligible for the uncontested divorce in Illinois, you and your spouse must:
Be residents of the Prairie State for 90 days minimum before filing the paperwork
Not have any marital children
Be married for no more than eight years
Live apart six months before the procedure starts
Not own a marital home and have less than $10,000 in joint marital property
File for a no-fault divorce so you won't have to prove your spouse's wrongdoings and can state that your marriage is irretrievably broken
Agree on the terms of your divorce, such as debt division and custody support
If you can't reach an agreement on crucial aspects of your divorce, get mediation in Illinois. The mediator will help you meet halfway. Divorce mediation is a cheap and efficient way to find a middle ground without wasting money on lawyers.
How To Get a Quick Divorce in Illinois
Getting a quick divorce in Illinois requires you to:
Obtain the required forms
File the divorce papers
Draw up a divorce settlement agreement
Obtaining the Required Forms
To collect the necessary divorce paperwork in Illinois, visit the local government website or courthouse. Don't forget to make multiple copies as you'll need to:
Give one copy to the court
Deliver another to your spouse
Keep the original for yourself
File the Divorce Papers
Go to your local courthouse and pay the filing fee. Can't afford it? You can complete a fee waiver form for the judge to review and decide whether you're eligible or not.
Serve Your Spouse
In Illinois, you can't deliver the papers yourself. You must hire a process server, deputy sheriff, or anyone who else who is:
Neutral to the case
At least 18 years old
Draw Up a Divorce Settlement Agreement
The divorce settlement agreement is the most important document you'll have to file. It contains the crucial terms of your separation, such as alimony and property distribution. Before finalizing your divorce, the judge will make sure it's:
Compliant with state laws
Fair to both parties
Signed willingly by both spouses
You can hire a lawyer and spend big bucks on their sky-high fees or write one yourself, which requires a lot of time. A handy solution, which saves you both time and money, is to use DoNotPay. We'll generate this key document personalized to your needs and send it to you in a jiffy.
How Does DoNotPay's Efficient and Affordable Divorce Settlement Agreement Tool Work?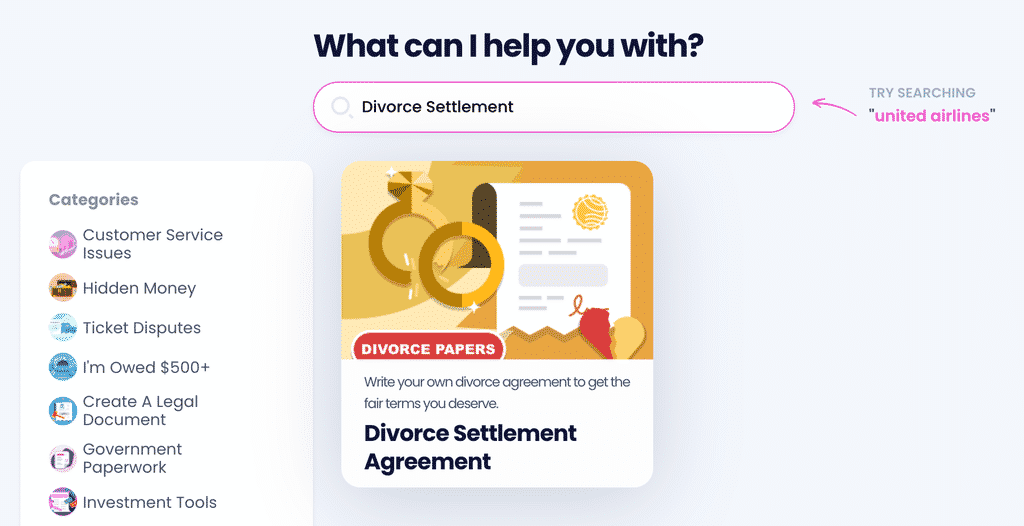 If you want to get a quick divorce and part ways with your spouse on the terms you deserve, use DoNotPay and finalize the process with a professional settlement agreement. We will draw up this document for you in no time, making sure it fits your needs perfectly. Here's how to get it:
Select our Divorce Settlement Agreement product
Answer our chatbot's questions about your spouse, children, assets, and income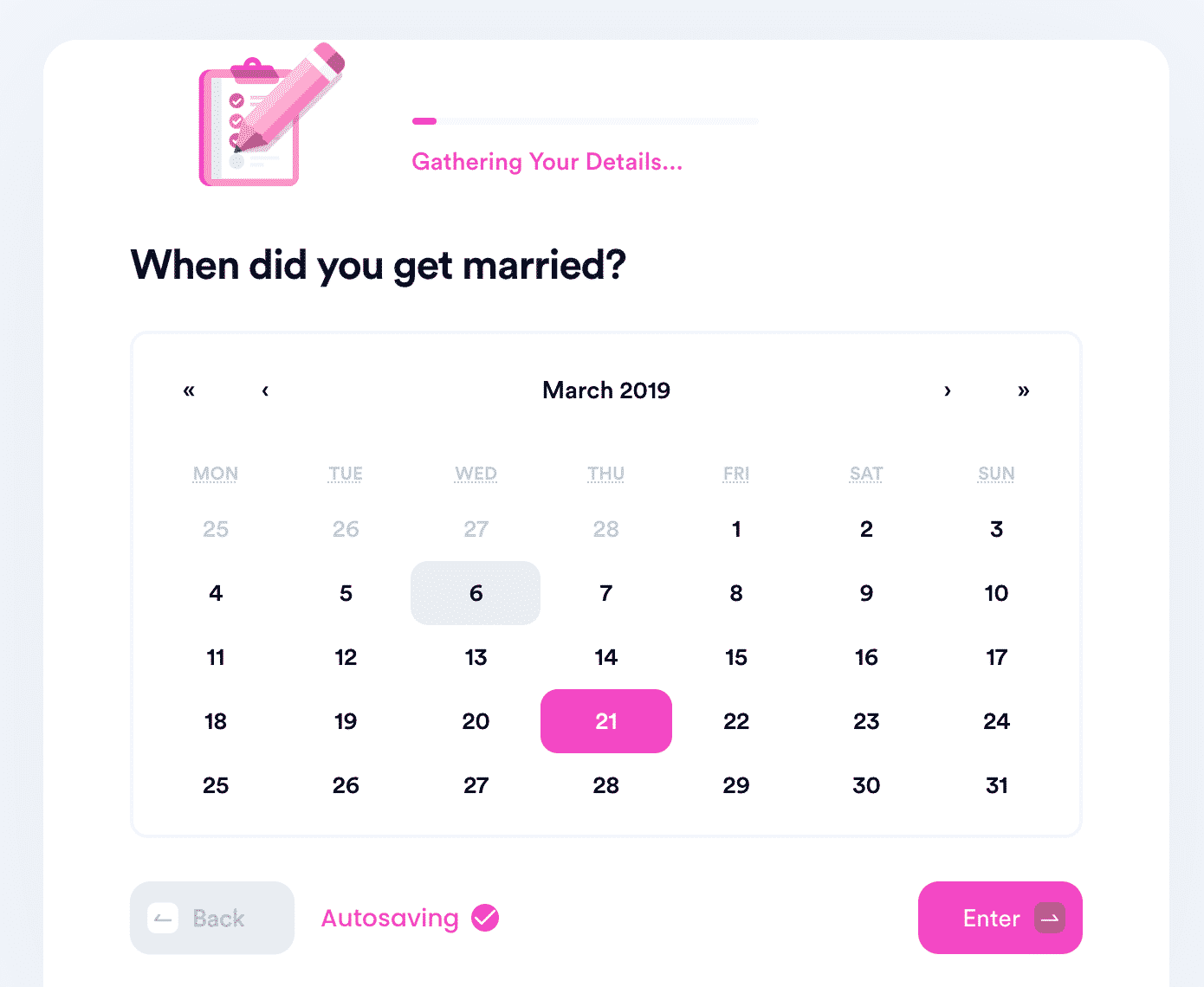 Once you submit your request, we take over. Your personalized divorce settlement agreement should reach your inbox in no time. If your state requires you to have it notarized, we can help with our online notarization service!
Don't forget to check out DoNotPay's learning center! We've prepared easy-to-read articles for you, including:
Use DoNotPay To Complete a Variety of Tasks at Any Time
Why waste time and money completing mundane tasks on your own when you can let DoNotPay assist you? Take a look at the table below to find out what our AI-powered app can do for you:
| DoNotPay Can | Services |
| --- | --- |
| Protect your safety and privacy | |
| Draft legal documents | |
| Help you get your money back | |
DoNotPay Has More in Store for You!
Since communication is key, you'll appreciate our feature that helps you get in touch with customer service reps quickly! We'll also show you how to send faxes online and have your documents notarized by an online notary with ease!
Going on vacation? Use DoNotPay to take a valid passport photo at home or get a tourist visa!