Is an Online Divorce in Florida the Right Alternative for You?
Filing for divorce can be tricky. You'll need time to get familiar with the paperwork, procedures, and cost.
Can you file for an online divorce in Florida? Would you need a lawyer for this, or can you handle everything alone? DoNotPay provides the intel and helps you create one of the required divorce documents—a marital settlement agreement.
Do You Meet the Requirements for an Online Divorce in Florida?
To file for an online divorce in Florida, you need to fulfill the following legal criteria first:
Criteria
Additional Information
Meeting residential requirements
You or your spouse have to be residents of the Sunshine State for the preceding six months before filing for divorce
Stating the grounds for divorce
If you'd like to go through a quickie and pocket-friendly divorce in Florida, you should make sure to cite the following grounds for no-fault divorce:

An irretrievably broken marriage
Spouse's mental incapacity that has lasted for at least three years—You'll need to provide formal proof, i.e., a doctor's signed and stamped statement with the diagnosis

Attending a course
If there are minor children, Florida law mandates both spouses to:

Take a parenting course before filing for divorce
Get familiar with your responsibilities to the children during the divorce
File for Divorce Online in Florida
An online divorce might be the fastest way to file for dissolution of marriage in Florida.
You can use a third-party website to file your divorce papers online, i.e., from your home, office, or any other convenient place.
While these websites provide online templates, you should:
Be careful and check whether they've got the latest version of the required divorce forms
Download and complete alone the up-to-date ones available on the Florida Courts website
You should also keep in mind that there's a fee you'll need to settle if you decide to file for online divorce in Florida via these third-party websites.
Want To Have a Fast Florida Divorce?
If you file for a dissolution of marriage, you can get divorced in 30 days after filing your papers. Make sure that you meet the residential requirements together with the following criteria:
Criteria To Meet
Tips
Opting for an uncontested procedure
You should choose a friendly divorce and reach an out-of-court agreement with your spouse on all divorce matters, including:

This is also the most affordable type of divorce in Florida

Fulfilling additional requirements
You and your spouse cannot:

Request alimony
Have minor children
Be expecting a child, i.e., the wife must not be pregnant
Ask for a trial or appeals once both of you agree to fast and simplified dissolution of marriage

If there are minor children or one of you requests alimony, you have to negotiate the terms and draw up an agreement
A Cheap Divorce in Florida—You Don't Have To Hire a Lawyer
Since the Florida Courts provide all the necessary forms online, you can complete, file, and serve them to your spouse alone, i.e., without the help of a pricey attorney. If you want help with specific problems, you can resort to mediation.
Once you agree on all important aspects, you should list them in a divorce settlement agreement. Since this document is vital for your post-divorce life, you should create it carefully and efficiently.
If you need help, register for DoNotPay to get a rock-solid divorce settlement agreement in a matter of minutes!
DoNotPay Is an Ideal Way To Prepare a Divorce Settlement Agreement
We know state laws and will ensure your divorce settlement agreement is the perfect combination of legal criteria and your specific demands and wishes.
You don't need to hire expensive attorneys or waste time adjusting and correcting unreliable online templates. Our AI-powered app can take care of everything in a flash!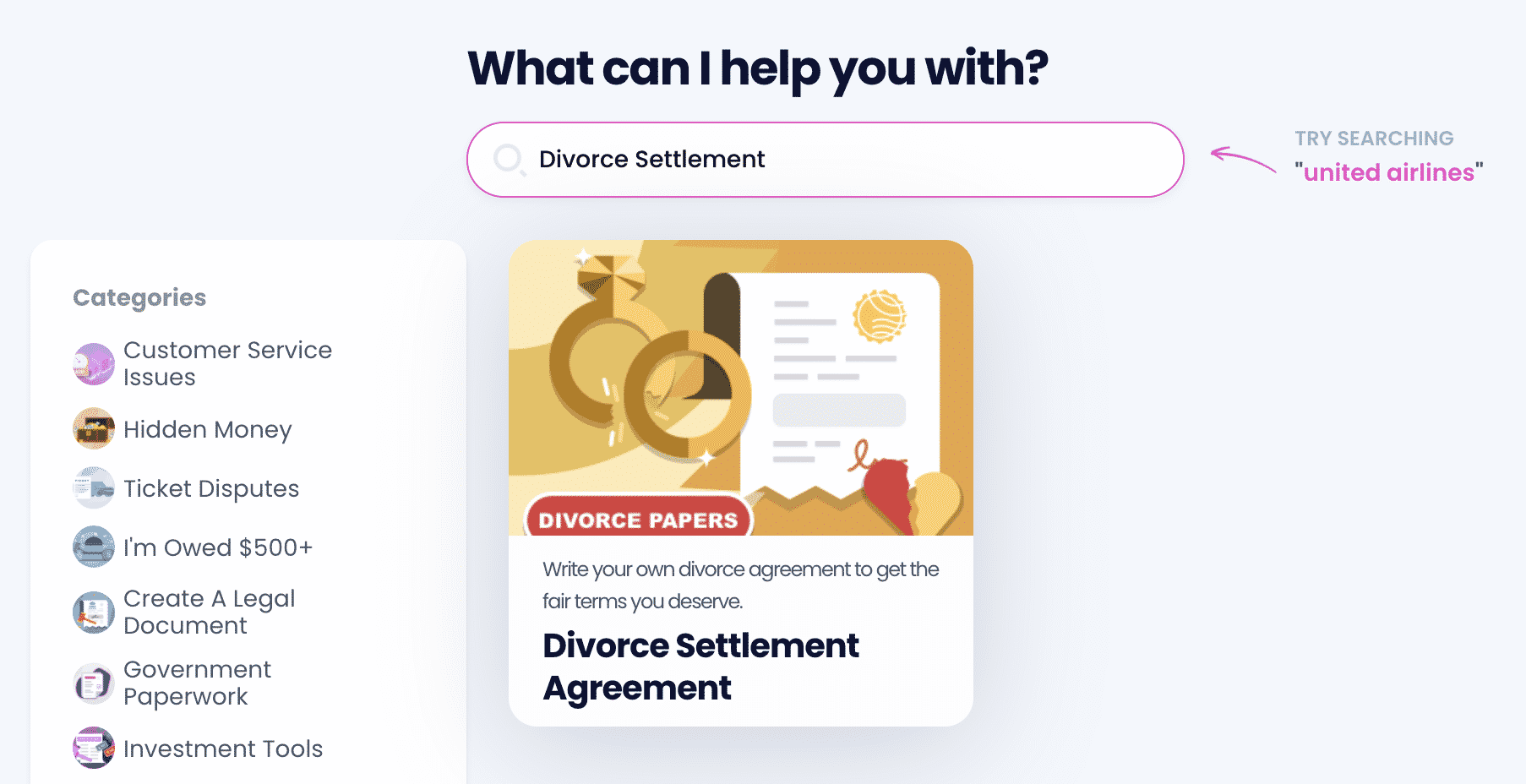 Subscribe to DoNotPay and take these steps:
Opt for the Divorce Settlement Agreement feature
Provide information on property, debts, income, and children by answering our chatbot's questions
Choose if you'd like to have the document notarized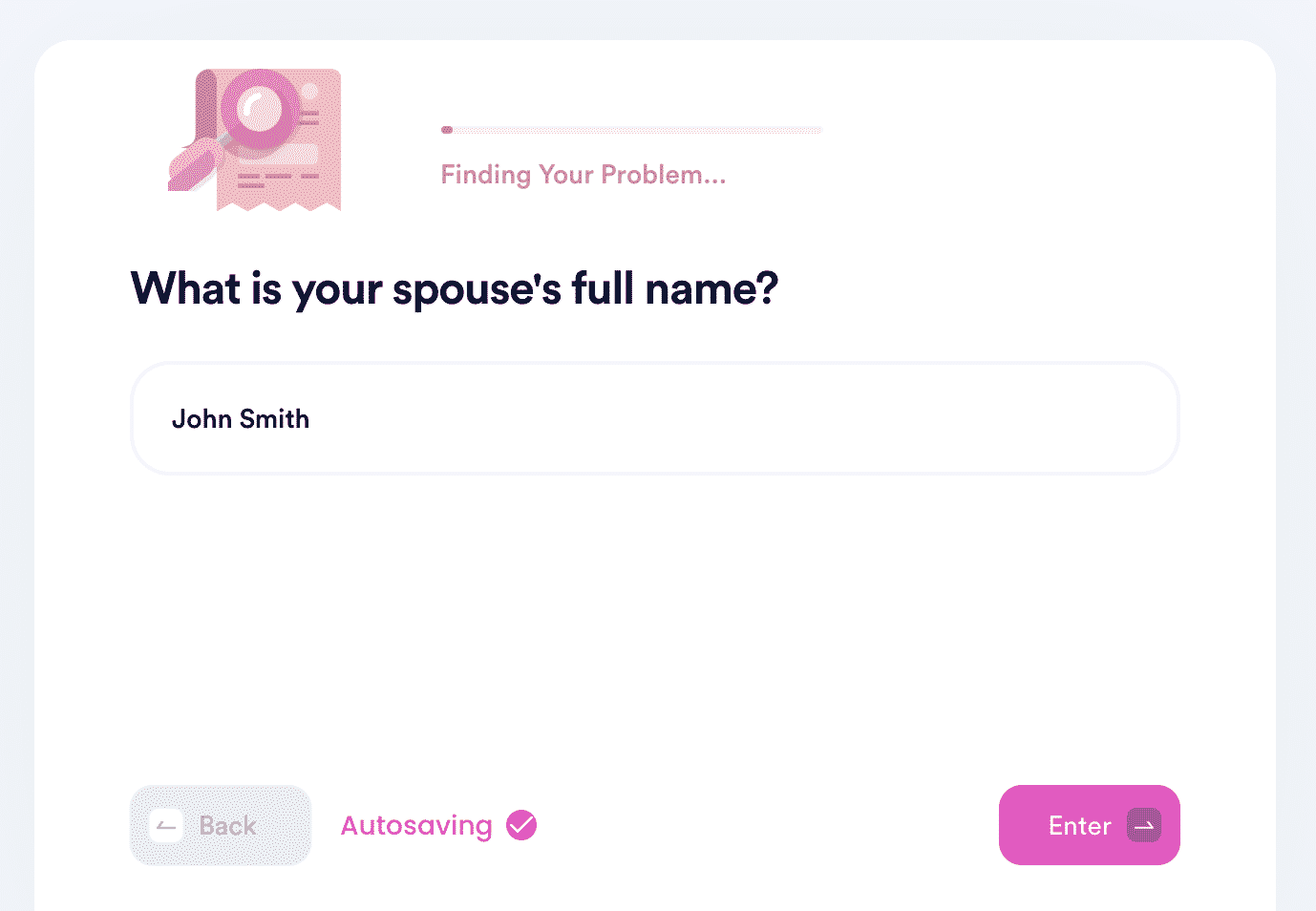 Once you receive the agreement, you should file it with the court for review and approval.
Get the Hang of Divorce-Related Matters
You can explore DoNotPay's website to get relevant divorce guides. To get an idea of what we provide, check out the following table:
DoNotPay Goes the Extra Mile for You
We are dedicated to providing solutions to difficult and time-consuming tasks you may have on your to-do list. If you are struggling to reduce your monthly bills, contest parking tickets, or set DMV appointments, DoNotPay will help you do it in no time!
We have also created numerous easy-to-use features that can make the following procedures run smoothly:
Get Justice From Companies That Wronged You
Do you feel like you have been played by a company? Instead of wasting your time writing requests, demand a chargeback or refund or claim a warranty via DoNotPay! If the company doesn't seem too cooperative and keeps refusing to return your money, our app can assist you in suing it in small claims court.
To help you save some coins or regain what's yours, DoNotPay will also help you locate unclaimed funds, submit insurance claims, lower your property taxes, and cash out gift cards.