The Process of Online Divorce in Colorado Explained
Divorce is one of the most stressful and emotional events in anyone's life. The only way to make it even remotely tolerable is to go through the process fast and with as few expenses as possible. That's why filing for an uncontested divorce is the most practical option.
One of the ways to file for an uncontested divorce in Colorado is with the help of an online divorce service. In this article, DoNotPay will examine online divorce in Colorado and help you decide if that is the most reliable path to a friendly divorce!
Do I Qualify for an Online Divorce in Colorado?
Before you decide to use an online divorce service in Colorado, you and your spouse must fulfill specific criteria, such as:
Meeting Colorado's residential requirements—To file for divorce in Colorado, at least one spouse has to be the resident of the state for a minimum of 91 days before filing. You can initiate the process in the county where you or your spouse lives
Reaching an understanding regarding all issues—An uncontested divorce in Colorado implies you and your spouse have agreed on all divorce-related items. If you still have unresolved issues, you should consider seeking help through professional Colorado mediation
Opting to go through a divorce without a lawyer—Online divorce services don't offer advice to their customers. If you and your spouse have a complicated situation, need guidance through the process, or have any doubts, don't hesitate to talk to an attorney
How Does Online Divorce in Colorado Work?
Online divorce services provide the forms you need to file for an uncontested divorce and enable you to fill them out online. You can complete the forms by yourself or with your spouse's help. Some online divorce services also offer guidelines for filling out the documents and submitting them in a specific state or county.
The table below contains information on crucial paperwork you need to prepare for your uncontested divorce in Colorado:
Documents
Details
Dissolution of marriage petition
The purpose of the petition is to request the dissolution of marriage from the county's court.

If you and your spouse agree on all terms, you can file the petition jointly. In case you have no children, you can submit an Affidavit for Decree Without Appearance of Parties, requesting the final dissolution of marriage without having to show up in court

Marital settlement agreement
This document outlines all divorce-related issues the spouses have agreed on, such as:

Child support
Parental rights
Disposition of property and debts

Additional documents

Financial disclosures
Certificate of Compliance with Mandatory Financial Disclosures
Parenting documents (including child support worksheets) if applicable
Support order (if there's alimony)
Decree of Dissolution of Marriage
Additional documents you have to fill out depend on whether you and your spouse have children. You should also make sure the online divorce service follows your county's specific requirements regarding divorce papers.
Can I File My Divorce Papers Online in Colorado?
The state of Colorado typically requires that all divorce papers be submitted in person. Once you finish filling out the paperwork via an online divorce service, you can file them with the courthouse in your or your spouse's county of residence.
Depending on your situation, the judge may agree to grant you divorce immediately after receiving the paperwork or schedule a hearing before signing the decree.
Are There any Disadvantages to Online Divorce Services in Colorado?
While online divorce services can simplify the divorce process, they also have significant disadvantages. Take a look at the table below for more details:
Advantages
Disadvantages

Online divorce services are practical since you don't have to leave your house to fill out the paperwork
You will spend a lot less money than by hiring an attorney to help you gather and complete the forms

You have to research the online divorce services thoroughly and make sure to pick a legit one
Not all online divorce services follow state-specific legislation to a tee
You may have to make adjustments to the forms after the initial hearing
Since the marital settlement agreement is one of the crucial documents in any uncontested divorce, you shouldn't take your chances with an unreliable online divorce service. , and we will generate a document that meets your and state-specific requirements so that you can get the matter over with as soon as possible!
DoNotPay Provides the Most Reliable Marital Settlement Agreement
Making a mistake in your marital settlement agreement can cost you a lot along the way. If you sign up for DoNotPay, you'll get a comprehensive and professional document that fits your circumstances perfectly!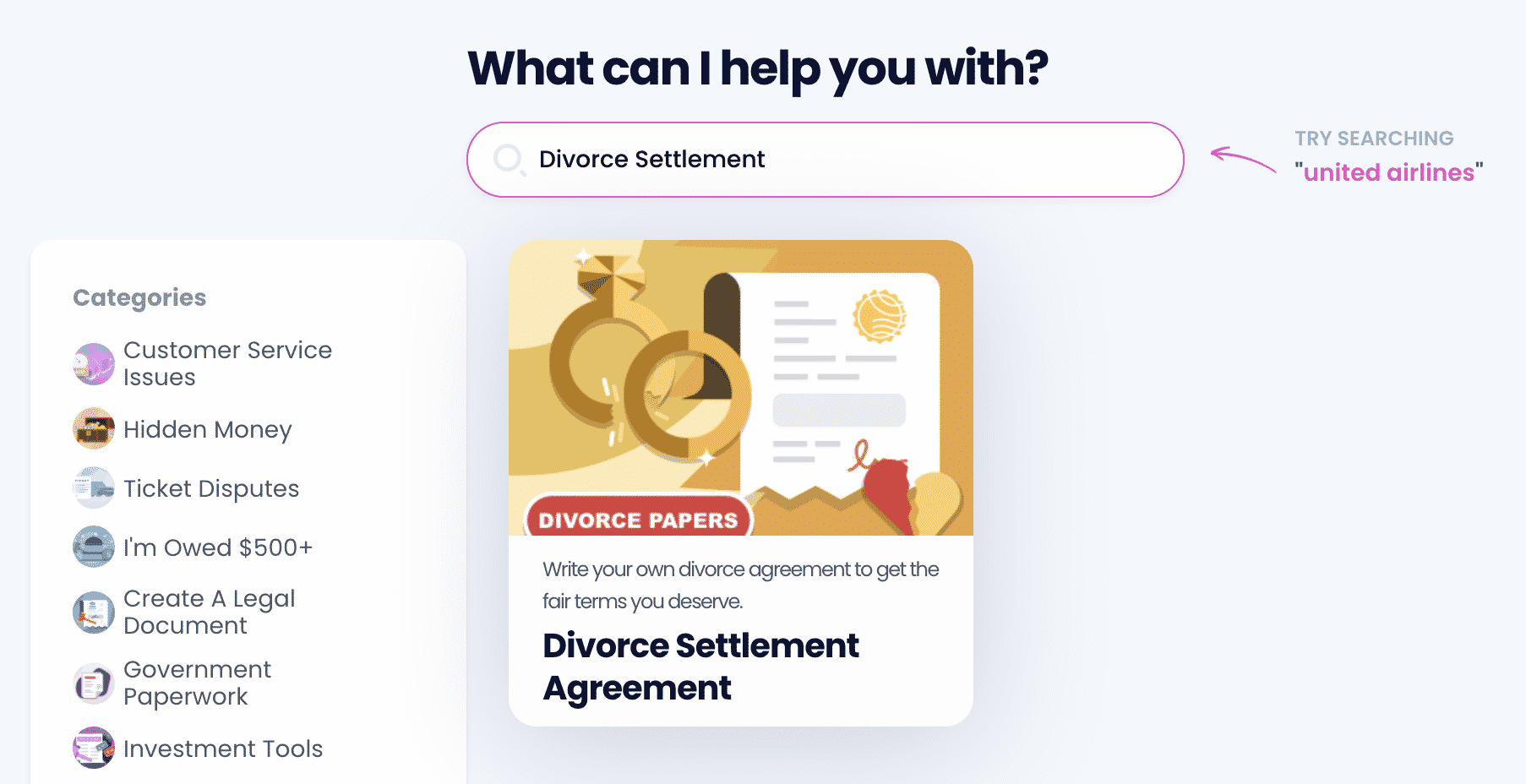 You should first and take these easy steps:
Find the Divorce Settlement Agreement product
Answer our chatbot's questions
We will take your information and state laws into account and deliver a top-notch document in minutes. Not only that—upon your request, we'll also help you get the agreement notarized via an online notary service!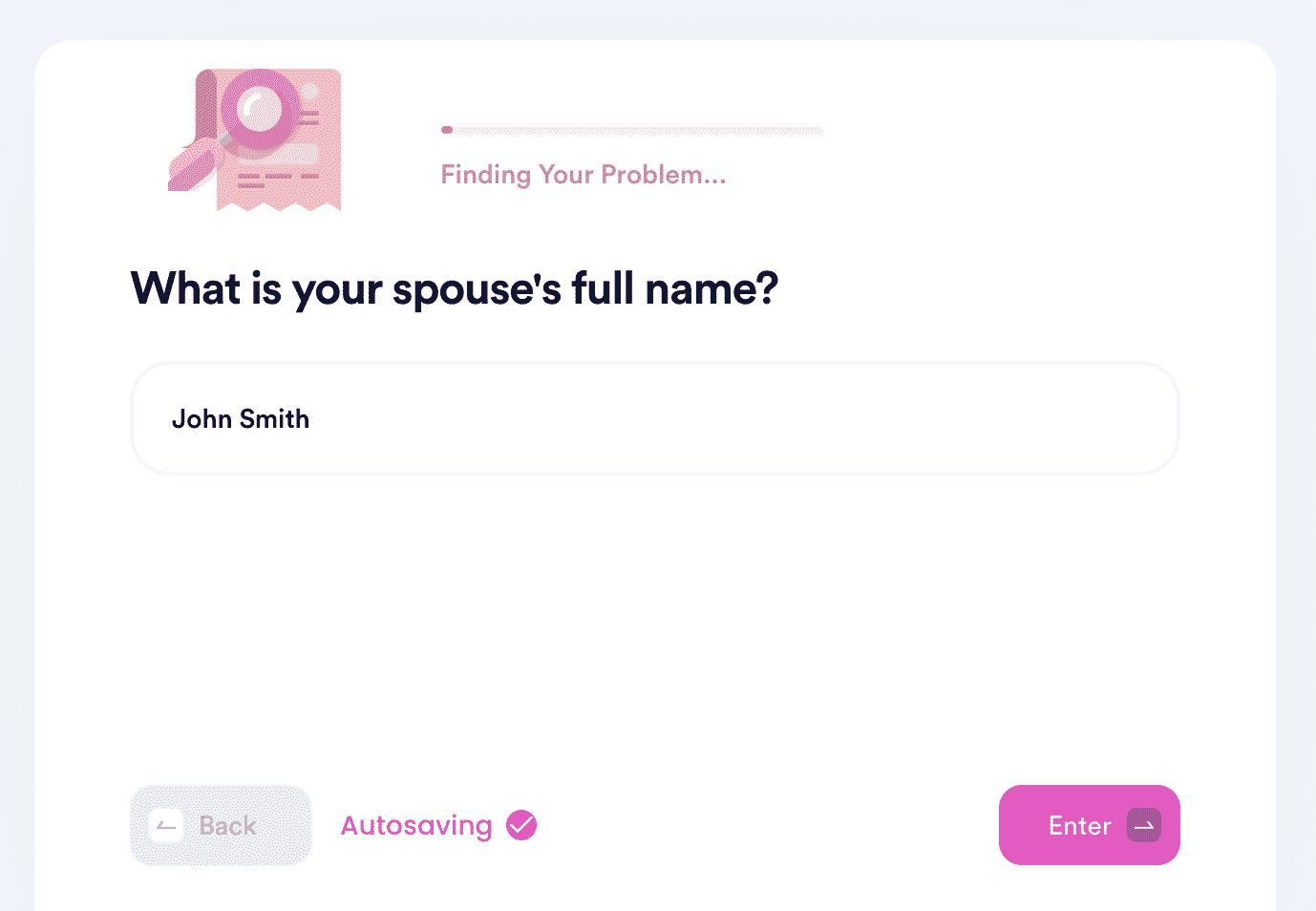 Would you like more info about divorce matters? Our knowledge base provides articles explaining all about reaching an out-of-court divorce settlement, getting divorced without a lawyer, serving divorce papers, and participating in mediation, among other issues!
DoNotPay Is an App for Everyone
Whether you need help with drafting paperwork, searching through government databases, or managing your bills, DoNotPay has a feature that'll make your life easier. The number of features keeps growing, and you can check out a table showcasing some of them:
| | | |
| --- | --- | --- |
| Solving Legal Issues | Saving Money | Protecting Privacy |
| | | |
Get More Done With Our Do-It-All Platform
DoNotPay can take care of any daily hurdle you come across. For a small yearly subscription fee, you get access to various features that you'll find handy on a daily basis. Besides everyday chores, signing up for DoNotPay will help get you:
The list could go on for days. You can even get in touch with an inmate or fight for discrimination at your workplace!