The Intricacies of a One to Four Family Residential Contract
Buying, selling, or renting a place in Texas is never easy because it involves several legal documents. If you are not willing to browse the internet searching for a perfect contract template, use to generate the one you want. We'll explain the ins and outs of a One to Four family residential contract, the document you'll need if you reside in Texas.
What Is a One to Four Family Residential Resale Contract?
A one to four is a legally binding contract between a buyer and a seller of a real estate property in the state of Texas. It approves the resale of specific real estate properties. 
The Texas Real Estate Commission or TREC uses this contract frequently. The agreement refers to the purchase of a:
Single-family home

Duplex

Triplex

Four-plex
Real estate agents do not use this contract for condominiums, new homes sold by a builder, farms, or ranches.
A one to four family residential contract does not require any other forms attached unless specific circumstances require additional documents. You can find the form on the TREC website.
What Does a One to Four Family Residential Contract Contain?
A one to four family residential contract is eight pages long and includes the following information:
The names of the buyer and seller

A description of the property

Sale price

License holder's disclosure

Earnest money

Title policy

Property's condition 

Broker's fees

Closing policy

Possession policy

Provisions

Prorations

Casualty loss (if the property is damaged before the date of the sale, the seller should restore the property to its previous condition)

Termination options

Escrow

Lawyer's fees

Mediation (dispute resolution)

Tax requirements

Other expenses 

Notices (all notices from one party to the other must be in writing)

Consult of Attorney section (the details of both parties' attorneys)

Signatures of both parties
How Can I Make Sure the Property Is Well-Maintained?
If you are about to sign a one to four family residential contract and are not sure the property is well-maintained, you may hire inspectors licensed by TREC or the ones permitted by law to make inspections. The seller of the property should grant you and the inspectors access to the property at reasonable times.
If you are not satisfied with the property's current state, you can try to negotiate repairs with the buyer. In case you cannot reach an agreement, you can back out of the contract before the closing date, and you'll get your earnest money back (the money you gave to the seller to show your good faith).
What Expenses Come With a One to Four Family Residential Contract?
Certain expenses should be paid before or at the closing of the contract. They can be:
Seller related

Buyer related
Seller Related Expenses
Seller related expenses include:
Tax statements

Preparation of a deed—A legal document used to transfer ownership 

Recording fees—Fees the government agency charges for registering the purchase or sale of a property
Buyer Related Expenses
Buyer related expenses include:
Loan application fees

Credit reports

Loan-related inspection frees

Required premiums for flood and hazard insurance

Repair inspections
The contract should have the expenses for both parties clearly stated. If any expense requires you to pay more money than the contract implies, you can terminate it unless the other party agrees to pay the excess amount.
What Are My Termination Options?
A one to four family residential contract offers a feature called an option fee. The buyer can agree to pay a predetermined amount of money stipulated in the contract within three days after its effective date. The option fee grants the buyer the unrestricted right to terminate the contract by giving a termination notice. The contract should also state the number of days this option is valid after the contract's effective date.
If you choose to give the termination notice, do so by 5 p.m. on the specified date. Without the option fee, you don't have the unrestricted right to terminate the contract.
The option fee won't be refunded if you cancel the contract, but you'll get the earnest money back. The seller and buyer can also agree on whether the option fee can be credited to the sale price if all goes according to plan.
Use DoNotPay To Draft a Personalized Legal Document
Don't spend a fortune on lawyers when creating a legal document! You should also steer clear of free contract templates because they are not always valid. Use DoNotPay and get a tailored agreement in no time. All you need to do is:
Open DoNotPay in your

Enter the name of the agreement you want to create

Give the required information to our chatbot
DoNotPay will generate the agreement instantly! Always sign or notarize your contract to make it official.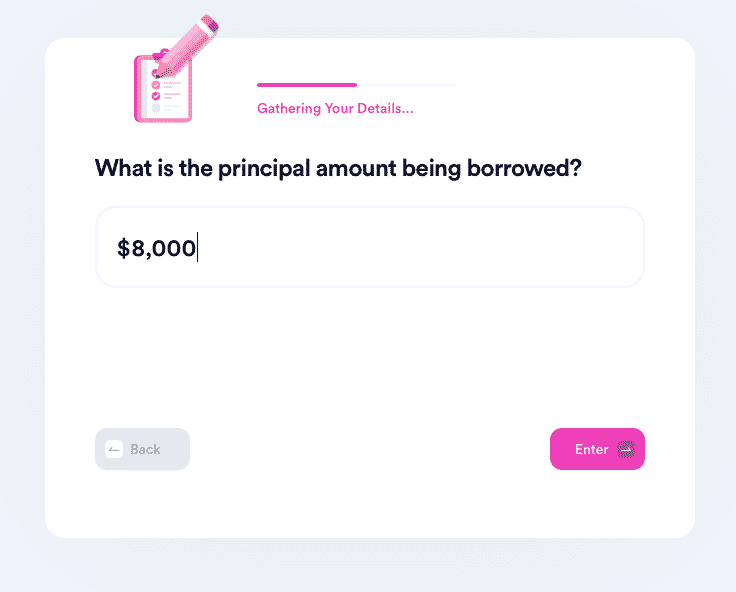 DoNotPay's database has numerous legal documents, and more are on their way. Check out the table below and select the one you need.
Business Related
Real Estate Related
Other Legal Documents

General Business Contract

Estoppel Certificate

Intent To Purchase Real Estate

Quitclaim Deed

Promissory Note

General Affidavit
Falling for Scams Is Less Likely With DoNotPay
Thanks to AI technology, DoNotPay is a great resource for protecting your privacy and finances from potential scammers. Our bots can help you report robocalls, keep your inbox clean from spam email and shady text messages, or even deal with stalking and harassment, if it comes to that. 
In case the issues escalate, skip the expensive lawyers and sue the offenders in small claims court with ease. 
Another great way to increase your online security is to use our virtual credit cards and sign up for any free trial without risking unwanted charges. You can even avoid sharing your contact info with our Burner Phone feature. 
The Solution to Your Driving Woes
DoNotPay provides invaluable help to future and current drivers. By helping you ace that driver's license test, scheduling a DMV appointment the easy way, or contesting parking tickets, our app saves you money and time. 
If you need to file a car warranty or an insurance claim, we will help you deal with the necessary paperwork within minutes. Trying to get out of a car wash membership? DoNotPay can cancel it in an instant. 
Our platform works above ground as well. You can use DoNotPay to secure refunds from airline companies or compensation for delayed and canceled flights.