Be Precise—Make a One-Page Lease Agreement in a Snap!
Do you want to rent out your property to a potential tenant and protect your legal rights and obligations in the process? A lease agreement is the answer!
Lengthy docs can be confusing because they contain too much irrelevant information. Create a one-page lease agreement for a concise and easily understandable deal.
Drafting legal documents can be challenging, so it is crucial to understand how a specific contract works to avoid mistakes. Don't know the first thing about writing a contract? We come to the rescue! DoNotPay can help you figure out everything you need to know about one-page lease agreements and get the best out of legal documents!
What Is a Lease Agreement?
A lease agreement regulates the relationship between a property owner and a tenant. It includes information, such as the rent amount, lease duration, security deposit, sublease options, and pet policy.
The primary purpose of a lease agreement is to protect the rights of both the lessee and the lessor. It also serves as a starting point for conflict and dispute resolution.
There are two main types of leases:
Commercial lease—Used when renting an office, warehouse, or industrial property to operate a business
Residential lease—Used when renting an apartment, house, or portion of the house
Is a Lease Agreement Similar to a Rental Agreement?
Although they seem to be the same, these two agreements are quite different. Here are a few key distinctions:
| | |
| --- | --- |
| Lease agreement | Rental agreement |
| Long-term | Short-term, usually from month to month |
| Needs to be manually renewed | Automatically renewed until the tenant decides to cancel |
| You can't change the terms of the agreement until the contract ends | You can change the terms and conditions at the end of every rent period |
| Stable occupancy | Frequent tenant turnover |
What Should You Include in a One-Page Lease Agreement?
It's advisable to consult a legal expert before making a lease agreement. If you want to save money, look for free contract templates online, but don't take them at face value. They tend to be outdated and don't provide you with the option to personalize your document.
There are many necessary sections to include in your lease agreement:
Key elements
Brief explanation
Information of both parties
Names, addresses, contact information, and Social Security numbers of the lesser and the lessee
Particulars of the lease

Security deposit
Rent amount
The duration of the contract
Sublease policy
Pet policy
Due dates and payment method
Potential grace period for missed deadlines

Responsibilities
Responsibility for:

Repair and maintenance
Utility bills
Taxes
Insurance

Breach
This section determines what counts as a breach and what can fix it. Possible remedies include:

Specific performance
Financial compensation
Termination of contract

Termination clause
Lease arrangements should contain a termination clause, so tenants can request an early termination without any penalties
Signature
Signatures of both parties to confirm they have understood the terms and conditions
Other provisions that you add to the document include:
Disclosures
Entry to rental property
Restriction on illegal activities
The biggest drawback of drawing up a contract yourself is that you risk omitting crucial provisions, which can make your contract void or put one party in an unfavorable position. Since you can't change the document mid-lease, you would have to wait until it expires to make the necessary amendments.
Legal Consequences if You Violate a Lease Agreement
The guilty party can face serious legal consequences if they breach a lease contract. If the tenant is in violation, they can get a negative credit rating making it difficult to look for new properties. If any party needs to terminate the contract, they should consult with the other party to find an acceptable solution.
DoNotPay Can Generate a One-Page Lease Agreement in the Blink of an Eye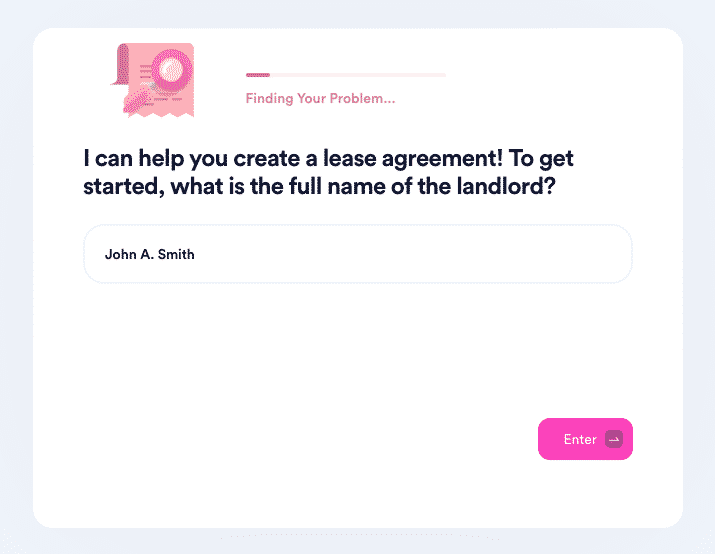 Do you want to create a lease agreement easily and without spending a fortune on lawyers? Use DoNotPay! For a small monthly fee, we can draw up a lease agreement within minutes! Here's what you need to do:
Enter the name of the contract in the search box
Answer our chatbot's questions to personalize the document
We will generate your lease agreement and send it to you. You can download, print, and sign it.
Our app can also help you create a lease for any U.S. state, including California, Colorado, Nevada, Oklahoma, and Indiana.
In some states, you might also need to get the document notarized to make it official. If you need help finding a notary, we can help you with that too!
Check out other contracts and agreements we can compose:
Property documents

Quitclaim deed
Intent to purchase real estate

Business documents

General business contract

Personal documents

General affidavit
Promissory note
Can't spot the agreement you're looking for? We're continually updating with new documents, so stick around to find out more!
More Nifty Solutions to Annoying Problems
If you're dealing with problematic neighbors or coworkers, you're not alone—our app can help you handle these issues with our Neighbor Complaints and Fight Workplace Discrimination products.
No problem is too big or too small for DoNotPay! Check out the best time- and money-saving solutions to different nuisances:
An Array of Hacks To Help You Deal With Greedy Companies
Nobody likes to spend more money than they have to. DoNotPay is here to offer many penny-pinching hacks and also stop companies from taking advantage of you.
Almost every free trial nowadays isn't free. Companies request your credit card info and auto-renew subscriptions. Fight this sneaky practice by using DoNotPay's virtual credit card next time you want to snatch a free trial. We'll also uncover any unwanted memberships you have mooching off of you and help you cancel them in a few clicks.
If you need to contact a company's customer service, avoid wasting your time and money on hold and count on our app to wait in your stead.
Do you need to get your money back, but you don't know how? Use DoNotPay to: