One of the Main Reasons Employees Do Not Report Observed Misconduct Is...
Employees can become witnesses to misconduct in the office, but whether they report it or not is another story. Some may fear that they could be excluded from team social activities, while others may think no one will believe their story anyway. This is especially true for those who work in niche industries, as reporting an incident may have far-reaching repercussions.
In this article, we will discover one of the main reasons why employees do not report observed misconduct. We'll also go over how anonymous reporting with DoNotPay can improve the entire process!
Reporting Could Mean Retaliation
One of the main reasons employees do not report observed misconduct is fear of retaliation. Employees who witness illegal or unethical behavior in the workplace believe there are risks that hinder them from taking action. Let's go over the different threats that explain employees' fear of retaliation:
Power and position – Employees fear ruffling feathers with misbehaving

co-workers

because it also puts their job at risk. This becomes even more of a dilemma if the misconduct is done by a

manager

or a superior in the workplace.

Prevalence of misconduct – This usually happens with new hires or someone new to the department. The prevalence of misconduct is so prevalent and common at the workplace that seasoned employees simply see it as the status quo. Employees stick to the "that's just how things are done around here" mindset. New hires fall into this mindset as well, failing to

report

observed misconduct.

Process of reporting – If an organization lacks a clear and transparent process of

filing complaints

, then most misconducts are not dealt with effectively. Without an established HR department or standardized procedures for handling complaints, employees have no safety-net and are discouraged from speaking out.
Indicators of Ethical Risks in the Workplace
Integrity in the workplace goes beyond following the rules. It calls for commitment to respect each other and treat everyone in the workplace with respect and kindness. So what indicates the risk of ethical violations? According to the Ethics & Compliance Initiative's (ECI) 2020 Global Business Ethics Survey, these are some of the key indicators:
Metrics
Sample Situation

Pressure to compromise ethics

Employee ignores ethical standards when witnessing misbehaviors in the office because everyone else is doing the same

Misconduct

Employee lies to customers, vendors, or co-workers or displays abusive behavior

Reporting observed misconduct

Employee does not

report

observed misconduct because they don't know how or they fear retaliation

Retaliation against whistleblowers

Employee engages in retaliatory behavior towards a colleague who reported an observed misconduct
Encouraging Integrity in the Workplace
Developing an ethical culture in your organization has numerous benefits. Some advantages can include improved performances and a happier workforce. Let's go through each of them in more details:
Stronger employee satisfaction – When ethical conduct is displayed and encouraged in the workplace, employees begin to mirror the same behavior. Employees will be more inclined to remain at the company for the positive and moral environment.

Improved Performance – A workplace committed to ethics motivates employees to work transparently and be responsible for their actions. It also improves teamwork and communication. All of these things improve employee performance and organizational success.

Protects Assets – When a workplace follows ethical standards, illegal activities such as bribery and harassment are not condoned. Work ethics also prevents employees from engaging in activities that will hurt the company's reputation and potential. 
Employees shouldn't have to feel pressured to report observed misconduct. Having an anonymous process to file complaints can encourage employees to speak up. This is where DoNotPay can help! 
How To File an Anonymous HR Complaint With DoNotPay
With DoNotPay's Anonymous HR Complaints service, you can file complaints safely and efficiently without having to submit your personal details. This lowers your risk of retaliation and lets you avoid awkward situations at the office. To report misconduct in the workplace, all you have to do is:
1. Open the Anonymous HR Complaint product on the DoNotPay app.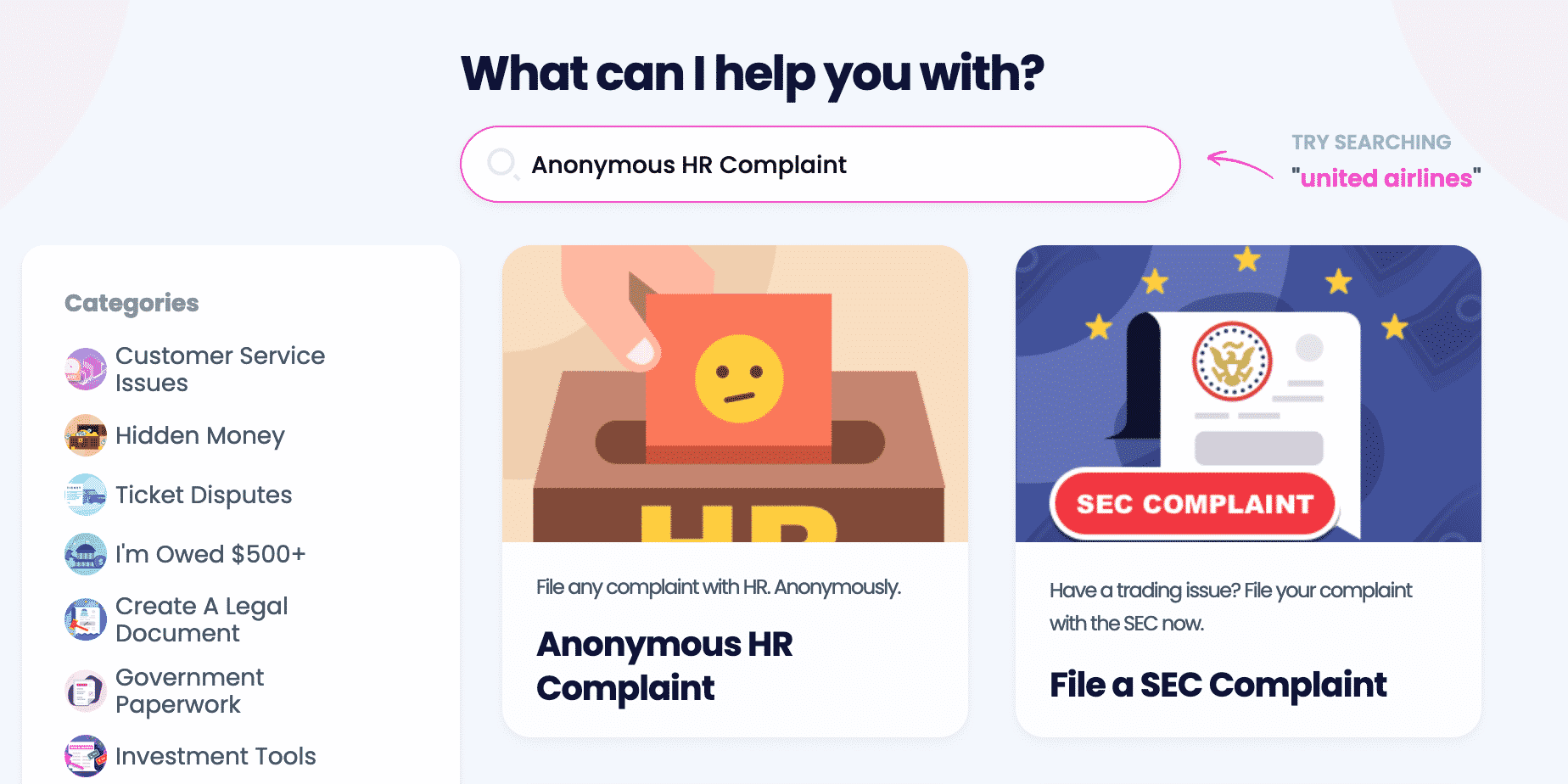 2. Enter your employer's name and HR department's mailing address.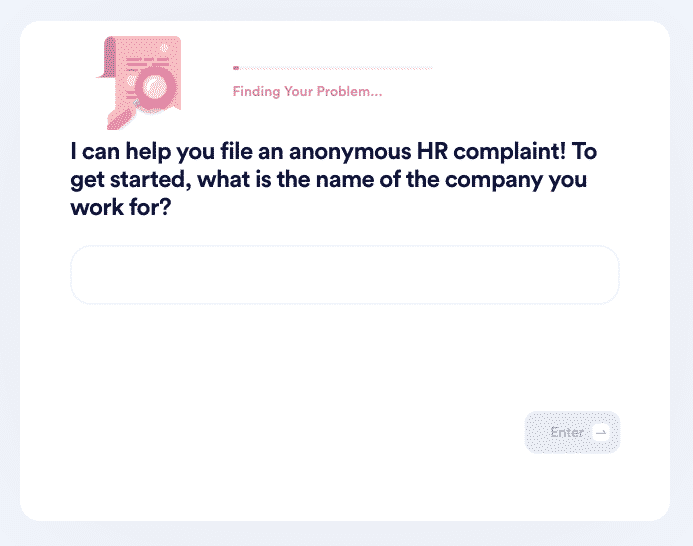 3. Describe the issues you're experiencing and how you want them to be addressed.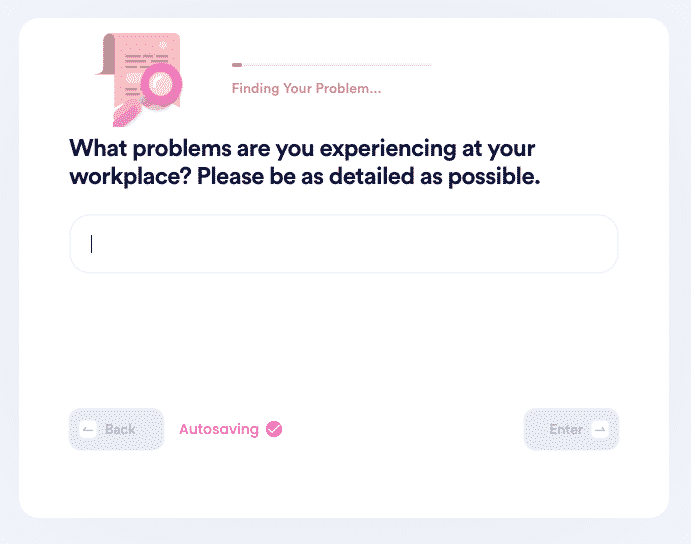 That's it! DoNotPay will automatically mail the report anonymously and your HR department will handle the rest.
What Else Can DoNotPay Do?
DoNotPay doesn't stop at simply helping you file complaints anonymously. If you're looking to make a workplace complaint, here's a variety of resources that you can refer to:
DoNotPay Does It All!
There's more to DoNotPay than just workplace complaints. Get your legal troubles and customer service issues handled for you with our trusty robot lawyer! Here are some other things you can do with DoNotPay: