OnDeck Small Business Loans—Read This Before You Apply
Have a question about OnDeck small business loans? You are wise to do your research before applying.
As valuable as small business loans are for offsetting your startup costs, that does not mean the application process is necessarily simple. You need to meet a series of strict qualifications, and any mistakes could result in a denial. An additional complication is that new enterprises rarely possess a satisfactory credit score.
Get all the information you are looking for in this guide to OnDeck small business loans—or better yet, .
Basic Information About OnDeck
OnDeck is an online lending service. Rather than working with a bank to secure the financial assistance your business needs, you can engage in a much simpler process with OnDeck.
Many startups that require a loan or line of credit may fail to meet the standard terms imposed by long-standing financial institutions. Online lenders (like OnDeck, Kabbage, or PayPal) attempt to streamline the application process and provide rates and terms that are not otherwise available.
OnDeck small business loans reviews report highly favorable terms. The company has won multiple service satisfaction awards and was recently approved to work with SBA small business loans.
Why Do You Need a Small Business Loan?
While it would be wise to avoid debt as a small business owner, loans and lines of credit can be valuable tools for newer organizations. You must cover various small business expenses, so financial assistance for the following can come in handy:
Properties
Computers and IT equipment
Business vehicles
Many startups lack the resources in their budget to pay outright for capital expenditures or even manage operating expenses like payroll. This is where lending products from institutions like OnDeck might help.
OnDeck's Business Loan Products
OnDeck offers two different types of small business loans:
Term loans
Lines of credit
OnDeck Term Loan
Term loans help small businesses cover capital expenditures. These investments generally include:
Manufacturing plants, equipment, and machinery
Building improvements
Computers
Vehicles and trucks (whether for personnel or product transportation)
OnDeck offers term loans as lump-sum payments of $5,000–$250,000 paid back in up to 18 months. After 50% of the loan is repaid, you can also apply for additional funds.
OnDeck Line of Credit
A line of credit for small businesses is perfect for managing cash flow. Whether your revenue is subject to seasonal fluctuations or your business plan is based on an acceptable debt for the first few years, a line of credit can help you cover your debts in the meantime. OnDeck's line of credit product offers loans of $6,000–$100,000 with 12-month repayment periods.
What Are OnDeck's Minimum Requirements for Borrowers?
While OnDeck's loan terms are far more accessible and favorable than conventional bank lending products, they still impose several basic requirements on potential borrowers:
| Business Qualification | Minimum Requirement |
| --- | --- |
| Time in business | One year |
| FICO Score | 600 |
| Annual Business Revenue | $100,000 |
Why Consider an OnDeck Small Business Loan?
A critical factor that makes OnDeck one of the best small business loans available is that they engage in minimal loans—also known as microloans. While the average small business loan is $663,000, not every startup needs that much money.
OnDeck offers term loans for as little as $5,000, which allows brand new businesses to get the assistance they need without bothering with a larger lending amount for which they would not be able to qualify.
How To Evaluate a Small Business Loan
As long as you have a decent credit score, verifiable revenue, and show no significant red flags, you will almost certainly qualify for a small business loan. It is vital to understand how small business loans work—namely, what the terms are and how much you will pay in interest throughout the repayment period.
While the loan interest rate is a crucial consideration, it is not the only quality you should focus on. Make sure you have the answers to these questions when evaluating your small business loan:
What is the total cost of the capital in which you plan to invest?
What is the Annual Percentage Rate?
How much will you have to pay back every month?
How much interest do you have to pay for every borrowed dollar?
Will you have to cover any prepayment fees if you pay off the loan ahead of schedule?
How To Apply for OnDeck Small Business Loans
One of OnDeck's key differentiators is the simplicity of the application process. Here is how to get a small business loan:
Navigate to the online application
Input the necessary details about your business
Submit the application
It can take three to seven business days to get an update on the status of your application from OnDeck.
DoNotPay Makes the Small Business Loan Application Process Even Simpler
Regardless of how straightforward OnDeck's loan application procedure may seem, it can still be a complicated process for constantly busy small business owners. If you would prefer to outsource the work, DoNotPay is the partner you need.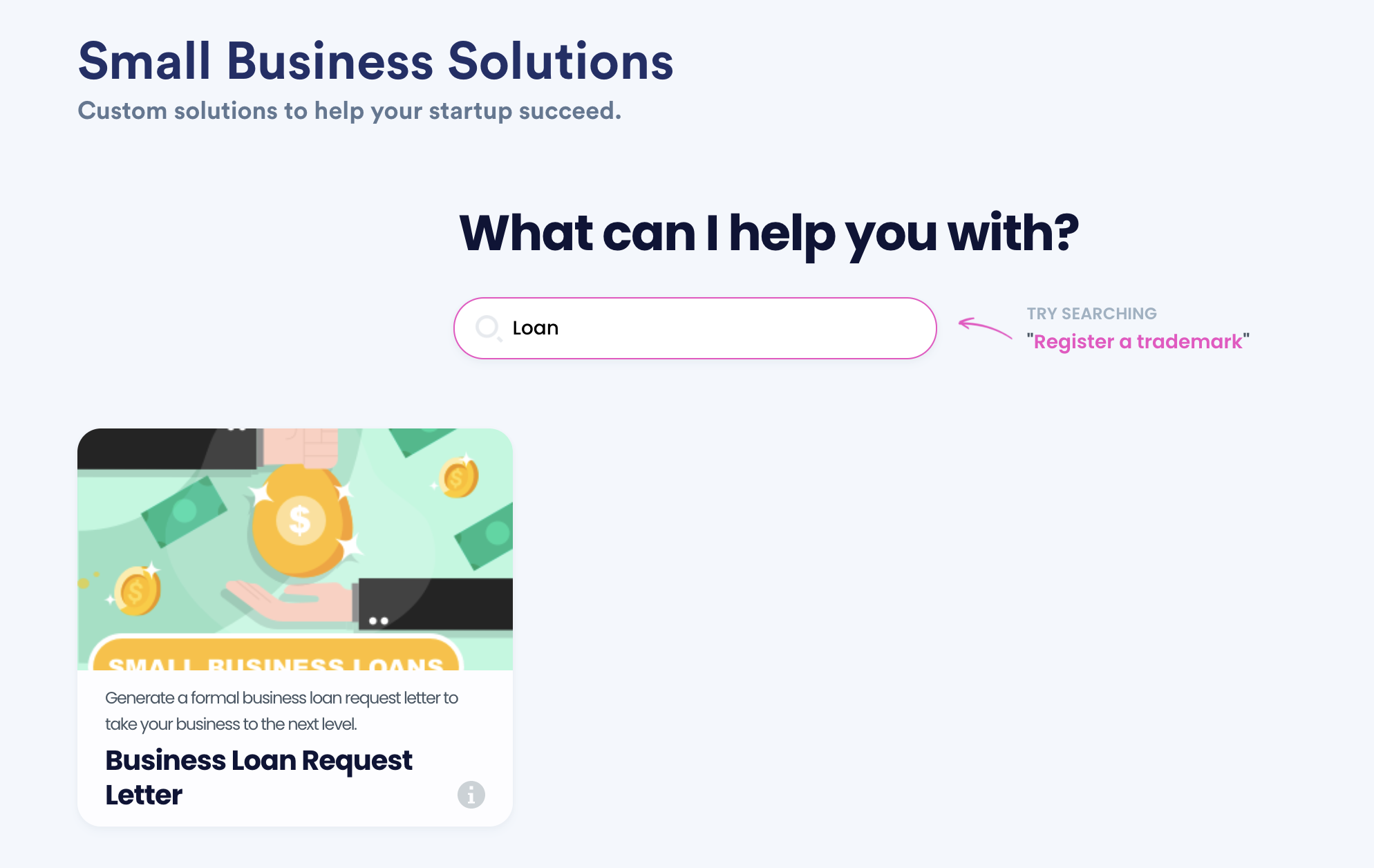 Our AI-powered robot lawyer offers a Business Loan Request Letter generator that minimizes the amount of work you have to do. and follow these steps:
Gather pertinent business details, including your credit scores, financial statements
Choose the Business Loan Request Letter tool
Specify how much you want to borrow and the purpose of the loan
Upload your business documentation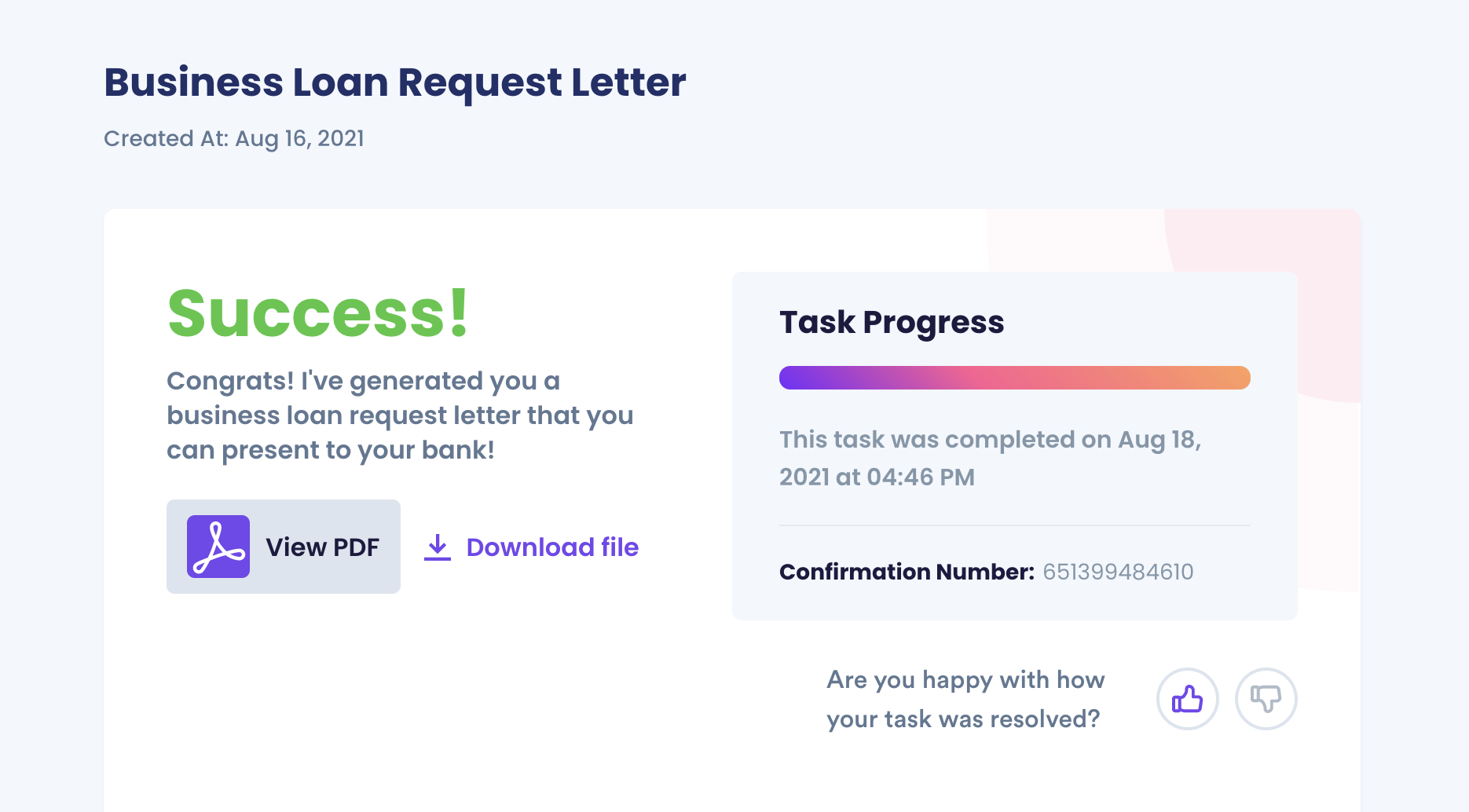 Once you have provided the necessary documentation and details, we handle the rest of the process. We will submit your application and ensure OnDeck has your contact information to keep you updated on your loan status.
DoNotPay also offers the Find Online Business Loan Lender tool to help match you with the right source for financing if OnDeck is not the right lender for you.
Don't Waste Ages on Tedious Administrative Tasks—Rely on DoNotPay
Running a small business can be a challenging endeavor, but you can count on DoNotPay to make the situation easier! We have developed a number of handy features that you can use to deal with your business-related hurdles. With our help, you can:
Send mail to your customers, investors, or business associates without wasting time going to the post office
Register your business slogan, logo, or name as a trademark to prevent brand infringement
Avoid copyright violations on your website by registering a DMCA agent
Protect the privacy of your clients' data by filing the Privacy Shield program self-certification request
Contest unjust chargebacks and keep the revenue
Deal with clients who breach the contract without wasting money on collection agencies or lawyers
Worked Hard on Creating a Good Business Reputation? Don't Let It Go to Waste!
Has one of the angry clients or envious competitors decided to leave a mean online review that could have a negative impact on your business? DoNotPay is here to help you remove it! We will analyze the problematic review and report it until it is taken down.
Don't know how to protect your trademark and make sure no one else is using it? Our app can monitor the trademark on a monthly basis and send cease and desist letters if necessary.
Let our app take care of many other issues—such as filing 83(b) election forms, registering for an Employer Identification Number (EIN), taking out small business loans, and similar—while you concentrate on the creative side of your business.