How to Check for Warrants in Oklahoma
There are thousands of individuals in Oklahoma who have warrants for their arrest for minor crimes such as not paying a traffic ticket, or forgetting to renew their license. Many of these people are not even aware that a warrant has been issued. If you're curious about whether you or a loved one has an active warrant, there are a few time-consuming ways to perform an . Fortunately, DoNotPay's Warrant Lookup product provides an easier solution.
Reasons to Perform an Oklahoma Warrant Search
There are many reasons to perform an , including the following:
| | |
| --- | --- |
| You Could Be Arrested | If there is an active warrant in Oklahoma and you are stopped as a result of a traffic offense or other reason, the police are required to take you into custody then and there, regardless of whether you have obligations or passengers in the vehicle with you. |
| Your Warrant Information is Available to Anyone | Arrest warrants are public information, meaning your landlord, employer, and others can find this information about you, which can result in difficulties at work, securing housing, or in other important aspects of your life, in addition to the humiliation of having others know. |
| You Can't Resolve the Issue if You Don't Know About It | Learning of the warrant before the police locate you allows you to clear up the issue as soon as possible, rather than risking jail time and other consequences. |
How to Search for Warrants in Oklahoma on Your Own
Unfortunately, while warrant information is available to the public, there is no centralized database through which to obtain that information. Instead, there is a patchwork of sources of information that include:
Websites for various judicial districts in the state. Each of Oklahoma's 77 counties has a district courthouse and records can be requested online or by mail.
The Oklahoma Bureau of Investigations can also perform a criminal history search, including active warrants, by filling out a request form and mailing it to the Oklahoma State Bureau of Investigations, 6600 N. Harvey, Oklahoma City, OK 73116.
Municipal courts across the state also provide information by request about active warrants against a named individual if the warrant was issued through that court.
As you can see, finding information about warrants you have against you in Oklahoma is not necessarily an easy process. Instead, it is a process that involves first determining who would have a record of your warrants, and then determining the agency's preferred way of providing this information to the public, either through the mail, in-person, or online, and paying a fee for the search to be conducted.
Easily Look Up Warrants in Oklahoma Through DoNotPay
If you are attempting to look up active warrants, many bail bondsmen will also provide this service for a fee. Fortunately, you can avoid engaging with a bail bondsman by easily looking up your warrant information through DoNotPay's Warrant Lookup product, which allows you to:
Save time and effort. DoNotPay will scan public records sites on your behalf, and can even request warrant information on your behalf from local courthouses and police departments.
Have the information sent directly to you by mail or email. If DoNotPay finds active warrants in your name or that of a loved one, the information will be directed to you.
Avoid finding out about your warrant when you are arrested after going into the police station to request a warrant lookup. DoNotPay handles the issue discretely on your behalf, allowing you the benefit of obtaining the information without inadvertently "turning yourself in".
How to Do a Warrant Search in Oklahoma Without Frustration
If you want to do a warrant search in Oklahoma but don't know where to start, DoNotPay has you covered in 4 easy steps:
Go to the Check for Warrants product on DoNotPay.

Choose whether you want to search for yourself or someone else, and answer a few questions to help us narrow down the search results, including current and previous addresses, age, the names of parents/relatives, and any known aliases.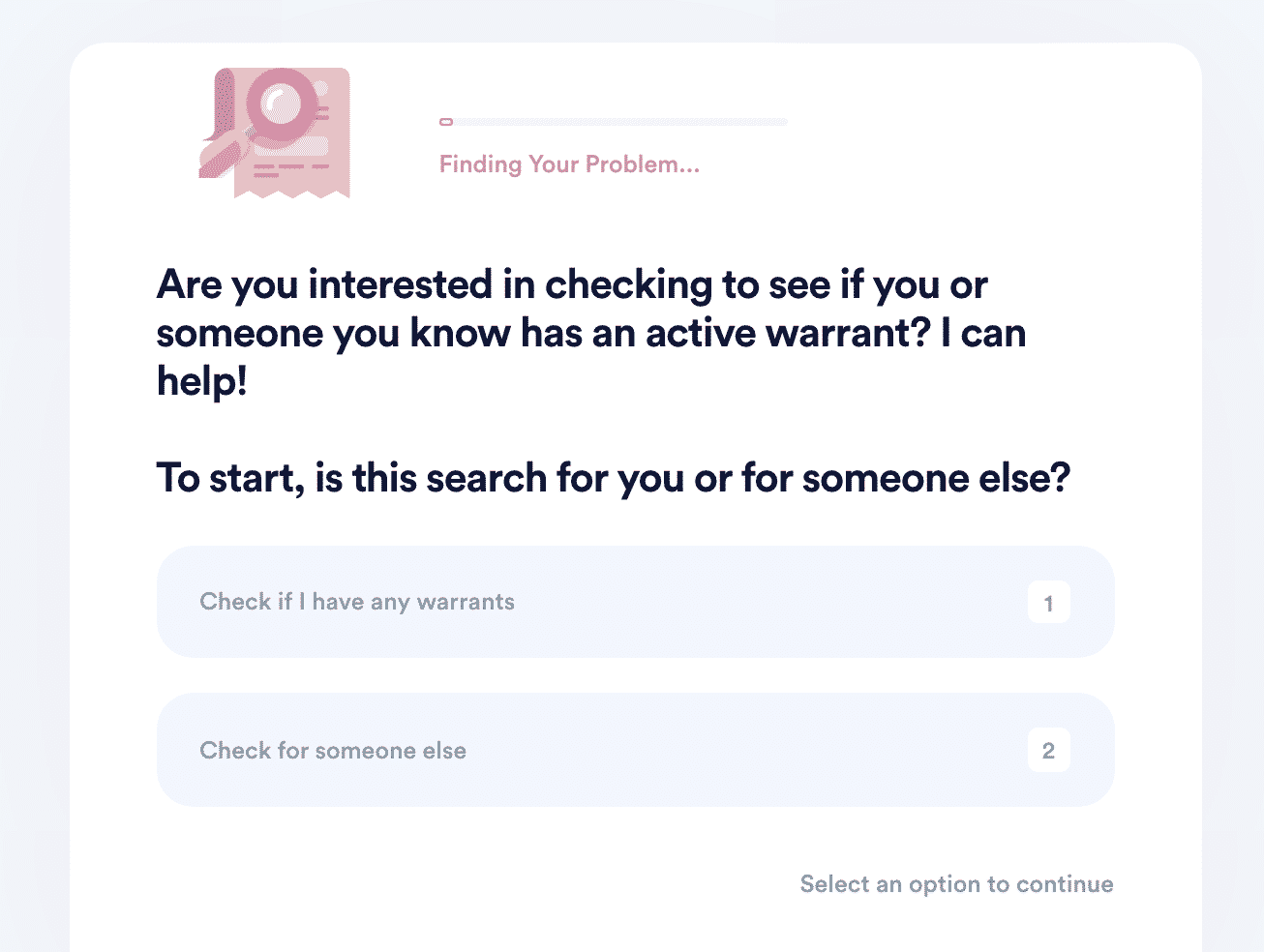 Select how you would like to receive the results in the case where we have to contact the police station on your behalf (by mail or email).

Enter your contact information, including email, address, and phone number.
Learning of the warrant before the police locate you allows you to clear up the issue as soon as possible, rather than risking jail time and other consequences.
Oklahoma Warrant Lookup? DoNotPay Has You Covered
Individuals in Oklahoma trust DoNotPay to perform their warrant searches because:
It's Fast. We have the ability to rapidly search for your public records online.
It's Easy. Simply answer a few questions and let us do the rest.
It's Successful. We cover all bases, searching for federal, state, and local warrants and making requests for information on your behalf.
Other Services Available Through DoNotPay
DoNotPay is a powerful tool for resolving many time-consuming and frustrating processes, including warrants lookup in places like:
Take a look at some of the services we offer on the following pages:
Sign in or sign up for DoNotPay today to begin saving time on the important tasks in your life.