Oklahoma Veterans Property Tax Exemption in a Nutshell
The Oklahoma disabled veterans exemption is one of the programs the state offers to citizens to help them with paying their tax bills. If you want to lower your property tax, you can apply for that or another tax relief.
In this article, you'll find out:
What property tax is and why you are paying it

How the Oklahoma veterans property tax exemption works

Whether there are any other

tax exemptions

you might be eligible for
What Is the Purpose of Property Taxes?
Property taxes that homeowners pay to their governments help build and support the facilities that all citizens benefit from.
For instance, a huge portion of the revenue that's accumulated through property taxes goes into funding health care units and educational institutions, making them more accessible.
Other projects that the tax money funds are:
Public libraries

Road repairs and maintenance

Parks and green spaces

Construction work
How Are Property Taxes Assessed?
Your county assessors use a specific property tax calculator to determine what you owe to your government in property taxes.
The first part of the equation is your property's market value. Property tax assessments are conducted to determine how much your home is worth. The tax assessor will gauge the:
Area you live in

Number of rooms you have in your home

Square footage

Value of the homes in your neighborhood

Installments you made on your property, like pools or solar panels
The second part of the equation is the tax rate in your county or state. The tax rate is specific for every fiscal year.
The value of your property is multiplied by the tax rate, and that's how the assessor determines the amount of property tax you'll pay. When the assessment is over, you get a notice or a statement with all the relevant information. If you believe there is sound evidence that the assessor estimated your property incorrectly, you can appeal the assessment.
The average tax rate in Oklahoma is 0.87%, which makes Oklahoma one of the states with low property tax.
Here are more statistics about property taxes in Oklahoma that might be helpful:
Oklahoma Property Tax Statistics

Average cost of property tax per year

$1,278

County with the lowest tax rate

Murray County—0.41%

County with the highest tax rate

Cleveland County—1.16%
Oklahoma Property Tax Exemption for Disabled Veterans
Just because Oklahoma is below the national tax rate average doesn't mean you have to put up with your enormous tax bills.
The state's 100% Disabled Veteran Property Tax Exemption is a program that allows veterans and military service members to be exempted from paying tax on their property.
If you want to apply for the exemption, you have to fill out a form and hand it over to your county's tax assessor.
The exemption applies to your homestead, and it accounts for its full fair cash value.
When you get the exemption, you don't have to renew it.
If you want to skip the bureaucratic hurdles, sign up for a DoNotPay account, and let us generate a comprehensive guide that will help you lower your property taxes without a hitch!
Are You Eligible for the Oklahoma 100% Disabled Veteran Property Tax Exemption?
Veterans with a 100% disability and their surviving spouses—provided they have not remarried—are qualified for the exemption.
Here are some additional requirements disabled veterans need to meet to get the qualification letter from the ODVA:
Veterans Have To:
The Disability Has To:

Be the state's resident

Have been a member of the Armed Forces or the Oklahoma National Guard

Be eligible for homestead exemption

Be certified by the U. S. Department of Veterans Affairs

Have been inflicted during military service or be a result of a disease caught during service
Other Tax Exemptions Oklahoma Offers
If you don't qualify for the Oklahoma 100% Disabled Veteran Property Tax Exemption, you shouldn't despair. 
Oklahoma offers other programs that help lower property tax residents pay, including:
Senior Valuation Freeze

—

Homeowners who are 65 or older

and whose family income doesn't exceed $74,000 can get a freeze at a taxable value of their property

Homestead Exemption

—Residents who occupy the property they own can get $1,000 off the value

Additional Homestead Exemption

—Heads of households whose total family income doesn't exceed $20,000 get an additional $1,000 exemption of their property's value 

State Tax Credit Refund Program

—Property owners can get a tax credit refund from Oklahoma if they are 65 or older, totally disabled, or heads of households. Gross household income cannot exceed $12,000
You Don't Have To Do It Alone! Let DoNotPay Help You Get Tax Exemptions
Applying for tax exemptions is a long and tedious process. You can easily confuse one form for another, botch the application process, and fail to get an exemption you are qualified for.
Instead of rummaging through databases and collecting information for days only for your request to get declined due to a mistake, you can let DoNotPay get the job done for you!
In only three clicks, you can generate a tailor-made guide in our app that lets you know what exemptions you are eligible for and how to fill out the forms for them. You only have to:
Sign up

for a DoNotPay account 

Navigate to the

Property Tax

feature

Tell us about yourself and your property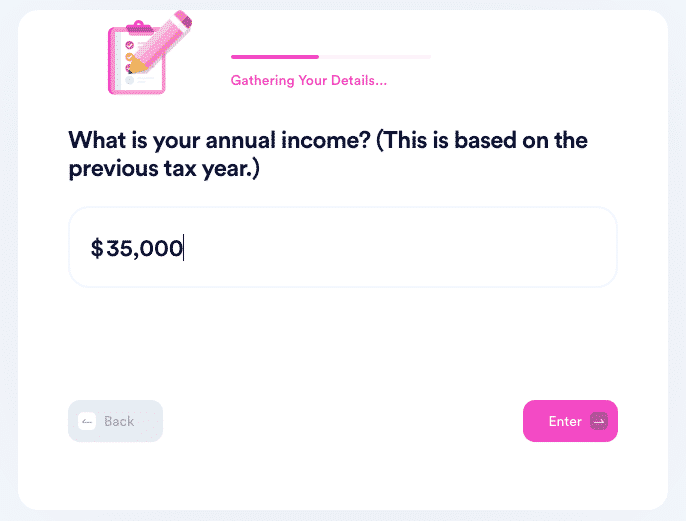 By using our feature, you can also get assistance with appealing your property tax. The app will generate straightforward info that applies to your county or state, offer advice for the appeal court hearing, and help you collect the evidence you need to appeal your taxes.
Outsmart Scammers With DoNotPay
Are you troubled every time you think about subscribing to a service because you fear your personal information will leak and your privacy will become invaded?
There's no need to fret anymore as DoNotPay has come up with a way to shield you from hackers, scammers, and identity thieves alike. 
Check out how you can use DoNotPay and browse the internet care-free:
Open DoNotPay in your web browser

Locate our

Virtual Credit Card

generator

Use the made-up card number to sign up for any

free trial

Move forward to our

Burner Phone

product

Use the temporary phone number to verify any online account

Enjoy the trial without worrying about

canceling it

—the service will do it on its own
Signing up for services with DoNotPay's hacks frees you from ever falling victim to a serious crime, such as identity theft, and liberates you from the bothersome and never-ending spam calls, texts, and emails that you never explicitly agreed to receive.
What Else Is Hot About DoNotPay?
DoNotPay does wonders in protecting your online privacy, but it can do so much more for you! 
With our assistance, you can claim compensation for canceled or delayed flights, request refunds and chargebacks for unsatisfactory purchases, file warranty claims for defective products, and even overturn unjust parking tickets!
Our app can locate unclaimed funds that exist under your name, the best clinical trials for your needs, and public records that you couldn't identify on your own.