Low Cost Living in the Sooner State With
Oklahoma Property Tax Exemptions
Oklahoma is one of the states with the lowest property tax rates in the U.S.
With low property prices and an average property tax rate of 0.87%—well below the national average of 1.07%—Oklahoma is a haven for people looking to avoid hefty property tax bills.
DoNotPay knows how important it is to save money, and we are here to help you reduce your property tax even further in Oklahoma. If you need help paying your property tax, DoNotPay is the resource you have been looking for.
How Does Property Tax Work in Oklahoma?
Oklahoma's property tax system accounts for 20% of the state's total tax revenue and is a vital source of funding for local amenities and services.
Property tax is administered by each county, and your property tax bill is calculated by combining two elements:
Tax rate

Assessed value of your property
Tax Rate
The tax rate in Oklahoma is set by each county and reflects the amount of money needed to fund local services like:
Road upkeep

Public schools

Libraries

Public recreation facilities
Each department or service requiring funding submits an annual budget, and all the budgets are added together to determine the county's total funding needs. These are then translated into a tax rate that ensures that enough money is available to cover the requirements. 
The tax rate is calculated at a dollar amount per $1,000 of taxable property value. This is equivalent to an effective tax rate as a percentage of your home's market value.
The tax rate varies across Oklahoma's 77 counties, ranging from Cleveland County at 1.16% to Murray County at 0.41%. If you are lucky, you will find yourself in a county with both a low tax rate and a low median property value, resulting in negligible annual property tax bills. 
The best of both worlds can be found in these counties in Oklahoma:
| | | | |
| --- | --- | --- | --- |
| County | Median Home Value | Average Effective Property Tax Rate | Median Annual Property Tax |
| Cimarron | $55,800 | 0.47% | $260 |
| Harmon | $62,600 | 0.54% | $335 |
| Greer | $71,700 | 0.51% | $368 |
| Pushmataha | $78,500 | 0.47% | $370 |
| Jefferson | $62,500 | 0.60% | $373 |
| Grant | $78,500 | 0.48% | $377 |
| Kiowa | $62,100 | 0.62% | $382 |
| McCurtain | $81,600 | 0.47% | $383 |
| Tillman | $53,100 | 0.72% | $383 |
Assessed Value of Your Property
Your real estate's value is assessed annually in Oklahoma, with a physical appraisal every four years. County assessors use the sales-value approach to determine your home's value, meaning that they compare sales figures for similar-sized properties in your area to see what your property would be worth if it were sold.
Having established your property's market value, each county sets its taxable value at between 10% and 15% of its market value. 
This percentage is known as the county's property ratio. So if your home's market value is $100,000 and your county of residence uses a property ratio of 11%, your property tax bill would be based on a taxable value of $11,000.
Property values can be volatile, though, and could lead to significant hikes in your property tax bill if your local market suddenly started to boom. Oklahoma tries to avoid this and has placed a cap of 3% on annual property assessment increases.
No matter how the property market in your county is performing, your property assessment cannot rise by more than 3% each year.
What Property Tax Exemptions Can You Get in Oklahoma?
Oklahoma residents benefit from even more opportunities to save money through property tax exemptions offered by the state. The available exemptions are as follows:
Exemption

Explanation

Homestead exemption

This exemption is available to all homeowners living in their property as their primary residence (their "homestead") and offers $1,000 off the taxable assessed value of the property

Low-income exemption

Homeowners who earn an annual household income of less than $20,000 can apply for an additional $1,000 exemption off their property's taxable value

Below-median income senior assessment freeze

Senior citizens who earn less than the median income for their county of residence are eligible to have their property assessment frozen, meaning it cannot increase as long as they own the property

Senior citizen exemption

Senior citizens who earn less than $12,000 a year can apply for an income tax credit on any amount of property tax paid that exceeds 1% of the property's taxable value. An example would be:

Your property's taxable value is $100,000

The county tax rate is 1.15%

Your property tax bill comes to $1,150

The property tax of over 1% of property value is $150

Your income tax credit amount is $150

Senior citizen manufactured home exemption

Senior citizens earning less than $10,000 and living in a manufactured or mobile home are eligible for an exemption of $2,000 off the taxable value of their home

Disabled veteran exemption

Disabled veterans are entitled to a 100% exemption from property tax
How Can I Apply for Property Tax Exemptions in Oklahoma?
DoNotPay has all the info you need to claim Oklahoma property tax exemptions.
To help you through the process, our app can provide you with a personalized property tax guide that tells you everything you need to know.
The guide comes in two sections, namely:
Property tax exemptions

Property assessments
Property Tax Exemptions
This section has all the info you require on:
What exemptions are available in your area

Which documents you will need for your application

Where you can apply
Property Assessments
In this section, you can find tips on:
How to negotiate with county assessors for a lower appraisal

Where to lodge an appeal against an unfair or incorrect assessment
How Can DoNotPay Help Me With Oklahoma Property Tax Exemptions?
You can get your customized guide easily by following these steps:
Navigate to DoNotPay

in your web browser

Sign up and look for the

Property Tax

product

Fill in some details about yourself and your property

Get your customized property guide in a few short minutes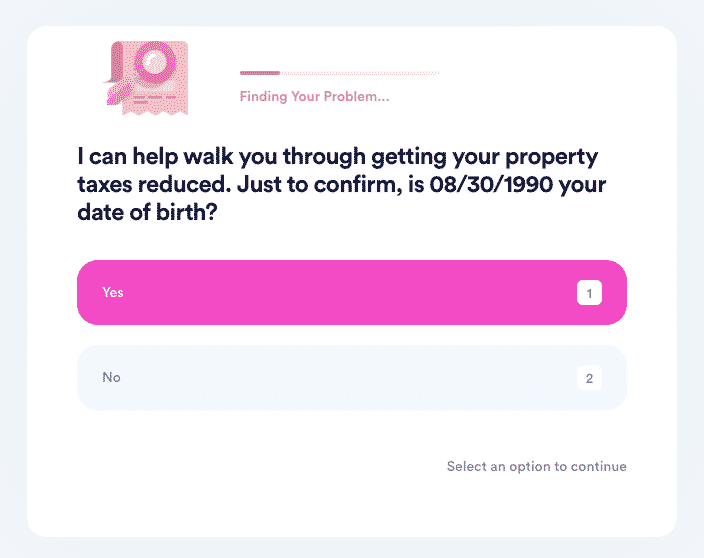 What Other Help Can DoNotPay Give Me With Oklahoma Property Tax?
If you have applied for all the exemptions you are eligible for and still think you are paying too much in property tax, you still have the option of lodging an appeal against your property assessment.
The process of appealing can be daunting, but DoNotPay is here to help. We can give you info and advice on:
How the appeal process works in your area

What documents you need to have available

Where you can lodge your appeal
Explore the Full Range of DoNotPay's Services
Don't let annoying bureaucracy stop you from exercising your rights or finding new opportunities. DoNotPay—the world's first robot lawyer—comes with a diverse portfolio full of practical shortcuts for:
Struggling with finances? Our app will help you manage unpaid bills, find and claim lost money in any state, or get college application fee waivers. 
Minimize Paperwork With DoNotPay
Writing letters, filing claims, sending requests—these chores are nobody's idea of fun. Thanks to DoNotPay, you can bypass these menial tasks with a few clicks in your browser. 
Our platform is full of useful tips and features for filing insurance and warranty claims, dealing with parking tickets, getting refunds and chargebacks, or writing harassment cease-and-desist letters. 
DMV offices don't have to be the place where hope goes to die. With DoNotPay, you will be able to schedule any DMV appointment without the nightmare of waiting in lines. While you're at it, you can check out our guides and practice tests for the best driving exam preparation!