Draw Up a Killer
Oklahoma Lease Agreement
Fast
When renting an apartment or house in Oklahoma, the best way to find a common language and keep a solid relationship with the landlord is to create a lease agreement. 
This legal document fortifies the terms and regulations of the landlord-tenant relationship and safeguards both parties' rights. With all legal intricacies involved, people rarely dare to engage in the complicated procedure of writing a contract on their own.
If you believe that only a pricey lawyer can help you, we will prove you wrong by giving you useful tips for getting your Oklahoma lease agreement in a heartbeat! Learn how to get the legal document you need fast without attorneys or bland online contract templates!
Why Are Lease Agreements Important in Oklahoma?
Unlike verbal agreements, which are risky and quite difficult to prove, written lease agreements benefit both concerned entities. They are useful because they:
Solidify a verbal deal between a landlord and tenant

Help both parties prevent miscommunication

Offer a better understanding of each parties' duties and interests

Can be used as a valid piece of evidence in court if the other party breaks the rules
Do Residential Lease Agreements Require Notarization?
Lease agreements in Oklahoma usually need only the signatures of the landlord and tenant to come into effect. This means that in most cases, notarization isn't necessary. There are some exceptions, such as when the landlord authorizes another person to sign the agreement on their behalf.
What Disclosures Does a Lease Agreement in Oklahoma Require?
Most U.S. states have laws that establish landlord-tenant relationship rules. In Oklahoma, these terms and conditions are regulated by Title 41 of the Oklahoma Statutes. The parties have the right to include any disclosure they want in the contract as long as it complies with state regulation.
Here are the basic components you shouldn't miss while creating your contract:
Recommended Disclosures
Mandatory disclosures

Legal names of the signing parties or the name of the authorized person who acts on the landlord's behalf

Addresses and contact details of the signing parties

Birth dates of all occupants

Tenants' emergency contact list

Start date of the lease

End date of the lease

Full physical address of the property

Property description

Legal use of the premises

Rent details—amount, address to which the tenant(s) should send the money, due date, late and NSF fee amount, etc.

Unpaid rent notice

Security deposit details

Pet policy and potential pet deposits or restrictions

Smoking policy

Guest policy

Noise policy

Repairs

Other optional disclosures

Mold

Asbestos

Bed bugs

Shared utilities

Medical marijuana use

Move-in checklist

Homeowner's association

Renter's insurance

Lease termination conditions

Rule violation penalties

Signatures of all concerned parties

Date of signing

Lead-based paint—only for the properties built before 1978 

Flood—for any property that was flooded in the last five years

Methamphetamine disclosure—for the properties that have been used for the production of this substance
Get the Best Customizable Legal Templates From DoNotPay
Drafting a state-specific lease agreement requires high-level knowledge of the law and a lot of patience. Bearing in mind that it's a daunting task for most people, we came up with a perfect idea to help you avoid costly professional services and unreliable samples.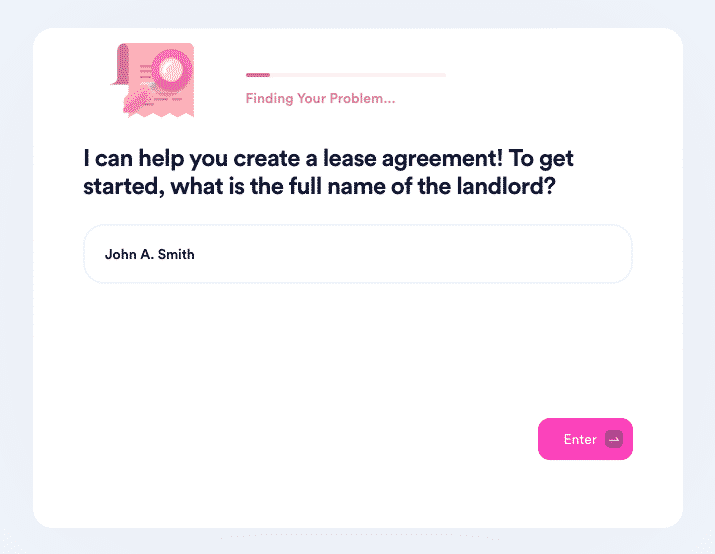 DoNotPay offers you the possibility of picking a customizable template from our database and modifying it to get a comprehensive agreement in a flash! Keep the money in your pocket and generate as many legal documents as you need, including:
Quitclaim Deed

General Business Contract

Intent To Purchase Real Estate

Estoppel Certificate

General Affidavit

Promissory Note

Child Care Authorization Form

Residential Lease Agreement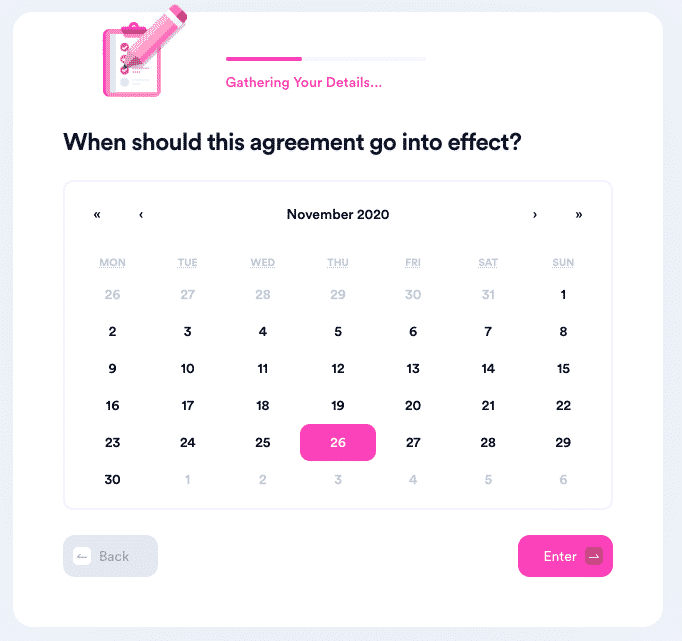 Here's how to do it:
Log in to DoNotPay

using your web browser

Find the template you want to modify using the search field

Disclose more info to complete your legal document
Our knowledge base offers a vast collection of handy articles on lease agreements in other U.S. states, including Ohio, Colorado, Alabama, Tennessee, New Jersey, Florida, California, Wisconsin, and many more. 
DoNotPay Demystifies Various Contracts
What makes DoNotPay even better is that you get a chance to educate yourself on various contract-related topics. Besides reading about Oklahoma residential lease agreements, you can learn more about other legal documents, such as:
| | |
| --- | --- |
| Lease Agreements | Other Agreements |
| | |
Discovering DoNotPay Will Make Your Day
If you feel overwhelmed by tons of paperwork flooding every area of your life, you can finally breathe out and let go of that stress. DoNotPay is the world's first robot lawyer that handles your bureaucratic chores for you. 
Some of the benefits that come with our service include:
Why Get a Lawyer When You Have DoNotPay?
Our agenda has one major goal—provide easy legal access to anyone who needs it. Every new feature we come up with relies on AI technology that simplifies bureaucratic procedures and saves you time and money. 
If you're wondering how to navigate tasks like contacting imprisoned friends and family members or reducing your property taxes, DoNotPay has the answers. Our service cuts through the red tape even if you need to deal with stalking and harassment, claim forgotten assets the proper way, or secure compensation for crime victims.