Understand the Oklahoma Divorce Laws, Alimony Guidelines, and Settlement Rules
Filing for divorce can involve headaches about how your finances will be affected by a judgment.
Once you have started the process of an Oklahoma divorce, you may face some tough decisions around alimony and the long-term cost of dissolving your marriage.
DoNotPay is here to help with a look at Oklahoma divorce laws—alimony does not need to be as frightening as you thought if you understand the system!
How Does Divorce in Oklahoma Work?
To be eligible to file for divorce in Oklahoma, you or your spouse must have lived in the state for the last six months and the county where you file for at least the last 30 days.
The state recognizes two types of divorce, namely:
At-fault divorce
At-Fault Divorce
This is now a less common option, which means that one spouse has to prove the other is guilty of:
Adultery
Abandonment
Abuse
Impotency
Alcoholism or drug addiction
Infidelity resulting in a pregnancy
Fraud
Neglect of financial duty
Insanity
If you are the plaintiff, the burden is on you to prove your allegations.
No-Fault Divorce
A no-fault divorce can be granted if one spouse claims that:
The marriage has irretrievably broken down
Irreconcilable differences exist between the two spouses
A judge is not allowed to question the motives for divorce in no-fault cases, but a spouse's misdemeanors may be taken into account when it comes to deciding on a settlement.
No-fault divorces can be classified as:
| No-Fault Divorce Types | Explanation |
| --- | --- |
| Contested | The spouses cannot reach a compromise, so the matter must be decided in court and a judgment imposed |
| Uncontested | Both spouses agree on and sign a settlement document that they file with the court before the first hearing. In such cases, a judge will usually check the agreement and grant the divorce after a single court hearing |
In both at-fault and no-fault divorces, one spouse must file divorce papers, have them served on the other spouse, and pay the filing fee of around $200.
What Types of Alimony Are Available in Oklahoma?
In Oklahoma, a judge will try to divide marital assets, income, debts, and expenses fairly—but not necessarily equally.
There are three types of alimony available in Oklahoma, namely:
Temporary support
Rehabilitative alimony
Permanent spousal support
Temporary Support
This can be awarded to enable a spouse to live during the divorce hearings.
Temporary support ends as soon as the divorce is finalized.
Rehabilitative Alimony
A judge may grant rehabilitative alimony to enable a spouse to retrain or re-enter the workforce.
This can also involve the costs of relocating to find a job. It is also a finite, short-term type of alimony.
Permanent Spousal Support
In the final judgment, a court may award permanent alimony to one spouse if:
The marriage has lasted a long time
One spouse is incapable of generating an income due to:

Old age
Disability
Long absence from the employment market
Oklahoma does not stipulate how long permanent alimony should last, and it is left to the discretion of the judge in each case to make a ruling.
Who Can Get Alimony?
When deciding on alimony, a judge will take the following factors into account:
How old each spouse is
What is each spouse's ability to earn
What ongoing expenses each spouse has
How much disposable income the supporting spouse has
What standard of living each spouse enjoyed before the divorce
How much each spouse contributed during the marriage
Judges have a lot of latitude in deciding alimony rulings. If one spouse has been guilty of any of the grounds for an at-fault divorce, a judge can take this into account even though the divorce is a no-fault case.
How Can You Avoid an Alimony Ruling in Oklahoma?
The best way to avoid a judge making a ruling on how much alimony should be paid is to work towards an uncontested—or friendly—divorce.
This entails drawing up a divorce settlement agreement that regulates every aspect of your financial and family responsibilities after your divorce.
If the two of you can work out an out-of-court settlement, you may be able to solve the problem of alimony without the judge intervening.
Besides alimony, your settlement agreement needs to cover:
Where Can You Get a Settlement Agreement?
A divorce settlement agreement is a legal document that needs to pass muster with a judge before your divorce can be granted.
You can use the following resources to have your agreement drafted:
| Settlement Agreement Resources | Explanation |
| --- | --- |
| Lawyer | Attorneys are the traditional choice to negotiate and draft settlement agreements, but this can quickly become expensive. An uncontested Oklahoma divorce can easily cost $6,000 per spouse in lawyers' fees alone |
| Mediation | A cheaper alternative is to avoid lawyers and negotiate face-to-face with your spouse under the guidance of a trained mediator |
| Online divorce service | Various online providers offer settlement agreement templates for you to fill out. If no arguments exist between you and your spouse, you may be able to use this route, but you should be careful—these templates are frequently too generic to cover your needs and could be rejected as inadequate by a judge |
DoNotPay has the best solution—you can use our resources to generate a customized, watertight settlement agreement in a few clicks, with no lawyers' fees necessary!
Avoid an Alimony Ruling in Oklahoma With DoNotPay!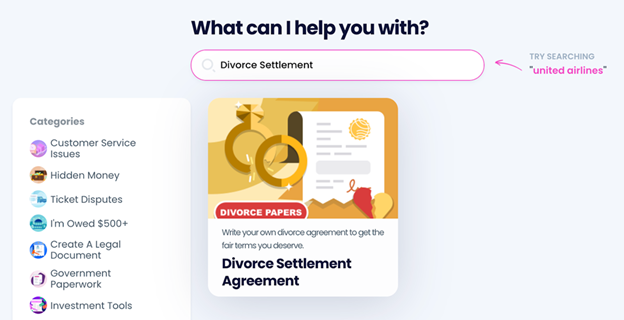 DoNotPay believes that your divorce settlement and alimony payments should be fair, but they should be your decision!
Our Divorce Settlement Agreement feature is designed to help you create an agreement that keeps your hands on the controls. You will get a document that reflects the terms you and your spouse have agreed on, and that will pass muster with an Oklahoma judge!
Here's what you need to do to get your settlement agreement:
Go to DoNotPay in your web browser and sign up
Click on our Divorce Settlement Agreement product
Follow the prompts and fill out the terms you have agreed on
Once you are done, your agreement will be ready in an instant.
You and your spouse can sign it and have it notarized.
Not sure where to find a notary in Oklahoma? No worries—you can use our online notarization service to get your agreement signed and sealed!
Need specific info on divorces in Oklahoma County? Look no further than DoNotPay!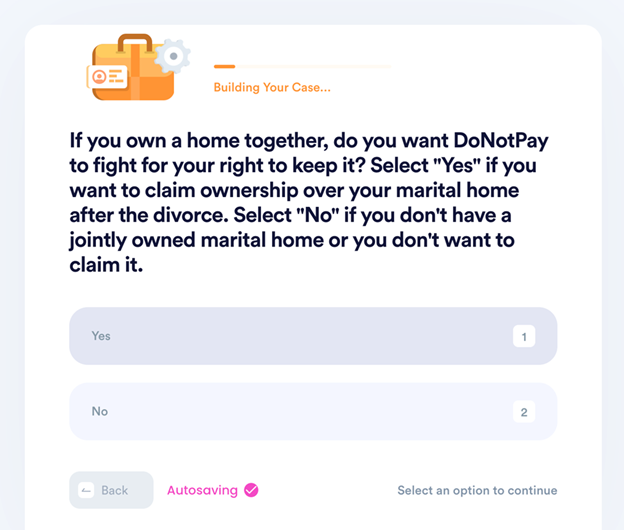 Learn How To Solve Legal Issues in Minutes!
Do you need to draft a legal document? Spending hundreds of dollars on lawyers is not the answer. We came up with a faster and more affordable solution. Not only can our app draft child consent forms, divorce settlement agreements, and powers of attorney for you, it can also provide legal assistance by helping you take anyone to small claims court!
Drafting numerous documents is not all DoNotPay does for you! Aside from drawing up contracts and agreements, we can also assist you in getting them notarized online from the comfort of your home or office!
Explore DoNotPay's Other Nifty Features
There is more assistance on the way! You can use DoNotPay's features to handle various tasks with ease, including:
We can also help you protect your safety. If you don't know how to deal with copyright infringement, stalking and harassment, work discrimination, sex offenses, and disputes with annoying neighbors, DoNotPay has got you covered.