DoNotPay Helps You Get the Right Oklahoma Divorce Forms
Gathering and completing the necessary paperwork is one of the most tiring steps during a divorce procedure, especially if you don't know where to start. DoNotPay has prepared a detailed guide to help you collect the correct Oklahoma divorce forms! We'll show you how to end your marriage on friendly terms and draft a perfect divorce settlement agreement.
Divorce in Oklahoma—The Basics
In the Sooner State, you can file for both no-fault and fault-based divorce. See the table below to get familiarized with the different divorce types in Oklahoma:
Fault-Based Divorce
No-Fault Divorce
Filing for a fault-based divorce requires you to have grounds (reasons) for the dissolution of your marriage. You need to provide the court with the evidence of:

Adultery
Impotence
Habitual drunkenness
Wife's infidelity resulting in pregnancy
Fraudulent contract
Extreme cruelty
Gross neglect of duty
Imprisonment for a felony conviction
Insanity for at least five years

A no-fault divorce is a more popular choice among couples in Oklahoma because it:

Allows you to get divorced without putting any blame on each other
Gives you more control over the procedure as you decide on the terms of the divorce instead of the judge
Can be completed relatively quickly
Doesn't require you to fill out as many forms
Residency Requirements for Getting Divorced in Oklahoma
To get divorced in Oklahoma, you must live:
In the state for at least six months
In the county where you plan to get a dissolution of marriage for at least 30 days
Oklahoma Uncontested Divorce Forms
An uncontested divorce is the best option you can choose in Oklahoma. Most people opt for it because it's cheaper and faster than the contested marriage dissolution. With an uncontested divorce, you won't need to hire a lawyer to represent you because you can get an out-of-court settlement. The forms you need to file are:
Summons and Notice of Injunction—You'll need to give this document to your spouse along with the Petition for Divorce to inform them you've started the divorce procedure
Decree of Divorce—This document has basic information about the procedure, such as the type of divorce and the residency requirements. The judge will have to sign it to finalize the divorce
Petition for Divorce—This petition informs the court that you want to end your marriage. It also contains basic information about you and your spouse. Once you file it, you'll initiate the divorce process
Domestic Relations Cover Sheet—The domestic relations cover sheet contains both your and your spouse's contact details and other important info
Entry of Appearance and Waiver—Your spouse will need to sign this document as it will serve as evidence they received the Petition for Divorce
Non-Military Affidavit—In this document, you state that your spouse is not in the military service. Without it, the judge won't grant the divorce
Marital Settlement Agreement—This contract is vital as it outlines the terms of marriage termination and post-divorce arrangements
Can You Get Oklahoma Divorce Forms in PDF?
Oklahoma divorce forms in PDF are available on:
Your county's official government website—The State of Oklahoma provides free divorce forms on the official county websites. If you can't find the divorce papers you need, visit your local county house and get physical copies
Various online divorce websites—Numerous websites offer filling services and divorce forms in PDF. This option isn't recommended as you might get wrong or outdated forms
Get a Top-Notch Divorce Settlement Agreement in Oklahoma
Your friendly divorce can't be finalized without a valid divorce settlement agreement, which determines and clarifies the crucial aspects of the divorce, such as: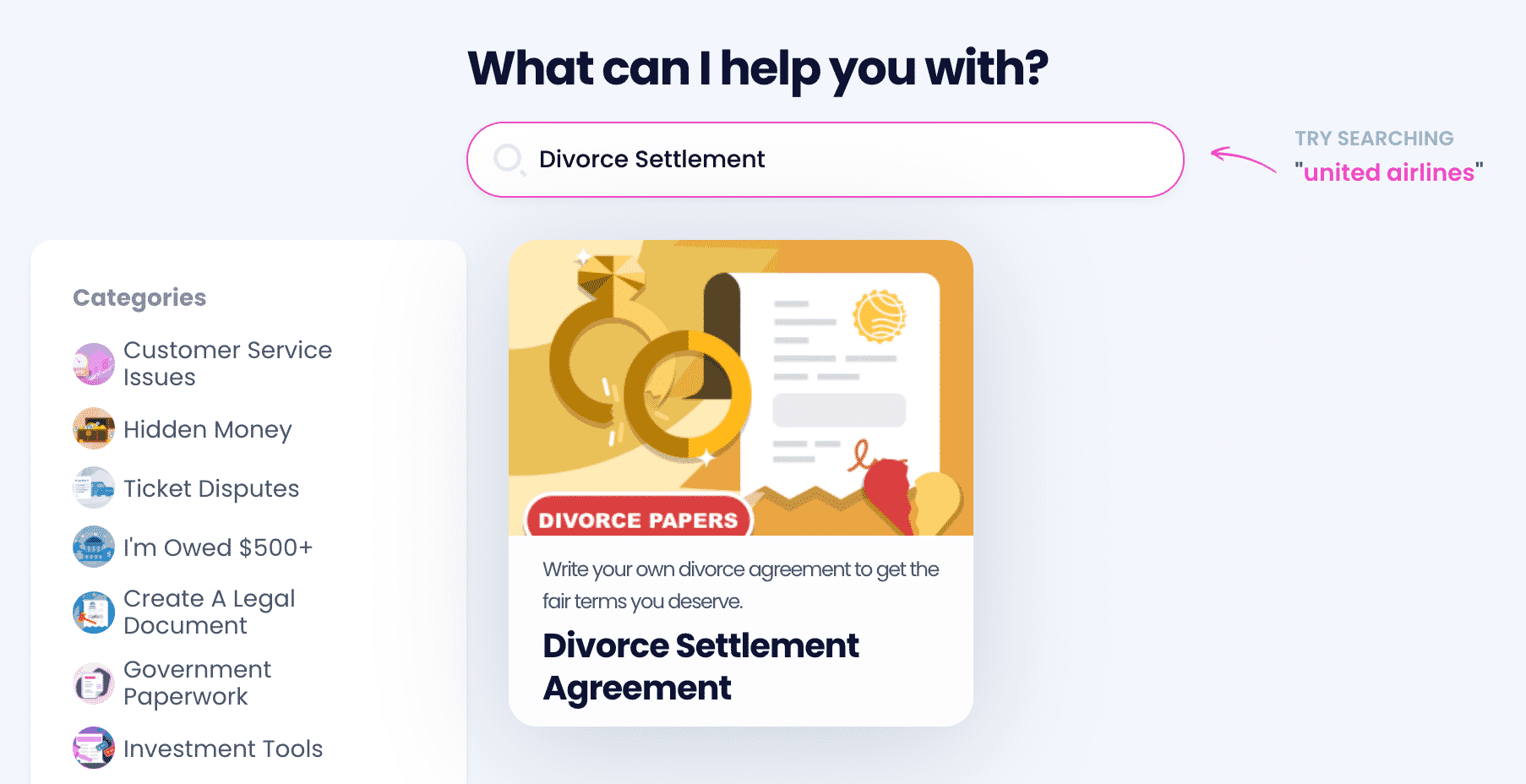 To get a settlement agreement, you can hire a lawyer and spend a fortune or create one yourself. The latter solution isn't recommended as you can make a mistake causing problems in the long run.
An affordable and reliable way of getting a top-notch agreement is to subscribe to DoNotPay. We'll create this contract according to your needs and deliver it in no time. All you should do is:
Select the Divorce Settlement Agreement tool
Give us the necessary details about your spouse, children, assets, and income
Opt for online notarization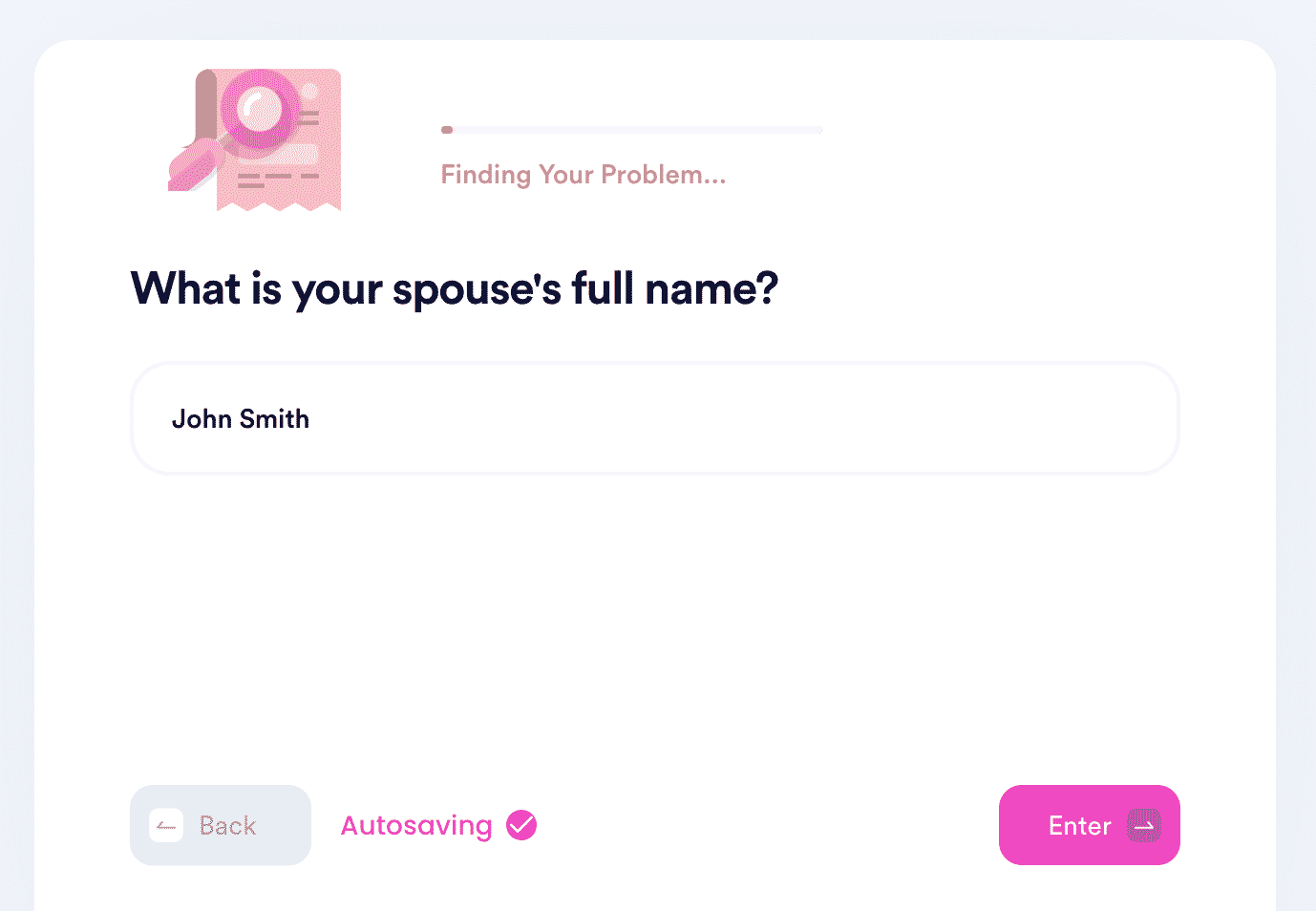 We'll use the details you give us and create a divorce settlement agreement ensuring you get divorced on the terms you deserve. We'll send a link you can follow to schedule a meeting with an online notary and get the document notarized effortlessly.
Become an expert on divorces by reading DoNotPay's handy articles, such as:
To Sue or Not To Sue?
Hiring a lawyer to help you sue a company can be helpful, but it can also cost you an arm and a leg. Luckily, you can avoid wasting hundreds of dollars and use our robot lawyer to sue any company in small claims court instead!
DoNotPay offers you a variety of other features you will find quite useful when dealing with bureaucratic issues. Check out the list below to see what else our app can help you with:
Shopping Without Dropping
Whoever said you should shop until you drop didn't have access to DoNotPay's various features. With our app, you can make your shopping experience smooth sailing and stress-free!
Here's a fragment of what you can accomplish by using our neat features: