Get an Oklahoma County Divorce Hassle-Free
Getting divorced is one of the situations where you need to arm yourself with patience, information, and the appropriate paperwork. Every state has different requirements, and even counties can have a few additional ones.
If you'd like to find out how to file for divorce, you're in the right place. DoNotPay offers information about the process and assistance with your divorce settlement agreement. With our help, you'll get your Oklahoma County divorce in no time.
Do You Meet the Oklahoma County Divorce Requirements?
To get an Oklahoma County divorce, you'll need to fulfill the requirements presented in the following table:
Residence
Grounds
You:

Must have lived in Oklahoma for at least six months before filing for divorce
Need to file the required divorce forms in Oklahoma County if you or your spouse have lived here for at least 30 days

To get a divorce, you must state grounds for divorce, such as:

Incompatibility (for an uncontested divorce)
Abandonment for a year
Adultery
Oklahoma County Divorce Forms for an Uncontested Divorce
You need to file the right papers with the court to start the divorce process. Here's a list of forms you must complete and file for an uncontested divorce in Oklahoma and Oklahoma County:
Divorce Decree
Petitions
Entry of Appearance and Waiver
Make sure you prepare three copies of all forms before you file them, and also keep in mind that waivers must be:
Filed at least one day after filing the petition
Once you've filed the papers with the court, you need to have them served to your spouse.
How Long Does It Take To Get an Oklahoma County Divorce?
For an uncontested divorce, you can get a final dissolution approved in ten days after filing the required paperwork with the county court.
If you and your spouse have minor children, the state of Oklahoma mandates the 90-day waiting period to let spouses:
Try to resolve their differences
Attend family and marriage counseling
The judge can waive this obligatory waiting period if neither spouse objects and the court believes it's unlikely the spouses will resolve their differences in counseling.
Aside from this, the waiting period can be waived if there are cases of:
Extreme cruelty
Abandonment for over a year
Felony charges or child abuse conviction
Oklahoma County Divorce Costs Explained
Divorce can be a costly procedure. Here's a list of fees you can expect to pay:
| Service | Amount |
| --- | --- |
| Divorce with or without minor children | $252.14 |
| Foreign judgment | $164.14 |
| Paternity | $154.14 |
| Sheriff service of process | $50 |
| Certified mail service of process | $10 |
| Summons Fee | $10 |
You can file a pauper's affidavit if you cannot afford court costs. This form summarizing your financial circumstances will let the judge decide whether you can file your case free of charge.
Besides the required fees, you will have to pay for additional services you opt for, such as hiring a:
Lawyer—The total cost depends on whether you hire one for the whole process and preparation of all documents. You might consult an attorney on certain matters to reduce your expenses
Mediator—If you and your spouse need assistance with some issues, you can try mediation
If you'd like to minimize the costs, length, and complexity of the process, you should opt for a friendly divorce. This way, you'll negotiate with your spouse and reach an out-of-court agreement on all divorce matters, including:
Finalizing Your Divorce in Oklahoma County
Once you've agreed on all aspects, you need to list them in a divorce settlement agreement. This document should state the terms and conditions of all significant matters.
As you need to file it with the court for review and approval, you should create the agreement carefully. Sign up for DoNotPay to prepare a rock-solid divorce settlement agreement!
DoNotPay Drafts a Divorce Settlement Agreement on Your Behalf
Getting an uncontested divorce swiftly is possible if you steer clear of any potential bumps on the road by preparing a good divorce settlement agreement.
You can avoid pricey lawyers and online divorce services by relying on DoNotPay.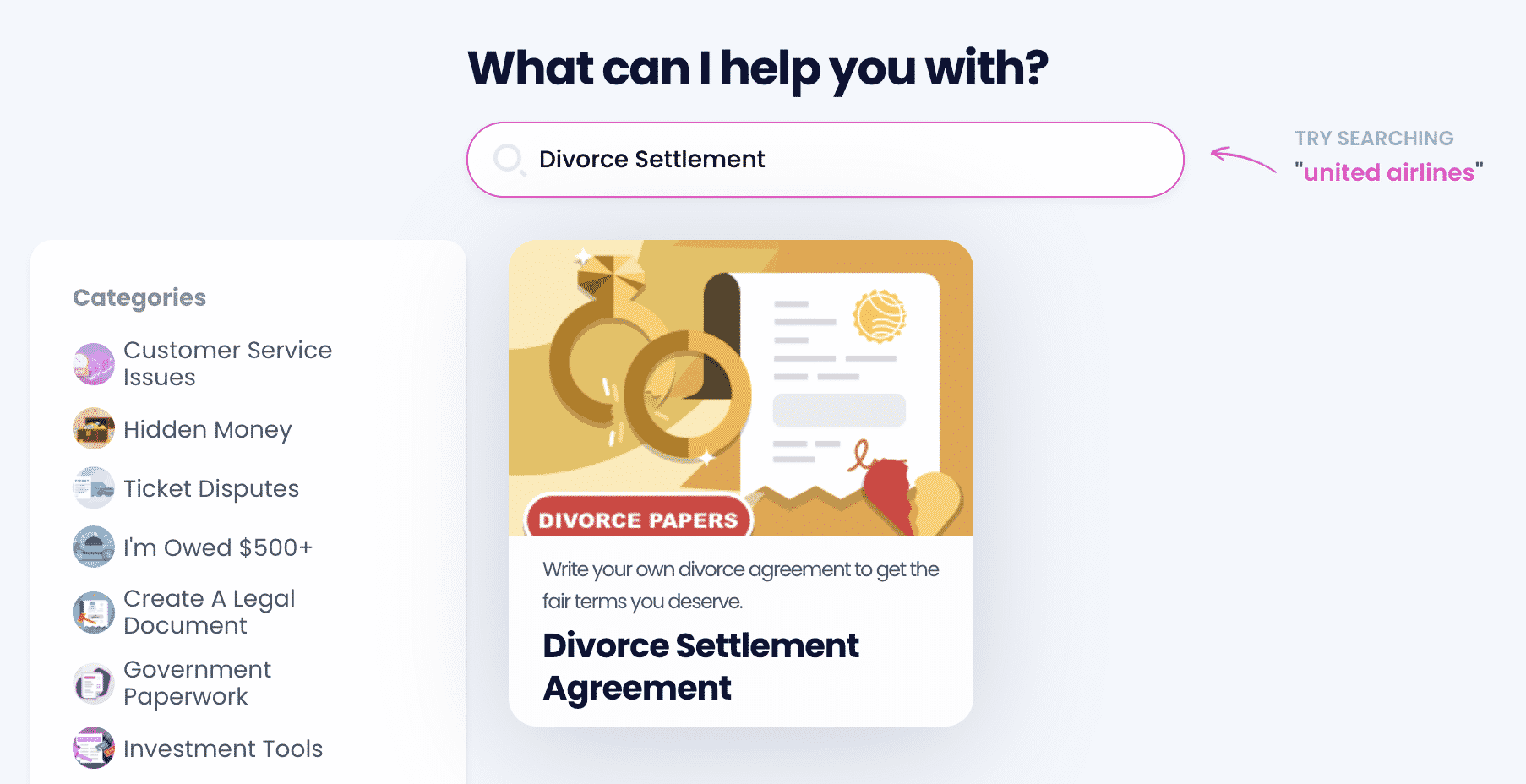 Our app takes state laws and your specific situation into account when generating a divorce settlement agreement. Register for DoNotPay and take these steps to receive the document tailored to your needs:
Enter Divorce Settlement Agreement in the search box
Answer the questions our chatbot asks
Provide information about your income, debts, and property
You'll receive a document we can even help you get notarized any time of the day or night as the remote online notaries we cooperate with work 24/7!
Check out our learning center if you have any more questions regarding the divorce process—our insightful guides will help you understand: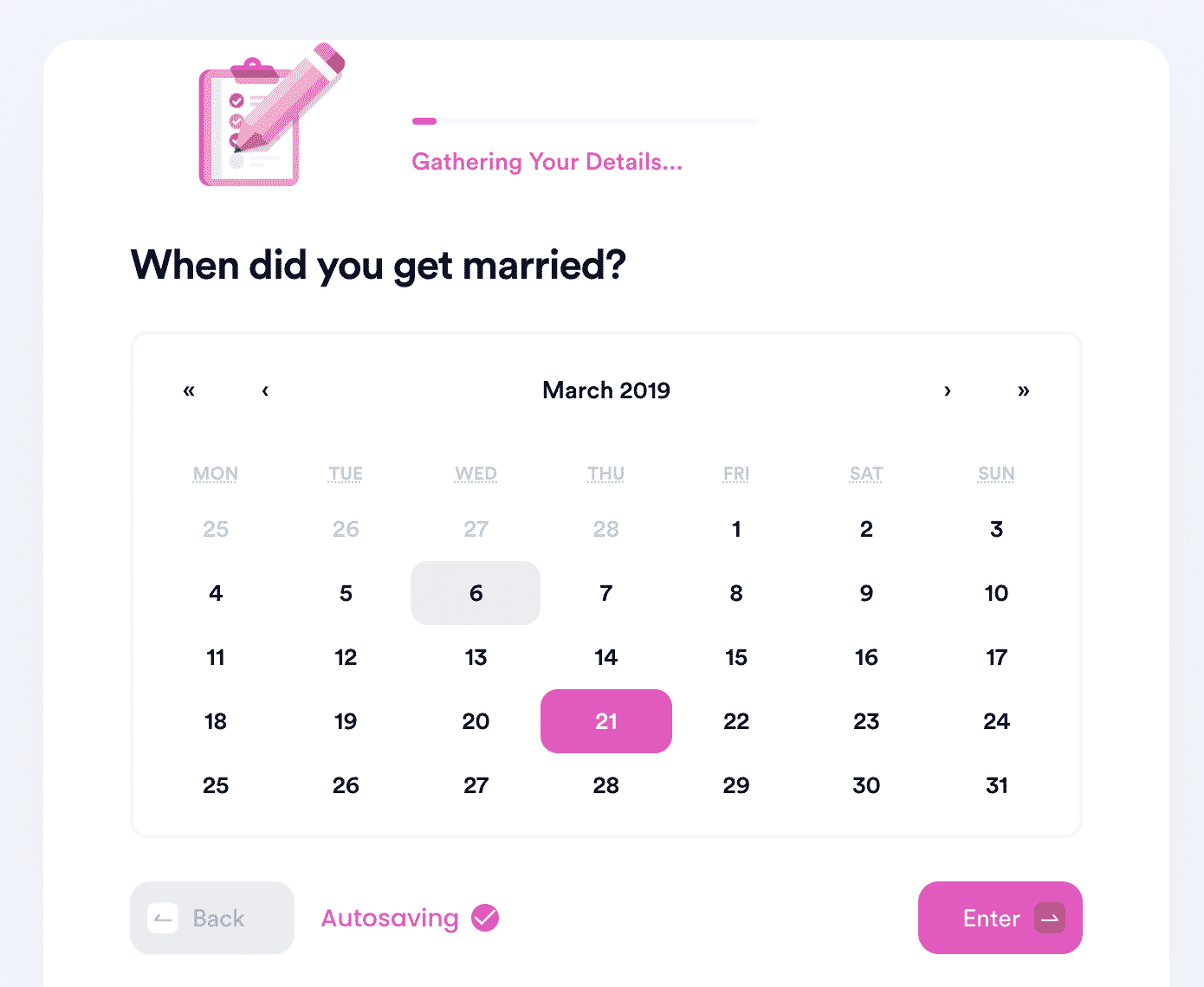 DoNotPay Goes the Extra Mile for You
We are dedicated to providing solutions to difficult and time-consuming tasks you may have on your to-do list. If you are struggling to reduce your monthly bills, contest parking tickets, or set DMV appointments, DoNotPay will help you do it in no time!
We have also created numerous easy-to-use features that can make the following procedures run smoothly:
Get Justice From Companies That Wronged You
Do you feel like you have been played by a company? Instead of wasting your time writing requests, demand a chargeback or refund or claim a warranty via DoNotPay! If the company doesn't seem too cooperative and keeps refusing to return your money, our app can assist you in suing it in small claims court.
To help you save some coins or regain what's yours, DoNotPay will also help you locate unclaimed funds, submit insurance claims, lower your property taxes, and cash out gift cards.