Prepare an Oklahoma Advance Directive Smoothly
While preparing for bad scenarios in your life—such as having a serious health condition—is never pleasant, it might be necessary. Creating a medical power of attorney and living will is a good idea if you do not want to leave your health care to chance.
This article explains what segments you should not skip when drafting an Oklahoma advance directive.
What Is an Advance Directive in Oklahoma?
An Oklahoma advance directive for health care is a legal document that lets you provide medical instructions regarding end-of-life health care to:
Your health care proxy—also called an agent
Attending physician
In this form, you can specify whether you would like to:
Receive life-sustaining treatments, including artificial administration of food and water
Decline health care treatment in case you are in a terminal, persistently unconscious, or end-stage condition
This legal document includes a state-specific medical power of attorney (POA) and living will.
A Living Will in Oklahoma
A living will is part of the Oklahoma advance directive where you can express your wishes regarding:
Life-sustaining procedures and treatments
Artificial administration of nutrition and hydration
Keep in mind that, according to Oklahoma laws:
Your specific preferences will be respected only if getting food and water requires a surgical procedure of inserting a feeding tube into your body
You will be provided with drugs to alleviate pain and given food and water as long as you are able to eat and drink
A health provider will administer life-sustaining treatment if you are pregnant unless you explicitly requested it to be withheld during your pregnancy
Other Sections of an Advance Directive Form in Oklahoma
Aside from creating a living will section of the Oklahoma advance directive form, there are two additional parts of this document—check out the following table for more details:
Oklahoma Advance Directive Sections
Details
Section II—Health care proxy
This part of the advance directive lets you:

Name a health care proxy, i.e., a person that will make medical treatment decisions on your behalf if you cannot decide on your own
Appoint an alternate health care proxy in case the first one cannot or does not want to act as your agent
Direct your physician to carry out your health care proxy's instructions

Keep in mind that:

You should choose someone you trust to act as your agent
Your health care proxy needs to make decisions according to your preferences specified in the living will section
While a health care proxy can be another name for a medical power of attorney, some states recognize the difference between these two documents

Section III—Anatomical gifts
This form provides you with an option to donate your organs or the entire body upon your death
to create a reliable advance directive that covers all the necessary elements.
DoNotPay Is the Right Way to an Advance Directive
Why would you want to spend a lot of money to have an attorney draw up a living will, POA, or advance directive for you? There is also no need for you to waste time browsing through numerous unreliable online templates.
Our AI-powered app knows what you need to include in your advance health care directive and can generate the document for you in a flash!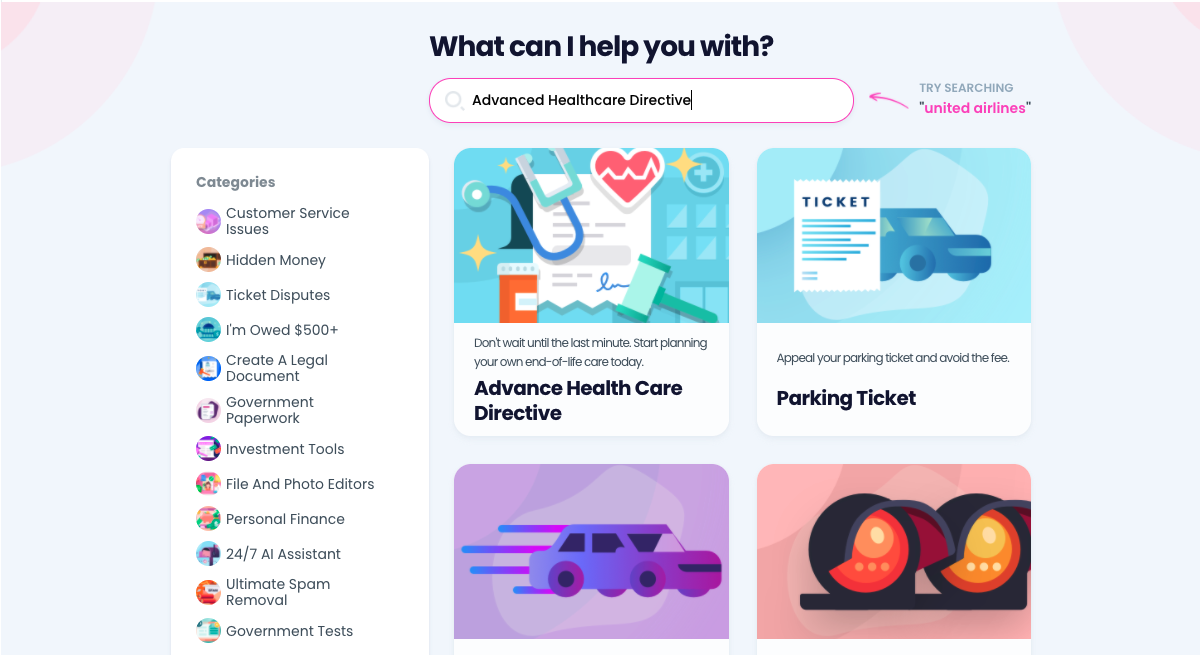 and take these steps:
Navigate to the Advance Health Care Directive feature
Type in the name of your health care proxy and your medical treatment preferences
Indicate the powers you are granting your proxy and health care treatments you authorize
List the names of the witnesses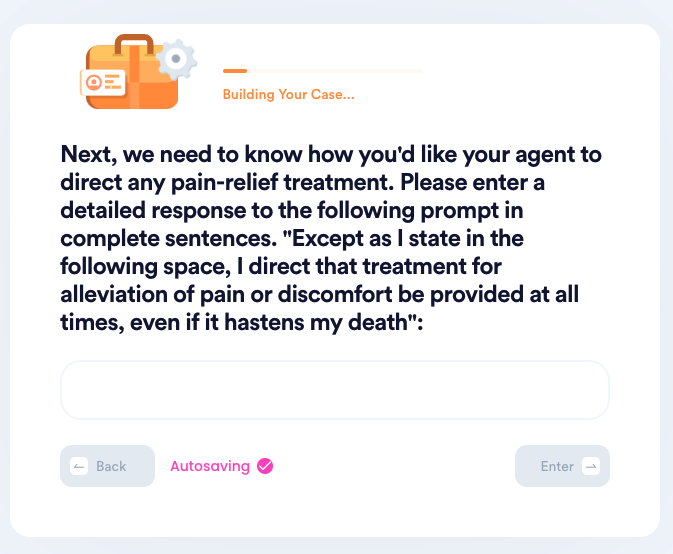 Would you like to get the document notarized at the same time? DoNotPay can connect you with a notary public who can provide the service remotely.
Solve Any Problem Within a Few Clicks
DoNotPay keeps adding new features that are designed to help you navigate your tasks and resolve issues. You can rely on your AI-powered app whenever you need to:
Earn and Save Money Using DoNotPay
When money is tight, every penny counts. DoNotPay can help you get what you're owed and also some extra cash.
Here are some of the ways our app can help you get paid:
We can also assist you in searching for your unclaimed funds, demanding a college fee waiver, and joining clinical trials.
If a company refuses to give you what you're owed, don't hesitate to file a complaint and take it to small claims court.