Want To Study in the Buckeye State? Learn About the Ohio University Financial Aid Options!
The Ohio University (OU or Ohio) was established more than two centuries ago. This public research university requires its students to pay a tuition of $12,612 (in state) and $22,406 (out of state).
If you can't afford to give that much money but are keen on enrolling in this school, you should learn more about Ohio University financial aid.
DoNotPay is here to explain the most important details of the application process. In case you get rejected or need more money, you can use our app to file an appeal!
What Types of Financial Aid Are Available at Ohio University?
The amount of money you will be able to get as financial aid will depend on various factors, such as the state you live in, your family income, or your academic achievement.
You can apply for different types of financial aid at Ohio University, including:
Grants
Scholarships
Loans
Student employment
What Grants Can You Apply for at the OU?
Grants are a type of financial aid that does not come with the need for repayment. They are most often need-based and come from the U.S. Department of Education and state government programs. Take a look at the table to see your options:
Grant Type
Available Options
Federal

Federal Pell Grant
Teacher Education Assistance for College and Higher Education (TEACH) Grant
Federal Supplemental Education Opportunity Grant (SEOG)

State

Ohio College Opportunity Grant (OCOG)
Pennsylvania Higher Education Assistance Agency (PHEAA) Grant
What Are the Scholarships You Can Apply for at the OU?
Ohio University offers a variety of scholarships to academically talented and creatively gifted students. Since most scholarships are need-bases, you need to respect the deadlines and complete the Free Application for Federal Student Aid (FAFSA) by January 15. It is necessary to reapply for financial aid every year.
The scholarship you can apply for the Ohio University will depend on what type of student you are:
Freshmen
Continuing student
Transfer student
Regional student
What Are Your Student Loan Options at the OU?
Student loans are money you borrow and need to pay back with interest. This aid can come from the U.S. Department of Education or private sources, such as banks. At Ohio University, you can apply for:
Federal loans
Private loans
Short-term loans
Student Employment at the OU—What Should You Know?
Student employment is a type of financial aid that helps students pay for their education by studying and having a job simultaneously. You can choose between different types of student employment opportunities at Ohio University:
Federal work-study
Program to Aid Career Exploration (PACE)
What Is the Ohio University Financial Aid Office Phone Number?
If you don't quite understand how the financial aid process works, you can ask financial aid advisors anything you want. They will be able to tell you more details about the eligibility criteria or the period you can keep receiving financial aid.
You can contact the Office of Student Financial Aid and Scholarships in two ways:
Over the phone by calling 740-593-4141
By email at financial.aid@ohio.edu
The financial aid advisors are available Monday through Friday from 8:00 a.m. to 5:00 p.m. You will need to provide your PID number when contacting the office. It is also possible to schedule a visual appointment with an assigned financial aid advisor.
Ways To Submit the Required Financial Aid Documents to Ohio University
You can submit the necessary financial aid documents (with your name and student PID number listed on them) by:
Using the school's Secure Upload Portal
Faxing them to 740-593-4140
Placing them in the drop box inside the south entrance doors on the ground floor of Chubb Hall
In case you complete the entire application process and get denied financial aid or receive an unsatisfactory offer, you can file an appeal. There is an easy way to achieve this, and DoNotPay can help!
Not Happy With Your Ohio University Financial Aid Offer? File an Appeal With DoNotPay!
DoNotPay can help you draft a financial aid appeal letter in a matter of minutes. There is no need to go through the time-consuming process on your own—we will handle everything in your stead. You only need to complete four simple steps:
Type in Appeal for More Financial Aid in the search bar
Enter the amount of financial aid other universities offered you if you applied to more than one
Give us the essential info about your family's income
The University of Ohio will receive the appeal letter as soon as possible and will have to reconsider its offer!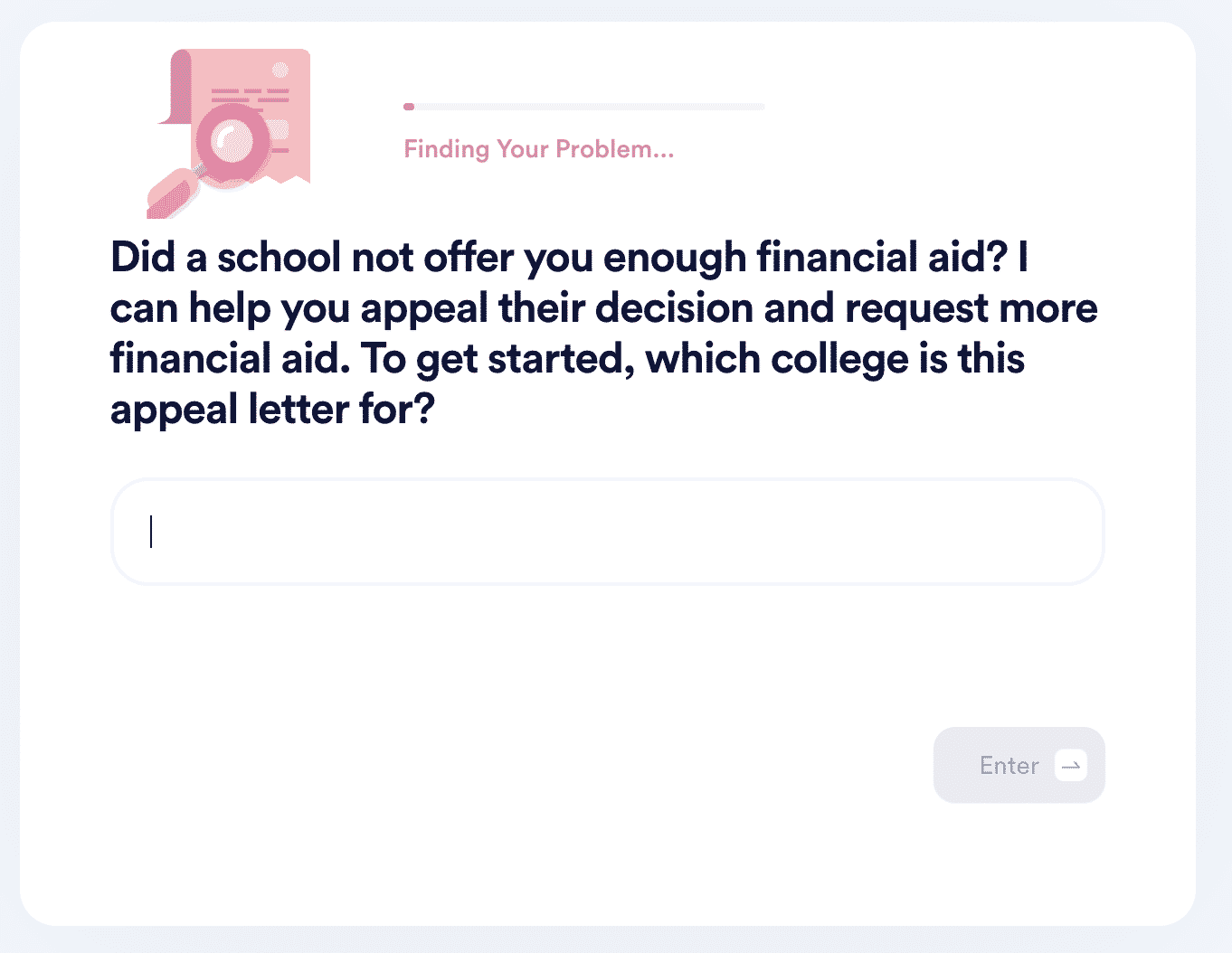 Want To Learn About Other School's Financial Aid Offers? DoNotPay Has the Info!
It is always smart to keep your options open and explore other universities' financial aid offers before making a decision. Take a look at the table below for some of the most popular school choices among students:
Let DoNotPay Be Your Virtual Assistant!
Why bother with deciphering legal terminology or figuring out how to write a legal document when you can let us do it for you? You don't have to waste your time any longer. Once you sign up for DoNotPay, we'll do much more than draft your legal documents or help get them notarized!
DoNotPay will show you how to perform a number of tasks with ease, including suing any company in small claims court, filing insurance claims, claiming warranties, creating passport photos, and sending your neighbor a complaint letter!
Should you need assistance with requesting a refund for a delayed flight or fighting workplace discrimination, our virtual assistant shows you how it's done.
There's More We Can Do!
Tired of dealing with mundane tasks and spending hours running dull errands? We offer the perfect solution!
DoNotPay can assist you in completing tedious tasks with ease! The best part is that you will spend significantly less time on them, and you can get them done from the comfort of your home!
Paying bills, getting a free trial, canceling subscriptions, getting revenge on robocalls, requesting refunds, or making a DMV appointment is only a few clicks away!