How To Manage Your Ohio Trademark Registration
Interested in Ohio trademark registration? It is a big step for a growing brand to take because doing so gives you a greater level of protection against infringement on the name you have made for your organization.
The process of registering a trademark in Ohio is different from the federal procedure. Consult our guide to find out what you need to know—or better yet, have DoNotPay do the work for you.
What Is a Trademark?
A trademark is defined by Ohio Revised Code Section 1329.54(A) as any word, name, symbol, device, or their combination adopted and used by a person to identify and distinguish their goods, including a unique product, from the goods of other persons, and to indicate the source of the goods, even if it is unknown.
Essentially, a trademark is a recognizable part of your business' brand that you register at the state or federal level. Registering any of the following ensures it is protected against unauthorized use by other companies:
Service marks are similar but protect the services of a given brand, as opposed to trademarks, which cover goods. Copyright protects creative works and recordings. These legal distinctions help to protect the value you have developed in your brand.
Are Trademarks and Service Marks Necessary in Ohio?
You may need a trademark or service mark if you operate a brand active at the state level intending to engage in national or international activity.
Smaller businesses working in limited markets can often do fine without trademark protection. As your organization grows, it will take on new competition, so registering your brand assets gives you legal recourse if another company uses them without authorization.
The Difference Between State and Federal Trademarks
If you were registering your trademark at the federal level, you would have to do so with the United States Patent and Trademark Office (USPTO) and consult their database to ensure your brand does not infringe on another on file.
By registering your trademark at the state level in Ohio, you make it available for public scrutiny, which will ensure it does not conflict with another mark already in use.
How To Trademark a Name in Ohio
You can trademark your name by applying with the state of Ohio. There are certain limitations as to what you can register. Your mark may be denied if it uses:
Immoral, deceptive, or scandalous matter
Disparaging matter in connection with persons living or dead, institutions, beliefs, or national symbols
The flag or coat of arms or other insignia of the United States, a state or municipality, or foreign nation
The name, signature, or portrait of any living person (unless used with written consent)
A mark which is "merely descriptive," "deceptively misdescriptive," or primarily geographically descriptive
A surname
A trademark or service mark previously registered in the state of Ohio or at the federal level with the USPTO
How To Register a Trademark in Ohio
The Ohio trademark application (form 555) is much simpler than its federal counterpart, requiring only the following information about your mark:
Description
Explanation of use in association with your brand
A description of goods used in connection to it
The length of time its been used in Ohio and otherwise
File your application by following these steps:
Complete the form 555
Include a specimen of your mark
Submit your application package to the Ohio Secretary of State's Office
You can submit an application in five ways:
Filing Method
Details
DoNotPay
Online
OhioBusinessCentral.gov
By Mail—non-expedited
P.O. Box 1329

Columbus, OH 43216

By Mail—expedited
P.O. Box 1390

Columbus, OH 43216

In person
Secretary of State's Client Service Center

22 North Fourth Street,

Columbus, Ohio 43215

8:00 a.m.–5:00 p.m., weekdays
How Much Does Ohio Trademark Registration Cost?
You must pay a filing fee to submit your application. The cost varies, depending on how quickly you would like it processed:
| Filing Service | Processes In | Fee |
| --- | --- | --- |
| Regular | 3–7 business days | $125 |
| Expedite Service 1 | Two business days after receipt | $225 |
| Expedite Service 2 | Within one business day of receipt | $325 |
| Expedite Service 3 | Within 4 hours of receipt | $425 |
How Long Does a Trademark Last?
A trademark is valid for ten years. However, if still in use between years five and six, you can renew your trademark.
DoNotPay Will Streamline Your Ohio Trademark Registration
No matter how simple the Ohio trademark application form may be, it will take time out of your day to deal with it. If your schedule is too busy for this extra paperwork, then let us do it for you. DoNotPay is an AI-powered robot lawyer that excels in streamlining tedious administrative procedures.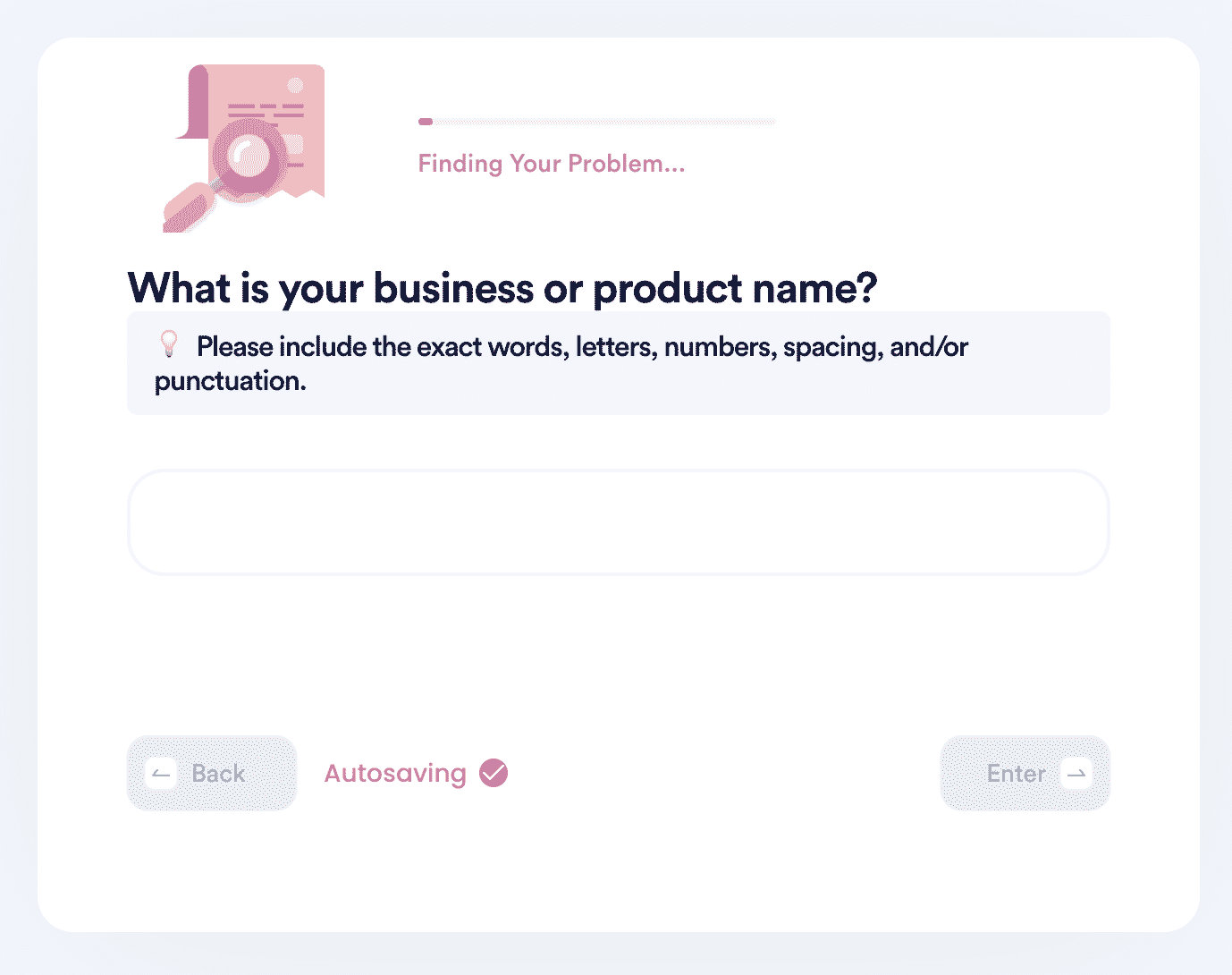 Our Trademark Registration tool will manage the following:
Disclosure of required information
Execution and submission of the application
Facilitation of review and signing
To file your trademark registration application in a matter of minutes, follow these steps:
Choose our Trademark Registration product
Describe your trademark and answer our questions
Pay the filing fee
Once we have completed the process, we will keep you up to date by providing an application tracking number. We will also give your contact details to the Ohio Secretary of State's Office for further communication.
Let DoNotPay Help You With Boring Administrative Tasks While You Focus on Becoming a Business Mogul!
DoNotPay can assist you in dealing with a number of business-related tasks. We have developed a plethora of simple-to-use products that make running a business much easier and less stressful.
Do you need help registering your business name as a trademark? We have got you covered! Not sure how to write a convincing letter to request a small business loan? DoNotPay helps with that, too!
Use our app to get a perfectly generated chargeback rebuttal document, formally request payment from clients who breach the contract, and find out how your employees can file 83(b) election forms in a matter of clicks!
Check Out Our Other Nifty Products!
That is not all DoNotPay has to offer. Our awesome tools will make tedious administrative tasks easier to manage so you can concentrate on your business instead of wasting time waiting in lines and filling out forms. Rely on DoNotPay to:
Take care of DMCA agent registration and Privacy Shield program self-certification
Make sure no one else is using your trademark
Get rid of fake online reviews that harm your business reputation
Manage Employer Number Identification (EIN) registration
Enjoy the convenience of faxing and mailing from the comfort of your home or office