Overview of Ohio Slander Laws
Defamation is a civil tort committed by an individual who makes a false, injurious statement causing either financial, reputational, physical, or mental harm to another individual.
Legally, there are two forms of defamation. Slander is a kind of definition that is spoken or performed, and libel is any defamatory statement that has been written or otherwise posted in a permanent format.
If you are a victim of defamation of either form, you have the right to send a "cease and desist" letter to the individual that has defamed you. This letter states that legal action will be taken if they continue to make defamatory statements. If you live in the state of Ohio, continue reading to learn more about defamation cases in your state.
The Definition of Defamation in Ohio
The state laws of Ohio require that the type and extent of defamation in your case must be properly defined before it can proceed. The two forms of defamation and their qualifiers are described below
Distinguishing slander and libel
Slander and libel are the two kinds of defamation for which you can sue:
To qualify as libel, the defamatory statements must be written in a permanent format. This can include emails, social media posts, radio or TV broadcasts, magazine articles, etc.
By contrast, slander, does not leave a permanent record, and is qualified as any spoken or gestured defamatory statements towards another individual
Once the cause and type of defamation have been properly defined as per the guidelines above, you have grounds to send a cease and desist letter.
Online Defamation in the State of Ohio
In 2014, a slew of suicides that were related to cyber-harassment and online defamation created public outcry to modify state laws to better respond to instances of computerized terrorization. As of right now, online defamation can be charged under Ohio telecommunications harassment laws when:
The defendant anonymously uses a telecommunications device (a phone, text messaging, or making calls) to harass or threaten a victim
This also includes relaying sexually explicit messages after the victim has asked the perpetrator to stop
Also, in Ohio, there is a "menacing by stalking" law that is evoked when a perpetrator engages in 2 or more acts that elicit mental or physical harm
This law also encompasses those who encourage others to humiliate or torment an individual online
Cyber Harassment Penalties in Ohio
In Ohio, harassment laws differentiate according to the type of defamation that occurred and can result in punishments.
Telecommunications harassment is a first degree misdemeanor, incurring a fine of up to $1,000 or six months in jail
A subsequent violation of this is a fifth degree felony, incurring $2,500 in fines and up to one year in jail
If other violations occur, they may escalate the punishment that is given
Proving Defamation of Character in the State of Ohio
In Ohio, the unified courts' system recognizes these elements as integral in establishing a defamatory claim occurred and is prosecutable:
| | |
| --- | --- |
| A false statement about the plaintiff | A defamatory statement was made about the plaintiff |
| An unauthorized and third-party publication | The defamatory statement was publicized by an unauthorized third-party |
| A fault with negligence | The mistake resulted in negligence and fault |
| Special harm was caused | Special harm, or harm creating loss and damages, occurred |
Defamation "per se" in the state of Ohio
The State of Ohio recognizes specific formal claims that will always be recognized as defamatory when filed within the state:
The statements import a charge of an indictable offense involving moral or infamous punishment
The words impute an offensive or contagious disease with the intent of societal deprivation
Words injured another individual in their profession or occupation
The words subjected the individual to public hatred, ridicule, or contempt
Writing a Cease and Desist Letter on Your Own
If you choose to write a

cease and desist letter

on your own, it is a very precarious process that requires extensive research and a large time commitment to be done properly
If you do not write a proper legal document that proves all damages, harm, and all relevant details to your accusation, your letter may be discarded by the courts and ruled insufficient.
On the other hand, hiring a lawyer to do this for you will cost a substantial sum of money and could take weeks.
The statute of limitations for defamation cases in the state of Ohio is one year following the date of the original incident, severely limiting your time to file your case.
How to Draft a Cease and Desist Letter in Minutes!
DoNotPay is a quick, trustworthy and convenient solution! The cease and desist letter drafts details the information about the case, demands retraction, warns against any impending statements, and will order that the accused abides by the Ohio state legislature.
All you need to do is:
1. Search for the Defamation Demand Letters service on .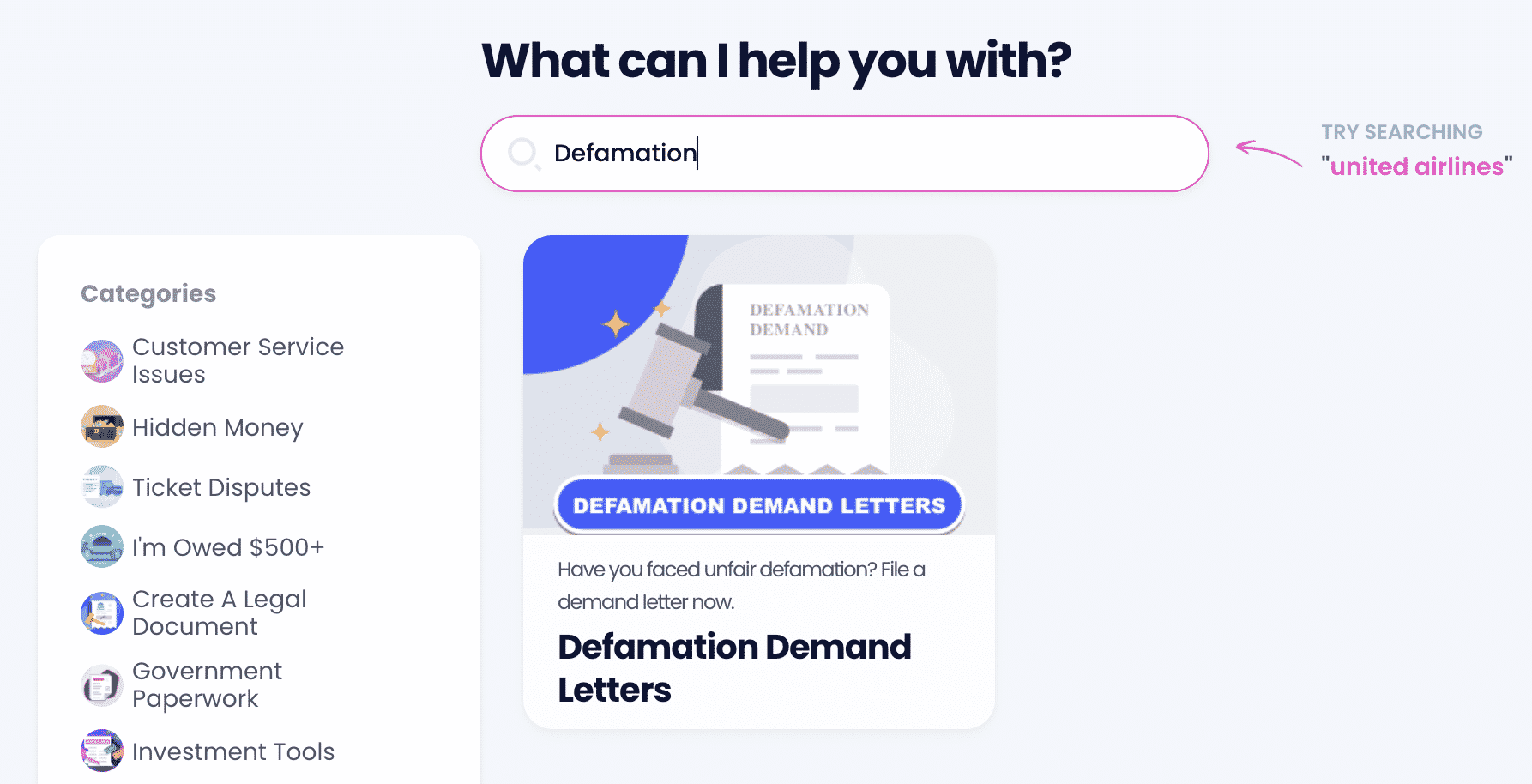 2. Tell us about your situation.
Were the statements slander or libel?
What were the statements?
Why are they false or misleading?
What consequences have you suffered as a result of these statements?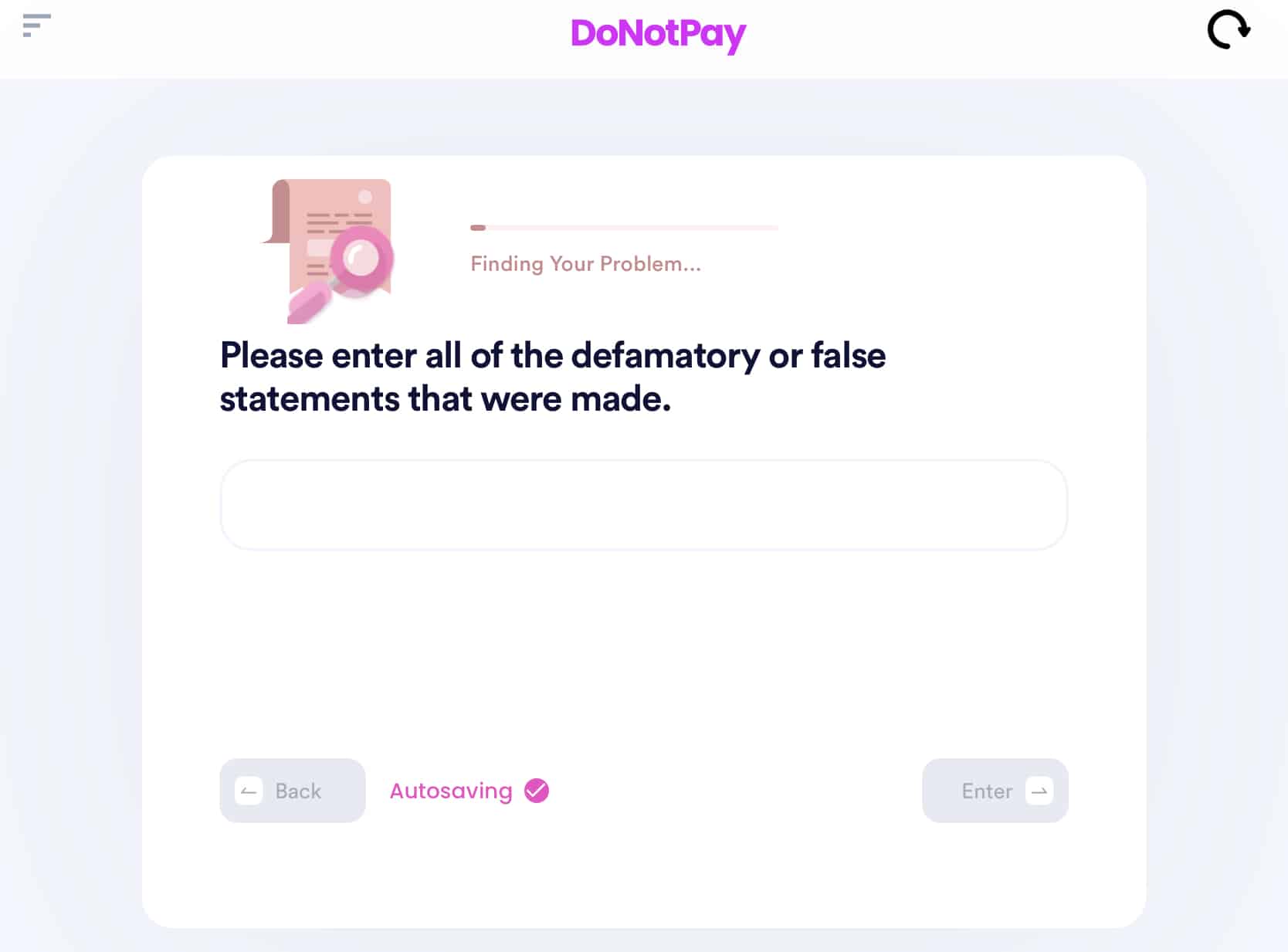 3. Based on your location, in this case Ohio, DoNotPay will immediately generate a formal demand letter on your behalf, with the most relevant state legislation regarding defamation.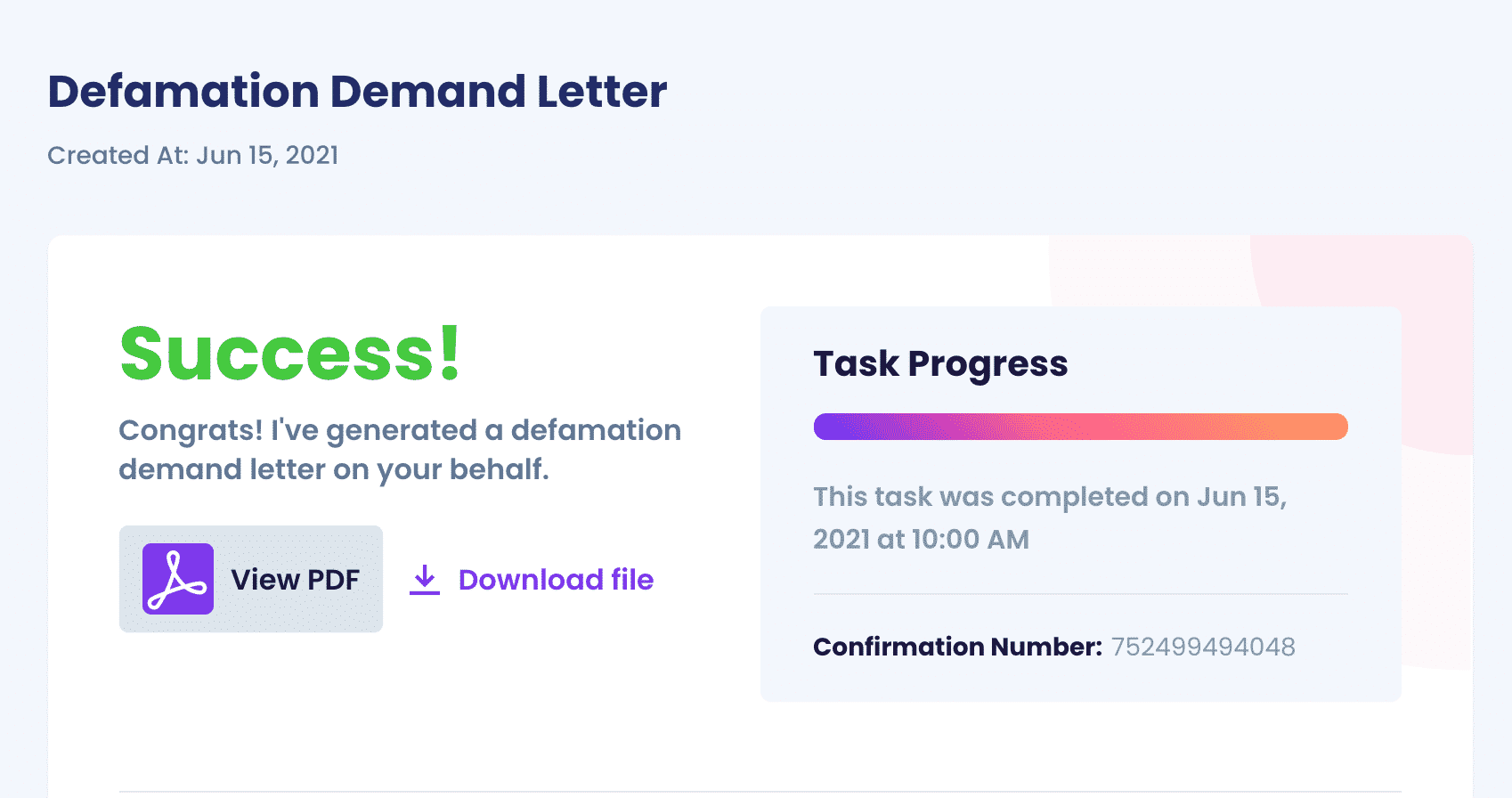 That's it! You can expect a meticulously drafted cease and desist letter to your cause in an instant!
What Else Can DoNotPay Do?
DoNotPay does not just stop at defamation cease and desist letters. The world's first robot lawyer helps with cancelling subscriptions, negotiating bills, appealing parking tickets, and much more!
Take a look at what else we can offer: