The Scoop on the Ohio Real Estate Purchase Contract for Sale by Owner

Are you interested in a property in Ohio and want to draft a real estate purchase contract? Or learn more about writing contracts in general? DoNotPay has got your back! We can teach you what you need to know about an Ohio real estate purchase contract for sale by an owner and how to deal with various legal documents!
What Is a Real Estate Purchase Contract for Sale by Owner?
A real estate purchase agreement is a legally binding contract between the buyer and property owner outlining the purchase details. The seller does not have a realtor or agent but sells the property directly, while the seller can hire a professional to represent them.
The agreement contains the usual terms and conditions, such as the purchase price, payment plan, average duration of the contract, and liabilities. The buyer proposes the agreement. It is up to the seller to accept it.
How Does an Ohio Real Estate Purchase Contract for Sale by Owner Work?
Four essential elements make a purchase contract valid:
Consideration—This is an exchange of values. In real estate contracts, the seller exchanges their property while the buyer exchanges money or assets
Offer—The buyer should make an official offer to purchase the property
Acceptance—Both parties accept the terms and conditions of the arrangement
Legal capacity—Both parties must be legally capable, above the age of 18, and mentally fit to enter the agreement
Make sure that your real estate purchase contract for sale by the owner aligns with the above because failing to meet the criteria can make the deal null and unenforceable.
What To Include in an Ohio Real Estate Purchase Agreement for Sale by Owner?
Although every contract is unique, a few essential elements are common for every real estate purchase contract. The following table outlines various clauses you need to include in your agreement:
Key element
Brief explanation
The buyer and seller details
Names, addresses, and contact information of both parties
Purchase price

Total sale price
Payment schedule

Property details

Size and location of the property
Condition of the property
Defects, if any
Included appliances and fixtures, if any

Earnest money
A percentage of the actual price, confirming that the buyer wants to buy the property. An impartial third party holds this amount in escrow. If the buyer backs out without a sound reason, the seller receives this amount
Closing costs

Home inspection fees
Attorney fees
Escrow deposits
Credit reports
Real estate agent's commission if a buyer has one

Liabilities and contingencies

Responsibilities of both parties
What happens if the buyer defaults or backs out
How to proceed if the seller pulls out of the deal

The possession date
The effective date of the change of ownership
Signature
Signatures of both parties to show they have understood and agreed to the terms of the contract
Does Ohio Require Any Disclosures During Property Sale?
Property sellers in Ohio must fill out the Residential Property Disclosure Form. The document contains information about any problems with the property, such as leaks, pests, and electricity problems. Once they have filled the form, they should give it to the potential buyer. If the buyer signs the agreement before receiving this form, they can back out of the contract within three business days without being penalized.
Ohio law requires the seller to state only the problems they know about when filling out this form. The seller does not need to hire an inspection team to fill the form out for them.
Ohio sellers are obligated to disclose the following:
| | |
| --- | --- |
| Factor | Explanation |
| Lead-based paint disclosure | If a property built before 1978 contains toxic paint, sellers should disclose this information |
| Seller's property condition disclosure | Sellers need to disclose the actual state of the property |
| Buyer's due diligence checklist | How the buyer should carry out due diligence before purchasing a property |
Are Real Estate Purchase Contracts Legally Binding?
According to the Statute of Frauds, real estate purchase contracts need to be in writing because verbal agreements are not legally binding.
If any party backs out of a written contract without a valid reason, they will be held liable and subject to disciplinary action, including a lawsuit.
The only other way to terminate the agreement is to have an out-of-court settlement with the seller.
Use DoNotPay To Generate Legal Documents
Drafting real estate purchase agreements can be tricky, so it's best to consult a lawyer to create one for you. If hiring legal help is over your budget, you can look for contract templates online to get a basic idea of creating a contract.
Are online templates not working out because they're outdated and sometimes even grammatically incorrect? Use DoNotPay to generate various legal documents in an instant!
Here is how it works:
Type the name of the document
Answer a few questions from our chatbot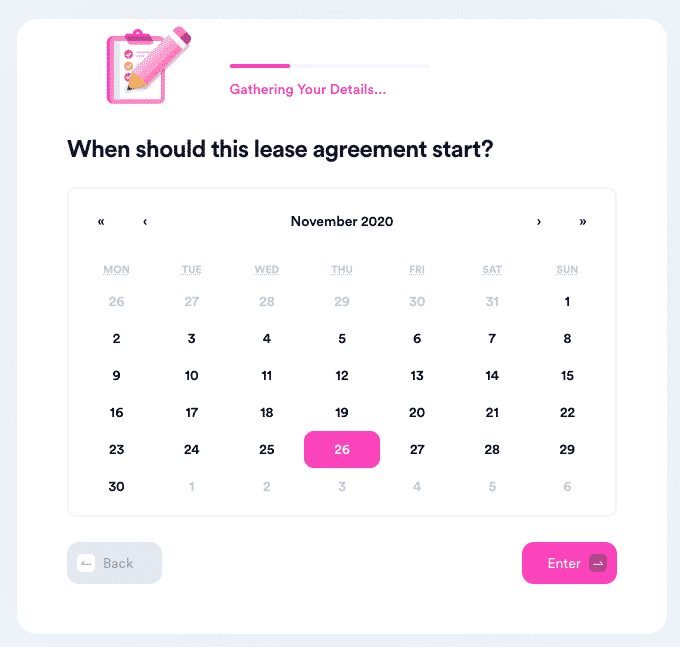 DoNotPay will send the document to you, and you can download and print it. In some cases, you will need to get the document notarized. Check your state laws to confirm if your agreement requires notarization.
We can create the following documents for you:
General Business Contract
Intent To Purchase Real Estate
Quitclaim Deed
General Affidavit
Promissory Note
Child Care Authorization Form
Easy-Breezy Ways To Deal With Not So Breezy Issues
Administrative and similar tasks don't have to be as complicated as we've known them to be. With DoNotPay, dealing with paperwork and companies is done in a few clicks. Let the world's first robot lawyer help you:
Money Troubles? I Don't Know Her!
As our app's name says, DoNotPay's mission is to put a stop to losing money and overpaying. We will help you get your hands on free trials and snatch free raffle tickets. DoNotPay can also provide solutions for you to get help covering bills and reduce your property taxes.
If you want to get some additional funds, use our app to sign up for clinical trials. You may also take our practice tests to ace a government test and land a better-paying job.
It doesn't hurt to check whether you are owed some unclaimed money, and we can help you with the application.