Ohio Property Tax Exemption—From A to Z
With a property tax rate of 1.48%, Ohio holds 13th place among states with the highest property tax rates. If you own a property in Ohio, and this rate concerns you, there is a way to lower your property taxes. The best way to do so is to check whether you qualify for a property tax exemption.
DoNotPay will help you find out if you qualify for any Ohio property tax exemption.
How Does Property Tax Work?
Property tax is an annual tax on real property. It is a calculated amount of money that every property owner is obligated to pay.
Different jurisdictions may apply different tax rules and regulations, but the property tax rate stays the same, as it's calculated by the state.
The amount of money you have to pay also depends on your property's value and the land it's on. During the property tax assessment, the assessor determines the value of your property and your property tax bill.
Who Calculates Property Taxes and How?
Counties in Ohio perform full appraisal every six years and update property values in the third year after the appraisal, based on the market conditions.
Assessors calculate the property value at 35% of the appraised value, but the rate can vary depending on the county since they can have different appraisal methods.
To put it in simple terms, since the property tax rate in Ohio is 1.48%, if your property is valued at $250,000, you will have to pay $3,700 annually.
Ohio's property tax rate is slightly above the national average of 1.1%. Hawai is the state with the lowest property tax rate of 0.36%, while New Jersey has the highest—2.42%.
Where Does Ohio's Property Tax Money Go?
Ohio's Department of Taxation collects large amounts of money in property taxes every year, and the taxpayers often want to know where that money goes. Different states have different approaches, but usually, the money from property taxes goes to government sectors and public services.
In Ohio, local public services benefit the most from property tax money. These services include:
Parks

Schools

Local levies

Resident services

Protective services

Recreational services

Municipal employees' pay

General government services

First responders and other law enforcement

Municipal infrastructure and land construction or improvements
How To Get a Property Tax Reduction in Ohio
If you need help paying property taxes, there are a couple of strategies for reducing taxes that might work:
Ask for the property tax card

—request your property tax card from the local assessor's office. Check thoroughly if all the information is correct and inform your assessor if there are any mistakes

Avoid home changes and renovations

—any improvements to your property can lead to an increase in your property's value, which then increases the tax bill

Point out faults and damages

—accompany the assessor during the assessment and point out any cracks, defects, and problems that require dealing with

Look for possible exemptions

—find out if you qualify for any kind of property tax exemptions available in Ohio

File a property tax appeal

—if you tried everything to reduce your tax bills, and the assessors still won't budge, you should file an appeal
Types of Ohio Property Tax Exemptions
The Department of Taxation in Ohio authorizes property tax breaks for senior citizens, disabled Ohioans, and disabled U.S. army veterans.
Take a look at the brief overview of the Ohio property tax exemptions in the table below:
| | |
| --- | --- |
| Property Tax Exemption | Description |
| Senior citizens homestead exemption | 65 years old or older Ohioans with annual income below $32,800 may qualify for a homestead exemption of the first $25,000 of the home's taxable value |
| Disabled persons homestead exemption | Totally and permanently disabled citizens may also apply for a homestead exemption of the first $25,000 of the property's taxable value. The same income limits apply |
| | Permanently disabled U.S. military veterans may qualify for an exemption of the first $50,000 of the home's taxable value without the income limit |
Are You Eligible for a Property Tax Exemption in Ohio? Find Out With DoNotPay!
The process of lowering property taxes can be confusing, and the lack of information does not help. States and counties won't reduce your tax bills automatically, so you are left on your own.
DoNotPay created a nifty feature that can guide you through the whole tax reduction process. We use a comprehensive database that enables us to work with any state and county to bring you the most useful and valuable information. Our Reduce Property Tax feature can detect if you qualify for any property tax exemption, including:
Veterans exemption

Senior citizens exemption

Exemptions for agricultural properties

Exemptions for persons with disabilities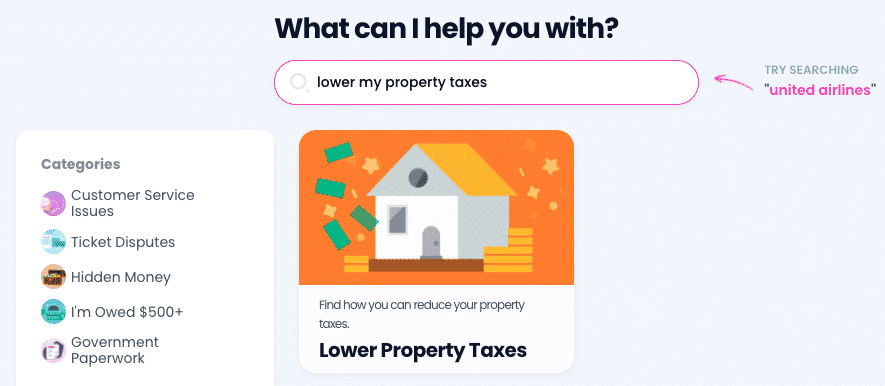 The process is simple and time-saving—make sure to follow these steps:
Access DoNotPay from any

web browser

Choose our

Reduce Property Tax

feature

Answer a few questions about yourself and your property
DoNotPay will generate a guide, customized according to the information you provided. Once you have a specialized guide, you won't have to rely on unconfirmed and overly general information. With our manual, you are fully prepared to tackle this issue!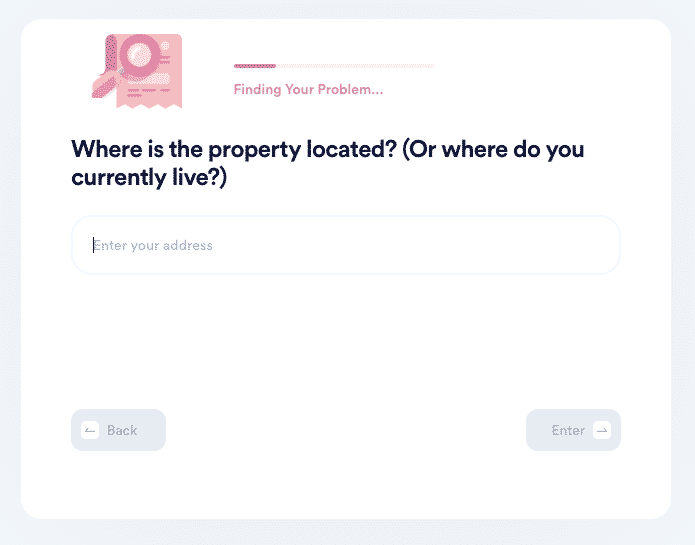 File an Appeal if the Ohio Property Tax Reduction Request Didn't Work
Lowering property taxes is not an easy task. Chances are the negotiation with tax assessors won't go as well as you planned. Even if you qualify for an exemption, it is not a guarantee that you'll have your tax bill reduced.
Fortunately, DoNotPay can assist you with appealing property taxes. You can use our custom-made guide for all the information and suggestions when it comes to filing property tax appeals.
Keep Your Money Safe With DoNotPay
Don't let greedy companies threaten your consumer rights by holding back refunds, refusing to cancel your subscriptions, or charging you after your free trial ends.
DoNotPay helps you try out different services without providing your credit card info or phone number—you will never again have to deal with unexpected post free trial charges!
Our app also helps you avoid paying unnecessary parking tickets, delay challenging bills, or waive your college application fees. 
If any company refuses to issue you a refund or an airline won't compensate for canceled flights, we can help you sue them in small claims court. 
DoNotPay Is a Time-Saving App
How many customer service reps do you have to deal with only to file an insurance claim or book your DMV appointment?
DoNotPay helps you sort out these tasks and much more in only a few clicks. 
Get your revenge on robocallers, report text scammers, find validated clinical trials, claim your warranties, get in touch with your loved ones in prison, and protect your creative content—all in less than five minutes. 
No more hours-long phone calls, emails, or in-person visits. 
We cover everything from freeing your inbox from spam to providing excellent prep tests for government exams! Save time with your all-in-one app!