Ohio Power of Attorney—All the Info You Need
If you want to create a power of attorney (POA) in the Buckeye State and appoint a person to act in your stead, you don't need to hire a lawyer to do so. You can turn to DoNotPay and have your Ohio power of attorney ready in a few minutes!
What Constitutes a Power of Attorney?
A power of attorney is a document that one person (the principal) uses to give some decision-making powers to another individual (the agent or attorney-in-fact). Specific POA types deal with different kinds of authority an attorney-in-fact gets upon the signing of the document.
Types of Power of Attorney in Ohio
If you live in Ohio, you can create a few different powers of attorney types. The following options are available:
How Does an Ohio General Power of Attorney Work?
A general power of attorney is the best choice if the principal anticipates being out of the state for a while. The principal can appoint an agent to take care of different tasks on their behalf. A general POA does not let the agent have any powers in case the principal becomes incapacitated.
How Does an Ohio Durable Power of Attorney Work?
Once the parties sign a durable POA, this document comes into effect right away. A durable POA is different from a general one because the agent has the authority to make decisions and complete tasks even after the principal becomes mentally or physically disabled.
How Does a Springing POA Work in Ohio?
If you decide to make a springing POA, the document will come into effect only if or when the principal becomes incapacitated. That is the main difference between this POA and the durable and general type.
How Does a Limited POA Work in Ohio?
A limited POA gives the agent limited powers over what they can do in the principal's stead. This document is often time-limited and allows the agent to make decisions only for a specified period.
How Does an Ohio Financial Power of Attorney Work?
A financial POA is used when the principal wants to give the agent powers to handle financial matters. This means that the agent will be in charge of taxes, paychecks, and mortgages, for example.
Who Can Be Your POA Agent in Ohio?
The principal can choose anyone they like to be their agent in Ohio as long as they are adults. This can be a spouse, child, or a close friend, but you need to be certain they are reliable and trustworthy.
In Ohio, you can also pick one of the following people to have authority over the activities you name in your POA document:
Coagent—You will have two agents at the same time
Successor agent—This person will act as an agent in case something happens to the primary one
Second successor agent—They take over in case the successor agent decides they no longer wish to perform their duties
Agent Duties and Powers
Depending on the POA type and the principal's decision, an attorney-in-fact can take on a different set of tasks. Take a look at the table below for more information:
The Duties of an Agent Are To:
An Agent May Be Tasked With:

Act loyally and with care and diligence
Avoid conflicts that could affect their ability to act in the principal's best interest
Keep a record of all receipts, transactions, and disbursements

Handling real estate
Taking care of insurance and annuities
Handling retirement plans
Paying taxes
Managing stock and bond transactions
Operating a business
Dealing with claims and litigation
Caring about the principal's family
Taking care of estates and trusts
When Does a POA End in Ohio?
A power of attorney in Ohio may end if:
Create a Durable Power of Attorney in Ohio With DoNotPay
The fastest way of creating a power of attorney document is by using DoNotPay. Your virtual assistant can make this document in a few minutes! You only need to follow these instructions:
Sign up for DoNotPay in a web browser of your choice
Type in Power of Attorney in the search bar
Choose the powers you want to assign
DoNotPay will also send you two important notices that you and your agent will find useful, so make sure to read them prior to the signing of the document.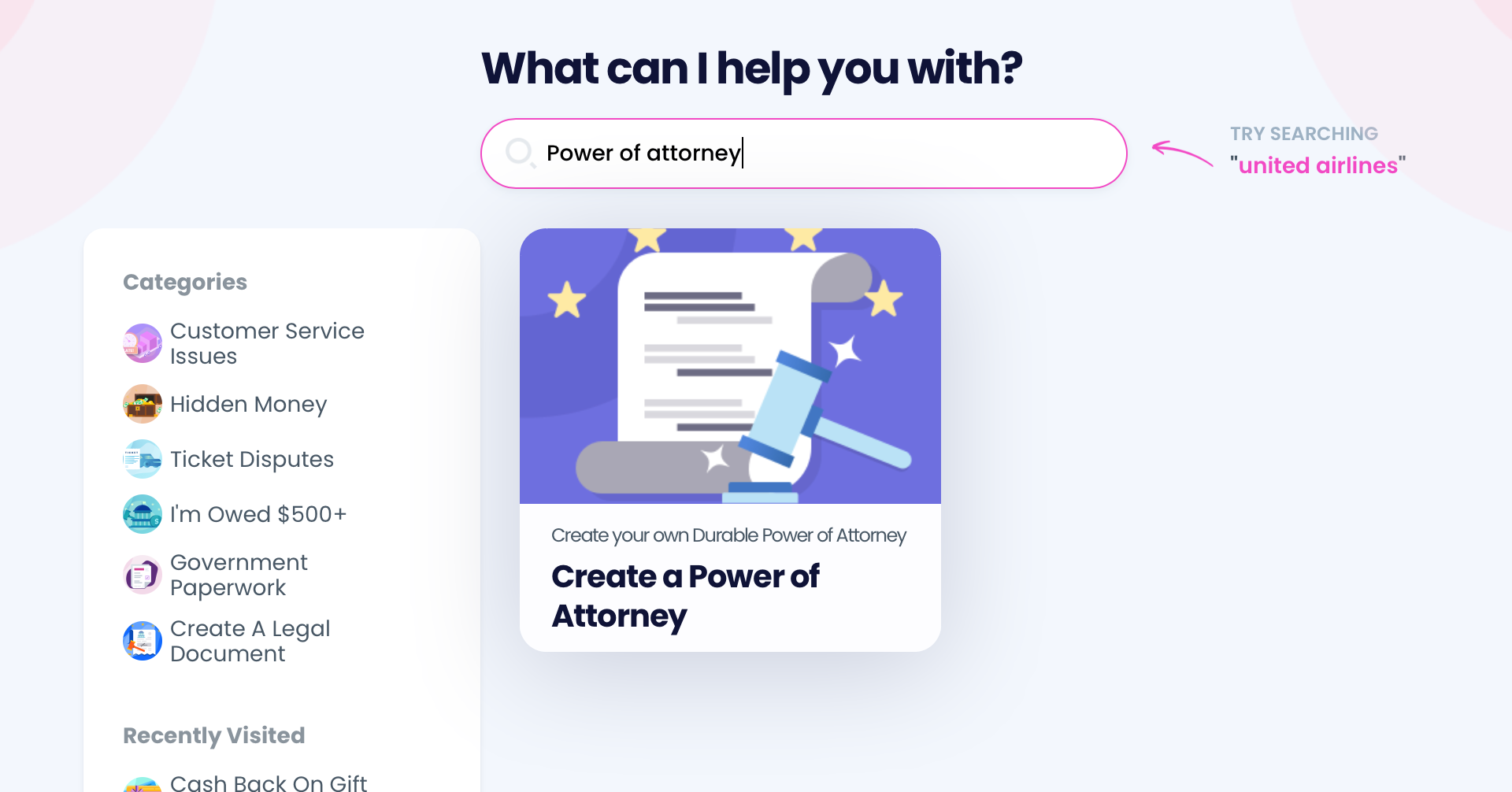 Need To Notarize a Power of Attorney? DoNotPay Can Help!
Let our app know that you want to have your power of attorney notarized when completing the POA questionnaire, and we will make it happen! Once you sign up, DoNotPay will match you with an online notary who will notarize your power of attorney without trouble!
DoNotPay—Quality and Quantity
Our platform provides a multitude of useful tools, products, and services that anyone can benefit from. DoNotPay is a proper virtual assistant that can minimize your paperwork, protect your consumer rights, increase your productivity, or keep you safe online.
The best part is that we keep adding more awesome features all the time—all available for a small subscription price. Take a peek at a small part of our portfolio in the table below:
| | | |
| --- | --- | --- |
| Online Safety | Customer Protection | Administration Shortcuts |
| | | |
It Gets Even Better!
With your DoNotPay subscription, not only do you get a powerful weapon to fight boring and annoying daily tasks, but you also get a great resource for earning more money.
You can use our platform to enter free raffles, secure compensation for fighting robocalls, get your cash back from used gift cards, or find unclaimed money under your name, no matter the state.