Ohio Jury Duty Exemptions—Explained by DoNotPay
If you were summoned to report for jury duty in Ohio, you'll need to know how it works, why you have to do it, and whether you can get fired for it. In case you want to get out of your jury duty, we'll also tell you about Ohio jury duty exemptions. DoNotPay covers all the details about jury duty in the Buckeye State.
Jury Duty in Ohio
Serving jury duty is important for the U.S. legal system because everyone has the right to a fair and just trial.
The table below contains answers to the most common questions about jury duty in Ohio:
Questions
Answers
How do you get selected for jury duty in Ohio?
You were selected from a list of:

Registered voters
Licensed drivers

How do you qualify for jury duty?
To be on the jury, you need to fulfill the following criteria:

You need to be a resident of the court's county
A juror must be at least 18 or older
You mustn't be convicted of a felony

Do you get paid in Ohio for jury duty?
You will be paid for your jury service for each day you serve. The amount of compensation differs from state to state and from court to court
What happens if you miss jury duty in Ohio?
If you ignore your jury duty summons in Ohio, the court might issue a warrant for your arrest
How long does jury duty last?
You can expect to serve jury duty between one to three weeks. The more complex the case, the longer you will serve
What Are the Jury Duty Exemptions in Ohio?
You will be excused from jury duty in Ohio if you:
Are over 75
Are engaged in active military service
Have a mental or physical condition that prevents you from performing jury service—You must have medical documentation supporting this
Have a spouse or near relative (or your spouse's near relative) who has recently died or is seriously ill
Can demonstrate that jury duty will cause undue or extreme physical or financial hardship
Are a member of a recognized Amish community, and you believe that you cannot pass judgment in a judicial matter
Are on active duty pursuant to an executive order of the U.S. president
Can You Be Excused From Jury Duty Because of Work?
Having a job doesn't excuse you from jury duty, and you can be called for it every two years. If you are worried that your employer might penalize you for missing work due to jury duty, you should know that they are not allowed to do so according to Ohio law. As long as you give reasonable notice, your employer may not take any disciplinary action against you.
If you don't know how to request time off for jury duty, to create a leave request letter.
Draft a Leave Request Letter With the Help of DoNotPay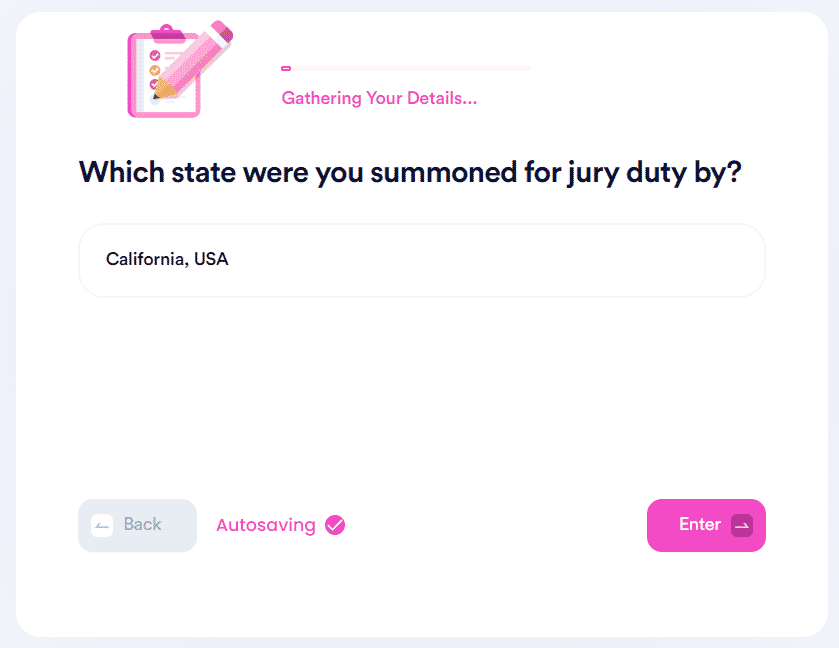 When preparing for jury duty, the most important step is telling your employer about it. DoNotPay knows all the relevant laws regarding jury duty leave, and we can help you create a leave request letter that helps your employer verify your jury duty obligations.
Follow the steps below:
and select the Request Jury Duty Leave product
Add all the required information about your jury duty
Upload a photo of your summons
As soon as you complete the steps, DoNotPay will create a request letter and send it to your employer on your behalf.
DoNotPay also knows how federal jury duty works, how much you can get paid for it, and what questions you might be asked during the selection. In our learning center, you will also find information about specific Ohio cities and counties, such as: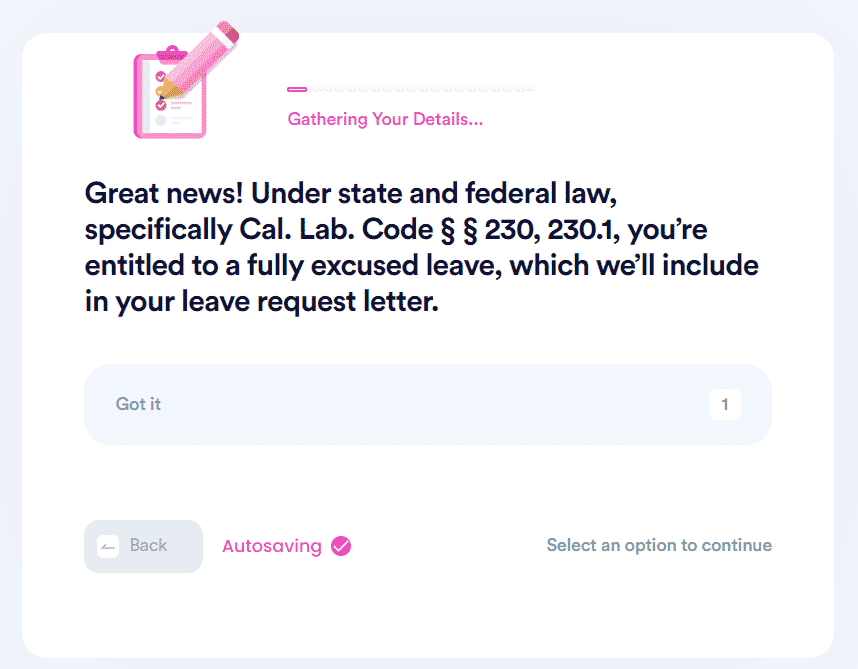 Deal With Administrative Issues With Ease
Drafting contracts and agreements, getting your documents notarized, disputing parking tickets, and creating passport photos will become a breeze once you sign up for DoNotPay.
We can also help you:
DoNotPay Helps You Protect Your Consumer Rights
Don't let companies take advantage of you! With our help, you'll be able to cancel any subscription or membership and request a refund.
As a consumer, you may be overwhelmed with endless steps and piles of paperwork you need to go through to get what you're owed. This is where DoNotPay comes in—let us be your assistant and fast-track the following:
Have you forgotten about a free trial you signed up for? Avoid being charged by using our app! With DoNotPay's virtual credit card, you'll get unsubscribed automatically without the company taking any money from you.
Are you getting spammed via email or text? Get rid of spam for good with our nifty app!