Ohio Divorce Law on Spousal Support Explained
Getting through a divorce doesn't have to be a hassle. With the relevant information about the required papers, types of divorces, and filing procedures, you could finalize the whole process without a lawyer quickly.
This article explains the Ohio divorce law on spousal support and how DoNotPay can assist in creating a divorce settlement agreement.
Ohio Divorce Law on Alimony—Do You Qualify for the Support?
A spouse can get alimony—also called spousal support—during and after divorce under Ohio law. While the divorce is ongoing, a spouse can receive temporary spousal support. Once the divorce is finalized, the duration and amount of alimony are set by the court.
If you'd like to avoid the judge deciding on your spousal support, you should negotiate it with your spouse.
Reaching an out-of-court agreement on all divorce matters before filing the papers is the least complex, lengthy, and expensive process you could opt for. You can complete and submit all necessary forms yourself if you choose a friendly and uncontested divorce.
Ohio Divorce Laws on Spousal Support Influencing Factors
The court will consider the duration of the marriage and division of property when determining spousal support.
The following table shows additional criteria that the court examines when deciding on the terms, duration, and amount of spousal support:
A Receiving Spouse's
A Paying Spouse's
Both Spouses'

Need for spousal support
Obligation to raise a child preventing the spouse from seeking employment
Need for education or training to get a job

Ability to pay support to the other spouse

Lifestyle during the marriage and how likely it is to maintain it after the divorce
Age
Employability
Professional skills
Level of education
Physical and mental health
Income, assets, and earning capacities
Financial and non-financial contributions to the marriage
Ohio Divorce Laws on Alimony Duration
You or your spouse might get:
Temporary spousal support during the divorce process—This type of alimony ends once the divorce is final
Permanent spousal support that can be short- or long-term—The court will consider different factors when determining the exact length
The court sets a precise spousal support end-date if a spouse can support themself but lacks the experience or skills to find a job. This end-date gives the supported spouse time to obtain the necessary education, training, or work experience to:
Find employment
Become financially independent
A spouse can ask the court to terminate the spousal support order if another spouse:
Dies
Remarries
Cohabits with another partner
How To Change the Spousal Support Order
If you'd like to modify an award of spousal support, you'll need to fulfill the following requirements:
There is a change in circumstances making the current award "no longer reasonable and appropriate," such as changes in either spouse's incomes, bonuses, benefits, and medical or living expenses
Your decree or divorce settlement agreement has a provision stating the court is allowed to amend the original spousal support award
Prepare a Divorce Settlement Agreement To Finalize Your Uncontested Divorce
To avoid potential delays and problems, you should draw up a divorce settlement agreement to list all the divorce matters—including spousal support—you and your spouse have agreed to. Once created and signed, you should file it with the court for review.
Here are the options you can explore:
How To Prepare a Divorce Settlement Agreement
Additional Information
Use online templates
Keep in mind that some might not contain the necessary state and county requirements you need to meet to finalize your divorce
Hire a lawyer
An experienced attorney can handle the whole divorce process and prepare the paperwork for you. This type of service can cost a lot since most lawyers charge per hour.

To reduce your divorce expenses, you could:

Our app generates a personalized divorce settlement agreement following all relevant laws and regulations
DoNotPay Creates Reliable Divorce Settlement Agreements
Once everything is resolved and agreed to, DoNotPay can help you prepare a rock-solid divorce settlement agreement to finalize your uncontested divorce.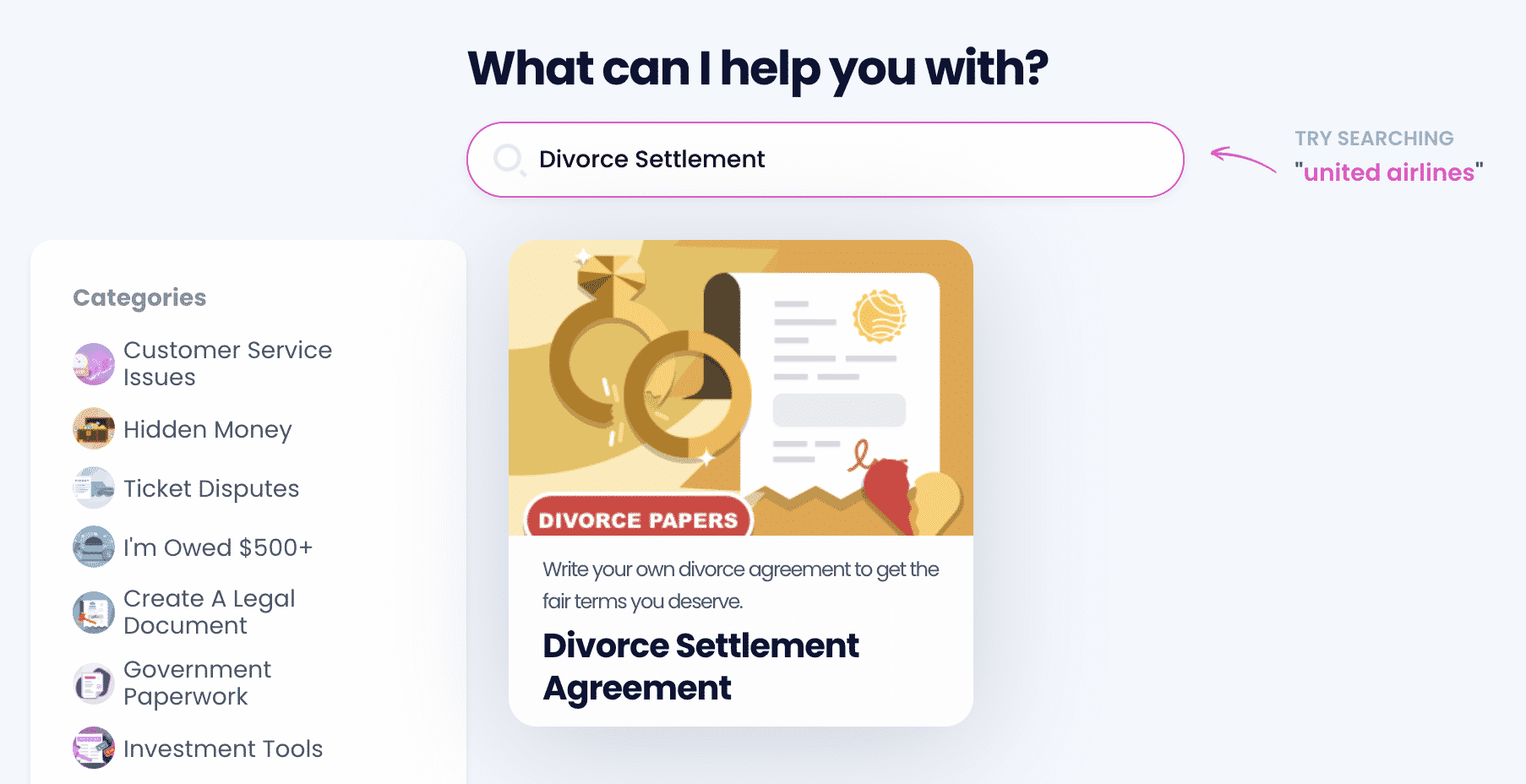 and follow these steps:
Navigate to the Divorce Settlement Agreement product
Answer the chatbot's questions regarding your assets, income, and debts
Specify whether your need a notary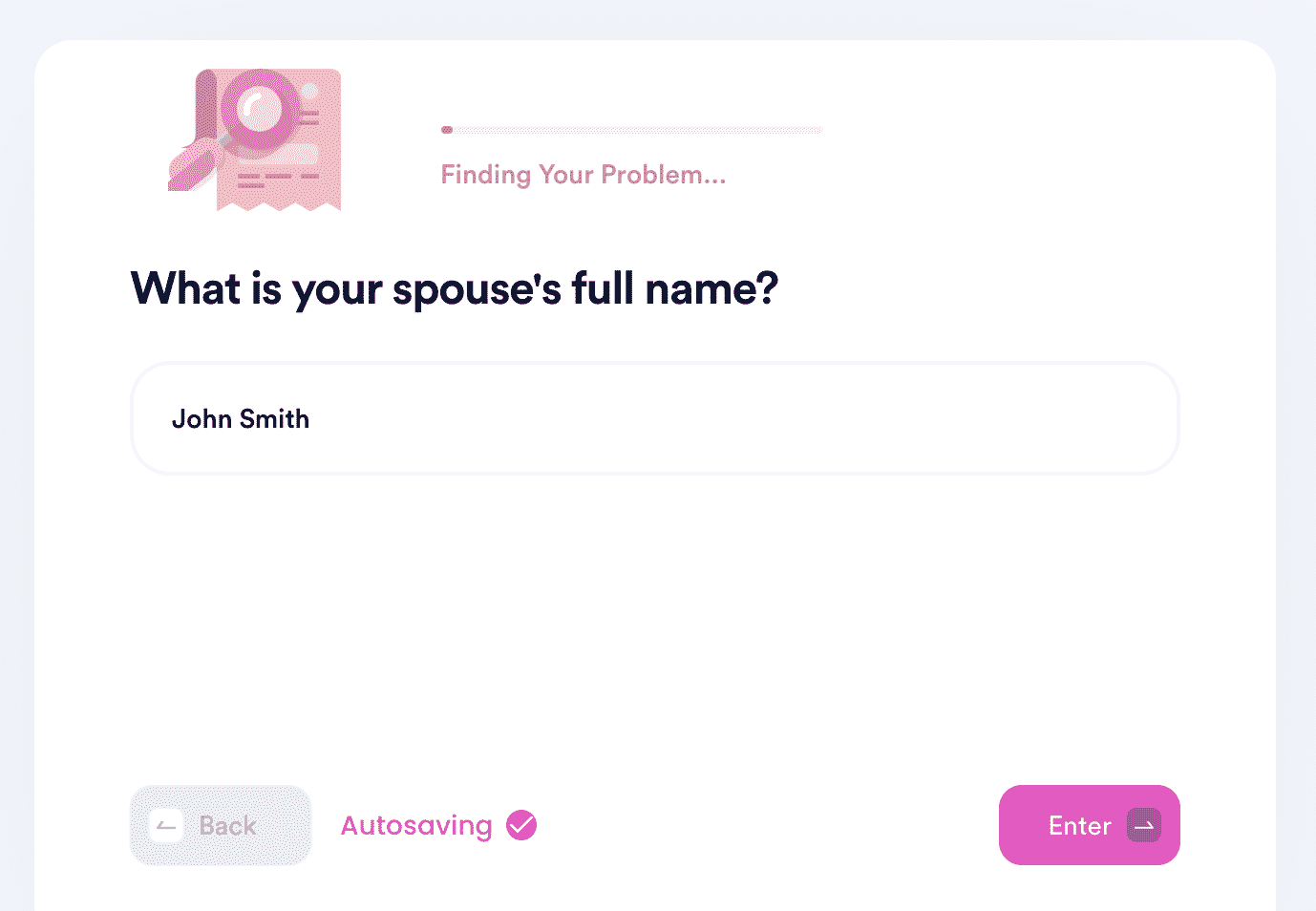 Our AI-powered app ensures your provided information and specific situation fit the legal requirements. Need to have the agreement notarized? We can connect you with an online notary right away!
If you want to learn more about divorce-related issues, check out our guides to find answers to lots of questions, such as:
DoNotPay Goes the Extra Mile for You
We are dedicated to providing solutions to difficult and time-consuming tasks you may have on your to-do list. If you are struggling to reduce your monthly bills, contest parking tickets, or set DMV appointments, DoNotPay will help you do it in no time!
We have also created numerous easy-to-use features that can make the following procedures run smoothly:
Get Justice From Companies That Wronged You
Do you feel like you have been played by a company? Instead of wasting your time writing requests, demand a chargeback or refund or claim a warranty via DoNotPay! If the company doesn't seem too cooperative and keeps refusing to return your money, our app can assist you in suing it in small claims court.
To help you save some coins or regain what's yours, DoNotPay will also help you locate unclaimed funds, submit insurance claims, lower your property taxes, and cash out gift cards.