Ohio Divorce Forms—Which Ones You Need and Where To Find Them
When filing for divorce, you need to complete and file numerous divorce documents. If you don't know where to find Ohio divorce forms, you're on the right website. This guide will provide information about divorce papers in Ohio and help you create a divorce settlement agreement without spending a small fortune on lawyers. Subscribe to DoNotPay to create your agreement in minutes and get a low-cost divorce hassle-free.
All You Need To Know About the Divorce Process in Ohio
Ohio is a no-fault divorce state which means that you can file for divorce on the following grounds:
Incompatibility
Separation for at least one year
If you and your spouse want a quick and less stressful divorce that doesn't involve lawyers or numerous court visits, you should opt for an uncontested divorce (also known as dissolution of marriage in Ohio).
To file for dissolution of marriage, you need to fulfill residency requirements. This means that you or your spouse need to have lived in the state for at least six months prior to divorce.
You can get uncontested divorce or dissolution of marriage if you:
Agree on all terms of the divorce with your partner (such as who gets the house, vehicles, and similar)
Have complete information about your financial assets and debts
Make arrangements about custody, child support, alimony, and similar
What Ohio Divorce Forms Do You Need?
Check out the table to find out which forms you need to file for an uncontested divorce in Ohio:
General Divorce Forms
Uncontested Divorce Forms

Complaint for divorce
Request for service
Affidavit of income and expenses and property

Petition for dissolution of marriage
Financial disclosure statement
Settlement agreement
Judgment entry
Additional forms that you need if you have children together and want to file for an uncontested divorce are:
Parenting proceeding affidavit
Shared parenting plan
Child support
Health insurance affidavit
Where Can You Get Divorce Papers in Ohio?
You can get divorce forms in a few ways. Check out the table below for more details:
| | |
| --- | --- |
| Where To Get Divorce Forms | Details |
| Online | You can find many websites that offer divorce forms and settlement agreements. This option can be risky if you don't understand legal terminology. When it comes to online divorce settlement agreement templates, they can be useful, but they are usually too generic, which can be an issue |
| Lawyer's office | A lawyer can help you complete the required forms and create an extensive divorce settlement agreement, but they usually charge a lot. An average hourly rate for a divorce lawyer is 270$, and this can increase the cost of your divorce drastically |
| Court | County courts offer forms that you can fill out, but the forms might be too complicated to understand, which might mean you have to engage a lawyer |
How To File for an Uncontested Divorce in Ohio
To file for an uncontested divorce in Ohio, you should do the following:
Hire a mediator—Mediation involves you, your spouse, and a neutral third party. It is one of the best ways to keep divorce as friendly as possible. During mediation sessions, you will discuss all the important terms of your divorce with the help of a mediator to reach the best solution. If you already agree on all divorce terms, mediation isn't necessary
Fill out the forms—Gather, fill out, and file all the required documents with your county court
Serve your spouse—You can rely on the county sheriff or a paid process server to deliver your papers to your spouse
Create a divorce settlement agreement—A divorce settlement agreement is a document that outlines the terms of your divorce, and it needs to spell out the following:

Division of marital property and debts
Child custody and support (if applicable)
Name change
How To Create a Divorce Settlement Agreement With DoNotPay
You won't need to spend hours creating a divorce settlement agreement that conforms to your state's rules because DoNotPay is here to draft the agreement in a few clicks. Drawing up your settlement agreement with DoNotPay will reduce the divorce costs and eliminate the need for a lawyer. Our platform will generate the perfect divorce settlement agreement that will contain all the required information.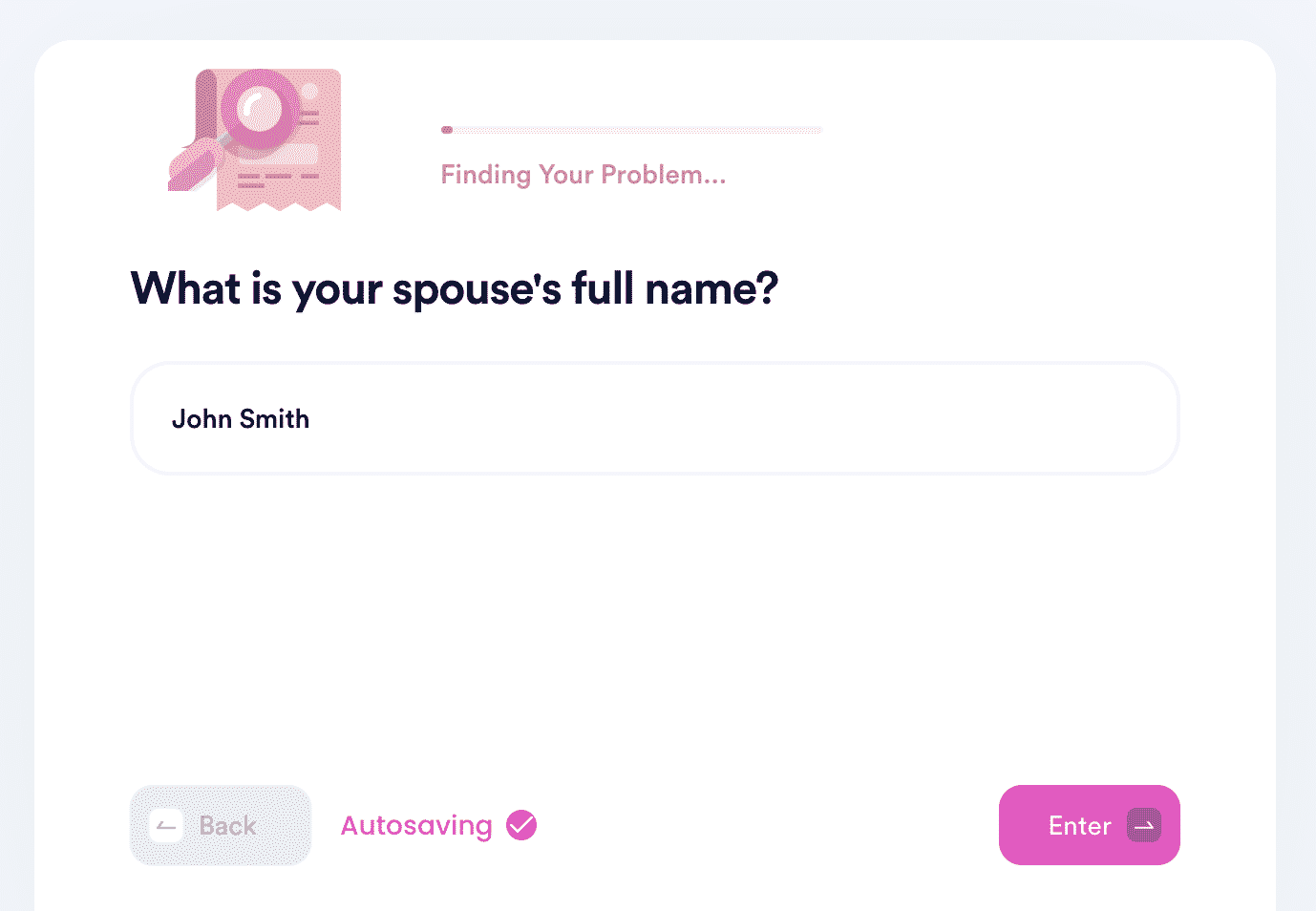 All you need to do is sign up for DoNotPay and follow the instructions below:
Open our Divorce Settlement Agreement product
Add all the basic information about you, your partner, the date of your wedding, and similar
Inform our chatbot about your assets, and tell us how you wish to allocate them
As soon as you complete the steps, DoNotPay will generate your customized divorce settlement agreement. You and your partner should sign it and get it notarized.
If you're unable to find a notary in Ohio, we can help you. DoNotPay will connect you with an online notary so you can finalize your divorce quickly.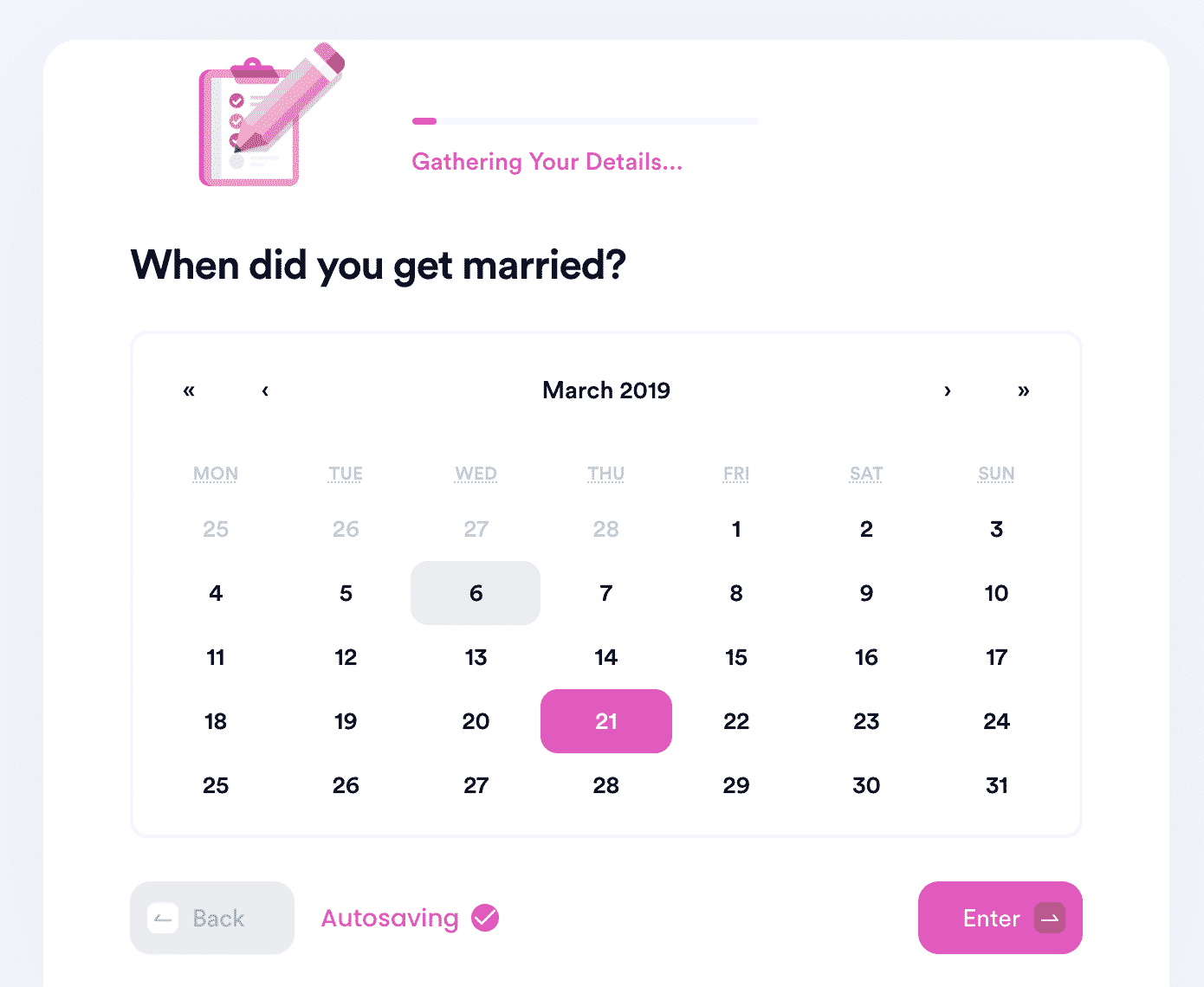 DoNotPay can answer more questions regarding divorce. Search through our learning center to find out how to:
Deal With Your Problems Like a Pro With DoNotPay
Looking for an app that's got enough features to solve any issue you're facing? Look no further—DoNotPay has got your back! Whether you can't sleep from your noisy neighbors or you want to connect with your locked-up relatives, we'll be able to help. We'll bring justice to any person or company that has wronged you and take them to small claims court for you.
The robot-lawyer app can generate numerous legal documents in your name, including:
Once you receive the documents, we can set you up with an online notary so you can get your agreements notarized from the comfort of your home.
Possibilities With DoNotPay Are Endless
DoNotPay stands out not only by the quality of products it offers but by the sheer amount of features it boasts. Check the table below out to see only some issues we can help you resolve: