Offtake Agreements—Everything You Need To Know
Do you know how to write agreements by yourself? If the answer is no, don't worry—we've got your back!
DoNotPay will explain what offtake agreements are, where they're usually used, which clauses you need to consider when writing one, and more! We also offer you a vast knowledge base with other contract templates you might find useful. DoNotPay has the best method for creating legal documents in three clicks!
What Are Offtake Agreements?
Offtake agreements are legally binding documents that cover transactional matters between buyers and sellers. These agreements are commonly found in natural resource development, and the clauses of this type of contract stipulate the purchase price of the goods involved and their delivery date.
This agreement is usually between two parties:
One that produces a specific resource

The other that buys the resource
The offtake agreement officializes the buyer's intention to buy a specific amount of the producer's future output.
The Benefits and Risks of Offtake Agreements and Why They Are Important
If you're wondering whether this type of contract is the right fit for your needs, check out the table below and consider the benefits and risks:
Benefits
Risks

It guarantees that the producers have a market for the material they plan to produce

It makes it easier for producers to secure funding for a project

The agreement allows buyers to purchase goods at a suitable market price

The terms and conditions of the agreement make sure that the buyer gets the product by a specific date

The agreement can be severed at any time, even though ending it would usually incur a fee

The offtake agreement must be renewed once the company starts the production, or the buyer can back out of the agreement

The production needs to continue to meet the buyer's standards, or else the agreement will be void

Offtake agreements may take a long time to set up
How To Write the Offtake Agreement by Yourself
To write an offtake agreement by yourself, you need to know what it needs to contain.
Here's an example of which contents the agreement needs to include:
Defined terms

Purchase and sale

Products

Specifications

Volumes

Liftings

Delivery points

Nominations

Scheduling

Planned maintenance

Remedies

Retained offtake products

Sale of products by the company

Term

Pricing/invoices/payment terms

Pricing

Replacement publications

Invoice address

Invoices

Measurements

Termination

Miscellaneous

Exhibits

Notices

Relationship of the parties

Amendment

Successors bound; No third-party beneficiaries

Entire agreement

Counterparts

The name of the company

The name of the buyer

Date of the closure of the agreement
As you can see, offtake agreements are far from easy to write, and they usually require some legal assistance. If you're on a tight budget, you can try to write the agreement by yourself.
DoNotPay Can Help You Create Various Legal Documents
Writing up offtake agreements can be stressful, and that is why DoNotPay is here to reduce the stress! We have created a product that can help you create other legal documents that you might need for your personal or professional endeavors. You can access this product easily if you sign up for our platform.
DoNotPay can help you generate the following documents:
Business Contracts

General Business Contract

Real Estate Agreements

Quitclaim Deed

Intent To Purchase Real Estate

Other Legal Documents

General Affidavit

Promissory Note

Child Care Authorization Form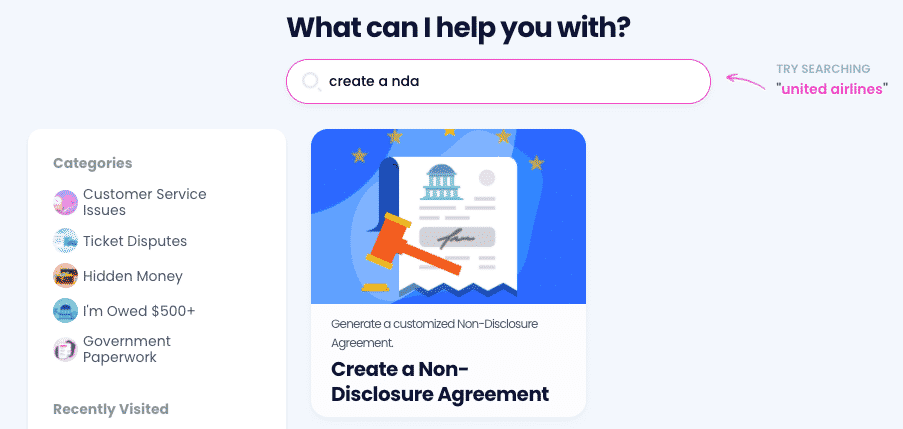 Take These Steps To Create Documents With DoNotPay
With DoNotPay, creating legal documents isn't as tiring as it usually is—it takes only three steps. After you sign up for our platform, do the following:
Use the search bar to find the document you need

Provide information to our chatbot to personalize your agreement

Click on

Proceed
We will generate your document automatically, and it will be fully personalized. You can download it to your device and even have it notarized if there's a need for it.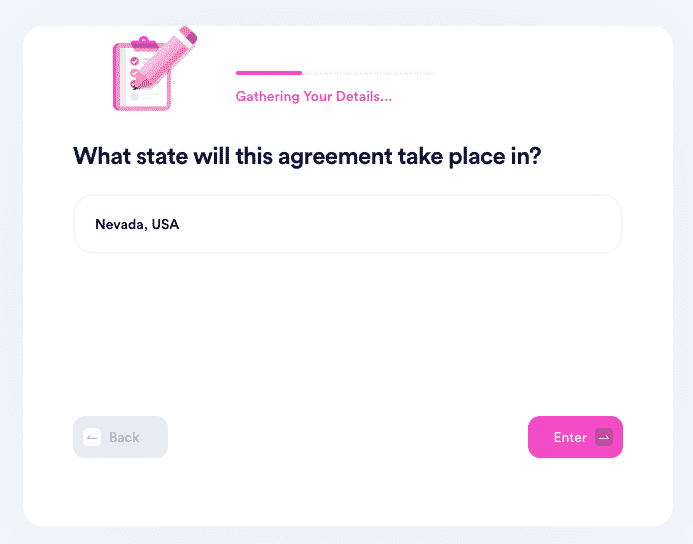 Have DoNotPay Both Draw Up and Get Your Document Notarized
Our nifty Notarize Any Document product will save you both time and money! Not only can we help you generate your document, but we can also connect you with the best online notary in mere seconds.
All you need to do is sign up for DoNotPay, and the following will happen:
You upload your file

We send you a link to your inbox

You use the link to schedule an appointment with a

notary

The meeting happens

remotely

via live audio-video call

The notary witnesses your signing of the document and provides their

signature

and stamp
Using DoNotPay's revolutionary method for getting documents notarized will save you from crippling mobile notary fees and the general hassle of in-person notarization.
Use DoNotPay's Features to Your Advantage!
DoNotPay offers a myriad of helpful services you can use to resolve your everyday hurdles. 
Do you need help paying bills or finding and claiming missing money? Are you interested in applying for clinical trials in your area? We can help you solve these and many more issues in no time!
Here are some other problems you can handle effortlessly with our help:
Hiring a Lawyer Can Cost a Small Fortune—Rely on DoNotPay Instead
If you're on a tight budget and can't pay a lawyer to help you create legal documents, file a claim in small claims court, or handle stalking and harassment, DoNotPay has a solution for you. 
Our app will help you create various documents, including child travel consent forms and complaint letters for a problematic neighbor. 
Are you a victim of a crime and need help applying for reimbursement of your crime-related expenses? You can sign up for DoNotPay and allow us to handle your crime victims compensation on your behalf.
DoNotPay can also connect you with an online notary and enable you to get your documents notarized from the comfort of your home.