How to Start an Ocado Smart Pass Free Trial Risk-Free

An Ocado Smart Pass can provide you with discounts on groceries you regularly buy. DoNotPay can help you get your free trial risk-free.
When you find a subscription service or product that looks intriguing, it makes sense to want to take advantage of free trial offers to see if you really like it or not.  Unfortunately, the terms of free trials are not always clear.
Once a free trial ends, it can cause you a lot of problems with unexpected charges on your credit card. You might have even been aware of when the free trial ended and forgot about it. In some instances, you might not notice the monthly fees coming out of your account each month. Losing any amount of money unexpectedly can be almost crippling.
When you begin a free trial, most want your credit card information right away even though it won't be charged for the duration of the free trial. Unfortunately, even if you do attempt to cancel the free trial before it ends, you may find yourself charged a monthly subscription fee anyway.
If you want to get a free trial that is truly risk-free, you can take advantage of the DoNotPay virtual credit card product. DoNotPay will help you avoid unwanted credit card charges by supplying you with a virtual credit card for free trial registration purposes.
Does Ocado Smart Pass Offer a Free Trial?
You can get a free trial for Ocado Smart Pass to see if you like the program.
Ocado Smart Pass offers a one month free trial for new email subscribers. You can choose between their Anytime Pass which is good seven days a week or their Midweek Pass which is only good Tuesdays through Thursdays.
What Benefits Can I Get With an Ocado Smart Pass?
An Ocado Smart Pass offers you a number of benefits for buying groceries, such as:
Zero delivery charges
Special 50% off sales only for Smart Pass holders
10% off on some items
A free gift each year on your Ocadoversary
How Can I Get an Ocado Smart Pass Free Trial?
You need to become an Ocado Smart Pass email subscriber to take advantage of their free trial offer. When you sign up for an Ocado Smart Pass, you can get the first month free on one of their two monthly plans.
To register for a smart pass, you:
Visit the Ocado Smart Pass website.
Choose your preferred plan.
Click on the Sign Up or Log In button
Select the Register tab at the top of the screen.
Select your title
Type in your first name
Type in your last name
Create a password
Type in your postcode.
Click on the Register button.
You can also choose to register through Facebook, PayPal, or Apple Pay.
Does the Ocado Smart Pass Free Trial Automatically Renew Into a Paid Subscription?
After a one month free trial, the Ocado Smart Pass will automatically renew into a paid monthly subscription.
Avoid Automatic Renewal With a DoNotPay Virtual Credit Card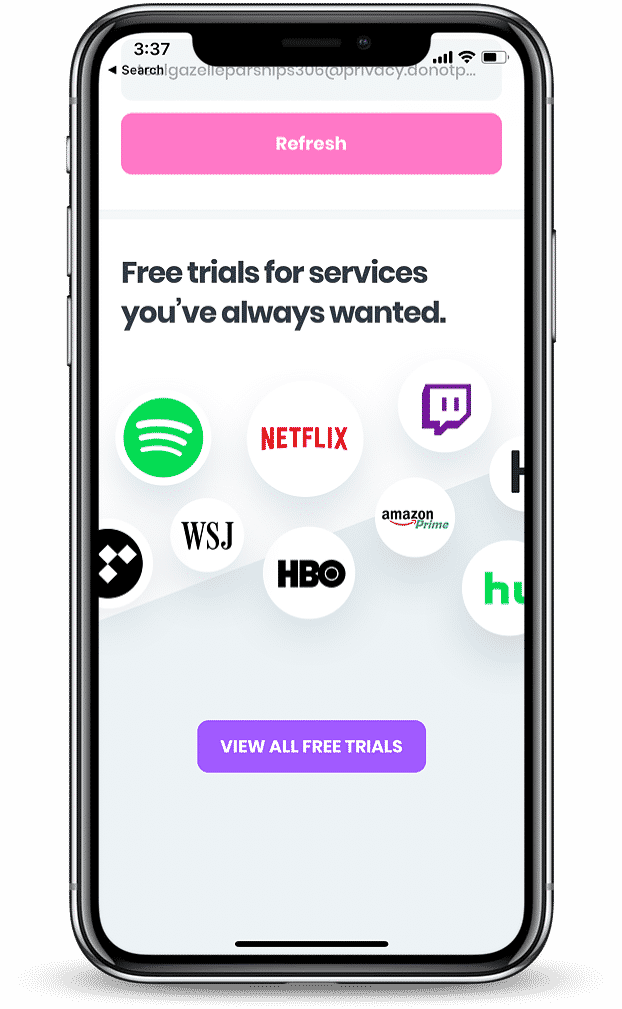 You can easily avoid automatic renewal by using a DoNotPay Virtual Credit Card.
A virtual credit card gives you an option to try the Ocado Smart Pass risk-free. After the first month, when your free trial period ends, you will receive a request for correct payment information. That way, you continue your Smart Pass subscription only if you really want to. DoNotPay will generate a custom number for you to use. Simply enter the number in the payment area.
After one month, the Smart Pass system will attempt to charge the virtual number you supplied at the beginning. Since there will be no number there when it comes time to auto-renew, you will be unsubscribed from the service.
You can resume the paid service by simply logging in to the Ocado website and entering your real credit or debit card number where you would like to pay the charges from.
How Much Is an Ocado Smart Pass Cost After the Free Trial?
Free trials don't last forever. Once the Ocado Smart Pass free trial ends, here are the costs  you can expect. There are six plans you can choose from to buy an Ocado Smart Pass. You can choose between two types of passes:
| | | | |
| --- | --- | --- | --- |
| Plan | Monthly Fee | Bi-Annual Fee | Annual Fee |
| Anytime | £8.99 | £49.99 | £99.99 |
| Midweek | £3.99 | £22.49 | £39.99 |
What Else Can DoNotPay Do?

You can use the DoNotPay virtual credit cards to get free trials for the following, too:
DoNotPay is all about presenting you with brilliant solutions to problems in every area. Here are just a few of the things that DoNotPay can do for you:
Simply go to DoNotPay and see everything they can do for you. It all starts by clicking on a button.