How To Deal With Obnoxious Neighbors Without Starting a Fight or a Dispute
When it comes to neighbors, you might be lucky and have some nice people who you can be friends with, but that's not always the case. What can you do if you end up with obnoxious neighbors?
Before starting a war with your neighbors from hell, think about how to deal with them peacefully. This article will provide information on different kinds of neighbors and ways to make peace with them before deciding to file a formal complaint.
If the friendly approach fails, you have DoNotPay to solve your problem with a few clicks.
Obnoxious Neighbors—What To Expect
There are several types of obnoxious neighbors you can come across if you live in either a building or a neighborhood with houses. These people can express their toxic behavior by being:
Type of a Neighbor
They Might:
Noisy
Nosy
Sensitive

Complain about the everyday sounds you make
Protest about your toddler making noise
Complain about your dog's barking
Sue you for the noise

Neglectful pet owners
Have a dog that:
Psycho
Inconsiderate
How To Deal With Obnoxious Neighbors in a Friendly Manner
Make sure that whatever you do to deal with bad neighbors is legal. Some tips on how you can make peace with your obnoxious neighbors by yourself are:
Noisy neighbors—When your neighbors are making loud noises, knock on their door at a suitable time and ask them to turn it down. The chances are that they aren't even aware of the noise they're making. You can also send a letter if you don't want to confront them
Nosy neighbors—If your neighbors are nosy, you can ask them politely to stop coming to your home when there isn't a planned visit. Be assertive and make it clear that you want them to stop snooping around your business. They might not know that what they're doing is bothering you
Sensitive neighbors—When it comes to sensitive neighbors, you need to be sympathetic and propose a compromise. This doesn't mean that you need to step back—make sure to explain your situation in a confident way
Neglectful pet owners—You can write a letter to your neighbor about their dog's poop if you don't want to confront them directly about it. The best way is to go over, bring some homemade baked goods, and explain the issue calmly
Psycho neighbors—If you are scared of your neighbor or if they are bullying and harassing you, you should go to the authorities. You can call your local police station and get more information about what to do. Don't call 911 if it's not a true emergency
Inconsiderate neighbors—If your neighbor built a fence on your property, flooded your yard, or stole your Wi-Fi, you can try to talk it out with them. Be friendly but confident. If you don't reach a compromise, you can file a claim in small claims court
Use DoNotPay To Deal With Your Obnoxious Neighbors
When the civil way of dealing with your obnoxious neighbors doesn't work, it's time to use DoNotPay's Neighbors Complaints product. The best part is that you don't have to go to your neighbors personally—DoNotPay creates a complaint letter and sends it on your behalf.
This demand letter contains:
The details of your complaint
Arbitration notice
The compensation you seek
A warning of further legal action you might take
All you need to do is , and we will solve your problem for you.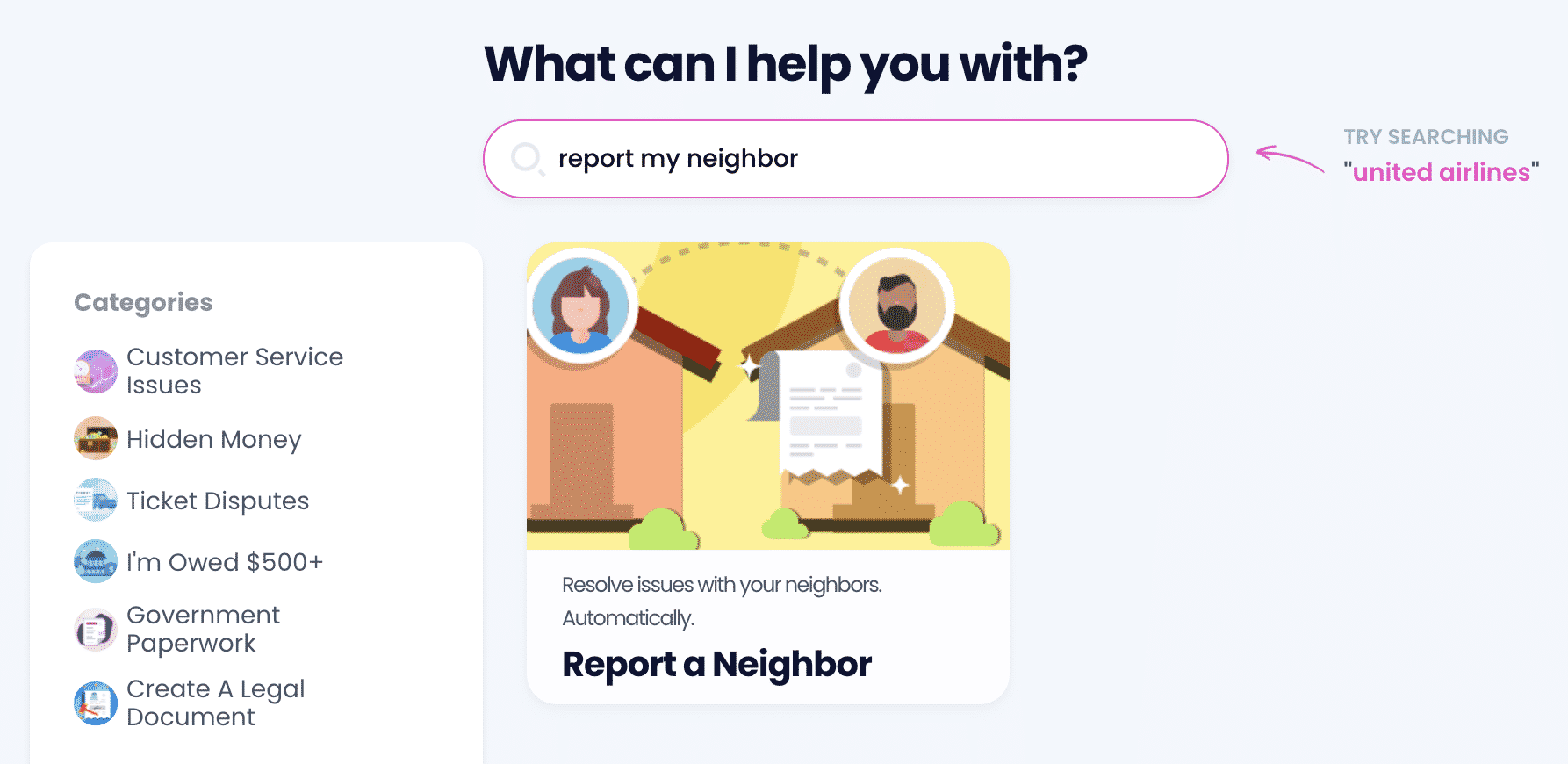 A Guide to Using DoNotPay's Neighbor Complaints Product
When you , open it in any web browser and follow these steps to use our product:
Find the Neighbor Complaints product
Click on the type of problem you're having
Provide details about your problem—when the incident occurred, whether you've tried to talk it out with your neighbor, etc.
These three steps are all you need to create a demand letter. DoNotPay will generate your letter automatically and send it to your neighbor.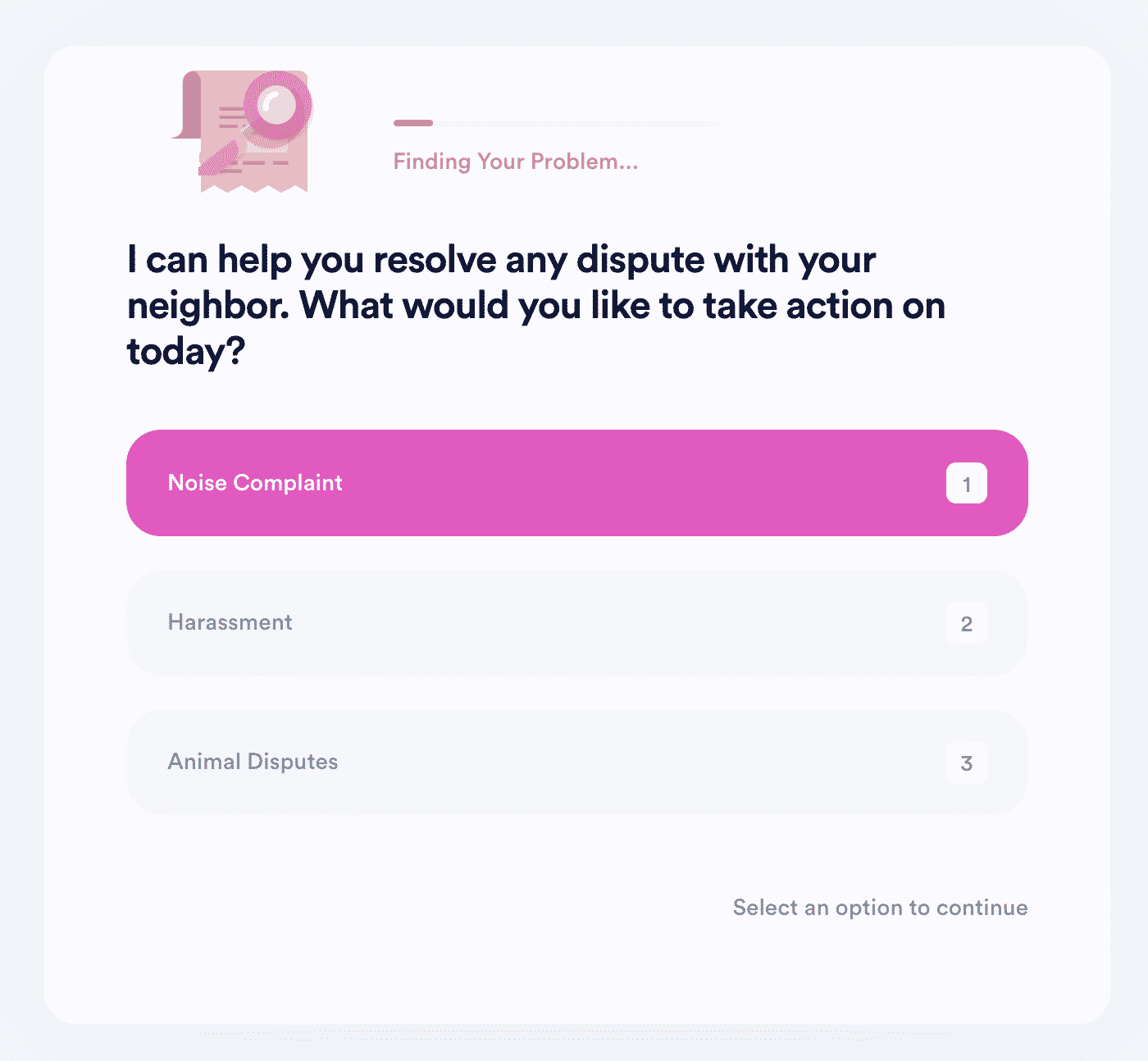 When Is the Time To Report Your Obnoxious Neighbors to the Authorities?
When you've tried everything from compromising with your neighbors to sending a letter with DoNotPay, and nothing worked, it's time to report the problem to someone who has a higher authority. The type of higher authority you go to will depend on where you live and what type of issue you're experiencing.
Here are some examples of what to do about a neighbor:
Who is noisy—Go to your landlord and consult them about the noisy neighbor. If the landlord doesn't do anything, you can go to the police, but don't call 911. Call the local police station to get information about a suitable authority that deals with noise complaints
Who built something on your property—Hire an attorney and take the matter to court. This might prove as a costly solution, so be sure to try everything else before that. You can try selling the part of the land to your neighbor or seek mediation
Whose dog bit you—Send a warning letter and seek compensation from your neighbor directly. If this fails, you can file a lawsuit
Who deals or uses drugs—Report them to the police, but contact your local precinct for proper information first
Who harasses you—Go to the police, show documented proof of the harassment, and report your neighbor
Use DoNotPay's Features to Your Advantage!
DoNotPay offers a myriad of helpful services you can use to resolve your everyday hurdles.
Do you need help paying bills or finding and claiming missing money? Are you interested in applying for clinical trials in your area? We can help you solve these and many more issues in no time!
Here are some other problems you can handle effortlessly with our help:
Hiring a Lawyer Can Cost a Small Fortune—Rely on DoNotPay Instead
If you're on a tight budget and can't pay a lawyer to help you create legal documents, file a claim in small claims court, or handle stalking and harassment, DoNotPay has a solution for you.
Our app will help you create various documents, including child travel consent forms and complaint letters for a problematic neighbor.
Are you a victim of a crime and need help applying for reimbursement of your crime-related expenses? You can sign up for DoNotPay and allow us to handle your crime victims compensation on your behalf.
DoNotPay can also connect you with an online notary and enable you to get your documents notarized from the comfort of your home.