Oakland County Divorce Dissected
Have you and your spouse decided to part ways? The best course of action is to get acquainted with state-specific laws and steps for getting divorced in your county of residence.
If you are interested in how the Oakland County divorce works, look no further! DoNotPay will give you the deets on which forms to prepare and what procedure to follow to end your marriage at a low cost. We can help you draw up a divorce settlement agreement that's bound to make your divorce go smoothly!
Grounds for Divorce in Oakland County, MI
Michigan is a no-fault state, which means neither spouse needs to prove that one of them is responsible for the marriage ending. To get divorced in Oakland County, one or both partners only have to claim that their marriage has suffered due to irreparable issues.
Can I Have a Fast Divorce in Oakland County?
During a divorce, you and your spouse have to work out various issues, including:
If you can't agree on these items, a judge will make the decisions for you. Another way is to attend mediation, where a mediator will help you reach an understanding that's mutually acceptable and fair to both parties.
A certified way to speed up the divorce proceedings and save money on legal fees is to file for an uncontested divorce. It implies you and your spouse have agreed on all divorce terms, and at least one of you has met the residency requirements, such as:
While Michigan doesn't offer any advice to help expedite the uncontested divorce, the process typically moves even faster if:
Divorce is a default (one spouse chooses not to respond to the divorce papers sent by the other spouse)
You and your partner define the terms of your separation instantly and outline them in a divorce settlement agreement
Which Oakland County Divorce Forms Do I Need?
Any divorce starts with one spouse (the plaintiff) requesting a divorce from the other party (the defendant). You can download the forms from the Michigan Legal Help website or visit the courthouse and get the paper copies from the clerk. Bear in mind that correctly completing the forms is of the utmost importance—any mistake can cause a delay in the process.
Crucial uncontested divorce papers you have to fill out are:
If you're not sure what other forms you need and how to complete them, you can:
How To File for Divorce in Oakland County
While the uncontested divorce in Oakland County is less complicated than the contested one, it still requires you to follow a specific procedure. Take a look at the table below for more details:
Steps
Details
File the documents with the Oakland County Divorce Court
You can file the documents at the 6th Circuit Court for Oakland County. This court handles divorce matters exclusively. You can expect the clerk of the court to charge you a filing fee
Serve your spouse
Two ways to serve your spouse include:

Hiring a process server
Assigning the task to the sheriff's deputy

Your spouse should sign an affidavit of service, which you must file at the courthouse

Wait for an answer
The defendant can sometimes refuse to sign the paperwork and decide to file an answer to your divorce complaint. If your spouse agrees with everything written in the complaint or the divorce settlement agreement, no answer is necessary
Attend the hearing in court
Once the time to respond to a divorce petition expires, the plaintiff can schedule a hearing. According to Michigan law, you'll have to go through a waiting period that lasts:

Two months for couples without children
Six months for couples with kids

If everything checks out at the hearing, the judge will sign the final divorce decree
Let DoNotPay Help You Get a Speedy Divorce in Oakland County
A proper divorce settlement agreement has to meet numerous requirements to be enforceable. Filling it out without supervision can cause mistakes with severe future consequences.
You can minimize the risks with DoNotPay! We will generate a document that is both comprehensive and affordable and deliver it within minutes.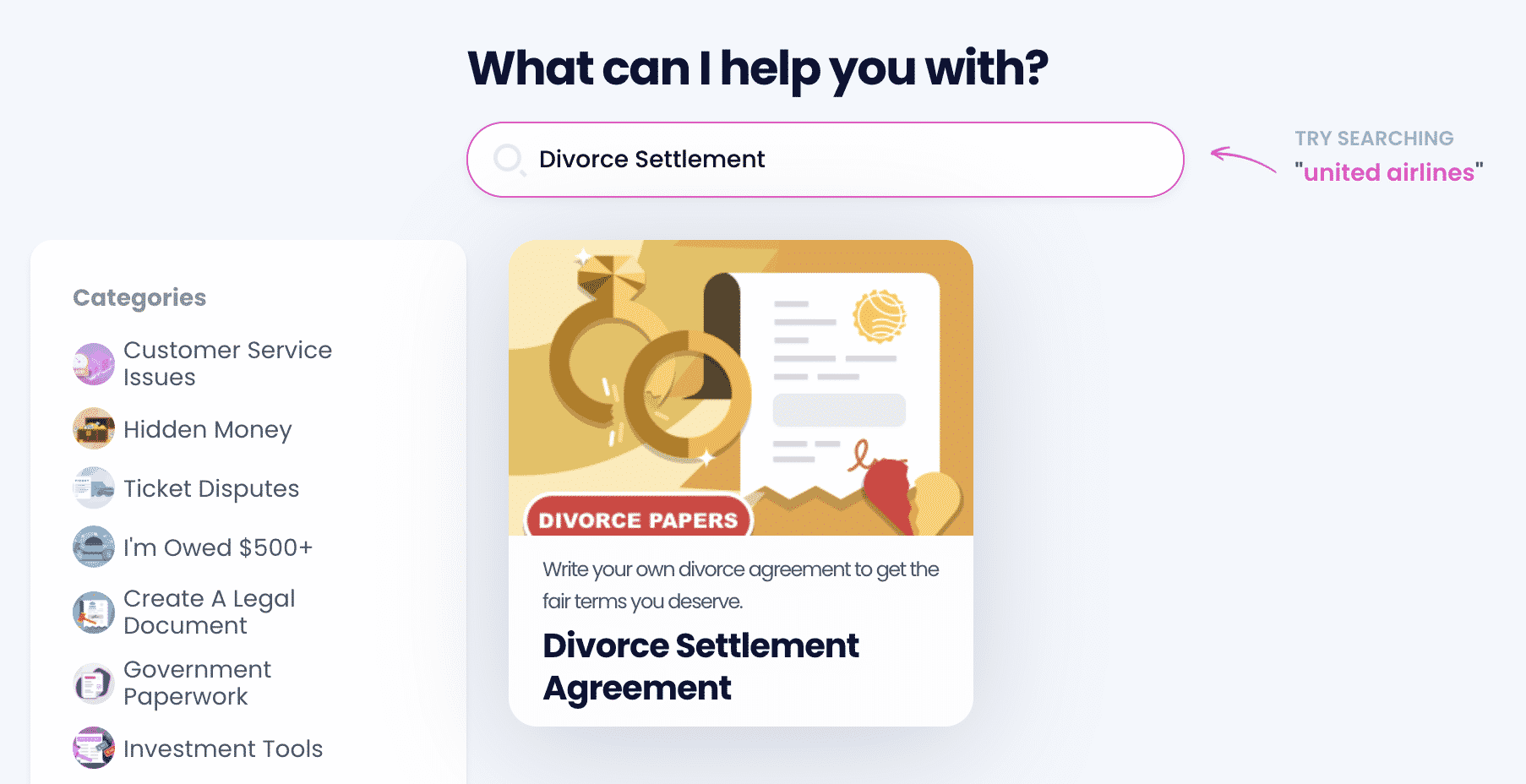 To initiate the process, you should open DoNotPay in a web browser and:
Type in Divorce Settlement Agreement in the search box
Answer our chatbot's questions about your spouse, income, and marital situation
Choose to have the document notarized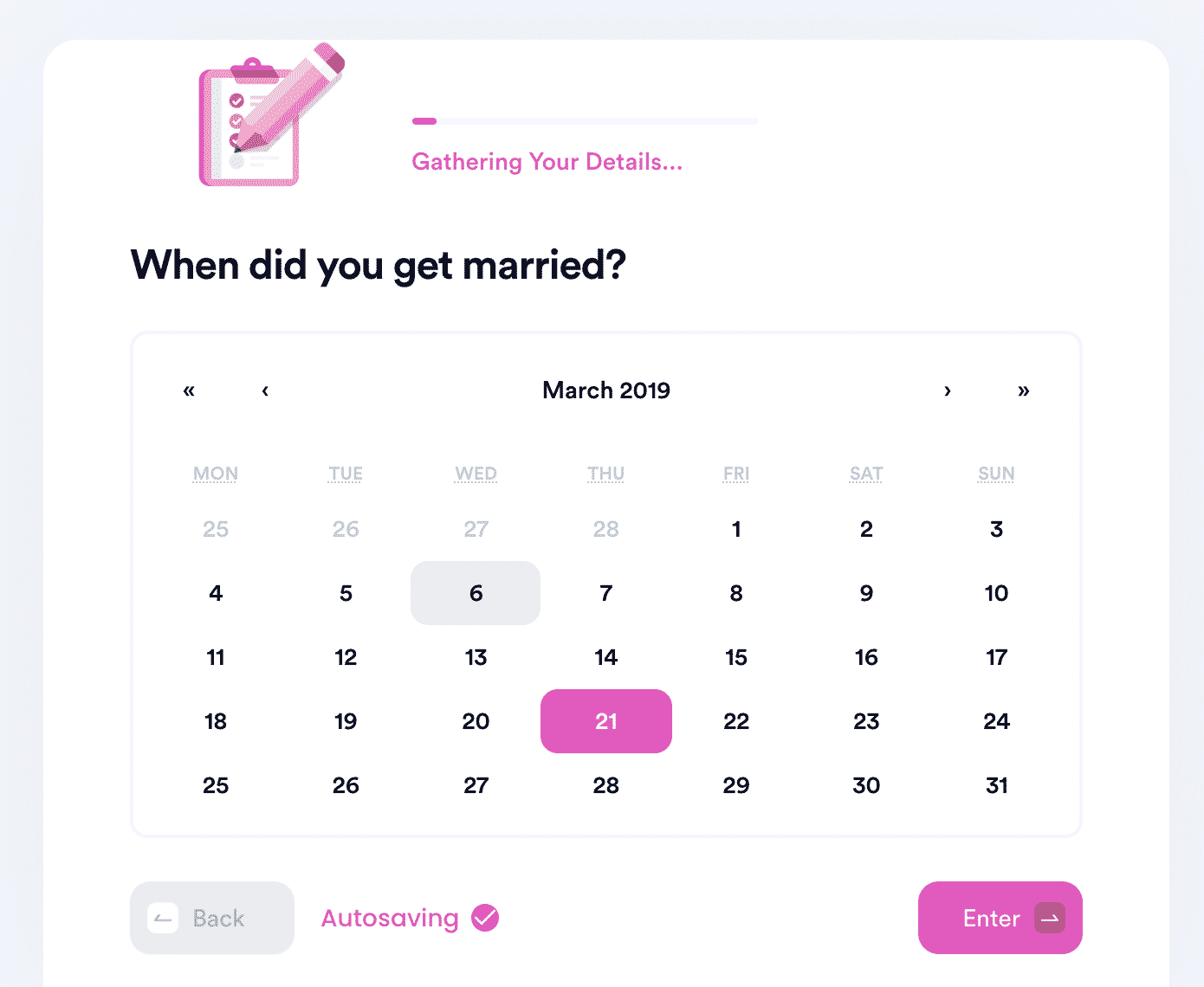 We will use our knowledge of state laws and the information you provide to create a document tailored to your needs. We'll also connect you to an online notary so that you can finish the whole process with as few issues as possible!
Do you need more information? Access our knowledge base to get answers to some of the frequently asked questions about divorces, such as:
DoNotPay Is an App for Everyone
Whether you need help with drafting paperwork, searching through government databases, or managing your bills, DoNotPay has a feature that'll make your life easier. The number of features keeps growing, and you can check out a table showcasing some of them:
| | | |
| --- | --- | --- |
| Solving Legal Issues | Saving Money | Protecting Privacy |
| | | |
Get More Done With Our Do-It-All Platform
DoNotPay can take care of any daily hurdle you come across. For a small yearly subscription fee, you get access to various features that you'll find handy on a daily basis. Besides everyday chores, signing up for DoNotPay will help get you:
The list could go on for days. You can even get in touch with an inmate or fight for discrimination at your workplace!