A Guide to the NYS Property Tax Relief
The statewide average property tax rate in New York State is around 1.69%. New York City has a lower property tax than the rest of New York State, with its property tax rate around 0.88%.
There are ways you can reduce your property taxes, such as the NYS property tax relief. By following our guide, you'll learn how to lower your property taxes without a hitch!
DoNotPay can assist you by identifying the property tax exemptions you're qualified for and presenting you with personalized guides on how to reduce your property taxes.
Understanding Property Tax
Local governments usually calculate property taxes while homeowners pay them. The sum made from property taxes is commonly used to fund local projects and services like fire departments, law enforcement, local public recreation, and educational facilities. The taxes are mostly based on the value of the property, including land.
Calculating the NYS Property Tax by Yourself
If you want to calculate the NYS property tax on your own, you can do it by following the four steps provided below. Keep in mind that it's always best to have an assessor evaluate your property to make sure there aren't any errors or inaccuracies.
To estimate your annual property tax, you should calculate the taxable value of your property and the ongoing tax rate for the tax class of your property. This is how to calculate your NYS property tax in four steps:
Determine market value

—Market value is your property's worth determined by the

Department of Finance

based on your property's tax class and the New York State law requirements

Determine assessed value

—Your assessed value (the level of assessment or assessment ratio) is based on a percentage of your market value and depends on your tax class

Determine transitional assessed value

—The law requires that the lower number is used (your actual assessed value or transitional assessed value) to get to your property tax bill

Apply for exemptions

—The Department of Finance provides a number of benefits for property owners through exemptions and abatements. Exemptions reduce the amount of tax you owe by lowering your property's assessed value, while abatements serve as a way to lower your taxes by applying credits to the sum of the taxes you owe
Ways To Lower Property Taxes—New York State Property Tax Relief
We can provide you with several methods that can help you pay your property taxes or lower them!
Method
Description

Avoid all home renovation projects

Avoid any home renovation project to ensure that the price of your home value and property tax bill doesn't increase

Check if your tax bill contains any inaccuracies

Bills often have mistakes and errors, so double-check to make sure yours doesn't

Participate when the assessor is estimating your property

Make sure that your assessor is doing a good job to avoid any mishaps

Check whether you qualify for a property tax exemption

New York State offers several property tax exemption programs, so check if you're eligible for any of them

Appeal your tax bill

Use DoNotPay to appeal

property tax assessments

easily
Common NYS Property Tax Exemptions—Star Property Tax Relief
Some of the usual property tax exemptions in New York State are:
STAR (School Tax Relief)
Star Property Tax Relief
The School Tax Relief (STAR) program provides property tax relief to New York State homeowners who meet the eligibility requirements.
To be eligible for the Basic STAR or Enhanced STAR tax relief with the NYC Department of Finance, you will have to meet certain requirements. The rules state that you:
Own the property and have received STAR in 2015-16 but lost the benefit, and now your income is $250,000 or less

Receive Basic STAR at the moment and want to apply for Enhanced STAR

Are 65 or older in the calendar year when you apply
All homeowners and resident spouses/domestic partners should have a total income under $90,550 to qualify.
Property Tax Relief for Seniors
Property tax relief for seniors includes a reduction in the amount of property taxes by as much as 50%. Some of the requirements you will have to meet:
The law in New York State lets every county, city, town, village, and school district set the income limit anywhere between $3,000 and $29,000 for the 50% exemption. The maximum income limit for properties in New York City is $50,000.
Reduce NYS Property Taxes With DoNotPay in Three Steps!
DoNotPay can help you find the property tax exemptions you're eligible for and provide you with a simple guide to follow! Here is how it works:
Go to DoNotPay from any

web browser

Tap on the Property Tax feature

Give us information regarding your property
Once you are done with these steps, DoNotPay will provide you with a personalized guide for property tax reduction.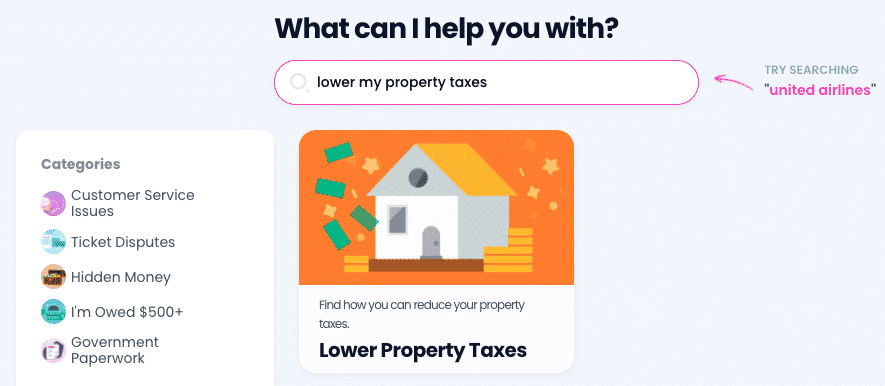 Get Back at Greedy Corporations With DoNotPay
How many times have you tried reaching out to an airline regarding your canceled flight? Did you ever spend hours trying to contact customer service reps only to be refused your refund request?
Big companies tend to make certain processes complicated for their customer in hopes they would give up on pursuing their goals.
This is why your warranty claims often get denied the first time or why canceling a gym membership can be an administrative hell.
Our AI-powered app is here to help you sort these problems out. 
Whether you're trying to file an insurance claim, schedule your driving test, start a free trial without disclosing your payment info or a phone number, or get access to public records, we've got you covered. 
DoNotPay Is the Virtual Assistant You Need
DoNotPay is the first robot lawyer in the world created to simplify complex tasks. We can help you with anything from appealing your parking citations to filing lawsuits in small claims court.
In case you need to save up some money, our app will show you how to get an extension on your bill payments, sign up for paid clinical trials, or avoid paying your college application fees.
DoNotPay can also report robocallers, text spammers, and email phishing attempts, and real-life stalkers with a few clicks.