All About the NYC Sublease Agreement
Keeping your rented apartment while being out of the city or state may be tricky. If you decide not to terminate your lease agreement before leaving, you still need to pay your monthly rent, which is a significant expense. 
The good news is that you can turn to a sublease agreement to solve the problem. This legal document will save you loads of money on rent and keep the living space you like until you come back. If you want to find out how the New York City sublease agreement works and how to write this contract avoiding vague and generic online templates, this article is perfect for you!
What Is a Sublease Agreement?
A sublease agreement is a specific contract signed by:
Sublessor

—a tenant that already rents the particular accommodation and wants to sublet it to another person with the landlord's permission

Sublessee

—a new tenant that will make payments instead of the sublessor and fully or partially take over their rental responsibilities while the lease agreement remains under the name of the original tenant
The contract provides the sublessee with a special right to use all the premises that the original tenant rents as long as they pay the rent. 
The sublessor is responsible for collecting the rent, forwarding it to the landlord, and ensuring the utility bills are paid on time. The original tenant can choose whether they want to lease out only a part of the property or the entire space. 
The agreement outlines the essential rental terms and conditions that will help both parties keep up with their sublease-related duties and obligations. These rules usually align with the original lease contract regulations.
Does the Tenant Need Landlord's Permission To Sublet in New York City?
If you want to sublet your apartment, getting permission from the landlord is a must. According to the New York City laws, you should send a written request disclosing more details regarding the situation. 
The landlord has ten days to request additional information, and they have to approve or deny your request within 30 days. If they fail to inform you about their decision, your request gets automatically approved. In case of a denial, they need to elaborate on the decision and give you a reasonable explanation.
You won't be allowed to sublet the rented apartment if you:
Live in public housing

Reside in a rent-controlled building

Receive Section 8 public assistance
Can I Write a New York City Sublease Agreement Myself?
Writing a sublease contract can be daunting because of the abundance of information and required sections you need to include. Making a single mistake or missing an important detail may result in an ambiguous and potentially harmful document. It's essential to define all the terms through the following clauses:
Information
Details

General agreement details

Full names, addresses, and contact details of both concerned parties

Start and end date of the agreement

Optional landlord information—name, contact details, etc.

A copy of the original lease agreement

Signatures of both parties

Property

Description of the accommodation—the number of premises, furniture, parking space, storage units, etc.

Payment

Amount—it's equal to the amount that the original tenant pays

Payment schedule

Payment method

Late or missing fee penalties

Utility bills payment

Security deposit info—the security deposit amount shouldn't exceed one monthly installment the original tenant pays

Additional charges (optional)

Terms and conditions

Landlord's consent

Smoking policy

Noise policy

Pet policy

Lead-paint disclosure

Accommodation maintenance

Notice requirements

Termination details
Write Killer Contracts in a Flash With DoNotPay
Creating an agreement isn't a walk in the park. Whether you need a lease contract or any other legal paperwork, it's challenging to compose clear and enforceable legal documents without professional assistance.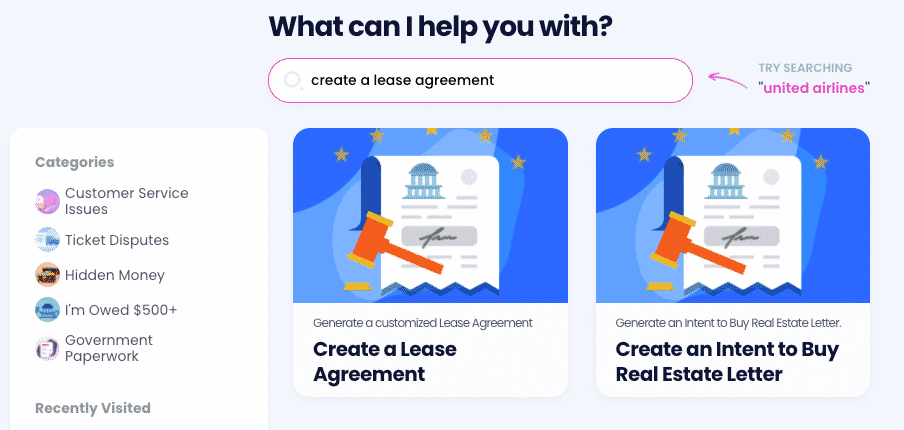 If you want to avoid samples from unreliable sources or costly services, count on DoNotPay! We offer an entire collection of customizable standardized templates that will make the creation of your agreement simpler and faster. You can adapt them to your needs in only a few clicks and generate an unlimited number of documents, including:
Promissory Note

Quitclaim Deed

Child Care Authorization Form

Estoppel Certificate

General Affidavit

Intent To Purchase Real Estate

General Business Contract

Residential Lease Agreement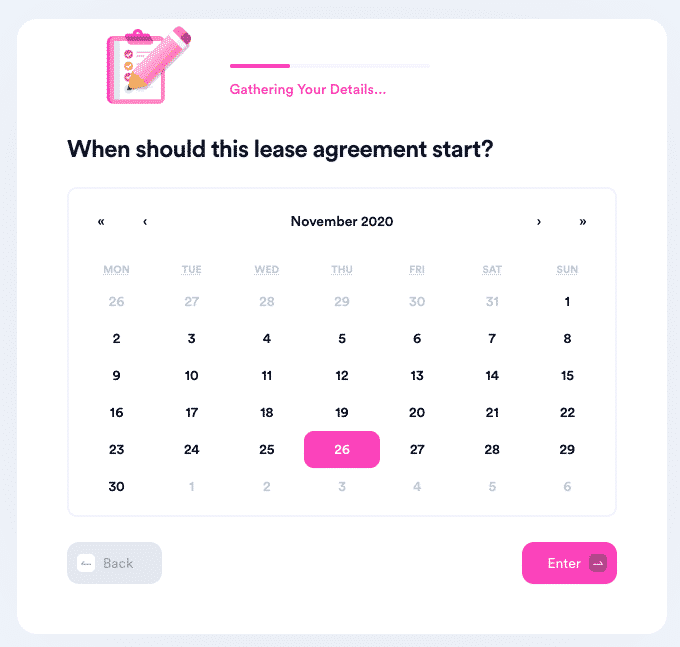 Here's how to use our service:
Sign in to DoNotPay in your preferred

Open the desired document format

Enter the details you want to add to your contract
After you complete this simple procedure, we will generate a personalized legal document tailored to your needs! All that remains is to have it notarized and sign it with the other concerned party.
DoNotPay Provides Amazing Educational Guides for You
Are you interested in how sublease agreements work in California or Florida? We have handy guides to help you learn more. 
's amazing learning center is here to introduce you to many contract types, such as:
Discovering DoNotPay Will Make Your Day
If you feel overwhelmed by tons of paperwork flooding every area of your life, you can finally breathe out and let go of that stress. DoNotPay is the world's first robot lawyer that handles your bureaucratic chores for you. 
Some of the benefits that come with our service include:
Why Get a Lawyer When You Have DoNotPay?
Our agenda has one major goal—provide easy legal access to anyone who needs it. Every new feature we come up with relies on AI technology that simplifies bureaucratic procedures and saves you time and money. 
If you're wondering how to navigate tasks like contacting imprisoned friends and family members or reducing your property taxes, DoNotPay has the answers. Our service cuts through the red tape even if you need to deal with stalking and harassment, claim forgotten assets the proper way, or secure compensation for crime victims.