The NYC Property Tax Exemption Program in a Nutshell
The NYC property taxes are considered reasonable, compared to the rest of the state. Depending on the type of property you own and the changes in market value, the property tax rates in New York City can still be overwhelming for some citizens.
If you are an NYC homeowner, you may need help with paying your property taxes. Luckily for you, New York City grants property tax relief to its citizens under special circumstances. DoNotPay is here to explain what constitutes the NYC property tax exemption program and how to lower your property taxes fast and easy!
The Breakdown of NYC Property Taxes
If you are a New York state resident, your property tax rate depends greatly on the county you live in. The state itself doesn't impose or benefit from property taxes—they are assessed by the school districts and local and county governments. The property tax proceeds finance public schools, municipal service, road maintenance, and police and fire departments. 
The New York State law demands that properties in each county, except for New York City and Nassau County, must be assessed at a uniform percentage of market value set by the local assessor's office. 
If you live in NYC, your property taxes are calculated according to your home's taxable value and the current property tax rate. Your property's taxable value changes every year based on the kind of property you own. Here is an overview of factors that influence the changes in your home's taxable value:
Property Type
Factors That Influence Property Taxable Value Increase

Family home

Increase in market value

Adjustments to large increases in market value that cause the assessed value to go up

Home improvements or renovations

Loss or reduced value of an exemption

Condominium

Increase of similar buildings' rental value 

Adjustments to significant rise or fall of the market value that cause the assessed value increase

Apartment renovations

Loss or reduced value of an exemption
How Can I Lower My Property Taxes in NY?
If you are struggling with paying your property taxes, there are ways of lowering them on your own. Methods of reducing your property taxes require a bit of effort but will save you a lot of money in the future. 
You can try reducing your property taxes by:
Avoiding any home improvements

—Performing any adjustments to your home can enhance its market value, which will increase your property taxes

Comparing your home value to the value of neighboring homes

—Property tax bills are public information. If you compare your similar neighboring home property tax assessment to yours, you may find a mistake 

Reviewing your tax bills

—NYC citizens receive their tax bills via mail. You can check them for any errors in the property tax calculations 

Establishing your exemption category

—You should check out your county's exemption categories and requirements to reduce your taxes significantly

Filing a property tax appeal

—The last option is to

file a property tax appeal

and have your

home's value reassessed

. You can hire a lawyer to negotiate with the NYC tax commission, or you can easily do it on your own with the help of DoNotPay!
What Are the NY State Property Tax Exemptions?
The state of New York offers property tax exemptions for veterans, senior citizens, and the disabled. Other homeowners can qualify for School Tax Relief (STAR). Local NY governments are allowed to establish different exemptions. If you use DoNotPay, you will find out which exemption category you belong to and how to file a request for exemption in one place!
New York City offers property tax exemptions for:
Seniors

Veterans

Clergy members

People with disabilities

Other homeowners 
Property tax exemptions in New York City can have a different value each year. If NYC grants you an exemption, it will be subtracted from the assessed value of your home. New York City also enables abatements—reducing your tax debt by applying credit to the amount you owe. 
How To Lower Property Taxes in NY With DoNotPay
Establishing your exemption category or filing an appeal for reassessment can be tricky. Both processes are lengthy and require a lot of research. You can avoid the complications by accessing DoNotPay!
Our Reduce Property Tax feature will save you time and effort by providing all the answers in just a few clicks of the mouse.
We use the information you give us to create a customized guide. You can use the guide to: 
Establish your exemption category

Find out which forms you need to fill out

Get detailed information on the application procedure

File an assessment appeal if necessary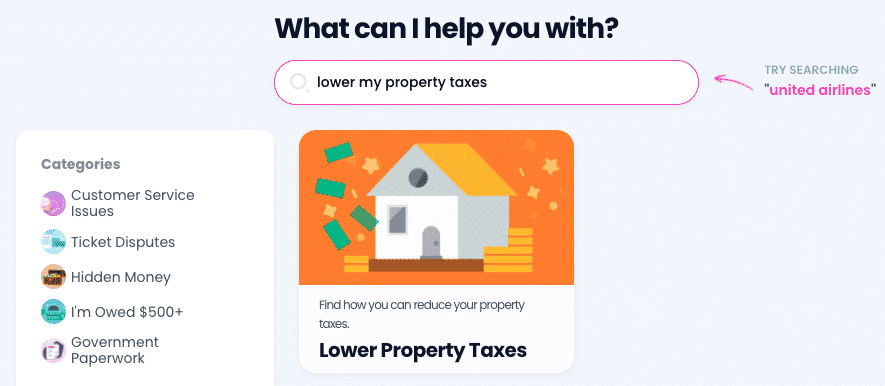 The process goes as follows:
Access DoNotPay from your

web browser

Provide essential details about you and your property

Wait for DoNotPay to generate your personalized guide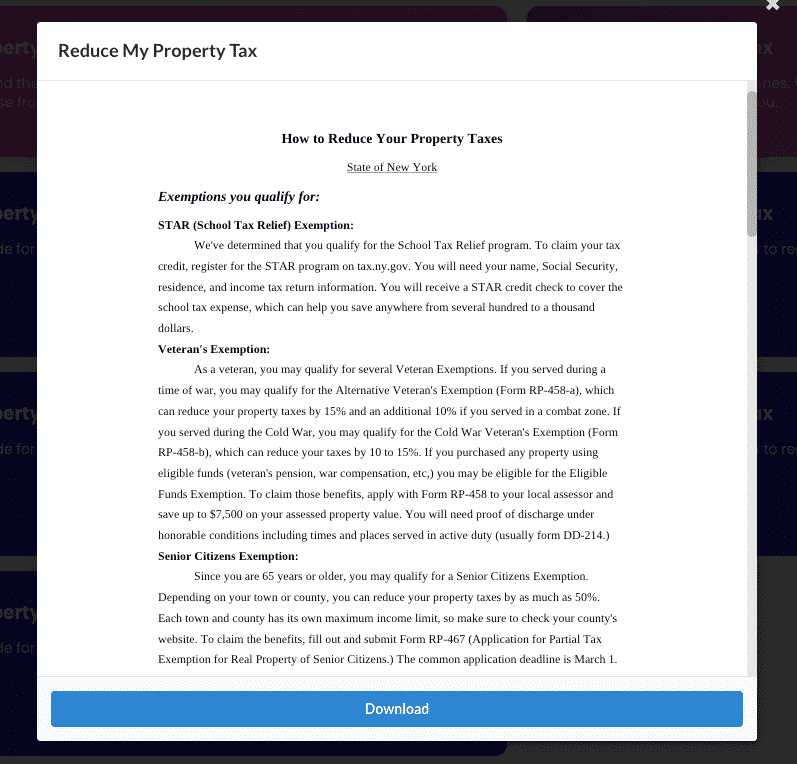 DoNotPay Makes Property Tax Issues Go Away!
If you want to know more about property taxes, check out DoNotPay's knowledge base and find information on:
Forget About Bureaucracy With DoNotPay
There's no end to what our app can help you do. From drafting legal documents and asking for bill extensions and reducing property taxes to connecting with an inmate in a federal prison and contesting parking citations, DoNotPay can handle it all and cut through the red tape.
Need to pass a government test? Use our practice tests database to nail it. Looking to file an insurance claim? You've come to the right place. College applications drained your accounts? Request college fee waivers with our assistance.
The DoNotPay app is so versatile that it can easily locate any unclaimed funds under your name or any clinical trials that you're eligible to participate in. We can also schedule DMV appointments and take care of your small claims court documents.
Check Out What Else DoNotPay Has in Store
DoNotPay never stops upping the game. You can explore some of our latest features and see how you can access public records, receive free online fax, submit a warranty claim, or get compensation if you were a victim of a crime.
Alternatively, check out some of our most popular products that aim to reclaim your funds—from getting airline flight compensation and submitting refund and chargeback claims to canceling your unused subscriptions and getting class action cash from email, text, and robocall scammers.