The Ins and Outs of the
NYC Property Tax Assessment
Understanding how property tax works is important for any homeowner. If you live in the Big Apple, you should learn about the NYC property tax assessment. 
DoNotPay can provide you with the necessary information and tell you how to lower your property taxes!
Important Facts Regarding the
NYC Property Tax Assessment
In New York City, the Department of Finance is in charge of evaluating your property each year. This is one of the steps needed to calculate your tax bill. In addition to the property tax assessment (assessed value), other required information includes:
Market value

—The Department of Finance's estimate of how much your property is worth based on the New York State Law requirements and your property's tax class

Level of assessment (assessment ratio)

—A percentage of your market value that depends on your tax class

Tax rate

—The City Council and Mayor set an annual tax rate for each tax class
Tax Classes in New York City
New York City property is divided into four classes. You can see more details in the table below:
Tax Class
Details
Assessment Ratios:

Class 1

Residential property that has up to three units:

Family homes

Small stores

Offices with one or two apartments attached

Condominiums that don't have more than three stories

6%

Class 2

Sub-Class 2a (four- to six-unit rental buildings)

Sub-Class 2b (seven- to ten-unit rental buildings)

Sub-Class 2c (two- to ten-unit cooperatives or condominiums)

Residential property:

Rentals

Cooperatives

Condominiums

45%

Class 3

Utility property

45%

Class 4

Commercial and industrial properties:

Office

Retail

Factory buildings

All other properties not included in the first three classes

45%
It is possible for your market value to go down while the assessed value increases. This happens when your assessed value is lower than the assessment ratio.
How Is Property Tax Assessment Value Calculated in NYC?
The Department of Finance calculates your property's assessed value by multiplying the market value with the assessment ratio. The property tax assessor uses guides called Statements of Assessment Procedures to evaluate your property.
To get the final amount on your property tax bill, the government multiplies the assessed value with the tax rate.
You may apply for property tax exemptions that reduce the amount of the property tax you owe by lowering your property's assessed value. You can find out if you qualify for property tax exemptions easily by using DoNotPay!
Property Tax Exemptions Available in NYC
New York offers numerous property tax exemptions to help its citizens deal with property taxes. Here are the available options:
Can You Apply for an NYC Property Tax Exemption? DoNotPay Can Tell You!
DoNotPay is the easiest way of finding out if you are eligible for property tax exemptions in New York City. Find out if you have the right to apply in a few clicks. You only need to follow three simple steps:
Sign up for DoNotPay

in any web browser

Find and choose the

Property Tax

product

Provide some information about your property and yourself
If you are eligible for any of the exemptions available in the Big Apple, DoNotPay will tell you how to handle the application process the easiest way in a personalized PDF guide!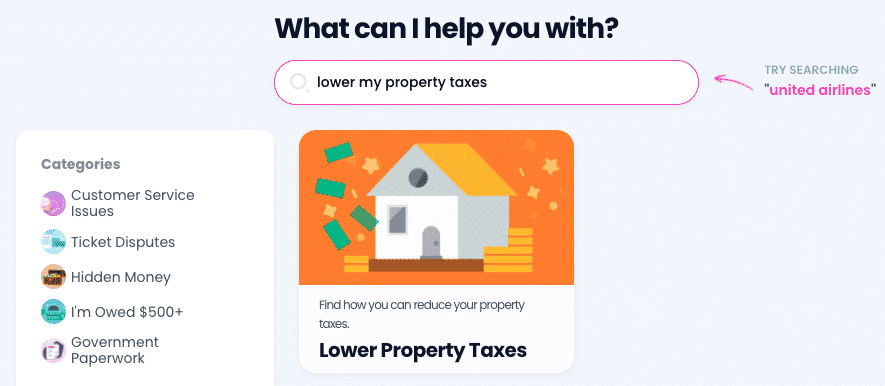 Appeal Your Property Tax Assessment With DoNotPay's Assistance
Another great way of lowering your property taxes is appealing past property tax assessments. You can find out about the best tips and tricks to do so by opening DoNotPay's Property Tax product. Our instructions will prepare you for a property tax appeal hearing by telling you how to best negotiate with the property tax assessor. We also know what evidence you should gather to strengthen your case!
Can You Do Anything Else To Lower Your Property Taxes?
In addition to property tax exemptions and appeals, you can also try some of the other methods to lower your property taxes. The common techniques involve:
Checking your tax bill for mistakes

Following the property tax assessor around the house to ensure they do the job properly

Avoiding home renovations that may increase the assessed value

Moving to a state with lower property tax
States With Low Property Taxes
New York is among the states with the highest property taxes. If you are willing to make a big life decision and move to another state, you should keep in mind the property tax bills there. Some of the states with the lowest property taxes are:
If you've never experienced an issue with a purchased item, you should consider yourself extremely lucky. When shopping goes wrong, you usually have to brace yourself for unpleasant and annoying exchanges with customer support centers. 
DoNotPay is here to make exercising your consumer rights easy. Long holds when calling customer service reps and incessant marketing spam emails can stay in the past. We will help you avoid irritating text messages from online retailers by teaching you how to bypass phone verification when signing up. 
Ask for refunds, claim warranties, fix credit card issues, or sue retailers in small claims court—these are just some of the services our platform provides. 
With DoNotPay, you can start free trials for new services risk-free. If you want to get out existing subscriptions, canceling them has never been easier!
Wait, There's More!
Our full portfolio includes features as diverse as contacting inmates and requesting college application fee waivers for students from low-income families. 
If you have a problem with bureaucracy, the chances are DoNotPay knows how to fix it with your minimal involvement. 
Leave the grunt work and unnecessary expenses behind. We will help you pass various government tests with flying colors, find unclaimed money in all states, or get out of parking tickets before you know it!