Avoid the Tax Crunch in the Big Apple With an
NYC Property Tax Appeal
Property tax in New York City can be a significant blow to your finances each year, but there are ways to secure a property tax discount by looking at the value NYC places on your property.
DoNotPay is the expert at finding ways to help you with property tax relief through an NYC property tax appeal.
How Does Property Tax Work in NYC?
Property tax in NYC is based on two elements, both of which are variable.
Element
Explanation

Tax rate

The tax rate is the percentage of your property's value that is applied to calculate your property tax bill. Your local tax rate is determined by your county of residence and includes charges for:

Schools

School infrastructure projects

City maintenance

County administration

Local voter-approved projects

The tax rate in New York City is low—at 0.88%, it is lower than the state average of 1.69% and the U.S. average of 1.07%

Assessed property value

Your assessed property value is the price your local county believes your property would fetch if it were sold. Properties are reassessed regularly to take account of market dynamics, and your current valuation is based on the prices that similar properties to yours have recently sold for. This is known as the sales-value approach to property assessments
How Is Your NYC Property Assessed?
Property assessments in New York City are widely known to be hit-and-miss.
Following seminal lawsuits in the 1970s, NYC brought in new legislation to regulate the property tax assessment system.
Each property in NYC is classified according to its size and purpose, as follows:
Class

Definition

Class 1

1–3 family residential homes

Class 2

This class includes:

Small condos or rental properties of 4–10 units

Large condos or rental properties of 11 or more units

Class 3

Utilities or special designation property

Class 4

Office buildings, shops, hotels, or other commercial properties
Class 1 properties are of the greatest importance to us, so we will look at them in more detail.
The process of assessing your property and feeding the valuation into the property tax calculation runs like this:
Determining market value

Calculating assessed value
Determining Market Value
Assessors in NYC determine the market value of your property by looking at recent sales data from your area. They take into account property demand, new constructions in your area, and your property's closeness to amenities like schools or public transport.
Calculating Assessed Value
New York City applies an assessment ratio of 6% to the market value of your property to reach its assessed value, which is the number used to calculate your property tax bill.
This means that a home with a market value of $200,000 would have an assessed value of $12,000, to which NYC would apply the correct tax rate to determine your property tax liability.
NYC has introduced some rules to ensure your property's assessed value doesn't rise too quickly, namely:
The assessed value can rise by a maximum of 6% each year

The maximum rise in assessed value is capped at 20% over five years

The maximum assessed value is the market value multiplied by the assessment ratio of 6%
The most significant assessment issue in New York City is that properties are physically inspected rarely.
This means that the mass appraisal methods used by the assessor can easily be out of touch with the reality of your property's condition or desirability. Your assessed value could therefore be considerably higher than is realistic, leading to you paying more property tax than you should.
What if You Disagree With the Assessment?
There are several factors that could lead you to think your property tax assessment in NYC is wrong:
You think the assessed value is incorrect or unfair

Your assessment notice contains clerical errors

Your assessment notification has outdated information on it
You Think the Assessed Value Is Incorrect or Unfair
A good idea is to check with the NYC Department of Finance and, if necessary, ask for a review of your property valuation. This is not a formal appeal but rather an opportunity to check through the description of your property as the department has recorded it. The deadline for asking for a review is March 15 each year.
Your Assessment Notice Contains Clerical Errors
If any details on your Notice of Property Valuation (NOPV) are incorrect, they should be corrected to make sure the mistake has had no impact on your valuation. Corrections that are accepted as being valid can be made retroactively up to six years.
Your Assessment Notification Has Outdated Information on It
You can ask the department to update its records before April 1 each year.
If you still disagree with your property's assessed value, you can launch an appeal to have the valuation reduced.
How Does a
New York Property Tax Appeal
Work?
The appeal process is complicated, and your preparation will be crucial to secure a positive outcome.
There are two steps to the appeal process:
Administrative review

Judicial review
Administrative Review
The administrative review process starts with a check of all the documentation pertaining to your property and is relatively informal. Your grievance is heard at the municipal level and does not involve the courts.
Judicial Review
If your administrative review has not given you the outcome you want, you can pursue a judicial review process that can be run as a small claim or can take place in the state Supreme Court. Most homeowners opt for the small claim route due to the potential expense of supreme court litigation.
The Small Claims Assessment Review (SCAR) is heard by the New York City Tax Commission, is more informal than a court case, and costs $30.
Whichever route you choose for your appeal, you will need to build a convincing case to have your property valuation reduced. Here is what you will need to prepare:
Case Element

Explanation

Assessor's valuation

You should check the NYC assessment roll to verify your current valuation and its history. Bear in mind that the assessed value of your property in NYC is 6% of its market value

Your valuation

Your valuation should be backed up with solid data, including:

Independent valuations from realtors or private assessors

Sales data from your area for the last three months

Assessments of your property's age, size, condition, room allocation, and external curb appeal

The more logical and fact-based your valuation, the more plausible it will be
How Can DoNotPay Help With an NYC Property Tax Appeal?
DoNotPay has all the info you need to launch a property tax appeal in New York City.
Our app has a customized property tax guide that looks at your location, your property, and your circumstances to give you personalized advice on how you can reduce your property taxes or get help paying your tax bill.
The property guide looks at two subjects:
Property tax exemptions

—what is available in your area, which documents you need, and where to claim

Property assessments

—what to prepare and how to lodge a formal assessment appeal
Where Can You Get DoNotPay's Property Guide?
If you are signed up with DoNotPay, getting your property guide is easy:
Go to DoNotPay in your web browser and find the

Property Tax

product

Fill in some details about yourself and your property

Let DoNotPay do the rest by creating your guide while you wait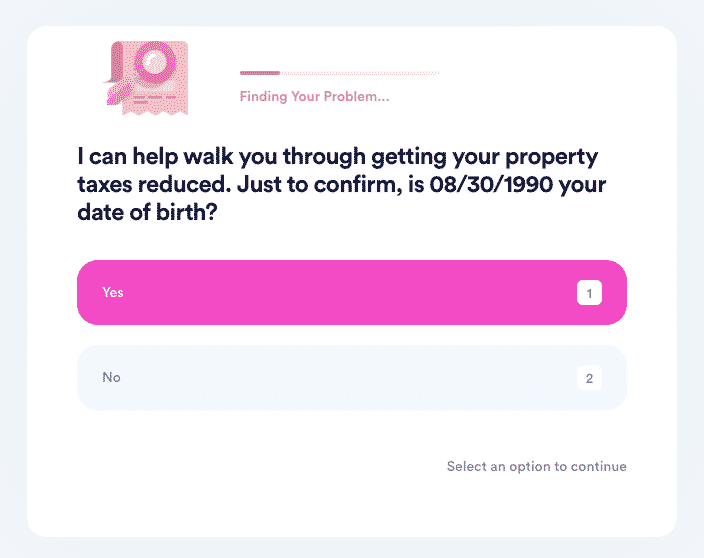 What Other Property Tax Matters Can DoNotPay Help With?
DoNotPay can also help you apply for property tax exemptions in New York City, including:
Senior

or disabled exemptions

Veterans' exemption
DoNotPay is your go-to resource for all property tax matters.
Falling for Scams Is Less Likely With DoNotPay
Thanks to AI technology, DoNotPay is a great resource for protecting your privacy and finances from potential scammers. Our bots can help you report robocalls, keep your inbox clean from spam email and shady text messages, or even deal with stalking and harassment, if it comes to that. 
In case the issues escalate, skip the expensive lawyers and sue the offenders in small claims court with ease. 
Another great way to increase your online security is to use our virtual credit cards and sign up for any free trial without risking unwanted charges. You can even avoid sharing your contact info with our Burner Phone feature. 
The Solution to Your Driving Woes
DoNotPay provides invaluable help to future and current drivers. By helping you ace that driver's license test, scheduling a DMV appointment the easy way, or contesting parking tickets, our app saves you money and time. 
If you need to file a car warranty or an insurance claim, we will help you deal with the necessary paperwork within minutes. Trying to get out of a car wash membership? DoNotPay can cancel it in an instant. 
Our platform works above ground as well. You can use DoNotPay to secure refunds from airline companies or compensation for delayed and canceled flights.