An NYC Lease Agreement in a Few Clicks
Living in New York City has lots of advantages, but finding a suitable place to stay can be a real challenge. Not only is it costly, but also the terms and conditions in an NYC lease agreement can be unreasonable.
DoNotPay can help you understand and create various legal documents, including a residential lease agreement, by providing helpful contract templates and tips on how to write a contract to best meet your specific needs.
What Is a Lease Agreement?
A lease agreement is an agreement between a:
Landlord

—A person or organization owning or managing the rental property 

Tenant

—A person who lives in the rental property and pays the rent
This agreement provides relevant information about a property you would like to rent.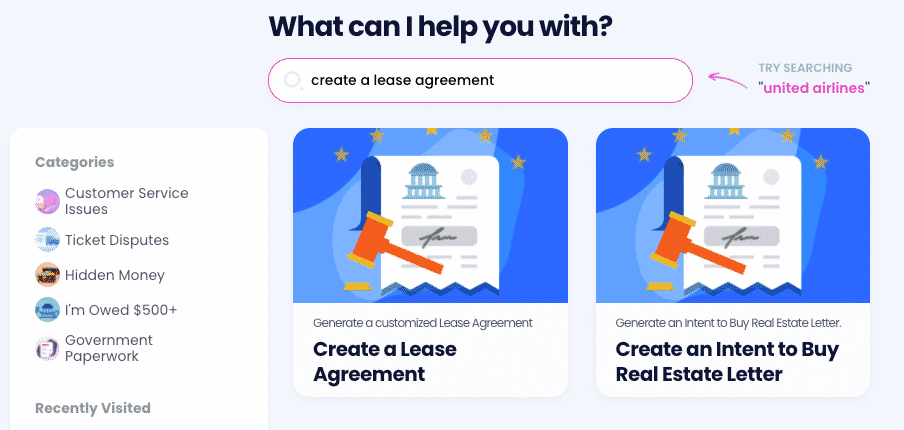 Once signed, it is legally binding, and you can change it if both you and your landlord agree to the proposed changes. In that case, you will need to introduce all the agreed changes into a lease amendment or a new lease agreement.
If the property you lease is not rent-stabilized or rent-controlled, you can have a verbal agreement for up to a year. Written and signed lease agreements are the best option in all cases as they offer extra security in case of disputes or arguments. 
Types of Lease Agreements
A residential lease agreement is a lease created for residential rental property. This agreement sets the:
Terms and conditions of a tenancy

Rights and obligations of both the landlord and tenant
You can use an NYC lease agreement for different residential properties, and this agreement goes under various names.
Type of Residential Properties
Other Names for a Residential Lease Agreement

Houses

Apartments

Duplexes

Condos

Mobile homes

Townhouses

Basements

Lease Agreement

Rental Lease Agreement

Apartment Lease

Lease Form

House Rental Agreement

Rental Contract

Tenancy Agreement

Rental Tenancy Agreement
Another type of lease agreement is a commercial lease agreement. As the name suggests, it is used to rent commercial properties, including:
Offices

Buildings

Restaurants

Warehouses

Retail stores

Industrial properties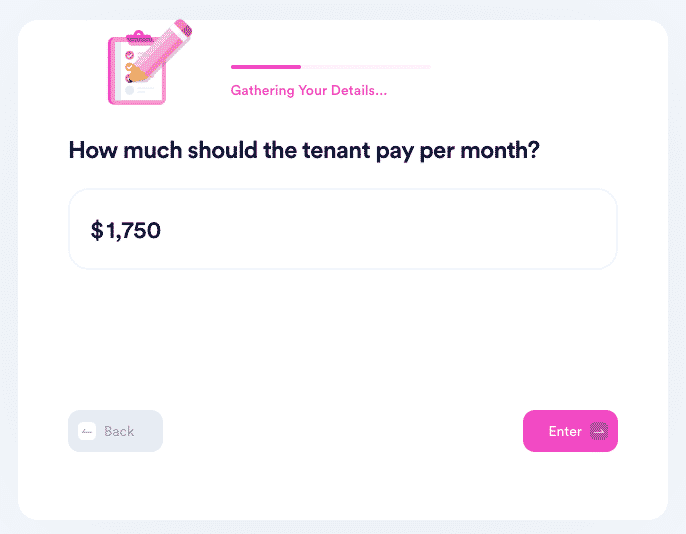 Should you enter into negotiations to purchase the rental property, can help you prepare a bill of sale for this process. 
What To Include in a New York Residential Lease Agreement
Your lease should use clear and common phrasing to avoid any misunderstandings. Try to make it as clear and easy as possible and include the following sections:
Rent amount

Date and time when the rent is due

Length of the lease agreement, including the start and end dates

Way to settle the rent, e.g., in cash, by credit card, check, or money order

Terms and conditions in case your rent is late, including a late fee and eviction 

Means of delivering the rent, e.g., in person at the landlord's business or private address
Before setting any of the above-listed items, you need to check the applicable laws in New York covering rental matters, including the following:
Rental Issue
New York City Laws

Demand for Rent

The demand for rent needs to be in writing and include the following:

The date the tenant received the notice 

Tenant's name and address 

Reason for the notice, e.g., the tenant did not settle the rent for a certain period

The total amount of due rent 

A person the tenant needs to pay the rent to and the preferred method 

A statement saying the tenant has 14 days to pay the rent or move out of the rented place unit before the landlord begins eviction proceedings

Certificate of service listing how the tenant received the notice

Notice To Raise the Rent

The landlord needs to give the tenant a one month notice when planning to raise the rent by 5% and more 
Month-To-Month Tenancy
In case you do not have a lease agreement or it has expired, you pay rent every month. This arrangement is called a month-to-month tenancy. The month-to-month NYC lease agreement involves specific conditions:
It requires a 30-day written notice of termination

The notice of termination needs to state that:

The landlord wants to terminate your tenancy 

An eviction proceeding will be started unless you move out by the date set in the notice

The landlord does not need to provide a reason for terminating your lease
If these lease types are not what you are looking for, you can check out short-term rental agreements.
Safeguard Your Activities With DoNotPay
DoNotPay can help you generate numerous agreements to secure your ongoing business or personal projects.
For your business operations, we can provide the following documents: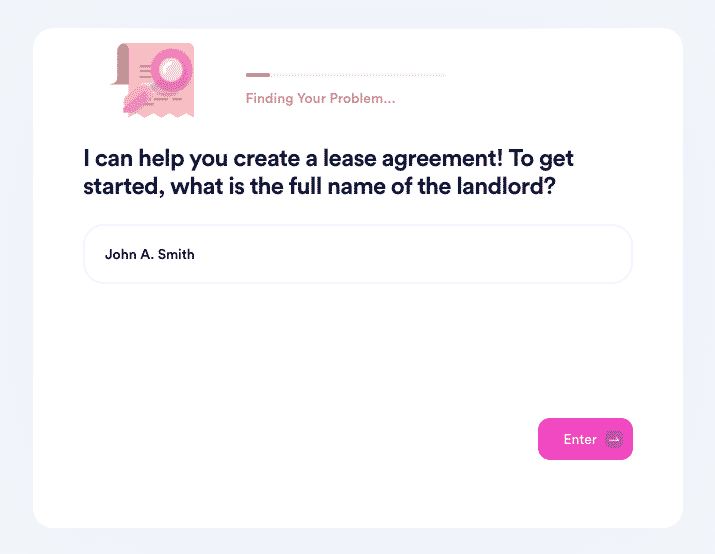 Your personal or family matters can be protected by a prenuptial or custody agreement, to name a few. 
Here is how you can get a contract tailored to your requirements:
Go to DoNotPay in any

 

Enter the name of the document, e.g., a lease agreement

Provide the necessary details to the chatbot, including names, addresses, and additional relevant data
In a few clicks, DoNotPay will provide you with a customized contract.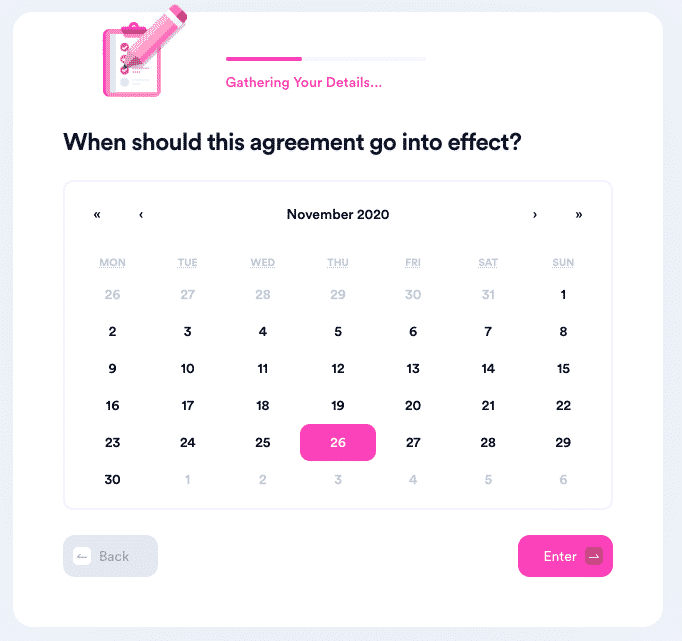 Clear Out Your Daily Tasks Fast With DoNotPay
Are your parking tickets piling up, but the process of appealing them is way too complicated? Do you struggle to pay your bills but are not sure how to get an extension? Is it time to extend your driver's license, but reaching the DMV is a nightmare?
DoNotPay will turn all of these dreadful tasks into easy-to-do items you can check off your agenda quickly!
Get rid of spam emails, texts, and calls quickly using our AI-powered app!
Learn how to secure compensation from airlines, get your college fees waived, claim your lost funds, or reduce your property tax—all with a few clicks!
Subscription Issues? DoNotPay Can Help!
If you are looking to test out a service, think twice before disclosing your payment info. Companies will often ask you for your credit card details even when signing up for a free trial—they charge you once the trial expires. 
Use our virtual credit card, and don't worry about unwanted charges! 
Our credit card gets automatically approved for any free trial, but it rejects any real charges since there is no money on it.
DoNotPay will locate and cancel all your unwanted subscriptions without you having to deal with customer service reps.
We can also help you request refunds from companies or take them to small claims court if they refuse to cooperate.