What Is a NY Living Will, and How Can You Create It Without Trouble?
How much do you know about living wills and the benefits they bring? If created according to state law, such a document helps you protect your health interests once you become unable to express your wishes.
While creating a NY living will can be tricky, our guide will teach you how to do it with minimal effort. Sign up for DoNotPay, and learn how to compose any health care directive without pricey legal services or advanced writing skills!
What Is a New York Living Will?
The Empire State defines a living will as a written statement conveying your particular health care wishes in case you become unable to decide for yourself. This way, if something happens to you, your family and doctors will know how to act and carry out your wishes accordingly.
Synonyms for a living will in New York are:
Personal directive
Advance decision
In New York, a living will is often completed alongside a health care proxy, also called a medical power of attorney. It's a document that allows you to transfer powers to another person, enabling them to make medical decisions on your behalf if you become incapacitated.
What Can a Living Will in New York Include?
A living will typically includes:
Statement—It's an introductory part stating that the purpose of the document is to set forth your health care instructions. This part should also say when the living will comes into effect (usually once the person becomes unable to express their wishes and the doctors confirm their state)
Precise health instructions—This section should contain the info about treatments and end-of-life care you want or don't want to undergo in the future. It should be organized as a checklist, and you should tick off all the statements that apply to you
Additional directions—In this paragraph, you can mention other personal health preferences (if there are any)
Names, addresses, and signatures of two witnesses
What Instructions Can You Give in Your Living Will in New York State?
In your living will, you can highlight your health care preferences regarding:
Treatment
End-Of-Life Care

Surgeries
Abortion
Sterilization
Pacemaker
Antibiotics
Dialysis and blood transfusion
Radiation and chemotherapy
Electric shock therapy
Invasive diagnostic tests

Life support

Mechanical respiration
Artificial nutrition and hydration
Cardiopulmonary resuscitation (CPR)

Comfort care
Hospice or palliative care
Organ donation
Tissue and eye transplant
Is There an Official New York Living Will Form?
New York State doesn't have an official living will form you can download and complete or a specific statute with living will regulations. You can create your own—the state will consider it valid as long as it makes sense and provides clear info about your health care or end-of-life preferences.
DoNotPay Helps You Craft a High-Level Living Will in Minutes
Hiring an attorney to write your living will can be quite costly for most people. This is where DoNotPay enters the scene! We help you generate a living will or a NY health care proxy (or NY medical power of attorney) in less than five minutes! All you should do is complete a simple questionnaire, and we will provide you with a document ready for signing and notarization!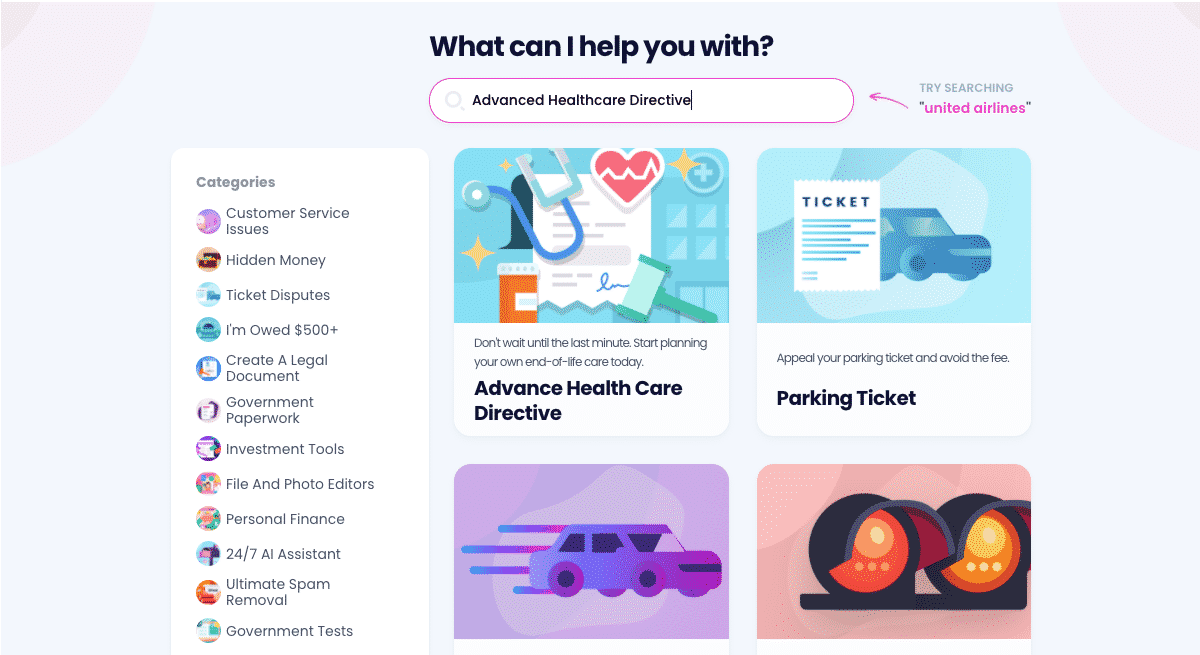 To get our help, you should open DoNotPay in any web browser and:
Select the Advance Health Care Directive
Specify the name of your primary agent
Tell us more about your health-related preferences
Name your witnesses
Are you ready to learn more about advance directives in New York? Is the difference between a health care proxy and a power of attorney confusing you? Do you know how to make a medical power of attorney for your kid? Find all the answers in DoNotPay's knowledge base and draft these legal documents like a pro!
Save Time and Money Using DoNotPay
Being on hold while trying to reach customer service is no picnic. With DoNotPay, you can jump the phone queue and reach a rep with ease. Are you contacting a company to request a refund or cancellation? No need for that! Our app can get it done in a few clicks. We can also help you return an item or handle a late delivery.
Dispute parking tickets, claim your warranty or insurance, set up a DMV appointment, contact an embassy, and deal with any other task with our assistance.
You can also request access to public records, apply for tourist visas, or file complaints with the help of our AI-powered app.
We're Not Done Helping You!
Our multifaceted app keeps getting new features that can streamline numerous tasks and solve all kinds of problems.
Would you like to join sweepstakes or giveaways? Are you up for participating in clinical trials and earning some money? Are you interested in sending mail without visiting the post office? We've got it covered!
We will help you protect your privacy by putting an end to spam emails, incessant text messages, and robocalls. If you think you're being stalked, you can count on our assistance. You can also use our app to perform a sex offender search, fight workplace discrimination, and handle annoying neighbors.