NY Divorce Law—Alimony Rules Broken Down by DoNotPay
Knowing NY divorce law—alimony law especially—is key to having a divorce that will end on a friendly note.
Alimony types, rules, and regulations are different for each state and can be hard to understand. That's why DoNotPay has prepared a detailed guide that will show you everything you need to know about alimony in New York!
What Types of Alimony Are There in New York?
Alimony is also known as spousal support or, in New York, spousal maintenance. It's a payment that the low-earning spouse receives during or after the divorce. New York courts can award:
Temporary alimony—Also known as alimony pendente, this award needs to be paid during the divorce process. It lasts until the judge finalizes the divorce or issues a permanent maintenance
Rehabilitative alimony—This type of alimony is given to the spouse who is financially dependent on the other party. The judge may grant rehabilitative alimony when the low-earning spouse doesn't have the proper training or education to make a living for themselves after the divorce. It ends automatically if:

The receiving spouse remarries
One of the spouses dies
The supported spouse gets employed with an amount that they can live on

Permanent alimony—Permanent spousal support lasts after the court finalizes the divorce. The court will determine how long the agreement will last by taking multiple factors into account. These types of alimony are meant for:

Long marriages
People who are ill, unable to work, or can't become self-sufficient
Spouses who have a large income difference between each other
How Can I Know Whether I Am Qualified for Alimony in New York?
Both divorcing parties can request alimony. Whether the court will grant it depends on multiple factors, such as:
The financial status of each spouse
Age and health of the parties
Whether there are children involved or not
How Is Temporary and Rehabilitative Alimony Calculated in New York?
New York has a statutory formula the court uses to calculate spousal maintenance. Since 2019, NY courts use a formula that takes into account:
Income of both spouses (up to $184,000 for the paying spouse)
Whether the paying spouse will have to pay child support
To get the final amount that the supported spouse will receive, the court needs to use the lowest number from the following three models and divide it by the frequency of the payment:
Subtract 25% of the paying party's income from 20% of the supported party's income
Subtract 20% of the supported party's income from 30% of the paying party's income
Multiply the total income of the spouses by 40% and subtract the supported spouse's income from that number
How Is Permanent Alimony Calculated in NY?
To calculate the final amount for post-divorce alimony, the court uses the same guidelines as for temporary support.
Once they get the starting number, judges have the power to order less or more support. They will usually consider the following factors when creating the final award:
Income and property of the spouses
Marriage length
Age and health of both spouses
Present and future income of the spouses
The ability of the supported spouse to become self-sufficient
Acts by one spouse that prevented the other from getting employed (e.g., domestic violence)
A pre-marital joint (if there is one)
Loss of income of the supported spouse as a result of giving up a career
Children-related factors, like whether:

Any children from the marriage live in the marital home
There are additional child-related costs, such as schooling or daycare

Whether there are children, elderly, or in-laws that need to be taken care of
Waste of property by either spouse
Contributions made by the supported spouse (for example, if the spouse didn't receive an income for being a housewife)
The loss of health insurance due to the divorce results
Any transfer of the property
Any other factor that the court deems necessary to take into account when making the decision
How Long Does Post-Divorce Spousal Maintenance Last?
New York court determines the duration of the post-divorce maintenance based on the duration of the marriage. See the table below for details:
| | |
| --- | --- |
| Marriage Duration | The Support Can Last |
| Up to 15 years | 15% to 30% of the length of the marriage |
| 15 to 20 years | 30% to 40% of the length of the marriage |
| 20+ years | 35% to 50% of the length of the marriage |
How Is Alimony Regulated in an Uncontested Divorce in NY
Getting an uncontested divorce in NY allows you to settle on alimony terms with your spouse in a marital settlement agreement.
With an uncontested divorce, you won't even have to go to court to end your marriage. Getting a written settlement agreement will require you to either:
Hire a lawyer to write one for you (and pay big bucks)
and get a professional agreement in a few clicks
Draw Up a Divorce Settlement Agreement in a Jiffy With DoNotPay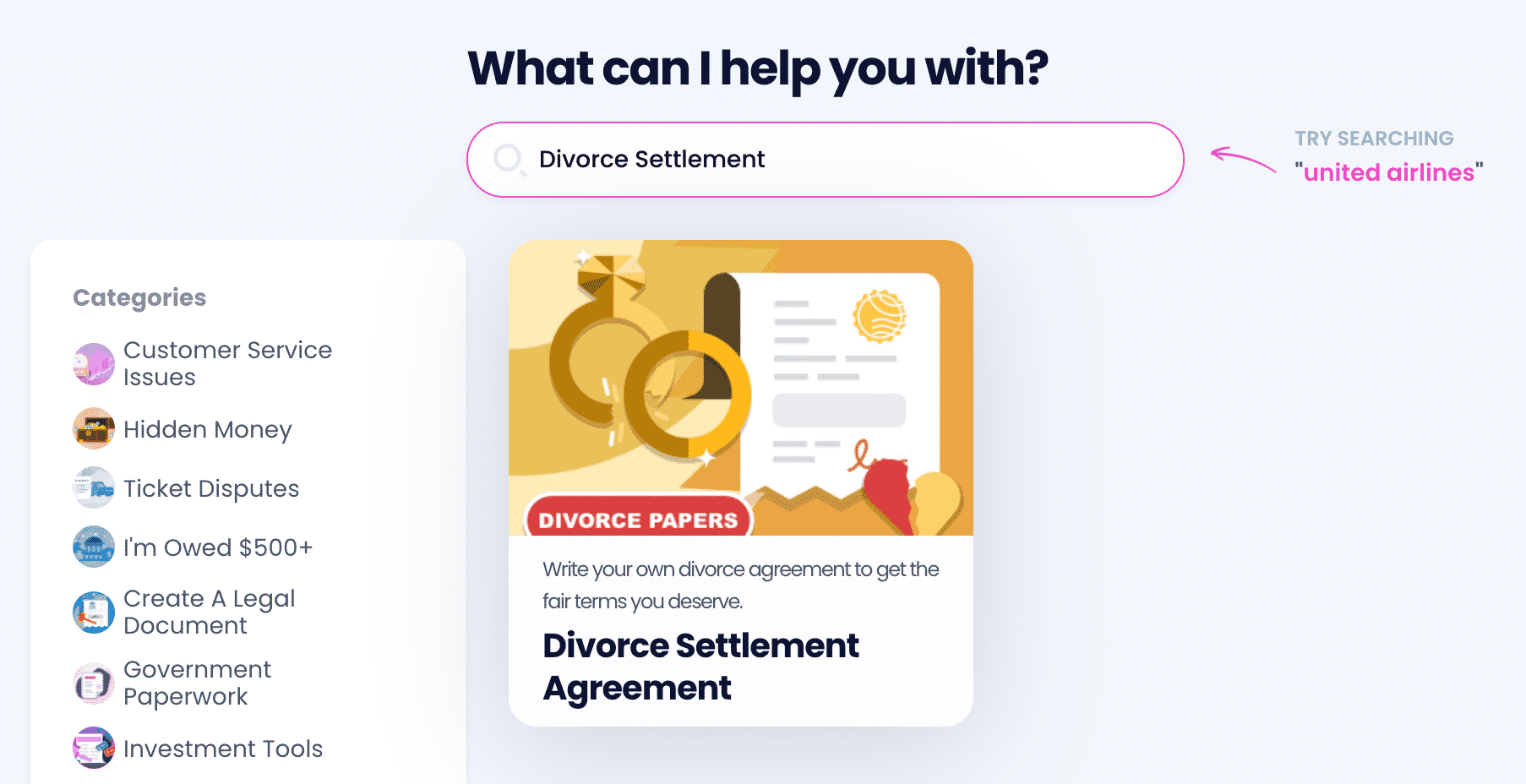 Getting a divorce settlement agreement doesn't have to be expensive. DoNotPay can generate a document that will comply with New York state laws and fit your needs perfectly. Here's the drill:
Select our Divorce Settlement Agreement tool
Answer our chatbot's questions regarding the divorce
Opt for online notarization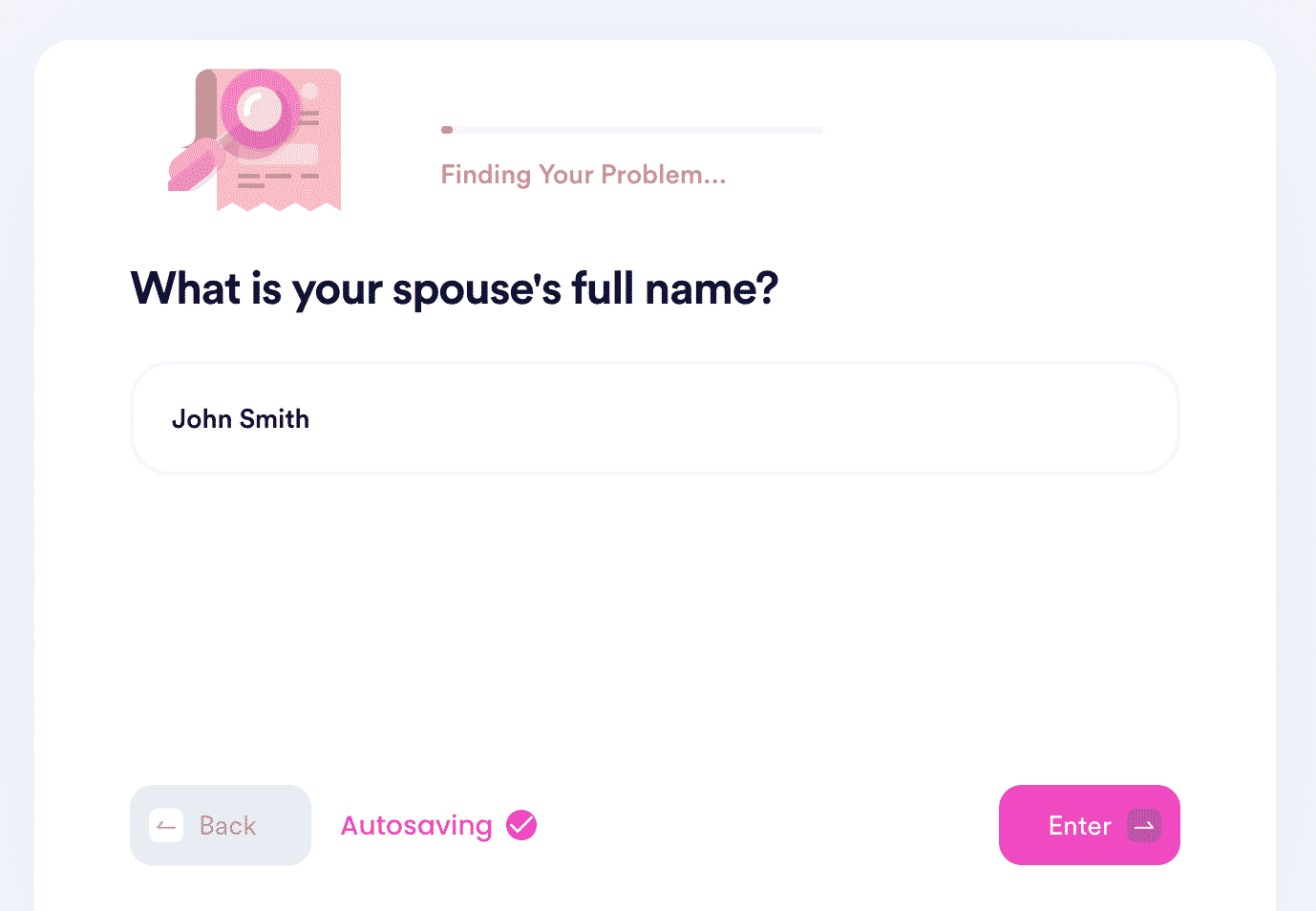 We will process your request immediately and send you a tailor-made divorce settlement agreement in no time. All you have to do afterward is follow the link we send you via email and set up an appointment with an online notary.
Check out DoNotPay's learning center and find out all about divorces in New York and divorces in general:
New York Divorces
General Divorce Guides
What are:

How to:

What is:
Need Legal Assistance? DoNotPay Got You Covered!
Forget about getting a migraine every time there is an administrative task to handle. DoNotPay makes it easy and stress-free to deal with any bureaucratic issue that comes your way.
Not only can we assist you in drafting a legal document and getting it notarized, but we also help you:
Finishing Your Daily Errands Has Never Been Easier!
Looking for help with running errands? You don't have to spend hours trying to make a DMV appointment or contacting a customer service rep! Completing your day-to-day tasks stops being a burden once DoNotPay gets involved.
There is no shortage of errands we'll help you run for a small subscription fee, including:
Sign up for DoNotPay and avoid spending hours on simple daily tasks that can be done in a jiffy!