Novation Agreement From A to Z
If you decided to leave your ongoing business venture due to restructuring, better organization, or any other reason, that doesn't mean you and your partners have to terminate the existing agreement. A novation agreement is a legal document that can help you solve the matter without leaving your business partners in the lurch. 
If this term sounds unfamiliar to you but sparkles your interest, we can help! We'll guide you through the essentials of a novation agreement and teach you how to write any agreement without a hitch!
Novation Agreements Explained
A novation agreement represents a modification of an existing contract. The parties create it in case one of them wants to terminate their participation in the contract. The leaving party transfers all their contractual responsibilities to a new signer that will take their place. 
To make a novation agreement, the parties must check whether the original contract contains any disclosures banning such changes. If there are no clauses that prohibit including a new member or entity in the agreement, the existing signers can create a novation agreement and make changes to the original contract.
Novations are common in:
Corporate takeovers

Building and design projects

Mergers and acquisition transactions

Financial trading

Sales of businesses
What Should a Novation Agreement Include?
When creating this contract, it's crucial to attach the original agreement to the new version, along with all supporting documents. This is the only way to ensure the terms and conditions of the new contract will be the same as in the old version of the agreement. Failing to do so may result in an unenforceable document.
Besides the copy of the primary contract, the novation agreement should contain:
Definitions

—explanations of specific legal terms included in the contract

Novation details

—the responsibilities of the new signer and existing parties following new circumstances

Indemnification clause

—a disclosure that obligates one party to take responsibility for loss or damage caused by the other signer

Governing laws

—applicable acts or laws that regulate this issue (if they exist)

Notice details

—specific notice requirements and the physical address to which the new signer will receive notices 
Are Novations and Assignments the Same?
Even though people usually confuse the two terms, novation and assignment can't be considered synonyms. Unlike an assignment, which enables the primary party to transfer only benefits to a new signer, a novation allows transferring liabilities as well. 
Assignments assure that all responsibilities stated in the primary contract remain with the original signer. 
Is It Necessary To Get a Novation Agreement Notarized?
The document doesn't have to be notarized. It becomes legally binding once it's signed by:
Transferor (the party that transfers its rights to a new signer)

Transferee (the new party)

All other signing parties
This is another difference between a novation and an assignment. While assignments don't require the signature of a new party, novations can't be completed without it. 
Draw Up Your Contracts in a Snap With Our Virtual Lawyer
DoNotPay will help you avoid expensive legal assistance and other unreliable methods for creating legal docs. Our app features an ultimate template collection that helps you customize a contract based on your needs and state laws.
We will save you hundreds of dollars and a lot of time since it will take you less than five minutes to access the ready made-document! All you have to do is:
Create an account on DoNotPay

and sign in

Choose the template you want to modify

Enter a few details to complete the contents of your contract

Access the document and download it to your device 
We can help you obtain a notary's signature for your contract virtually in the same app. Use our Notarize Any Document feature and arrange a video meeting with an online notary fast! Once you get your signature validated, DoNotPay lets you fax your contract to the desired number from any preferred device!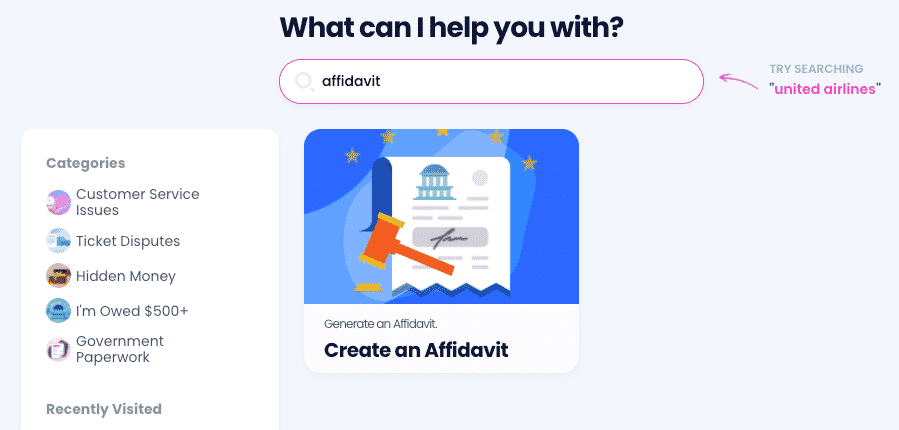 Discover All About Legal Documents With DoNotPay
Are you interested in learning how to compose specific legal documents that aren't in our template database? Our articles solve all your dilemmas responding to questions such as:
What Contract Templates Does DoNotPay Offer?
Here's a table listing all available contract templates DoNotPay offers:
Category

Legal Documents

Real estate contracts

Quitclaim Deed

Intent To Purchase Real Estate

Business contracts

Non-Compete Agreement

General Business Contract

Other contracts

General Affidavit

Promissory Note
Need Help Fighting Bureaucracy? Use DoNotPay!
As the world's first robot lawyer, DoNotPay can help you resolve a plethora of tedious administrative issues. Our app will assist you in getting justice in small claims court, getting refunds from merchants, reporting annoying spam emails and text messages, reporting copyright infringement, bypassing phone number verification, and so much more!
You can also rely on DoNotPay's help when it comes to subscriptions. If you want to sign up for a free trial, cancel a service you no longer use, and skip the phone queue when doing so, our app will provide its assistance.
Our App Saves You Time and Money
Are you unable to pay your bills? Use the world's first robot lawyer app to cover them! Do you want to appeal your traffic or parking tickets? DoNotPay will help you appeal them in the blink of an eye.
Our app can do so much more than that, though—with DoNotPay by your side, you can sign up for clinical trials, ace government tests, claim any type of warranty, schedule an appointment with the DMV, and handle any other bureaucratic task.