How to Write a Notice of Breach of Contract
When facing a breach of contract, it is crucial to act adequately and on time. If you do nothing, the violating party can walk away without consequences while you need to deal with significant losses. DoNotPay can help you take the first step toward resolving the issue by sending a notice of breach of contract. If the situation escalates further, we can also help you file a lawsuit in small claims court.
What Is a Breach-of-Contract Notice?
A breach-of-contract notice (also known as a demand letter) is a document that informs the other party that they have violated the agreement. This letter should explain why you believe there has been a breach and what actions should be taken next. The options usually include:
Fixing the problem
Ending the contract and getting compensation for damages
When Do You Need a Letter Regarding Breach of Contract?
You will need to draw up a demand letter if:
Vendors do not complete projects on time
Business partners fail to meet set objectives
Commercial retailers refuse to replace a faulty product
Customers do not process invoices
Insurance companies do not follow policy terms
What Information Should a Warning Letter for Breach of Contract Contain?
To convey the message clearly, the notice of breach of contract should be straightforward and concise. Avoid using demand letter templates available online because they are generic and will not suit your specific case. Here is a general overview of what a breach-of-contract notice should contain:
Contact information of the violating party
Introduction with a brief overview of the situation
Date of the contractual breach
Contract terms and laws the defendant broke
Damage description with line itemizations
Photocopies or scans of your evidence to support your claims
Solutions to end the dispute
Response date
Your plan for further legal action if the breaching party does not respond
Your signature
Use DoNotPay To Create a Demand Letter With Ease
Drafting the demand letter can turn out to be a complex task for a person without the required legal knowledge. To avoid making mistakes or wasting thousands of dollars on lawyers, you should delegate the task to DoNotPay. Our app can generate a breach-of-contract demand letter for you without trouble.
You only need to:
Choose the Client Breach of Contract product
Answer the chatbot's questions about the client and the agreement between you
Set a payment deadline for the client before you take further legal action
Add photographic evidence if you have any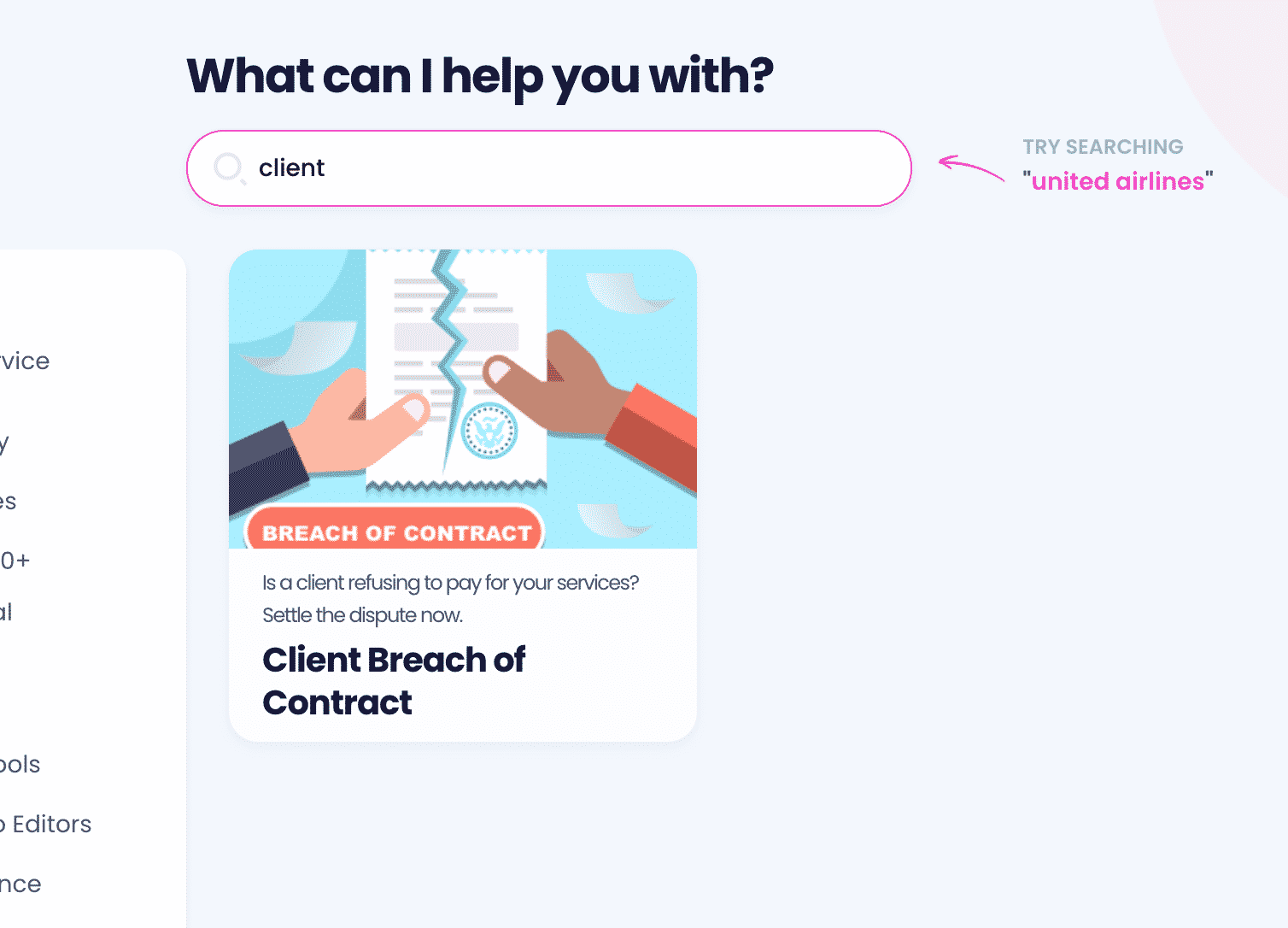 Breach-of-contract rules and regulations are state-specific, so it is essential to understand local laws. Check out the requirements for this legal document in your state:
Possible Responses to the Notice of Breach
Once you've sent your notice of breach, you can expect one of these responses from the violating party:
Willingness to talk the issue over—This response is a solid start, but it still does not guarantee the defendant will act accordingly. You can either agree on the solution or take them to small claims court
Admitting the fault—The best possible option is when a breaching party recognizes the issue and is willing to solve it. In these situations, there is no need for further legal action
No response—If you don't get a reply within two weeks, you should send a second letter. In case there is still no response, you should consider escalating the issue
Not admitting the fault—The violating can deny breaching the agreement. If this is the case, you have no other option than to file a lawsuit
You should also learn about the potential defenses of breach of contract to deal with them efficiently.
Breach-of-Contract Lawsuit Requirements Explained
To make sure you have the grounds for a lawsuit, the court will require you to prove specific breach-of-contract elements, such as:
The existence of a valid contract
Evidence of the breach
Suffering damages due to the defendant's actions
Sue the Defendant in Small Claims Court With DoNotPay
Once you've proven all the elements and got an unsatisfactory response from the violating party, it is time to file a breach-of-contract lawsuit. The easiest way to do this is by using DoNotPay to take the defendant to small claims court.
We received the Louis M. Brown Award for Legal Access in 2020 for fighting against unreliable and unfair businesses and can help you with:
Composing a demand letter
Gathering the paperwork required for the lawsuit
Filling out all the court forms
Filing the complaint
Creating a script with persuasive arguments to use during the court hearing
Breach-of-Contract Remedies You Can Expect
Once you've proved that a breach occurred, the court will find a suitable remedy for your case, including:
Compensatory damages
Restitution
Rescission
Injunctions
Specific performance
Build Your Business From the Ground Up With Your Reliable Pocket Assistant!
To make the running of your business less stressful, DoNotPay has created numerous handy products that can help you deal with any issue right from the start. With our assistance, you can:
Get the perfect letter requesting a loan for your business
Handle the Employer Identification Number and DMCA agent registration procedures in a few clicks
Manage Privacy Shield program self-certification to make sure your client's privacy is protected while on your website
If you are considering completing trademark registration, DoNotPay will be your trusty companion and help you finish the whole process in no time! We can even make sure no one uses your trademark as their own by performing routine checks and sending cease and desist letters to the offenders instead of you.
Resolve Pesky Business Issues With DoNotPay
Our app boasts many other useful and easy-to-use products that will help you resolve an array of business-related problems. Whether you need help filing 83(b) election forms as effortlessly as possible or wish to communicate with your clients and business partners without heading over to the post office, we have got you covered!
DoNotPay can also help you remove bad, fake online reviews that could harm your business reputation, deal with clients who avoid paying for your services, and contest unjustified chargeback requests.
Rely on our app and stay on top of your work while we deal with business issues on your behalf!