Find a
Notary in Torrance
and Get Your Documents Notarized Swiftly
If you live in Torrance, California, you may be wondering where to find a local notary and what the notarization process entails.
DoNotPay is here to answer all your questions about booking a notary in Torrance. Read this article and find out how to get any document notarized effortlessly! 
What Can I Expect From a
Notary Public in Torrance
?
Notaries in California verify signatures on legal documents, such as wills, deeds, and affidavits. Notaries are in charge of:
Confirming the signer's identity

—The signer has to provide a government-issued ID, a passport, or a driver's license to prove they are who they say they are

Determining the signers' state of mind

—Signers have to be mentally stable, aware of the document's content, and willing to sign it

Checking the document

—The document mustn't contain any blank spaces and needs to have a clear signature date

Witnessing the document signing

—The signer must sign the document in front of the notary. Notaries typically won't notarize a

previously signed document

Providing a record of the notarization process

—Notaries have to make a journal entry for every notarization

Notarizing the document

—The notary will put their

signature

and stamp on the document if everything is in order
What Are Common Notarization Services in Torrance?
Notaries in California are only allowed to notarize documents in person. That involves two options:
Visiting a local notary

Hiring a traveling (mobile) notary
If you opt for a traditional, in-person method, you will have to make an appointment and head to a local notary's office. Regular notaries typically operate during business hours, and you may have a hard time adjusting to their schedule. 
Mobile notaries are a more practical option. They will travel to your home, office, or any other place convenient for you. You can have your documents notarized instantly but at a higher price—they charge for travel expenses.
How Much Do Torrance Notaries Charge?
Notaries in California charge for:
Taking an

acknowledgment

, proof, deed, or any other instrument—$15 for each signature

Executing a jurat—$15 for each signature, including the seal

Certifying a copy of a power of attorney—$15

Taking a deposition—$30 (additional $7 for administering an oath to the witness or getting a certificate for the deposition)

Copying a line item from the notary's public journal—$0.30 per line item
There is no limit for mobile notaries' travel charges, but the client has to agree to the price in advance. 
Where Can I Find a Notary in Torrance?
Different businesses and institutions often have a notary on-site, including:
AAA

stores

UPS

stores

Hotels

Law offices

Accountant offices

Libraries

Real estate agencies

Money transfer stores

Tax preparation firms

Insurance agencies

Credit unions

Office supply stores
You should always check if the specific location has an in-house notary and if they can notarize your particular document.
The other option is to visit specific websites convenient for locating notary services in your area. Check out the most popular online databases in the table below:
Website

Details

Yelp

Yelp not only contains notaries' contact information but also ranks them according to customers' experiences. 

You can see the users' comments for each notary, which can help you make a decision

123notary.com

This comprehensive database displays contact information on many notary types, such as regular notaries,

24-hour notaries

, mobile notaries, etc. 

American Association of Notaries

You can type in the city name and check the required boxes to narrow down your search. The website will display notaries' names, contact information, and other details

American Society of Notaries

The website displays the list of local notaries according to your ZIP code 

Notary.net

You have to find Torrance on the map and click to see the information on local notaries
Can I Notarize Documents Online in Torrance?
If you want to get your documents notarized online in California, you have the option to hire an out-of-state, online notary. The document must be notarized according to the law of the state in which the notarial act is taking place. 
The out-of-state online notary will:
Meet you via a video call

Determine your identity online 

Witness you e-signing the document

Provide an electronic signature, stamp, and seal on the document 

Record the session
This option is practical because you can have the document notarized without leaving your house. If online notarization sounds appealing, you should go with DoNotPay!
Find an Out-of-State Notary With DoNotPay
You don't have to look for a notary by yourself if you subscribe to DoNotPay! We will connect you to an out-of-state online notary, provided you take a few simple steps first:
Find our

Notarize Any Document

product

Upload the document you need to get notarized

Enter your email address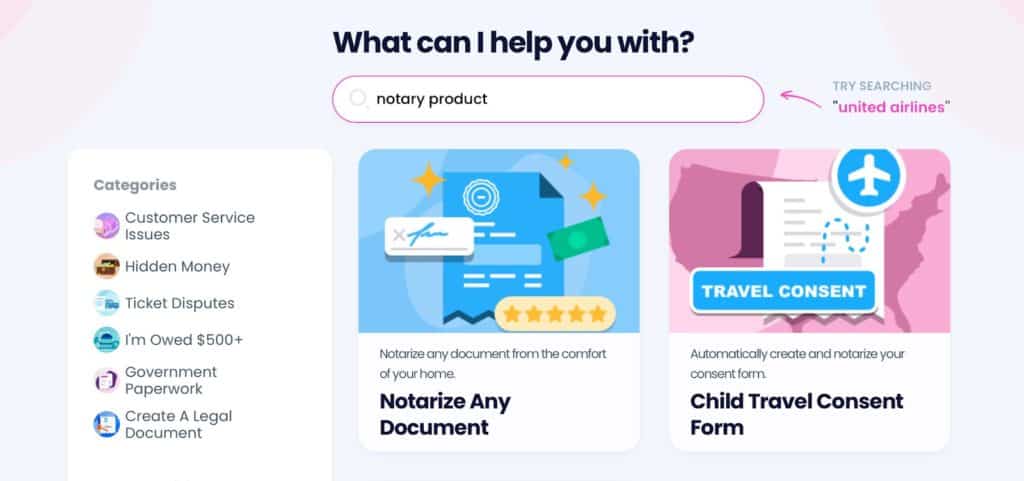 We will send you a link via email. If you follow that link, you can schedule an appointment with the notary at the time that suits you best. The notary will send you the notarized document back in a jiffy.
Our app provides other advantages to its users. By paying a modest monthly fee, you can use other features, such as the:
Standardized Legal Documents

tool—allows you to create various business, real estate, and other

legal documents

Online Fax

product—enables you to

fax

a document from your device after you create and notarize it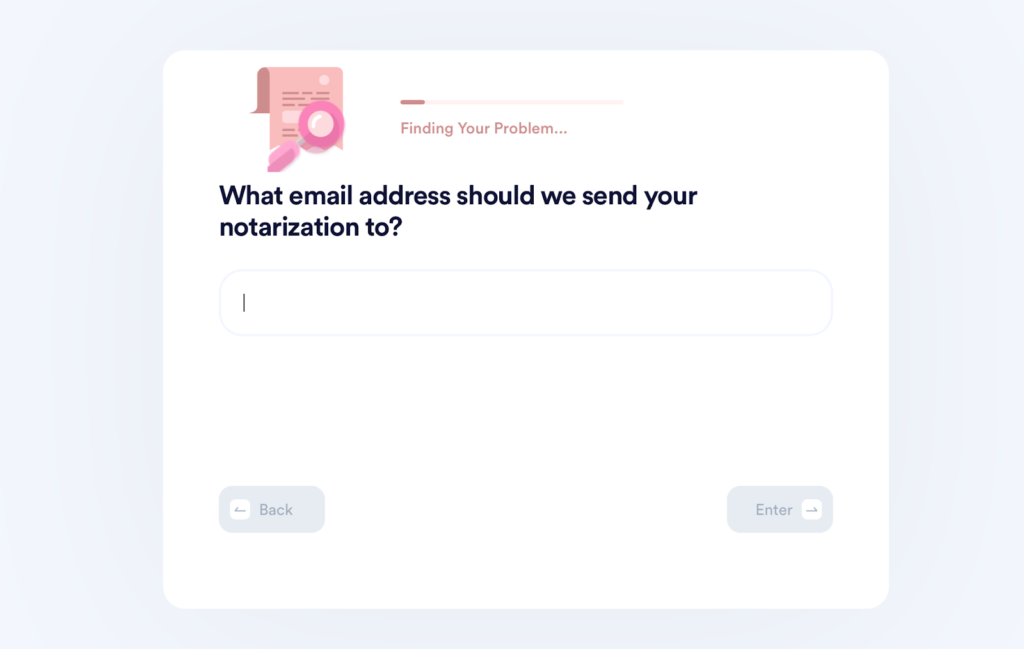 Forget About Bureaucracy With DoNotPay
There's no end to what our app can help you do. From drafting legal documents and asking for bill extensions and reducing property taxes to connecting with an inmate in a federal prison and contesting parking citations, DoNotPay can handle it all and cut through the red tape.
Need to pass a government test? Use our practice tests database to nail it. Looking to file an insurance claim? You've come to the right place. College applications drained your accounts? Request college fee waivers with our assistance.
The DoNotPay app is so versatile that it can easily locate any unclaimed funds under your name or any clinical trials that you're eligible to participate in. We can also schedule DMV appointments and take care of your small claims court documents.
Check Out What Else DoNotPay Has in Store
DoNotPay never stops upping the game. You can explore some of our latest features and see how you can access public records, receive free online fax, submit a warranty claim, or get compensation if you were a victim of a crime.
Alternatively, check out some of our most popular products that aim to reclaim your funds—from getting airline flight compensation and submitting refund and chargeback claims to canceling your unused subscriptions and getting class action cash from email, text, and robocall scammers.