Schedule a Meeting With a
Notary in Reading, PA,
Easily
Although time-consuming, the most common way of getting a document notarized in Pennsylvania is by visiting a notary in person. We'll show you how to locate one and how to schedule an appointment with a notary in Reading, PA, easily.
If you want to go for an easier notarization method, sign up for DoNotPay and choose our online notary service. You'll be able to notarize any document in no time and from any location!
Notary in Reading, PA
—Explained
Notaries in PA are public officials appointed by the government to prevent fraud and forgery by:
Witnessing the signing of legal documents

Verifying the signer's identity
Notaries also check whether you're of sound mind or under the influence of any substances when signing the documents. In such cases, or if there are missing pages or blank spaces in the documents that you want to get notarized, they won't finish the procedure.
Pennsylvania laws don't allow notaries to notarize documents if they can't prove the identity of the signer, which means that no friends or relatives can bring your documents on your behalf. You also have to bring a document that proves your identity, such as your ID or driver's license.
What Documents Can a
Notary in Reading, PA
, Notarize?
Documents, such as real property deeds, require notarization, whereas others don't. Getting your important documents signed and stamped by a notary public is always a good call because it provides an additional level of protection.
Check out the table below to see what documents a notary in Reading, PA, can notarize for you:
Documents That Should Be Notarized
Documents That Don't Require Notarization

Trusts

Advanced directives

Executorships

Court documents

Commercial lease agreement

Basic rental agreement

Lease termination agreement

Forbearance agreement

Roommate dorm agreement

Arbitration agreement

Month-to-month rental agreement
How Much Does a
Notary in Reading, PA
, Charge?
Notarization fees are not the same in every state. Some states set a maximum fee that a notary can charge you for a notarial act.
In Pennsylvania, the notarization fee is capped at $5 per signature. If you want to get more documents signed and notarized, you'll have to pay from $1 to $5 for additional signatures.
Locating a
Notary in Reading, PA
Searching for a notary can be overwhelming and confusing. We'll help you cut the search in half by providing you with the most common methods of finding a notary in Reading, PA:
| | |
| --- | --- |
| Browsing Websites | Visiting Public Places |
| You can use various websites to locate the nearest notary office, including: | Another option is to visit public places that offer notary services. The common ones are: |
Once you locate a notary, call them and schedule your appointment. You'll have to gather the documents you want to notarize and bring your ID. Show up to your meeting at the scheduled time, and the notary will handle the rest.
The in-person notarization process can cause certain issues, such as being turned away in case you forget to bring your ID. To avoid wasting time and encountering such inconveniences, use an online notary service.
Online Notary Service—Benefits
Getting your documents notarized online saves you time and helps you avoid unnecessary stress. The main benefit of online notary services is that you can finish the process from any location.
There is no need to spend days on the standard notarization procedure when you can connect with a remote notary in minutes and schedule your meeting hassle-free! DoNotPay can help you schedule your notary appointment no matter where you are in the U.S.!
DoNotPay Helps You Schedule a Meeting With a
Notary in Reading, PA
, Instantly!
DoNotPay jumps in with an online notary service that is super quick and easy to use! Follow our simple, three-step guide and let us connect you with a remote notary instantly:
Find and tap the

Notarize Any Document

feature

Upload the documents you want to notarize and give us your email address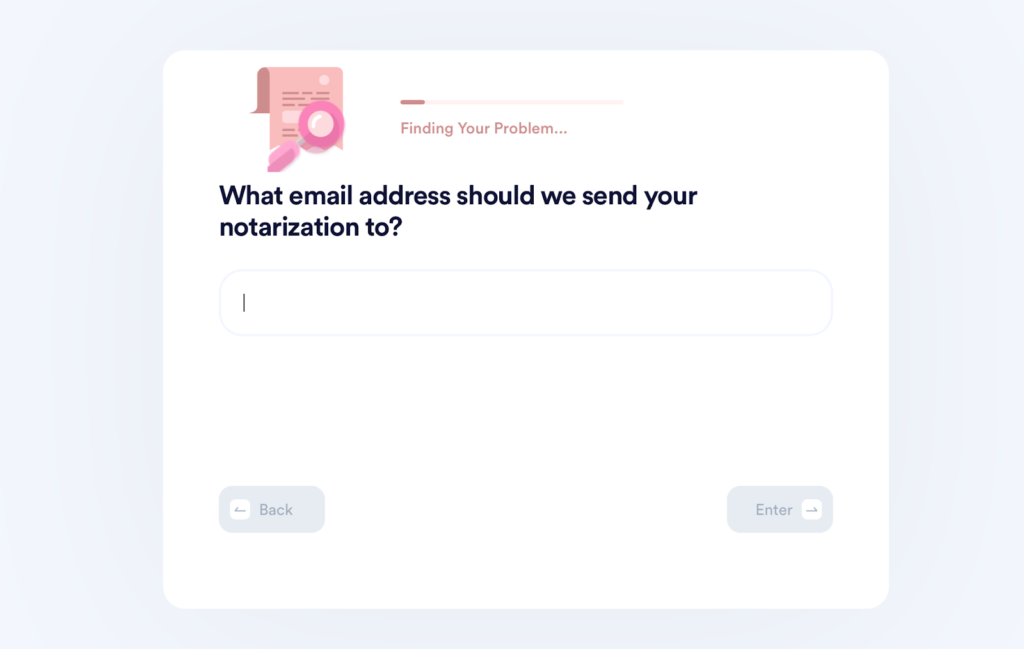 Once you're done, we will send you a link to the email address you provided. You will be able to schedule your meeting right away, and the best part is that you won't have to leave the comfort of your home! The whole process will be done virtually.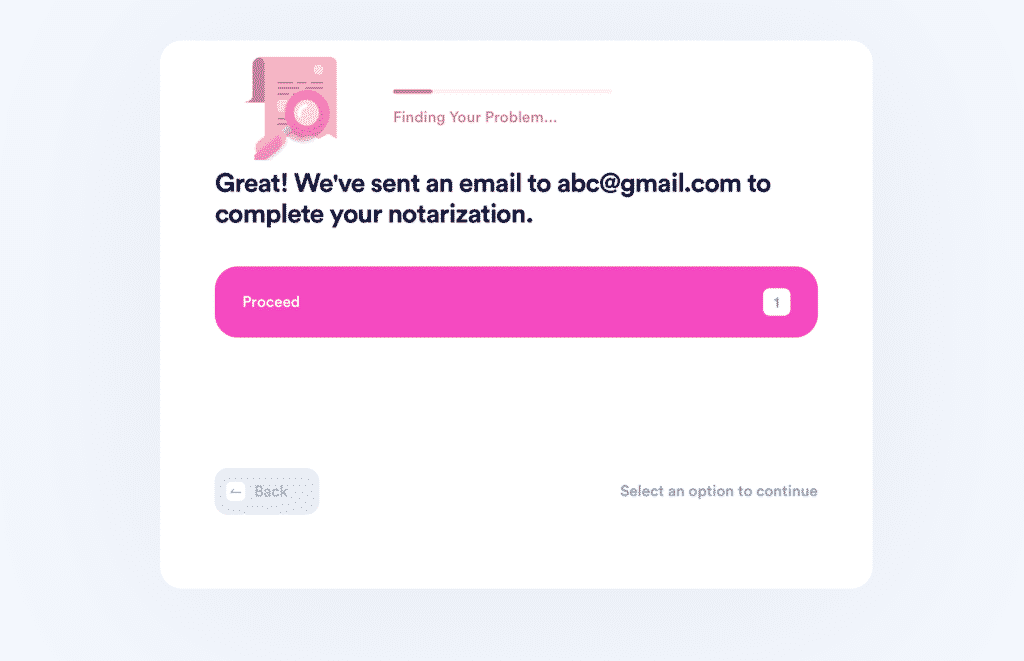 Looking for More Notary-Related Info? We Got You Covered!
If you're looking for additional info regarding notary services, here are some of the common questions that DoNotPay answers:
Subscribe to DoNotPay and find out all you need to know about notarization!
Can't Afford a Lawyer? DoNotPay Will Jump In!
Did you know that you don't have to waste money on expensive legal help just to get rid of some minor bureaucratic issues? DoNotPay is here to save you hundreds of dollars with ready-to-use solutions that require mere minutes.
Our AI-powered bots gather the most important information via short questionnaires, draft required legal documents, and provide you with online fax services. If you need specific public records to support your case, we'll point you in the right direction.
With our virtual lawyer's help, you will be able to:
Spend Your Time on More Enjoyable Activities
With DoNotPay's help, you're bound to have more free time. If you're considering a new streaming platform subscription, make use of its free trial without worrying about unwanted charges. Need to get rid of other subscriptions? Use DoNotPay to cancel them without contacting customer support centers.
Don't worry about phone number identification at the signup. With our Burner Phone feature, spam text messages won't be bothering you ever again!