A Notary Public in Massachusetts—Notarizing Documents Made Easy
Do you need to notarize a document but don't know who to turn to and what your safest option is? We will provide you with all the information you need!
Notarizing important documents—for example, an affidavit—is a necessity for many, but going to a notary public in Massachusetts will only waste your time and take way more effort than it should.
The best way to notarize your documents in any state is online by using . You can notarize and sign your documents from the comfort of your own home and avoid the overbearing procedures otherwise required.
Issues With the Current Notarization Process
The most common documents that you may need to get notarized are:
Business contracts

Loan documents

Real estate deeds

Employment contracts

Trusts
The current notarization process in Massachusetts, and generally in the U.S., is a nightmare. Not only that the system and notary services are entirely outdated, but they also require you to complete countless steps and take on the burden that no person should take for a process that could be done in a few minutes. Our app swoops in to save you by providing simple and straightforward instructions so that you can stop torturing yourself with overly complicated procedures.
DoNotPay Lets You Notarize Your Doc in Minutes!
Instead of dealing with a notary public in Massachusetts, you can turn to DoNotPay and have any document notarized in a few taps! There is no need for you to figure out how to schedule appointments with a notary or find other methods for notarizing contracts—we offer you the perfect solution.
With our Notarize Any Document tool, the process is super fast as well! Here's how it works:
from the web browser of your choice

Locate and tap the

Notarize Any Document

feature

Submit the document that you want to notarize

Give us your email address
You will receive an email with a link that you will use to schedule your virtual appointment with a notary. You won't have to sacrifice your busy schedule or waste time in the waiting room of a notary's office.
DoNotPay Can Draft Documents in Your Stead as Well!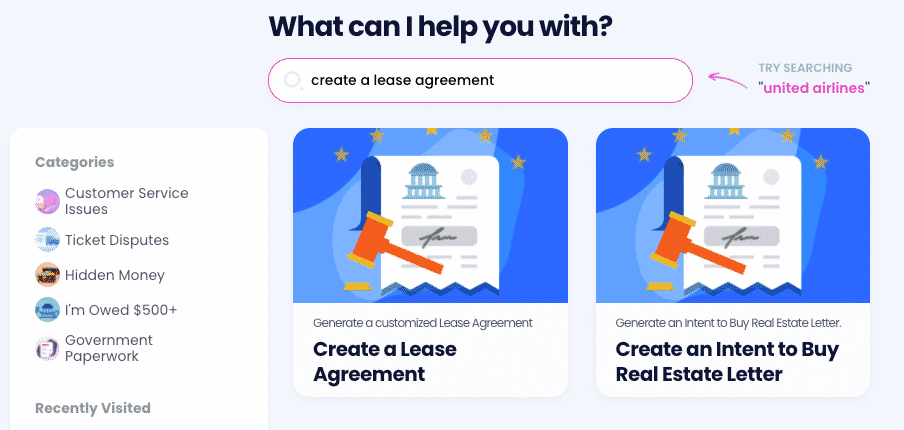 Aside from notarizing agreements with DoNotPay, you can also use our app to draft numerous legal documents! The process is as simple as it can be. You can get your documents drafted and notarized using the same app and avoid annoying bureaucracy altogether!
Here's a list of the documents we'll generate for you hassle-free:
LLC Operating Rules Documents

Non-Disclosure Agreements

General Business Contracts

Non-Compete Agreements

Intents To Purchase Real Estate

Independent Contractor Agreements

Estoppel Certificates

Quitclaim Deeds

General Affidavits

Promissory Notes

Prenuptial Agreements

Parenting Plans (Child Custody)

Residential Lease Agreement

Bill of Sale
DoNotPay Provides You With Additional Notary Assistance
We explained how you can get your document notarized by using DoNotPay in Massachusetts, but that is not the only problem we can solve for you. Our app will give you an abundance of information, instructions, and guidance regarding everything notary-related!
Different states have different laws and regulations when it comes to legal documents, so we will clarify all uncertainties. Don't get confused—get informed!
If you are looking for further assistance regarding the notary processes, DoNotPay can provide you info about:
| | |
| --- | --- |
| State Notary Services | Additional Notary Services |
| | |
Check out the list of the commonly asked questions that DoNotPay provides answers to:
Should You Get Your Documents Notarized by a
Massachusetts Notary?
There is a much easier option to notarize your documents than visiting a notary in person, as we explained above. If you insist on going to a notary and doing it the harder way, we'll provide you with instructions on how to get it done.
To notarize your documents with a Massachusetts notary, you will have to:
Locate a notary that you want to go to

Make an appointment with him or her

Go there in person

Gather and bring with you all the required documents
You must make sure to bring every single document that is necessary. If you forget any important document, such as your ID, you will have to start the notarizing process all over again.
Get Back at Greedy Corporations With DoNotPay
How many times have you tried reaching out to an airline regarding your canceled flight? Did you ever spend hours trying to contact customer service reps only to be refused your refund request?
Big companies tend to make certain processes complicated for their customer in hopes they would give up on pursuing their goals.
This is why your warranty claims often get denied the first time or why canceling a gym membership can be an administrative hell.
Our AI-powered app is here to help you sort these problems out.
Whether you're trying to file an insurance claim, schedule your driving test, start a free trial without disclosing your payment info or a phone number, or get access to public records, we've got you covered.
DoNotPay Is the Virtual Assistant You Need
DoNotPay is the first robot lawyer in the world created to simplify complex tasks. We can help you with anything from appealing your parking citations to filing lawsuits in small claims court.
In case you need to save up some money, our app will show you how to get an extension on your bill payments, sign up for paid clinical trials, or avoid paying your college application fees.
DoNotPay can also report robocallers, text spammers, and email phishing attempts, and real-life stalkers with a few clicks.