Notary in Newport Beach—
Process Explained
Getting a legal document notarized is always welcome, especially if its content is extra sensitive. 
If you need a notary in Newport Beach to notarize any document—including a deed, affidavit, car title, or power of attorney—you should know what the process entails. Fear not, for you are in the right place! This article will break down notarization under California law and help you get your documents notarized as effortlessly as possible!
What Does Notarization in Newport Beach Look Like?
Notaries in Newport Beach act as impartial witnesses during the signing of legal documents. Their purpose is to prevent fraud, coercion, and identity theft by vouching for the authenticity of the signatures. They perform their duty by following a state-specific procedure, which requires:
Meeting the clients in person

Identifying the signers

Assessing the signers' mental state

Checking the document before notarizing

Completing the journal entry

Filling in the notarial certificate
Notarizing Documents in Person
Under California law, notaries are obligated to notarize documents in person. That means you have to physically appear in front of a notary by:
In the face of the COVID-19 pandemic, the State of California endorses hiring mobile notaries and taking all the precautionary measures—such as wearing masks, keeping distance, and following health safety instructions from local and state health officials.
Checking the Signers' Identities
Verifying the signers' identities is one of the notaries' public main duties. You can have your identity checked by:
Showing a valid, government-issued ID, including a passport or a driver's license

Providing two credible witnesses that can vouch for your identity, as long as they present one of the state-approved IDs
California doesn't allow notaries public to rely on personal knowledge of the signers when confirming their identities.
Determining the Signers' Mental State
A notary in Newport Beach will proceed to ask you a series of questions to make sure you:
Are not under the influence of drugs or alcohol

Understand what you are signing

Are signing the document of your own free will 
If a notary suspects any foul play, he or she should refuse to notarize the document.
Checking the Document
A notary public has to glance over the document and confirm that it:
Has a notarial certificate

Doesn't contain any blank spaces or missing pages

Has the information necessary for the journal

Contains a signature date that aligns with the notarization date
Completing a Notary Journal
Notaries in Newport Beach are obligated to keep a journal of every notarization. It should include the following details:
Date and time of notarization

Type of the document and notarization

Signatures of each signer

Type of ID used to identify the signer

Fee

charge
Completing the Notarization
After completing the notarial certificate, a notary will sign it and place a stamp and seal on the required spot.
How To Find a Notary in Newport Beach
Finding a notary in Newport Beach doesn't have to be challenging. Many local businesses have an in-house notary available to the general public. You can also use online databases for locating notaries.
Check out the table below for more details:
Businesses With In-House Notaries 
Notary Search Websites 

AAA

locations

Tax preparation firms

Public libraries

Insurance agencies

Money transfer stores

Real estate agencies
Can I Use an Out-of-State Online Notary in Newport Beach?
Yes, you can! While California notaries cannot perform online notarization, that shouldn't stop you from finding an out-of-state online notary. States that offer this type of service are:
More people opt for using online notary services instead of meeting the notary in person. Online notaries allow you to get your documents notarized from the comfort of your home. Not only will you protect your health during the pandemic, but you will also be able to:
Schedule an appointment at any time (online notaries are available

24/7

)

Use any digital device, including your phone, to meet with the online notary

Save money otherwise spent on your or mobile notaries' travel expenses

Have the document notarized in minutes
If you think online notarization is the right option for you, subscribe to DoNotPay! We will facilitate the process even more by connecting you to an out-of-state online notary!
Go DoNotPay's Bullet-Proof Notary Way!
Our app can help you get your documents notarized online with a few clicks!
Check out what you need to do:
Open DoNotPay

in a web browser

Find our

Notarize Any Document

product

Upload the document you would like to get notarized

Type in your email address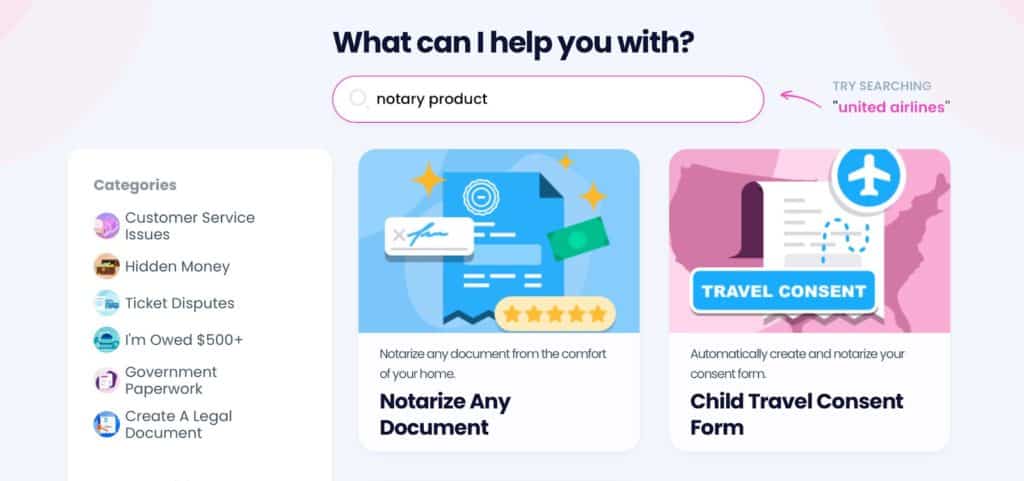 We will send you a link via email. Click on it to schedule an appointment with the out-of-state online notary. After that, you will be able to:
Meet with the notary on a video call

Prove your identity online

E-sign the document

Get the document notarized with an electronic

signature

, stamp, and seal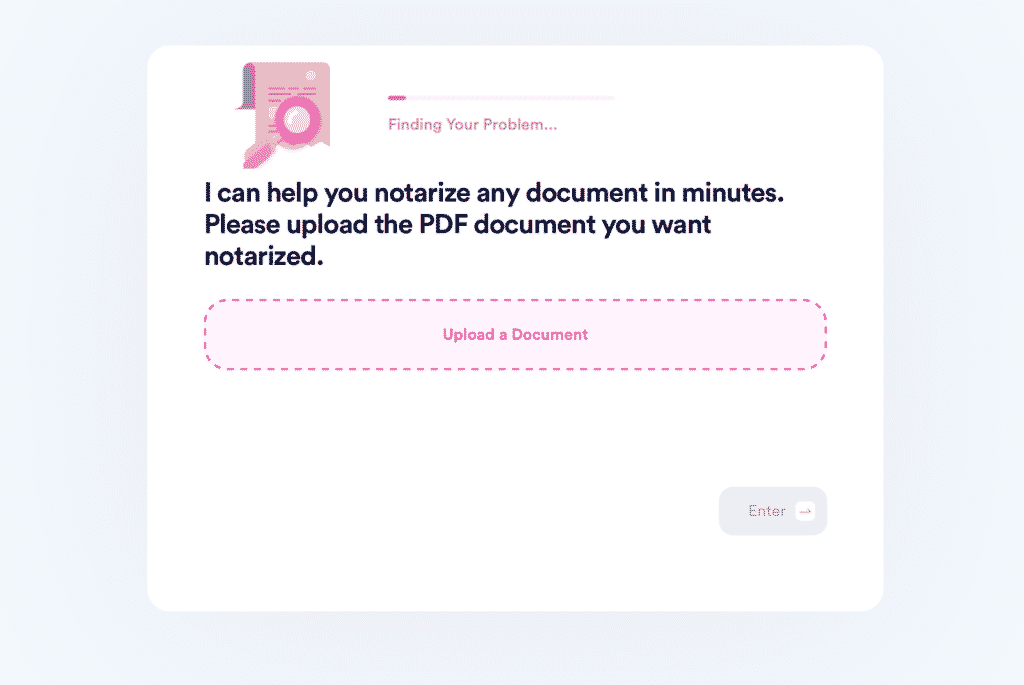 Let DoNoPay Help You With Your Paperwork
Why waste time on bureaucracy if you can rely on DoNotPay to handle pesky tasks for you? Cancel all your subscriptions at once, find unclaimed funds in a matter of minutes, appeal parking tickets hassle-free, and discover the best way to get your documents notarized remotely. 
In case you need help paying bills or you want to earn some money by participating in paid clinical trials, DoNotPay is here to help you out! 
Fighting workplace discrimination is of utmost importance, but the entire procedure seems rather complicated. The same goes for the crime victims compensation application in most states. DoNotPay is here to change that. We will help you file a report, request compensation, and create numerous other documents.
Keep Your Online Safety in Check!
While internet safety should be one of your top priorities, staying anonymous while surfing the web is almost impossible. If you want to avoid giving out your number when registering for services, you should try out our Burner Phone product. 
DoNotPay can also protect your credit card info, name, and email address, all through our handy virtual credit card. Sign up for free trials without worrying about unexpected charges.
With our app, you will learn how to deal with stalkers and harassers and how to access public records the easy way. 
DoNotPay offers many other useful products that can help you prepare for government tests, have your college fees waived, and manage any annoying issue in minutes.