Finding a Notary Near You Has Never Been Easier!
Searching for available notaries to notarize your documents can be time-consuming. We're here to offer you a simpler option of locating a notary near you!
, and let us connect you with a remote notary in a few minutes! Opt for our online notary service and get your documents notarized without leaving your home!
Ways To Get Your Documents Notarized
There is more than one way to get your important documents notarized. Some of the options you can choose are:
Standard in-person notary service
Standard In-Person Notary Service
The standard notarization process requires visiting a notary office in person. You have to:
Find a notary

Schedule a meeting

Bring the documents you want notarized, along with your ID
This used to be the most common way to have documents notarized, but that changed during the COVID-19 pandemic. Nowadays, people use online notary services to avoid any risks related to the virus but also to save time and deal with notarization in an easier manner.
Mobile Notary Service
The mobile notary service offers you the option to have a notary visit a location of your choice instead of you going to their office. They will come to witness and notarize your document wherever you want.
The issue with mobile notaries is they tend to charge a lot for their service. The travel fees are commonly from $35 to $50.
Online Notary Service
The online notary service is the easiest way to handle the notarization process. You don't have to spend days dealing with a simple process.
One of the benefits that online notarization provides is the luxury of handling the entire process from your home or office. You won't have to worry about doing anything in person or waste money on high mobile notary fees. A notary will witness the process via a video call and provide his or her signature in digital format.
How You Can Find a
Notary Near You
Depends on the Notary Service You Choose
Once you decide what notary type you want to go for, it's time to learn how to do a notary search.
To find a notary office for in-person notarization, you can check different online registries or go to the public places that offer notary services.
If you choose a traveling notary, you should search the internet and find contact info for mobile notaries in your state.
Our vast database offers valuable info on different mobile notary services in Los Angeles, San Jose, Phoenix, New York City, San Francisco, San Diego, and more.
How To Find a
Notary Near You
Using DoNotPay
If you want to use an online service, the best way to find a notary is through DoNotPay. You won't have to torture yourself with finding a notary at all because we'll do it for you! Prepare your info and documents, and we'll help you schedule a meeting with a remote notary in a few minutes.
Forget about wasting hours on the manual notary search and to make an appointment with a notary in three quick steps! Here's how:
Select the

Notarize Any Document

feature

Submit the documents you want to get notarized

Provide us with your email address
DoNotPay will send a link you should follow to make your remote notary appointment in a few clicks!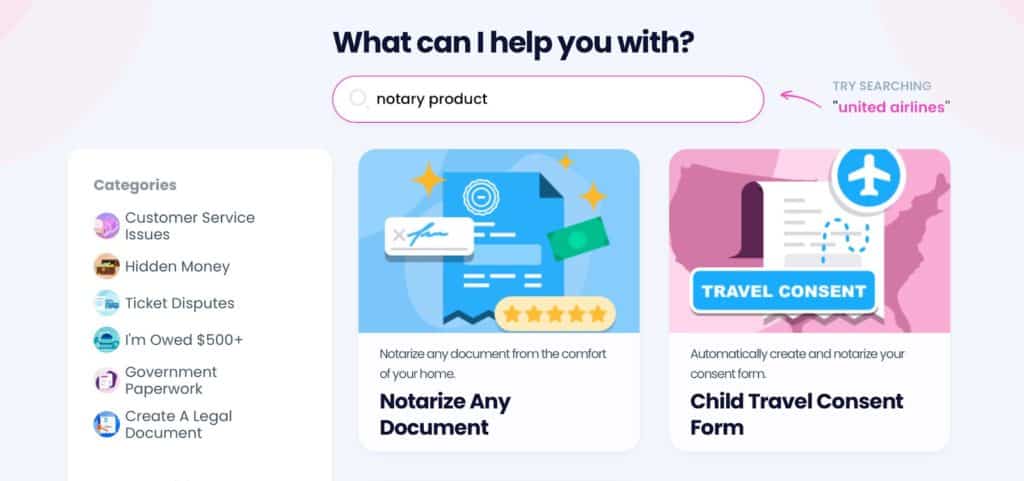 If your state doesn't allow remote notarization service, don't worry! Our app can connect you to a notary from another state who can complete the process, and your documents will still be valid in your state!
DoNotPay offers info about notary service in various states and answers frequently asked questions about notaries.
| | |
| --- | --- |
| Notary Service in Different States | Notary-Related Questions |
| | |
Get Back at Greedy Corporations With DoNotPay
How many times have you tried reaching out to an airline regarding your canceled flight? Did you ever spend hours trying to contact customer service reps only to be refused your refund request?
Big companies tend to make certain processes complicated for their customer in hopes they would give up on pursuing their goals.
This is why your warranty claims often get denied the first time or why canceling a gym membership can be an administrative hell.
Our AI-powered app is here to help you sort these problems out.
Whether you're trying to file an insurance claim, schedule your driving test, start a free trial without disclosing your payment info or a phone number, or get access to public records, we've got you covered.
DoNotPay Is the Virtual Assistant You Need
DoNotPay is the first robot lawyer in the world created to simplify complex tasks. We can help you with anything from appealing your parking citations to filing lawsuits in small claims court.
In case you need to save up some money, our app will show you how to get an extension on your bill payments, sign up for paid clinical trials, or avoid paying your college application fees.
DoNotPay can also report robocallers, text spammers, and email phishing attempts, and real-life stalkers with a few clicks.